It might be the lingering fumes of spray paint, but there's something in the air at the Maier Museum of Art at Randolph College.
All that energy is centered on the man literally writing on the walls of the main gallery, Al Diaz.
As a group of spectators watched with rapt attention earlier this month, Diaz drew a message in perfectly spaced capital letters: "SAMO©4 the 'just add water' 'paint by numbers' life."
"For some reason it's stimulating to have a crowd," Diaz said as he switched out a bright orange paint marker for one in teal. "I don't know, it makes it worthwhile to see people wanting to see this."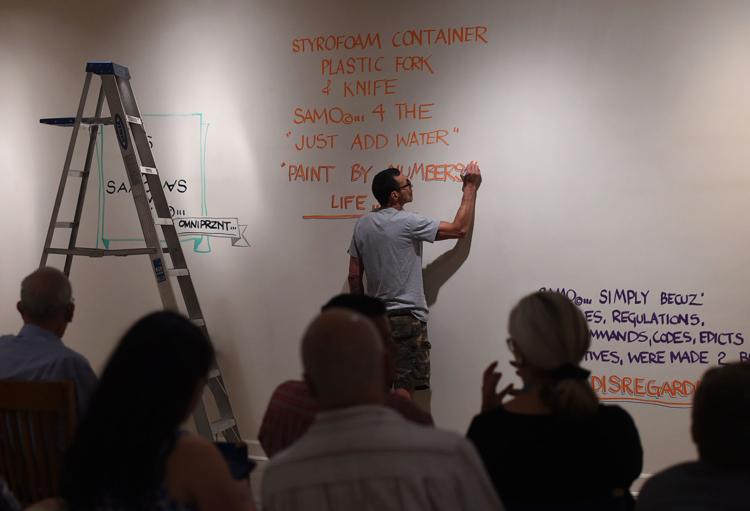 He heads back to the wall at the front of the gallery and scribbles another: "SAMO© with or without your approval."
Not many have had the chance to see Diaz — a first-generation New York City street artist — work like this. He's only tagged the inside of two galleries: the Maier and Howl! Happening in New York's East Village.
Both times were for "Zeitgeist: The Art Scene of Teenage Basquiat," a traveling exhibit that opens at the Maier on Friday.
Inspired by Randolph College alum Sara Driver's documentary "Boom for Real: The Late Teenage Years of Jean-Michel Basquiat," the show focuses on artists in the East Village during the late '70s and early '80s, including a young Basquiat before his meteoric rise to fame.
One of the most celebrated visual artists of the 20th century, Basquiat became known in the 1980s for his neo-expressionist work, which combined social commentary with the raw, subversive visual language of the street.
His work is included in the exhibit alongside many of his contemporaries.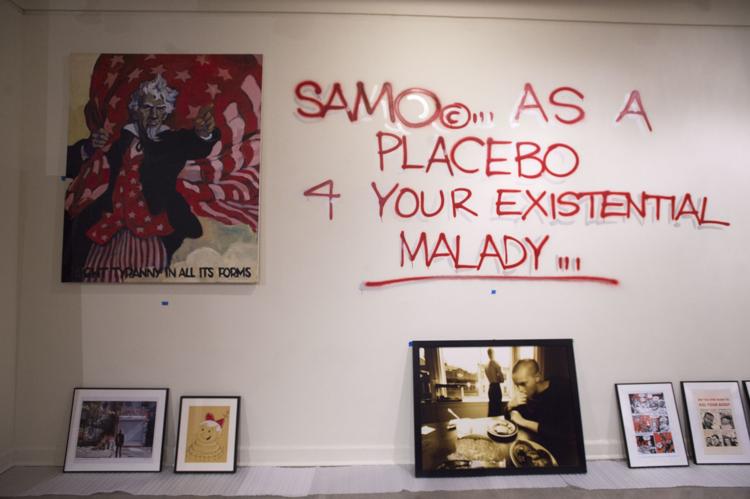 "It feels fun in here," Maier Director Martha Kjeseth Johnson said over the din as she looked around the packed hall of the Maier during Diaz's installation.
"Often [in] museums, when people visit here, they speak in hushed tones, kind of like hallowed ground."
The Vietnam War has ended and stagnation in the U.S. economy has left New York City near bankruptcy. It was a physically "run-down area, a lot of abandoned buildings, a lot of vacant lots filled with garbage and brick," Diaz recalled. "It was drug-infested, crime ridden."
Still, artists from across the country flocked to the Lower East Side, Sara Driver said during an interview last week.
With the flight of older middle class families to the suburbs, this young generation of creatives had the city virtually to themselves.
"We sort of could do whatever we wanted," said Driver, who was studying at New York University at the time. "We could make films and you didn't need insurance or lawyers or anything. You could film on the street."
Apartments doubled as art studios and performance galleries. Venues like the music mecca CBGB became central meeting places, and graffiti blossomed in the subway system before making its way onto the streets.
"With the physical crisis of the city at the time, they hardly had enough money to clean stations let alone trains, moving stock," graffiti artist pioneer Lee Quinoñes said over the phone last week.
What occurred was something of a creative explosion in the East Village with artists of all mediums living in close proximity and inspiring each other.
"Someone that was known for their poetry on the street corner of 6th and 8th, all of a sudden was now collaborating over a drink or dinner with someone that was just visually powerful or musically powerful," Quinoñes said. "… There was a lot of busy bees in the Garden of Eden."
One of those creators was a teenage Jean-Michel Basquiat.
While attending an alternative high school in the West Village, Basquiat met Diaz, who had already established himself in graffiti culture under the name Bomb-One.
Together, they started a graffiti campaign using the tag SAMO (pronounced same-oh), a word they'd coined from the phrase "same old [expletive]," which they would accompany with short phrases.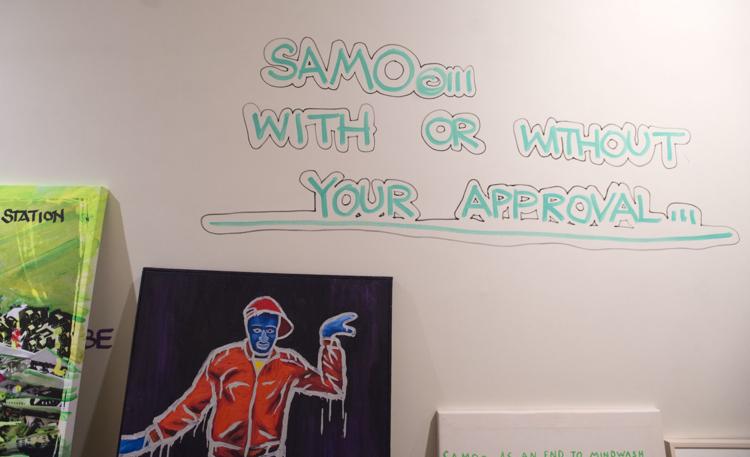 The project was part conceptual art, part intellectual exercise and part experiment in hype, said Diaz.
"It was exciting and challenging and new and had all these possibilities."
By the end of 1978, SAMO was all over parts of Lower Manhattan — and the public had noticed.
After a year of anonymity, the pair revealed their identity in the Village Voice, but things quickly changed when Basquiat went on TV and claimed the name for himself.
The two had a falling out and Basquiat proclaimed SAMO dead in 1980.
Later that year, he would begin his rise to fame. Diaz was left in the dust.
"He crossed a lot of people and he forgot a lot of his friends," Diaz said. "I don't think that sat right with him because he was very unhappy toward the end."
Basquiat died of a heroin overdose in 1988 at the age of 27. Despite his short career, he would remain a cultural icon and an inspiration for many future artists.
Today, his works are in the permanent collections in such galleries as the Museum of Modern Art in New York and the Museum of Contemporary Art in Los Angeles and are also hot commodities among private collectors. Just last year, one of his paintings set several records when it sold at auction for $110.5 million.
"His work is still so relevant and that's why people respond to it and that's why it's selling for ridiculous [amounts of] money," said Driver, who knew the art prodigy personally. "Because his work is so vivid and it's always crying out about culture and racism and injustices."
It was a hurricane, of all things, that brought Basquiat back to the forefront of Driver's mind.
In 2012, Driver visited her friend Alexis Adler, a former girlfriend of Basquiat's with whom he lived from 1979 to 1980.
Adler had recently collected a trove of Basquiat's early work and old photographs of the artist from a bank vault in the aftermath of Hurricane Sandy, which made landfall a month before.
During their visit, Adler showed Driver what she'd found.
"I immediately thought, 'I've got to buy a camera and record this,' because this is not only an incredible insight into this wonderful artist as a teenager during his formative years, it's also an insight into New York City at this time," she said.
Driver began work on a film documenting Basquiat and the artists creating around him from 1978 to 1981.
"The film was made in very much the same spirit as when we first started making films in the late '70s and early '80s, of just pick up a camera and do it," she said.
"Boom for Real," which will be screened in Lynchburg on Saturday, received critical praise when it premiered in New York in May.
It also inspired the "Zeitgeist" exhibit, which opened the same month in New York and features work from many of the artists Driver interviewed for the film, including Diaz and Quinoñes.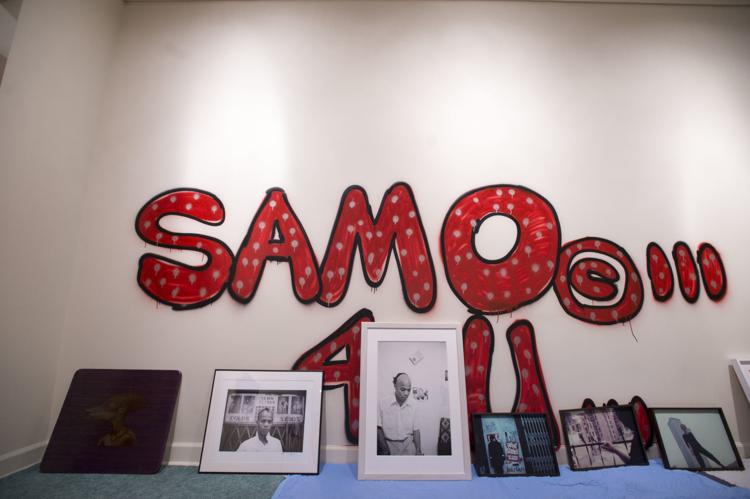 "It's a great constellation of artists that have been rounded up to, in some cases, re-liven their stock or just show what they've been doing ever since," said Quinoñes. "Some of us have never stopped creating."
Long after the crowd has cleared from the Maier, Diaz whips out a can and applies one final tag in spray paint, a simple "SAMO©" emphasized with a spiral, a pound sign, two stars and an exclamation point.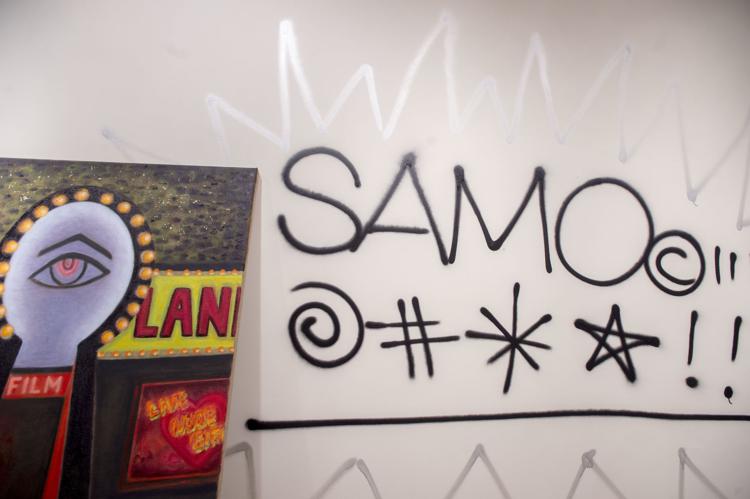 After almost 40 years of not using the tag he created with Basquiat, Diaz brought SAMO back to the New York streets in the wake of the 2016 presidential election.
It was time to reveal the power of SAMO to a new generation, he said, one that really only knows the tag in connection with the name Basquiat.
The SAMO of 2018 is pretty similar to the SAMO of 1977, save for one major thing, Diaz said.
"It's my voice, that's a huge difference," he said, "but I stay within the parameters of the conversation we were having between the two of us with SAMO."
Even though he's fully embraced the solo-SAMO mantel, Diaz said he will occasionally throw up a classic from his days with Basquiat, like the one on the Maier's front wall that boldly proclaims "SAMO© as an end 2 mass-produced individuality."
"That's one of the original SAMOs, and to me it's still very relevant," he said.
Diaz's latest SAMO creations will linger at the Maier until mid-December, at which point they, like so much of the graffiti of the late '70s, will be nothing but a memory.
"It's going to be really hard when it comes time for the next exhibition and we have to just paint over it all," said Johnson, "but it's a form that's never meant to be lasting and permanent, so it would be sort of betraying its essential quality to try to preserve it for a long time."