There's an effortless quality to Arnulfo Jacinto's brushstrokes, an ease to which the paint glides from his instrument onto the canvas stretched out in front of him as he fills in blocks of color, adding highlights and shadows.
The more paint he applies to the large backdrop, the more his shapes begin to transform into recognizable buildings.
"I've got the light coming in on more of the recognizable structures, such as the Empire State [Building] and the Chrysler Building," he says of the set he's currently working on, "Annie," for Brookville High School.
"What I'm going to do is emphasize the detail on these here and gradually work my way down and fade these out."
When finished, he says, the effect will make it appear as if the audience is staring up at the towering New York City skyline from the smog-filled street below.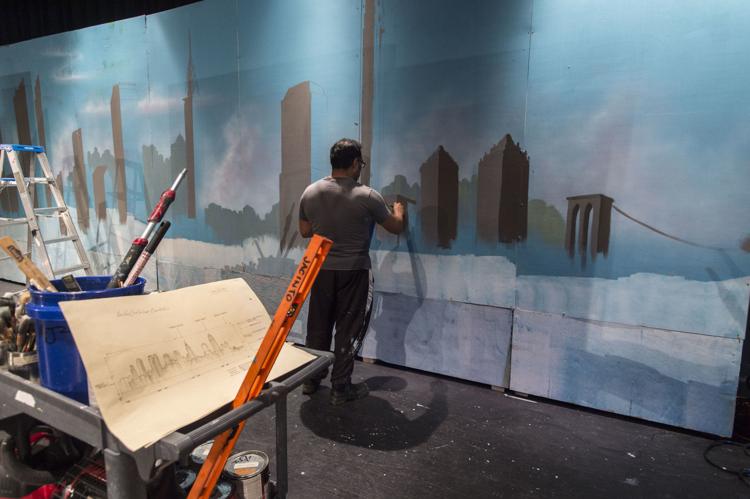 In the few years since Jacinto (pronounced ha-cinto) — who also goes by Arnold — started AJ Squared Productions, his scenic painting company that provides sets and backdrops for theatrical productions in the Central Virginia area, he has gone from a virtual unknown to a hot commodity in the local arts scene.
"I think there are other artists in the community, but it wasn't until I worked with Arnold that I realized nobody in this community in my opinion is as good as Arnold," says Michelle Velastegui, founder and artistic director of MasterWorx Theater.
"I'm from New York; I go to Broadway to see shows all the time. Many times I've seen things and been like, 'Arnold could do that' or 'Arnold would give you that. That looks like what Arnold would have done.'"
After serving as an alternate for the United States' canoe sprint team in the 1984 Olympics and working for eight years as a firefighter, Jacinto studied at the University of Southern California's Roski School of Art and Design.
From there, he says he painted sets for Universal Pictures' 2000 film "How the Grinch Stole Christmas," starring comedian Jim Carrey, and on national billboard campaigns for films such as "Godzilla" and "The Mask of Zorro" and for businesses like Gap and The Chevrolet Corporation.
"We did this one billboard campaign for 'Armageddon' on the freeway in Culver City. Our company was hired to put up this billboard on the side of a building and it looked like a meteor had gone through it," he says.
"It looked so real that Culver City demanded Disney [which owns Touchstone Pictures, the movie's producer] take it down because there were already several traffic accidents."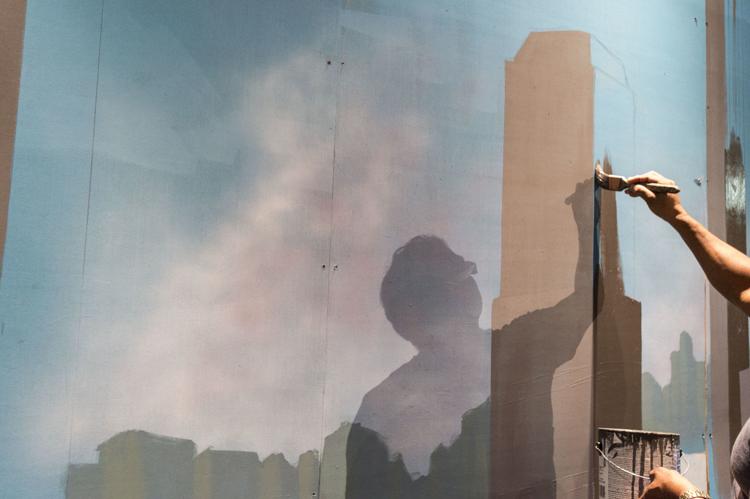 In 2014, Jacinto moved to Lynchburg, with a plan to go to graduate school at Liberty University, his wife Alisa's alma mater.
That first winter in town, he saw Thomas Road Baptist Church's annual Christmas Spectacular. After getting cast in the event the following year, he started helping the production team with their sets.
Velastegui, who was assisting with direction for the Christmas Spectacular, liked his work so much she brought him in to work on MasterWorx's production of "Oklahoma" in 2016.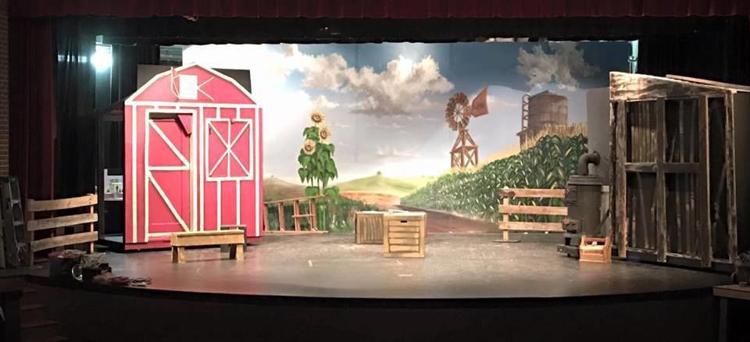 That work led to Jacinto's first job with the Academy Center of the Arts for its Encore Youth Theatre production of "Tarzan."
"We had this slide that our apes would go down because our set was a big jungle gym for them; we had trampolines and all these things," says Kelly Posenauer, the Academy's director of education.
"I remember the slide specifically because he made it look like a log. There [were] such beautiful, vivid colors and flowers. It was just so creative and different. His technique was amazing."
Word of Jacinto's talent began to spread and he started getting calls from other companies. Two years later, he's painted more than 60 different sets, from the opera"Don Giovanni" to "Hairspray."
Megan Emanuel, Brookville High School's theater director, remembers when she hired Jacinto to work on "Hairspray."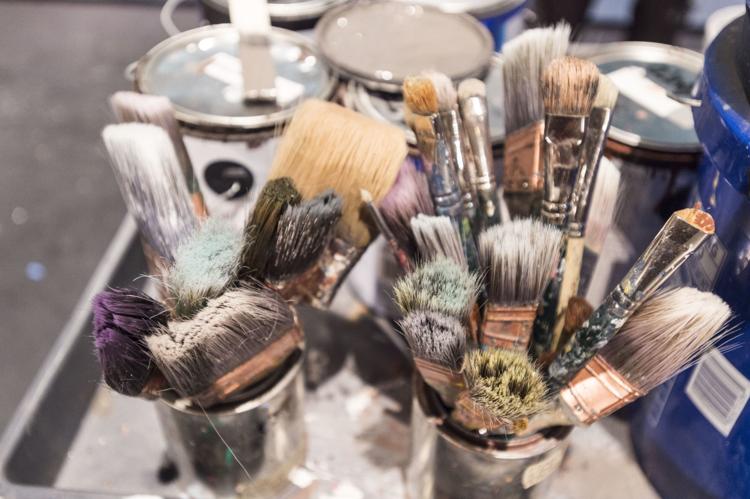 "In the past I had been renting my backdrops and when you do that, you spend $500 or $600 just on that one thing, so then you're trying to supplement with other things" she says.
Jacinto, meanwhile, charges between $75 and $100 for an 8-foot by 8-foot flat.
"I'd rather the money stay local and [go] to someone who can also make something one-of-a kind that's unique to our program that no one else had," Emanuel says. "Other backdrops get shipped around the country."
One of his largest projects to date was a set for Forest Dance Academy's Disney villains-themed spring recital. The finished project featured a two-tiered castle with a dungeon in the bottom, a moat complete with a faux bridge, and cutouts of Captain Hook's crocodile and Ursula's tentacles. The set also included gargoyle statues and a throne that doubled as the Evil Queen's magic mirror.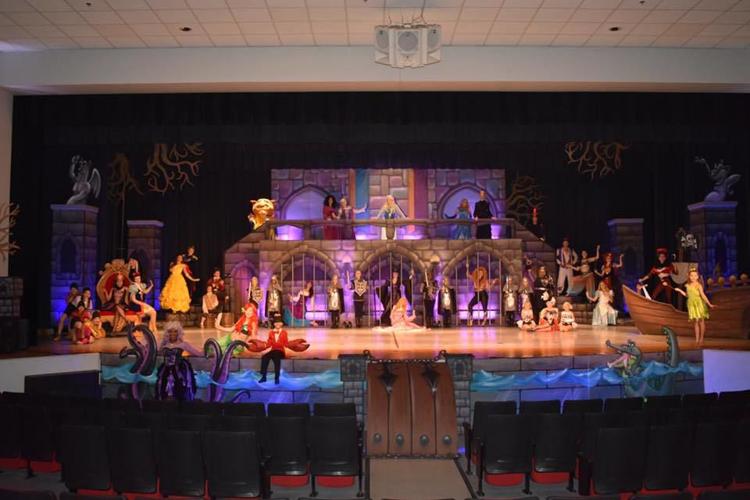 The set was just the first of many he will paint throughout the summer season.
"I never thought this would happen," Jacinto says of his scenic design business, which began as a passion project and has morphed into his full-time career. "Last year, we had to go and apply for a business license."
The hum of an engine echoes through the nearly empty theater as Jacinto stands on a ladder applying contours to the Chrysler Building with an airbrush. It's already past 8 p.m. and there's a little bit more he wants to get done before heading home.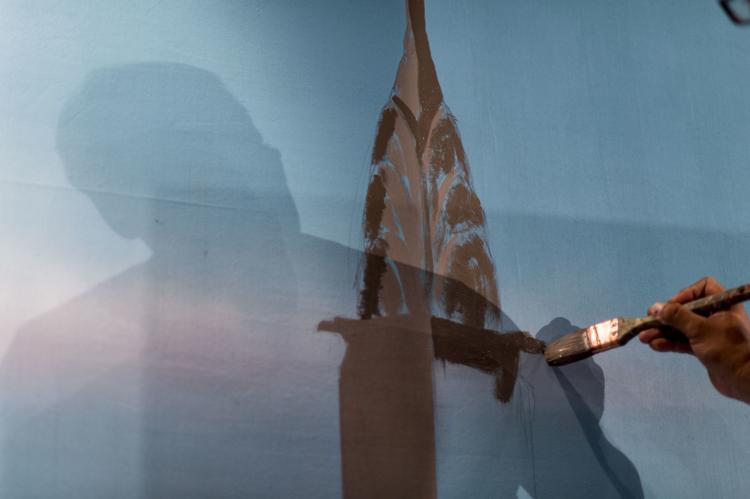 Since many of the sets he works on are for school or camp productions, Jacinto, with the help of his wife, does most of his painting at night. The result is in many ways like the reveal on Christmas morning, says Emanuel.
"'Seussical' was white when we left it," she says, remembering Brookville's 2017 production. "We got everything built and primed for him and we came in the next morning after they'd worked overnight and it was magic. It was beautiful. It was like something out of Dr. Seuss's books leapt onto our stage."
Most jobs begin with Jacinto and his wife examining the script and formulating ideas, followed by a production meeting between the artist and the director, where the two will sit and discuss the vision of the piece and the goal for the design.
"We were sitting in the meeting for 'Oklahoma' and I'll never forget it because in the conversation, I was talking and he was doodling," says Velastegui. "…Next thing I know there is literally the backdrop that we used in our production that he had already orchestrated within minutes in pencil form."
Jacinto will often provide a pencil drawing of the production's stage design, which he sketches to scale, but for more complex builds like the Academy's production of "Tarzan," he designs a scale model of the set using the theater's dimensions out of foam core.
These illustrations help Jacinto and the director communicate to create a cohesive vision for the production and can also serve as a reference later in the building or painting process.
"I can take my camera phone and get down to the eye level and take a picture of it and it looks like you're actually sitting in the audience," he says. "So, I can see what it's going to look like before it's up there."
While Jacinto's backdrops might seem like bursts of his artistic creativity and expression, a great deal of research goes in to designing a set. He considers the location and era in which a show will take place as well as the architectural styles of that time. He also takes into account the colors and advertisements common in the time period, so a show set in the 1920s has a different look than one in the 1980s.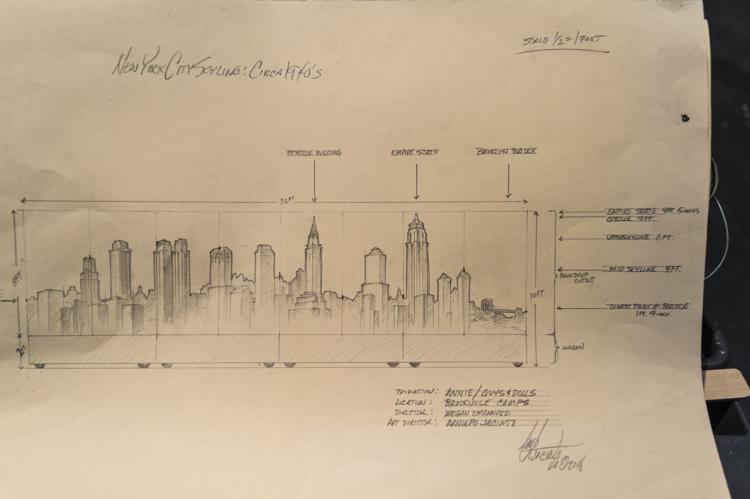 This way, a production of "Guys and Dolls" has a different New York skyline than that of "West Side Story," and buildings in those productions look nothing like the "Oklahoma!" farmhouse.
Having a special set can make a huge difference in a performance, especially when it is children's theater, adds Posenauer, who has hired Jacinto for 12 other projects since "Tarzan," many of which are summer camp productions.
"Because his designs are just so beautiful, the kids don't feel like it's just a normal kids' show," she says. "They feel like this is someone who really wants to invest in [them]. He takes it to the next level, and the kids rise to the occasion."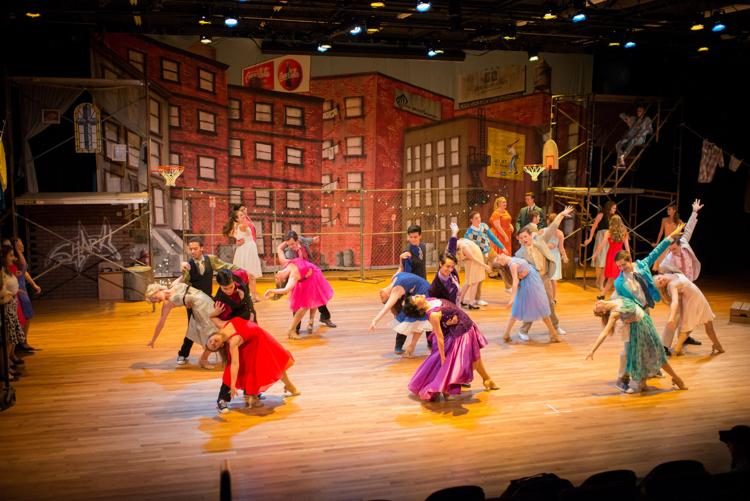 Jacinto's backdrops are so vibrant some directors in the area have been hesitant to get rid of his work once the show ends its run.
"I actually have some of the 'Suessical' books on that panel I took to my classroom and we attached it to a wall, so I have that to keep," Emanuel chuckles. "We try to keep something from each show he's done, but it's so hard because we're on a limited budget."
Although he says the sentimentality is sweet, Jacinto has no such concerns about preserving his work. The artist insists the directors who hire him paint over it to save money, saying he can always paint them another backdrop if they decide to stage the production again in the future.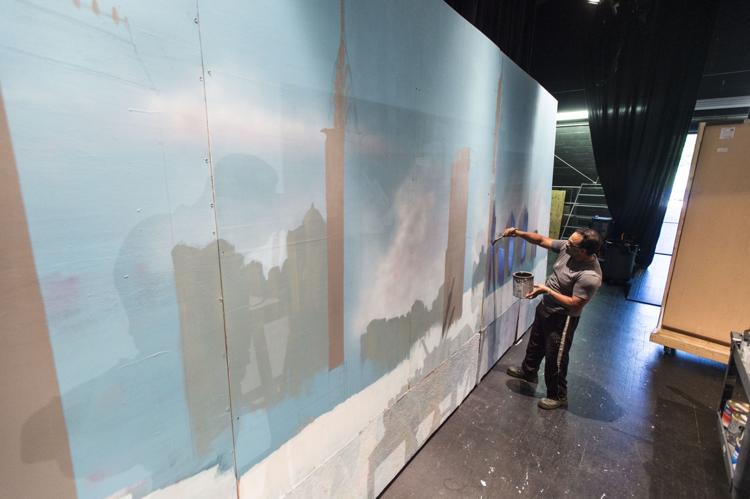 Especially in a smaller theater community where the repertoire is often repeated, Jacinto works to make each set different from previous productions in order to make the show a new experience for the audience, many of whom have likely attended these other shows.
This is the third production of "Annie" AJ Squared Productions has painted since moving to Lynchburg. Like the one he is currently painting, the first one was a full backdrop of New York, while the second was a mansion, Alisa says as she watches her husband paint.
Part of the trick to giving each production its own aesthetic and feel comes from the color scheme; Alisa says the middle show had more greens while this one is bathed in golds.
Jacinto says his goal is to make every set — whether he's painted one for that particular show before or not — better than the last. Based on the repeat names on his client list, those in the Lynchburg theater community seem to think he's succeeding.
"We have gone to shows in the community … and I look at something and it's like, 'I wonder if Arnold drew that?' It looks like Arnold's work," says Velastugi. "And then I'll look in the program and sure enough, he had his hand in that."