Until recently, there were just three roles that had eluded Perry Payne Millner throughout her years in the theater community: Mama Rose in "Gypsy" and the title characters in "Mame" and "Hello, Dolly!"
Come this weekend, she can mark one of them off her list. Millner is starring in Alluvion Stage Company's production of "Hello Dolly!" which opens Friday and runs throughout the month in Liberty University's Tower Theater.
Those who know her say the role is a perfect fit.
"I thought, 'Well, of course you are. … You don't have to act that part, because that's who [you are],'" said Jim Ackley, who taught Millner when she was a student at E.C. Glass High School in the 1980s.
"Perry never knew a stranger," he said. "I remember when we would get a new student in drama, she was the one I would always tag to make the kid feel welcome, [to] show them around. She's just that way. She's so warm."
The show follows the titular character, a matchmaker Millner describes as a "heart-on-feet," as she travels to Yonkers to help her latest client, a "half-a-millionaire" named Horace. Dolly also is a widow who stops and talks to her late husband periodically throughout the show and who is considering remarrying (for money this time, she tells him at one point).
The theater classic debuted on Broadway in 1964 and was recently the subject of a revival starring Bette Midler.
Linda Nell Cooper, Alluvion's artistic director, calls Dolly a guardian angel, someone who "makes people believe in themselves."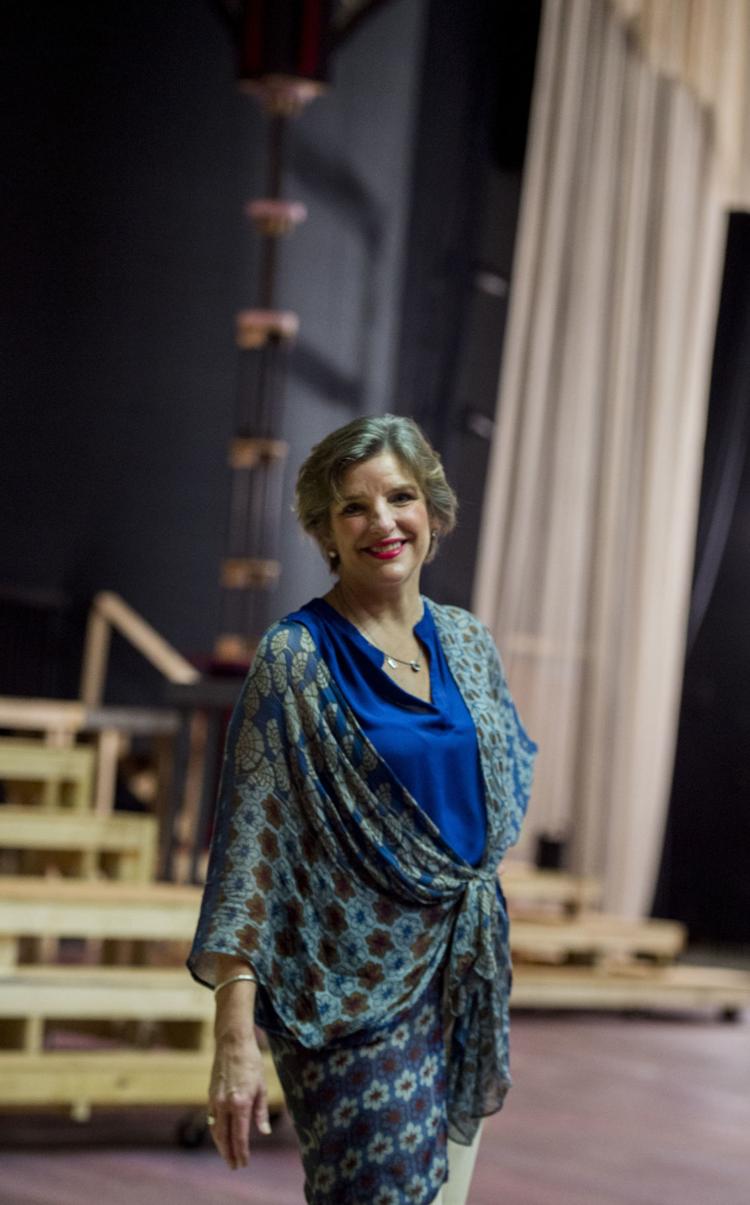 "I would think that everyone knows a Dolly in their life. And, if not, by the end of the show, you want to know a Dolly because she just makes the world seem so much brighter."
For Millner, the role marks a return to the stage after spending the majority of her career behind the scenes, most recently as executive director of the Virginia Theatre Association (VTA).
She left VTA in December, ready to pursue other things. So far, that has included planning several events, such as an Endstation Theatre Company benefit concert featuring actress and fellow Glass graduate Faith Prince, and more personal pursuits like painting lessons.
"Theater is my passion, and my love," Millner said last month in her Boonsboro home. "But there are so many things I'm interested in. I love to write. I missed performing."
Millner's acting career began at E.C. Glass as part of the first group of students taught by Ackley, who would transform the program when he arrived in the early '80s and go on to run it for the next 32 years.
"I was very fortunate to have her and other people in that first group of kids I had at Glass who have gone on to professional careers," Ackley said. "The fact that they were all in the same place at the same time was very fortuitous for me. "
He remembers Millner as a "regular kid. She wasn't singing 24/7 or acting 24/7 or anything like that. She was involved in other things. … I think that helped her as her career moved on because she was able to adapt to just about whatever character she was ever asked to play."
After graduating from Glass and then Lynchburg College, Millner said she took off, first for Washington, D.C., where she worked in public affairs while pursuing an acting career.
"I always had one foot in business and one foot in art," she said. "I want to be an artful businesswoman and a businesslike artist."
In 1992, she earned her acting equity card after nabbing a role in the Kennedy Center comedy "Shear Madness," the second longest-running play in the history of American theater.
She moved to New York a year later and spent her first decade there as a performer, she said, mostly doing regional theater and some off-Broadway shows.
"You go to New York to be an actress," she laughed, "and then you get sent to Sarasota."
Millner eventually got a job singing for Target corporate events and store openings and, after buying a home in New York City's Washington Heights, embarked on a career in real estate.
At the time, Washington Heights was an "up-and-coming artist enclave," she said, which would later become the subject of Tony-winning composer and "Hamilton" creator Lin-Manuel Miranda's first Broadway show, "In the Heights."
While running a team of what she described as "Broadway performers who sold real estate when they weren't on Broadway," Millner helped Miranda and his family find an apartment. She also became an early investor in the show, which won the 2008 Tony for best musical, after falling in love with it
"The [show's] backdrop [was] the view out my bedroom window," she said.
She sold real estate until 2008 or 2009, she said, returning to the stage every so often, including in her own cabaret show.
When the market crashed, Millner returned to the arts full time and moved to Charlottesville, where she rented a house on Rugby Road and began doing work for the Paramount Theater. After holding a series of food and wine events there, Millner was named creative director, a gig she held for the next three years.
By the time VTA came calling, she was ready to come home. The organization was based in Harrisonburg at the time, but Millner said they told her she could take it wherever she wanted.
That was in 2014, and VTA has operated out of Lynchburg ever since.
During her tenure, Millner said she worked to raise its profile and offerings. She did that by attracting big names like Miranda, fellow Glass alum Connie Britton and songwriting duo Benj Pasek and Justin Paul, who recently won the best original score Tony for "Dear Evan Hansen," to VTA's annual conference.
When she left earlier this year, Millner said the organization had grown to feature year-round activities and initiatives.
"It's hard for one person to cover all of Virginia, especially when you're in love with where you live," she said. "… I wanted to do it [all] here."
And now she is. Since December, Millner has done a little bit of everything. She began taking painting lessons, taught at Liberty University's summer theater camp and has continued giving master classes and vocal coaching lessons. She's also involved in a number of projects, some of which aren't quite ready to be announced yet.
Then, of course, there's Dolly.
Cooper said she liked the honesty with which Millner approached her audition for the role and "the fact that she showed no fear."
"When I asked her to do a dance call, she didn't make excuses … she just jumped in there in her high heels and her dangling earrings, and she did it."
And, like Ackley, Cooper also saw more than a few similarities between Millner and the character.
"She always sees the good in everyone around her. So that's contagious and you like to have that as part of your casting," Cooper said of Millner. "She is very outgoing and has a true sense of self, so she carries a grace and an air about her that seems very genteel and southern. But at the same time, she can be very cosmopolitan, which is a nice mixture for the character of Dolly, who internally is a homebody but externally can rub elbows with anyone."