The words "A True Story" open Mel Gibson's war drama "Hacksaw Ridge," the new film based on the heroics of Lynchburg-born Desmond T. Doss, the first conscientious objector to receive the Medal of Honor.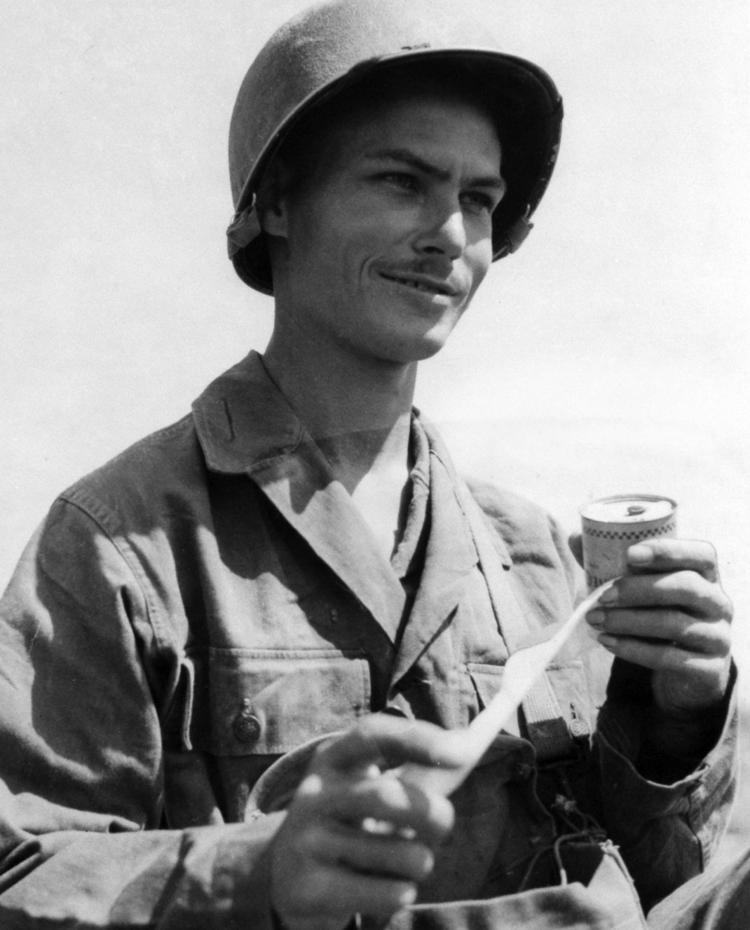 Not the commonly used phrases "based on a true story" or even "inspired by real events," but "a true story."
"It's gotten to be sort of a trite term [because] filmmakers put on there: 'Based on true events,' 'based on somebody,' 'based on,' 'based on,'" said Terry Benedict, a producer on the film who was close with Doss before his death in 2006.
It is a rather bold statement to make in the current movie climate of CGI effects and adaptations, one that encourages the audience to perk up and pay attention.
It's stating that there are no tricks, no gimmicks in this film. That the filmmakers are telling a story based on the merit of the human experience.
"I think it was important to notate that what people are going to see is true," Benedict said, "To let people know, 'Look we don't need to really embellish on major story points here.'"
The first time veteran Harlow Reynolds heard of Desmond T. Doss, he was sitting with a group…
Following the attack on Pearl Harbor in 1941, Doss voluntarily enlisted in the U.S. Army even though his job at a Newport News Naval shipyard could have secured him a deferment, a decision that left him to reconcile his desire to serve his country with his religious ideals.
Raised a Seventh-day Adventist, Doss believed strongly in the Gospel and especially the Sixth Commandment and refused to carry, or even touch, a weapon. Because of this, the military labeled him a conscientious objector, a title given to those who refused to wear the uniform or salute the flag.
"I felt like it was an honor to serve God and country. We were fighting for our religious liberty and freedom," Doss said in "The Conscientious Objector," the award-winning 2004 documentary chronicling his heroism, which was produced and directed by Benedict. "I tried to explain I was not that type of conscientious objector. I tried to explain I was a conscientious cooperator."
At training camp, Doss was placed in a rifle company and faced numerous hardships and abuse from both his commanders and fellow recruits. Through verbal and physical attacks, the worst personnel assignments, threats of court marshal and attempts to have him removed from the Army under Section 8 — mental instability — Doss refused to yield on his commitment to not touch a weapon and was eventually made a medic for the 77th Infantry and deployed to Guam, Leyte and eventually Okinawa.
"He operated not out of the principal of denominational dogma. He operated out of the biggest commandment of all, which was the commandment of love and service," Benedict said in a phone interview last month. "He was a simple guy with very clear intentions. He was a deep man of faith. That faith was always on display [but] not in an evangelical way. … It was always there out of service and love."
Once in Okinawa, Doss and the 77th faced their greatest challenge yet: capturing Hacksaw Ridge, the highest point of the Maeda Escarpment, a 400-foot fortified slope topped by a 40-foot cliff, which ran along the southern part of the island.
This ridge served as a strategic military position for the Japanese with multiple defensive and attack points against the American troops. Overtaking it would change the tide of the war.
Thousands lost their lives taking the ridge, including many men in Doss' unit.
It would have been more if not for Doss' efforts.
During a particularly brutal assault on the escarpment in May 1945, the medic singlehandedly saved at least 75 of the wounded soldiers by lowering them down the cliff to safety with a rope he tied to a tree stump.
"From a Christian aspect, we as Christians are called to be Christ-like, which means to serve," said Stephen Doss, principal of the Desmond T. Doss Christian Academy in Lynchburg (he is not related to Desmond Doss).
"What a better example of service than the selfless act that Desmond did for his soldiers that had treated him pretty poorly for a while," he continued. "It goes against human nature. Once again, from a Biblical standpoint, that's the trick to truly having Christ in your heart."
On Oct. 12, 1945, President Harry Truman presented Doss, along with 14 other soldiers, the Medal of Honor at a ceremony on the White House lawn. He also received the Bronze Star and three Purple Hearts with Oak Leaf clusters, though not at the same ceremony.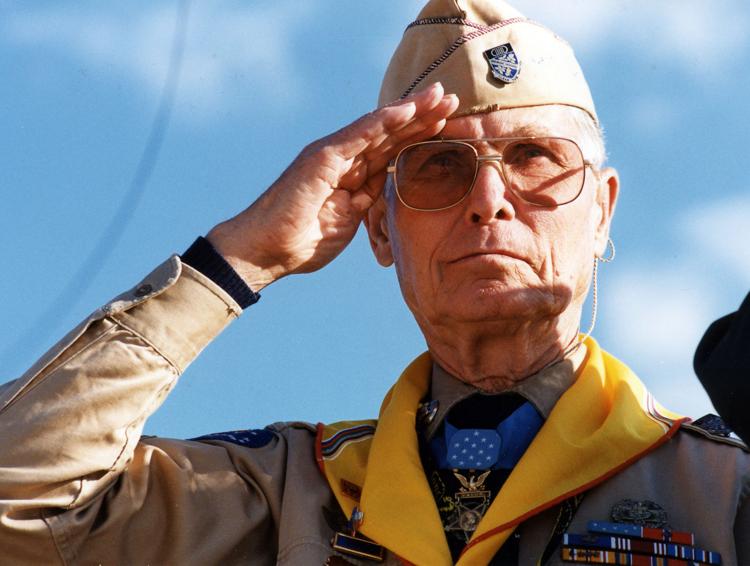 The movie "Hacksaw Ridge" focuses on Doss' efforts during the days of May 4 and 5, said Dr. Charles Knapp, a retired U.S. Army colonel who knew Doss. But Doss' Medal of Honor citation credits him for continued acts of bravery for almost an entire month. Doss constantly put himself in danger to aid to his fellow recruits throughout his entire time in Okinawa.
About two weeks after his most famous act, Doss was injured while aiding soldiers during a night mission. He tried to kick a live grenade away from himself and three other men. The blast left him severely injured with numerous pieces of shrapnel imbedded in his legs. While being carried away from the battlefield, Doss saw a man with worse injuries than his own, so he rolled off the litter and told the medics to take the other soldier instead.
While waiting for their return, Doss was shot by a Japanese sniper. The bullet entered his arm in two places, leaving broken bones and severe nerve damage, and Doss used a broken rifle barrel as a makeshift splint. This was the only time he ever touched a gun during the entire war.
Because of this, events in the movie, including the actual date of Doss' wounding, have been compressed for time.
Despite the ceremonies, biographies and medals, Doss remained the humble, soft-spoken Lynchburg-raised boy he was before the war throughout the rest of his life.
"The most common question asked of me in all the focus group showings is, in two or three words, how would I describe Desmond's character?" said Knapp. "I can distill it into two words: integrity and love. … Integrity, doing what is right when nobody is looking regardless of the consequences, and love for his God, his country and his fellow man, even if it meant sacrificing his own life."
For years, Hollywood bigwigs reached out to Doss at his home in Georgia, where he moved with his first wife and son in the 1950s, asking for the rights to turn his story into a movie.
Doss had certain key requirements for anyone who asked. Among them were that the film had to accurately portray his beliefs with no fictionalization of the key events and that his church must have proper representation.
"What most people don't know is that Desmond, back in the 70s, had actually signed two production contracts with different studios," said Knapp. "And then because they were overly dramatizing and fictionalizing his story, he backed out. He withdrew his approval, so neither of those contracts ever came to completion."
When his age began to catch up to him, the Medal of Honor recipient put the Georgia Cumberland Association of the Seventh-day Adventists in charge of his affairs, including the intellectual rights to his story. The organization created the Desmond Doss Council with the mission of preserving and protecting his legacy.
The Council wanted to see Doss' heroism preserved on film, and they gave the rights to do so to Benedict, who had slowly built a relationship with the veteran after they met at a church camp event when he was a younger.
"I had been very clear that I felt it was important to get a doc made first while at least some guys were still alive," Benedict said. "Many were just gone. One of Desmond's commanding officers died two weeks after I interviewed him. Another died a month or two [later] and a few died even the same year.
"I was barely staying ahead of Father Time," he said. "And so I was very fortunate and blessed to get what we got on the documentary and then, to have it turn out as well as it did."
They had planned for it to take only a year-and-a-half, but in the end, the documentary took three-and-a-half years to make. It was over schedule and over budget, but if it had not been, Benedict said, it would not have come out as well as it did.
Between interviews with Doss, as well as his siblings and fellow officers, Benedict filmed the former medic returning to his hometown, his basic training camps and, finally, to Okinawa.
When it premiered in 2004, the documentary took home awards at three festivals and received positive reviews, including one from Doss himself.
Then Benedict and the council turned their attention to making a feature film.
It took more than a decade to come to fruition, but it was finally greenlit in 2014 with Mel Gibson set to helm the project.
"He turned it down several times during the many years," said Knapp, who acts as the chairman of the Desmond Doss Council. "I needed to make the decision and give them the go-ahead to make it into an R-rated movie. We had requested, not insisted, but requested that the film be made as a PG-13, but Mel doesn't make PG-13 movies when it involves war."
Soon, actor Andrew Garfield ("The Social Network," "Spiderman") signed on to play Doss. Hollywood heavyweights Vince Vaughn and Sam Worthington ("Avatar," "Clash of the Titans") were cast to play the veteran's commanding officers and Hugo Weaving ("The Matrix," "The Hobbit" trilogy), his father.
Gibson brought the entire cast and crew together to watch Benedict's documentary to get a feel for the man and the story.
"Andrew really wanted to take ownership of the character and do everything he could to crawl inside Desmond's skin," Benedict said.
The British actor met Benedict in Chattanooga, Tennessee, and visited where Doss lived by the Georgia border and his grave in the Chattanooga National Cemetery. They then drove up to Lynchburg and visited his Virginia haunts, including the houses he lived in, the train trestle on which Doss would play as a boy, and the church he attended.
"We just used that time to really talk about Desmond and I listened to the kinds of questions Andrew was asking," he said. "He wanted to know a lot about characterizations and developing his accent and gestures. He talked about unpeeling Desmond's onion on various things, whether it was how he talked about the weather or where he went to church."
A few locals recognized the former Spider Man, but in all, their entire visit went undetected by the Lynchburg community.
Filming began in Australia in September 2015 and wrapped in December.
According to Knapp, who had unrestricted access to the set, Gibson used no CGI. All the fight choreography was developed through live action and the hundreds of extras on the battlefield were physically present on set each day.
"I found Gibson to be a highly motivating director," he said. "He would get on his hands and knees down in the dirt in those shell holes, and he would act or explain in highly emotional and relational terms what he wanted his actors to produce. He didn't necessarily tell them how to do it. He told them what he wanted to have done."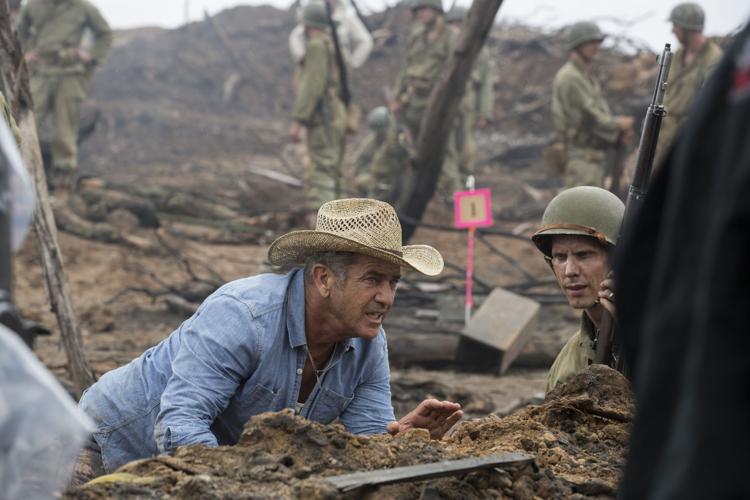 When "Hacksaw Ridge" premiered at the Venice Film Festival in September, it received a 10-minute standing ovation. Critics hailed it as Gibson's triumphant return to Hollywood and Oscar buzz began to form.
Though the film does contain a heavy amount of violence, there is no sex and has limited language, decisions made at the request of the Council, making it possibly the only war film in history to not use the names of God and Jesus Christ in vain or to drop a single F-bomb, said Knapp.
"I don't know if I truly grasped [Doss' actions] until I visually saw what Mel Gibson has done with the battle scenes," said Stephen Doss, who had the opportunity to attend a special screening before the film entered theaters.
"[It was] beautifully horrific to give you a real appreciation of what he did that day. The battle scenes are as heinous as you can imagine what battle would have been like on a pacific island in World War II. For me, it made me go away with even more appreciation for what Desmond had done and gone through."
Faith and veteran organizations alike have rallied behind the film. Benedict, who has been attending special previews of the film for months leading up to the premiere, said it has received an overwhelmingly positive response and has sparked discussions about war, bravery and commitment, something Gibson and the team hoped the film would accomplish.
It has also renewed the conversation surrounding veterans and PTSD and has caused the Army to reevaluate how it treats the condition, Knapp added.
Those who knew Doss personally have hailed Garfield's performance for its uncanny accuracy.
"What I think is so good about this film is it doesn't preach, it doesn't teach, it doesn't moralize, it doesn't offer judgment," said Knapp. "It's not anti-war, it's not anti-gun, it's not pro-conscientious objection or activism. It just tells a story. … And every viewer then draws his or her own conclusion."