FOREST — Teams don't usually celebrate after being held hitless.
But Jefferson Forest was all smiles Tuesday night.
That's because, despite two Brookville pitchers combining to throw a no-hitter, the Cavaliers won anyway.
"It was kind of ethereal," Forest cleanup hitter Lucas Bosiger said after the 2-0 victory. "It's a feeling we'd never experienced before."
Safe to say not too many baseball players have. Being on the wrong end of a no-hitter usually requires some soul searching. JF learned plenty about itself in the seven-inning affair without having to go through a grueling loss.
"This team fights, they scrap and I think that was indicative of our performance," Bosiger added.
Brookville starter Brock Duff and reliever Brennan Abbott proved the formidable righty-lefty combo. Duff took the loss and fell to 3-1 on the season after striking out five over four innings. Abbott added four strikeouts in two innings of work.
But the duo also combined for nine walks, three of which occurred in JF's fateful bottom of the third. That's when the Cavaliers (8-0) scored two times, both times on passed balls.
Pinch runner Spencer Morrison scored on a bang-bang play to make it 1-0, sliding in just ahead of the tag from Duff covering the plate.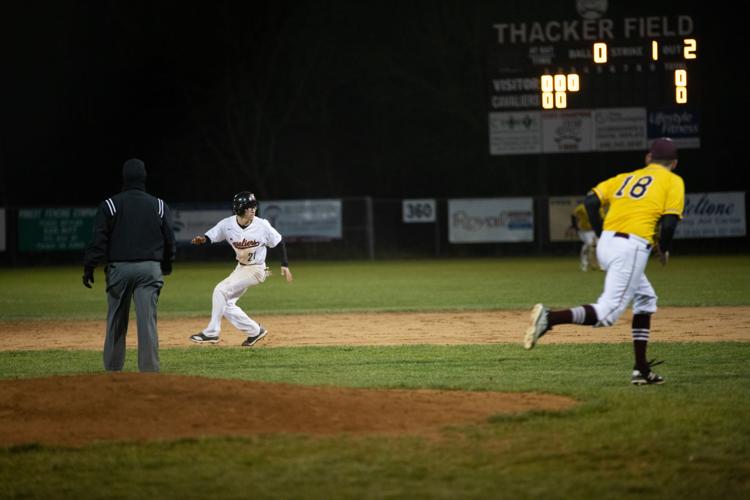 Morrison entered for catcher Ben Holley, who drew a two-out walk. The pinch runner then got caught in a rundown between first and second, which would have ended the frame, but Morrison was awarded second base when an umpire ruled the Brookville defense interfered on the base paths. BHS also committed an infield error with two outs in the inning.
"We've said it all year. Our pitchers are gonna keep us in ballgames," Brookville coach Chris Glaize said. "And they did tonight. Now we had nine walks, but … three of them were pitching around guys. Six legit, that's a little uncharacteristic of us."
JF received a solid outing from starter Griffin Agee, who fanned 13 batters and allowed just one hit in five innings of work. He gave way to Connor Maggi, who struck out five in the final two innings.
Agee had his breaking ball working early. The fastball came alive late in his outing. By the fourth, he looked in control, bolstered by the two unearned runs.
"We just proved we can not get any hits and still win a game," Agee said. "You don't necessarily win all three phases of the game. … It just came down to we got some guys on base in key situations. However we can win a game, we'll take it."
Holley, who started the two-out JF rally in the third by reaching base, wasn't bothered that his team didn't have a hit against its biggest rival.
"It's a special feeling no matter how you do it," Holley said. "To come out here and battle like that defensively and keep them out of the scoring column, it's special."
The catcher also appreciated the work of both Agee and Maggi, who combined for five walks but kept BHS hitters off balance, too.
"We could have located [pitches] a little better, but all in all they came through with pitches when they needed to," he said.
Brookville (8-1) managed just two hits. Zach Thompson was 1 for 4 with a single and Chase Davis finished 1 for 3. He led off the top of the seventh with a sharp single to right, but Brookville left him stranded, one of seven runners the Bees left on base.
"If we want to be considered in the upper echelon of the Seminole District, we've got to put balls in play," Glaize said.
JF coach Ryan Gilleland said he couldn't recall the last time his team didn't manage a hit. He was pleased with the way his hitters worked the count, though, and with the heads-up base running from both Morrison and Jaylen Calloway, who scored JF's second run in the third inning.
"When you don't get a hit," he said, "you usually don't win. It wasn't pretty from the hit standpoint, but at the end of the day, the runs are the ones that matter."