A mangled set of bleachers sat at the edge of the outfield on Brookville High School's baseball field, twisted and blown there Sunday by a storm that hit Campbell County and the Lynchburg area, described by the National Weather Service as "tornadic."
The bleachers, blown hundreds of feet from their normal place near the first-base dugout, were one example of damage done to the school's athletic facilities by the storm.
"I'm still mind-blown," said Clay Carico, an outfielder on the Brookville varsity baseball team, who was at the school Monday to help with cleanup.
Other important pieces of the baseball field were damaged in the storm, too, meaning Brookville's JV and varsity teams likely will have to play scheduled home games at another location, according to BHS assistant principal Christine White.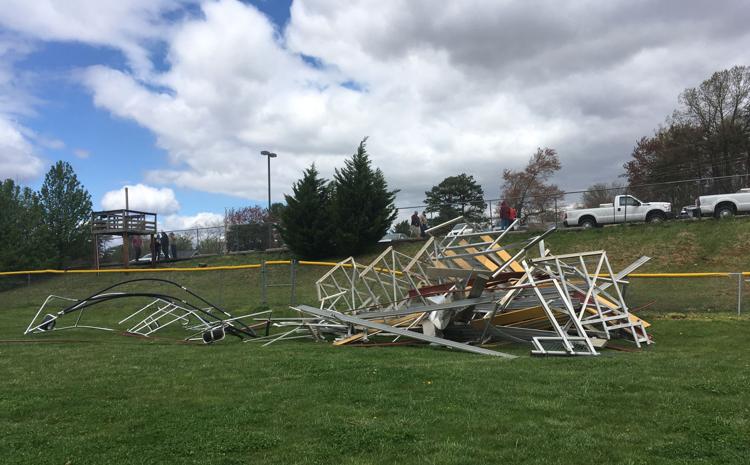 A pole that holds up netting behind the field, which protects fans from being hit by foul balls, was bent at a 45-degree angle, and the netting sported significant rips. Portions of fences surrounding the field and near other athletic facilities were significantly bent, as well. Home bleachers at the football field also were messed up and may have to be replaced, White said.
BHS varsity baseball coach Chris Glaize said Monday afternoon he'd heard from every coach in the Seminole District, as well as officials from Lynchburg College, offering the use of their facilities.
"It's outstanding what an amazing network of coaches we have here," he said, adding the cleanup efforts from students and other volunteers is evidence of the strong sense of community in the area.
Carico said he and other members of the school's athletic teams went to the school Sunday to survey the damage, but he didn't realize the extent until he saw it in the daylight Monday.
"It was definitely crazy. I would never think a tornado would hit Lynchburg," he said.
Glaize's team, as well as Brookville's football team, was at the school beginning Monday morning helping clear scraps of metal from the baseball field and break down trees and limbs strewn around the athletic facilities.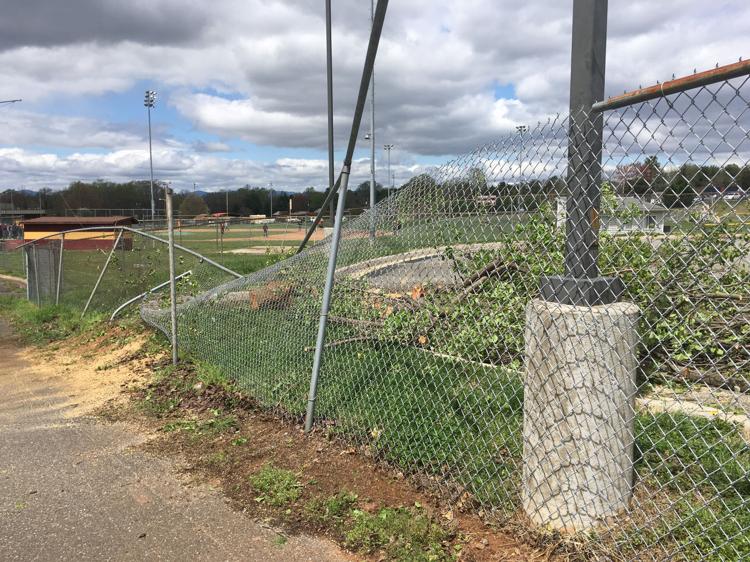 According to White, teams from Lynchburg College, Rustburg High School and Liberty Christian Academy all had helped at the school Monday, too.
White said hundreds of people had filtered in and out of the school complex Monday to help.
"We just a have a good community," White said. "It's obvious."
Academic buildings didn't sustain any significant damage, White said, but the school still was without power early Monday afternoon.
White said the school is trying to determine whether students were affected by the storm and what efforts need to be made to help them and their families.
Several area athletic squads helped clear debris and cut trees around the city Monday, and Liberty University athletic director Ian McCaw said his staff has been helping with recovery efforts and will be joined by student-athletes later in the week and over the weekend.
Heritage High football coach Brad Bradley said a handful of his players starting recruiting each other Sunday night via Twitter. In all, about 25 players and seven coaches, he said, showed up and split up into three groups, going throughout neighborhoods around Timberlake Road.
"We're trying to help people clean up and get back to normal," Bradley said.
The Heritage coach said he'll take players out again today.
"If anybody's still looking for help, we just need an address. We'll show up," Bradley added.
Also on Monday, about 35 E.C. Glass football players gathered in Boonsboro with coach Jeff Woody.
"It was good old-fashioned hard work," the coach said. "Our kids need that. What it does is it helps build the chemistry among teammates and it's also good to help people."
Other groups from Glass pitched in throughout the city, too, including soccer and lacrosse teams.
"It's humbling," Woody added. "It has a sobering effect on the mind. And yet when it happens, you get out there and roll your sleeves up and get dirty."