Micah Glaize was in a reflective mood Wednesday.
His mind was flooded with memories of Brookville High School, Friday nights on the gridiron and his football career in the Timberlake area, where the senior has played football since elementary school.
Then the 6-foot-1 receiver and defensive back sat at a table on the stage of Brookville's auditorium and signed his national letter of intent to play football at Liberty University.
"I woke up and just thought about how far I've come in the process and all the people that've helped me," Glaize said after the signing ceremony. "To finally put my name on that paper means a lot."
Glaize was joined at the ceremony by Brookville defensive end and tight end Elonte Jones, who signed to play football next season at Old Dominion University.
In all, 11 area athletes participated in early National Signing Day, a rites-of-passage moment for high school senior athletes across the nation who relish the opportunity to don college hats of their choice, break out fresh T-shirts broadcasting the names of their soon-to-be-new teams and finalize their decisions.
This is the second year the NCAA has allowed an early signing period, used to complement its Feb. 6 Signing Day. The signing period for Division I football continues through Friday. For all other Division I and II sports, the signing period opened Nov. 14 and continues through Aug. 1, 2019.
Jones, recruited by the Monarchs as a defensive end, has looked forward to Signing Day since verbally committing to ODU in August.
"I think I will [be able to contribute immediately]," the 6-5, 240-pound senior said. "They have a lot of raw talent, so it's gonna be hard. But I think I can."
Liberty High offensive and defensive lineman Brandon Ruff will join Jones at ODU after lining up against the BHS standout during his varsity career.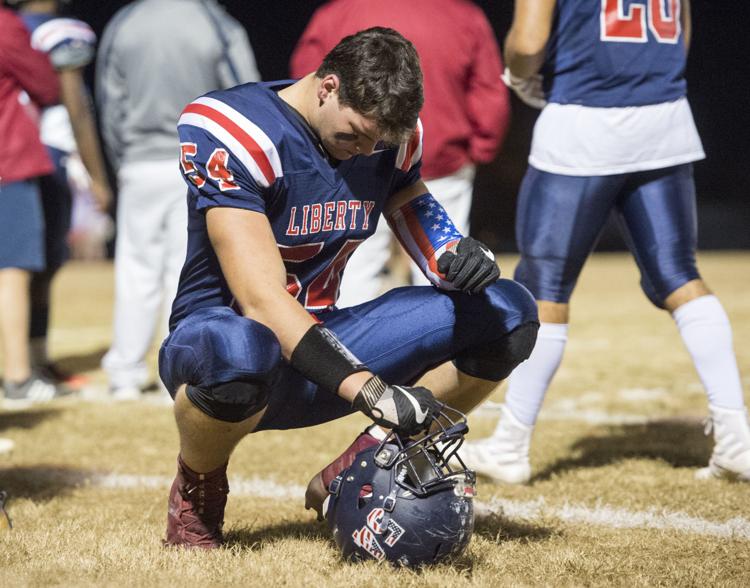 The 6-foot-6, 270-pound Ruff signed in Bedford, surrounded by his family, teammates, coaches and students. Ruff aided Liberty's deep playoff run to the Region 3C title game this fall. The Minutemen pulled off two upsets in the playoffs before falling to eventual Class 3 state champion Heritage.
"I guess going from the past two years and not having a lot of success, it's just good to see where we've come from," he said of Liberty, which endured back-to-back two-win seasons in 2016 and '17 before earning seven wins in 2018.
Jones and Ruff will meet up with former Heritage running back Elijah Davis at ODU. Davis redshirted midway through the 2018 season after appearing in four games for the Monarchs.
Heritage senior Chris Megginson, who signed Wednesday to play at Liberty University, took advice during his recruiting process from a couple of former Pioneer running backs: Davis and Frankie Hickson, a rising senior at LU. The option of playing close to home impacted Megginson's decision, too.
"My family has always been to every game I've played since I was little," Megginson said. "… To think about just having the city as a whole, the 434, as a family, and thinking that everybody can come watch me play, that was definitely a big factor."
At Liberty Christian Academy, eight athletes made their college choices official.
At a ceremony attended by about 100 friends and family members, baseball players Pell Collins, Christian Gordon, Emmanuel Johnson and Jacob Williams; wrestler Justin Phillips; and swimmer John-Michael Gordon signed letters of intent to attend Division I schools, while Liz Breedlove (softball) and Gabriel McKay (basketball) signaled they'll continue their careers at Division II programs.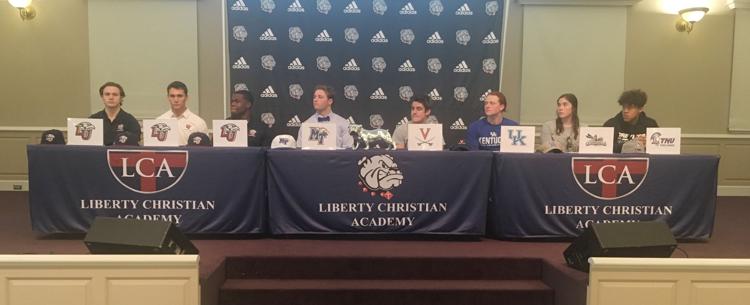 Phillips and John-Michael Gordon headline LCA's 2019 senior class, with each signing to compete for Power Five conference teams.
After capturing a state title last year and two other top-10 finishes at states in his wrestling career, Phillips landed a spot with the University of Virginia.
"When I took my visit, I knew right away I wanted to go there. My sister goes there, and I clicked with the coaches right away," Phillips said. "… It was my goal growing up that I always wanted to go Division I. I kept working every day because I had that goal in the back of my mind."
John-Michael Gordon will swim for the University of Kentucky and likely specialize in the backstroke or individual medley.
"It was always a dream, but I was never for sure about [swimming in college] until about two years ago, when I thought it was possible to achieve," he said. "I changed my mindset to where it was like, 'I'm gonna go and get this, no matter how hard I have to try.'"
Collins, Christian Gordon and Johnson all are headed to play baseball at LU. All three hit above .455 last season.
Collins, a second baseman who transferred to LCA from New Jersey ahead of the 2018 season, said he always believed playing at the next level was a possibility.
"Division I was always my goal," he said. "I knew I was good enough, I just had to keep putting in the hours."
Williams is the lone LCA baseball star headed outside Lynchburg for college after signing with Middle Tennessee State.
McKay also is headed to Tennessee, where he'll play basketball at Division II Trevecca Nazarene. He originally verbally committed to play for his dad Ritchie McKay at LU, but changed course in the last couple weeks.
"Toward the end of it, it was like I want to take my time with my decision, not feel rushed just because dad's [at LU] and it's a safe bet," McKay said. "Being able to go to [Trevecca Nazarene] and make a difference from the start and have the potential to start from the jump would be amazing. … I'm going there to help change the program."
Breedlove, a pitcher for the Bulldogs each of the past three seasons, is headed to Cedarville University, choosing the Division II Ohio-based school over Division III University of Lynchburg, which also was recruiting her, she explained.
"It was almost a relief just to know that I've gotten it out of the way, and this is where I'm going," Breedlove said. "A lot of kids don't get the opportunity to know where they're going until the very last minute. It was also a really joyful moment being able to share it with everyone."