Liberty men's basketball coach Ritchie McKay frequently refers to the little things that don't show up in the stat sheet as "winning plays." Whether it is diving on the floor for a loose ball, hustling to corral an offensive rebound, forcing an opponent to drive into a teammate instead of an open lane or being heads-up to pounce on a lazy pass, each of those moments gradually add up throughout the course of a 40-minute contest.
The Flames' 55-48 victory over Navy on Tuesday night at the Vines Center served as a prime example of those little things adding up. Liberty had its worst shooting performance of the season and couldn't shake the Midshipmen in the second half. However, several hustle plays led to Navy turnovers and Liberty points, which helped the Flames improve to 5-0 for the first time since 1991.
"I think our whole team, you could go down the line and probably rattle off everybody's winning plays," Flames freshman Kyle Rode said.
The biggest "winning play" came when Elijah Cuffee kept his eyes on a Navy inbounds pass after Myo Baxter-Bell's free throws with 42.3 seconds remaining. Cuffee saw the lazy pass was heading to an unsuspecting Cam Davis, and the junior guard pounced on the ball to regain possession one second later.
Cuffee's free throws extended Liberty's lead to 51-44 after the Midshipmen cut the deficit to three points one minute earlier.
"We manufactured some points down the stretch," McKay said. "Cuff's play to get the steal there, that's savvy."
The heads-up play was one of many the Flames produced throughout the game to prevent the Midshipmen (2-2) from either tying the game or taking the lead.
Those plays added up in a game in which Liberty was without redshirt senior Caleb Homesley. Homesley, the Atlantic Sun Conference preseason player of the year, entered the game as the team's leader in scoring (14 points per game), made field goals (18), assists (13), blocks (five) and steals (six).
"We decided not to play Caleb to rest him. He got a little tweak [Monday] in practice and didn't feel like he was full strength," McKay said, adding he didn't know until 15 to 20 minutes before the game Homesley wasn't playing. " … We fully expect him back soon."
The Flames felt Homesley's absence on the offensive end especially. They shot a season-low 34.7% from the field and were 2 of 12 from 3-point range in the second half.
Thanks to its defensive performance and ability to win those little battles, though, Liberty led for the final 36-plus minutes, and weathered any rally Navy generated.
Liberty limited the Midshipmen to four first-half field goals.
Navy's 14 made field goals were the fewest the Flames allowed since Kennesaw State finished with 11 this past January.
"We were tremendous defensively," McKay said. "That's how we ended up earning the victory tonight."
Darius McGhee led the Flames with 13 points on 5-of-8 shooting, and his activity on the defensive end was particularly effective in the first half when the Midshipmen failed to generate much offense.
The sophomore guard came up with a steal on one possession. Then, his ability to keep Greg Summers out of the paint forced the Navy guard into a contested shot, which Shiloh Robinson blocked to keep the Flames ahead 24-15 at halftime.
Liberty's lead swelled to 16 points, 39-23, following McGhee's 3 with 12:16 remaining, but Navy held the Flames without a field goal for nearly five minutes and trimmed the deficit to 40-33 on John Carter Jr.'s layup.
Senior guard Georgie Pacheco-Ortiz, who scored 12 points on 3-of-12 shooting, made a 3 from the right wing to extend the Flames' lead back to double digits and provide some breathing room.
"That was really big," McKay said of the basket.
Davis led Navy with 16 points. Summers and Carter each had 10 for the Midshipmen, who overcame the dreadful shooting (14 for 44) by going 16 for 22 from the free-throw line.
Cuffee had 10 points, while forwards Scottie James and Myo Baxter-Bell combined to shoot just 2 for 14 from the field.
"We trust Scottie and Myo to make those shots around the basket any given night," McGhee said. "They were playing them one-on-one, so we were definitely good with the shots that they were taking."
Liberty vs. Navy 01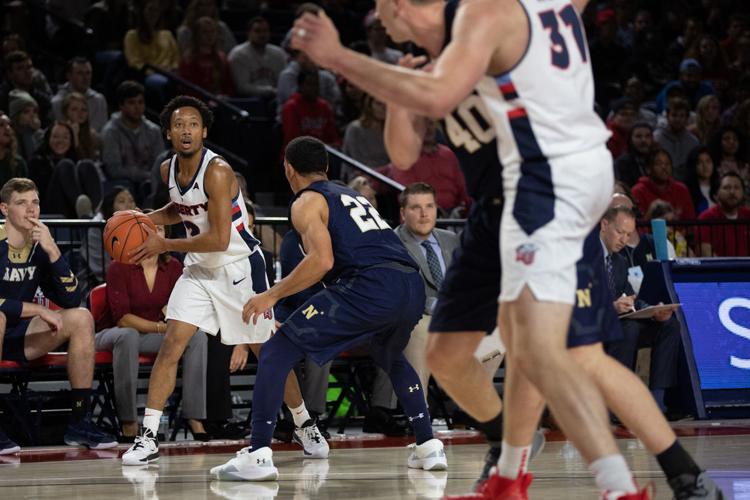 Liberty vs. Navy 02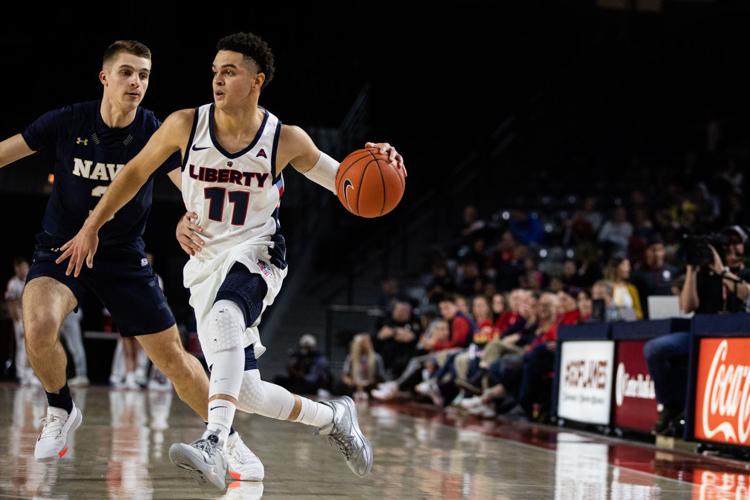 Liberty vs. Navy 03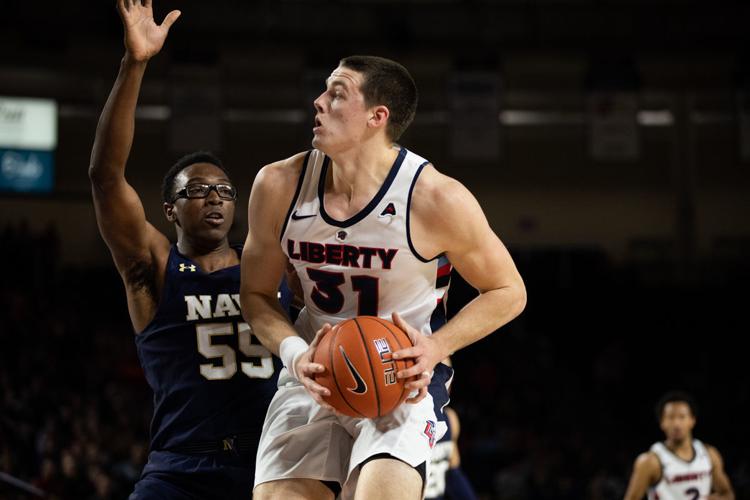 Liberty vs. Navy 04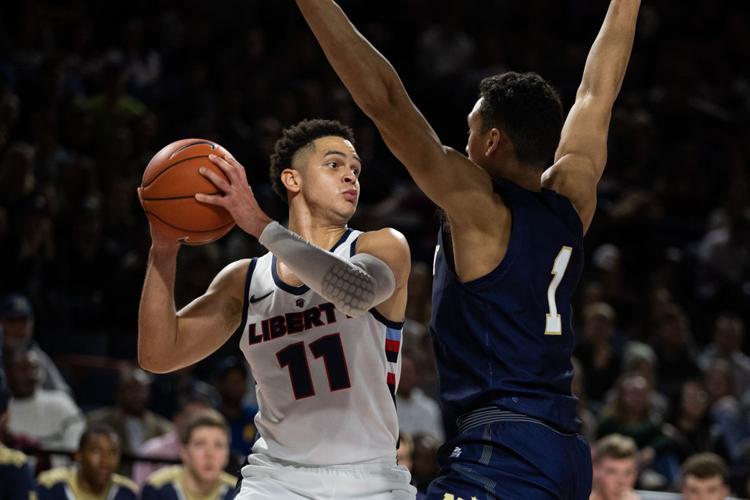 Liberty vs. Navy 05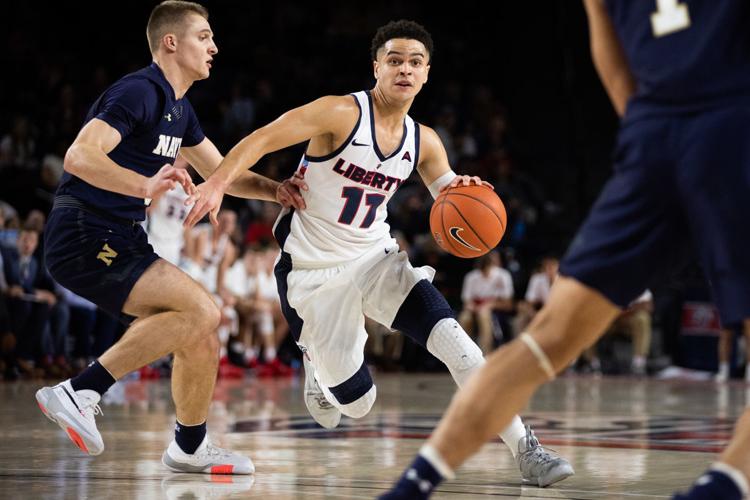 Liberty vs. Navy 08
Liberty vs. Navy 10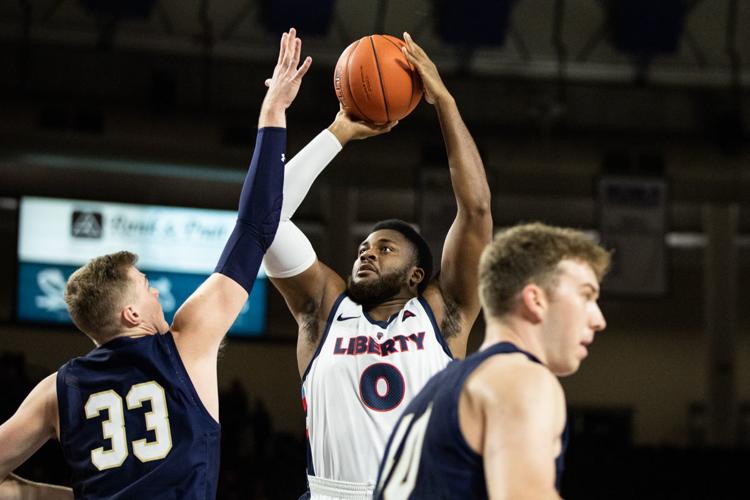 Liberty vs. Navy 11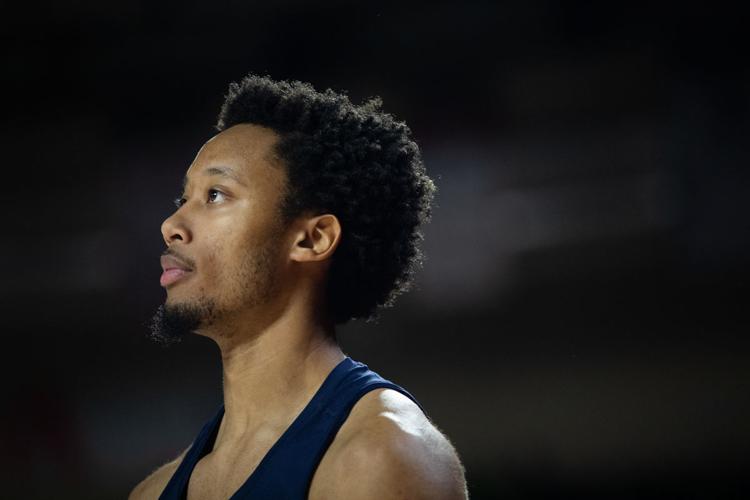 Liberty vs. Navy 12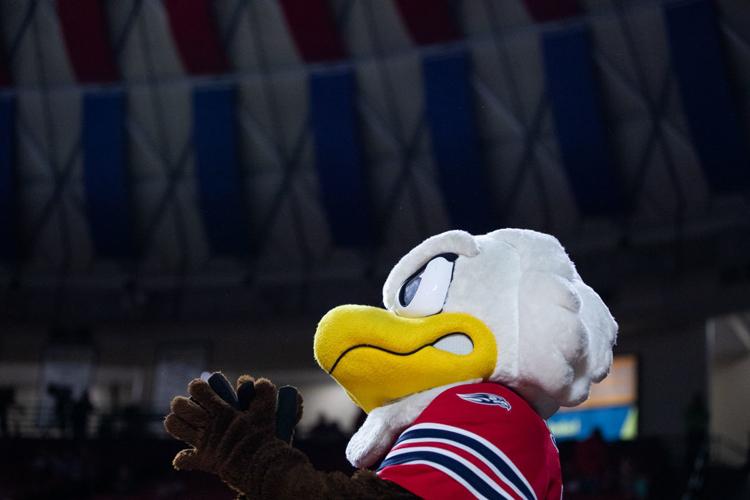 Liberty vs. Navy 13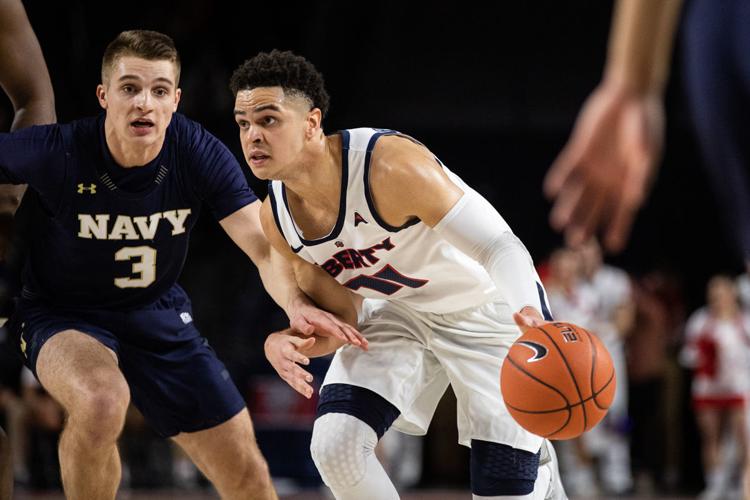 Liberty vs. Navy 13
Liberty vs. Navy 15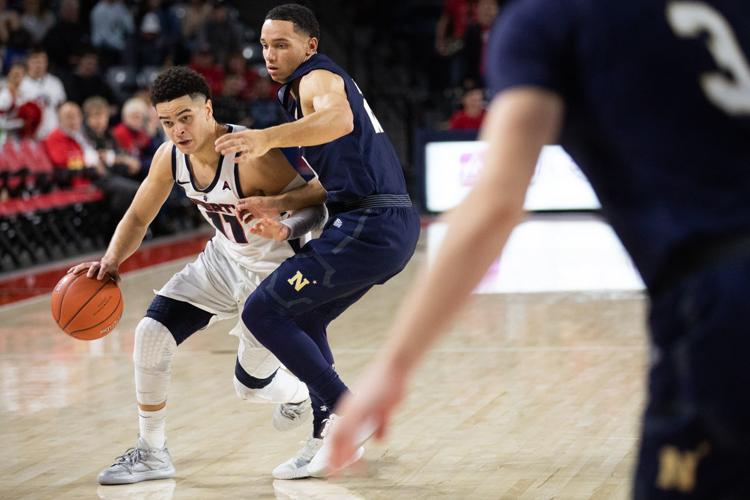 Liberty vs. Navy 16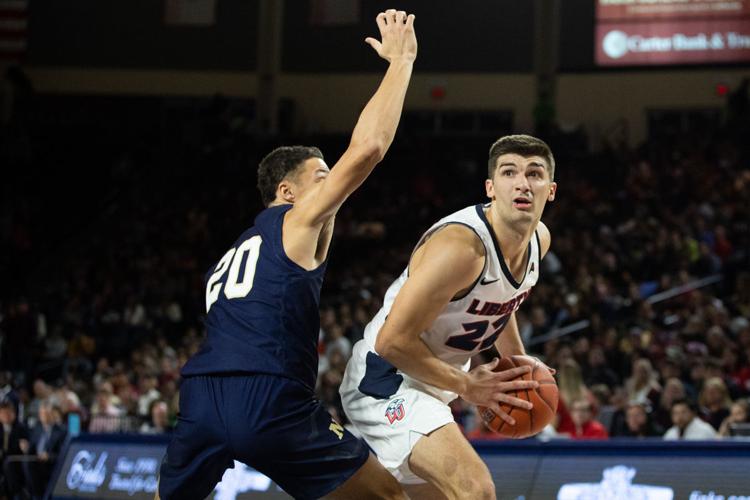 -- VERTICAL GALLERY LARGER FONT SIZES --
-- HIDE VERTICAL GALLERY ASSET TITLES --
Damien Sordelett covers Liberty University athletics and local golf for The News & Advance. Reach him at (434) 385-5550.