The next football coach at Liberty University will inherit a stocked cupboard.
The program currently is searching for Turner Gill's replacement less than a week after concluding its inaugural Football Bowl Subdivision season, but is slated to return 15 of this past season's 22 starters. And after reaching the six-win mark as juniors this season, a whopping 22 scholarship players that make up the 2020 senior class have bowl aspirations.
"We have players that had great experience against high competition," Gill said during his Tuesday exit press conference. "I see nothing but it going up in the right way."
The Flames exceeded most preseason expectations by becoming the ninth team since 1987 to win at least six games in an inaugural FBS season. The 6-6 record featured victories over Old Dominion, New Mexico, Troy and New Mexico State, in addition to victories over Football Championship Subdivision teams Idaho State and Norfolk State.
"For the first season playing in FBS and going 6-6, it's pretty good playing the higher caliber teams and more competition," Liberty redshirt junior right guard Dontae Duff said. "We left a lot out there, and we could have easily been 8-4. We rallied together those last two games to make sure we wouldn't have a losing record in our first season, and coach Gill was a big part of that."
Liberty ended its season with back-to-back victories over NMSU and NSU, marking the first time since 2015 the Flames enter the offseason on a winning note.
"As far as the season went, I thought we had a tremendous transition to FBS football," Liberty athletic director Ian McCaw said Tuesday. "The team was very competitive throughout the season; we were in basically every football game.
"Winning six games … certainly that's a great accomplishment, and I think we earned a lot of respect nationally and have the program positioned for great success as we move forward. I just feel a great sense of momentum. I think we're enjoying a lot of success in recruiting right now, and people just feel very good about Liberty football overall."
Liberty returns the core of its explosive offense with quarterback Buckshot Calvert, wide receiver Antonio Gandy-Golden and running back Frankie Hickson back for their final season of eligibility.
"We can take a lot away from this season," Calvert said after the season finale against Norfolk State. "One thing I can say that we did is we fought every single game to the last second, and that's something you don't really look forward. Guys really do come out and compete every second, every play."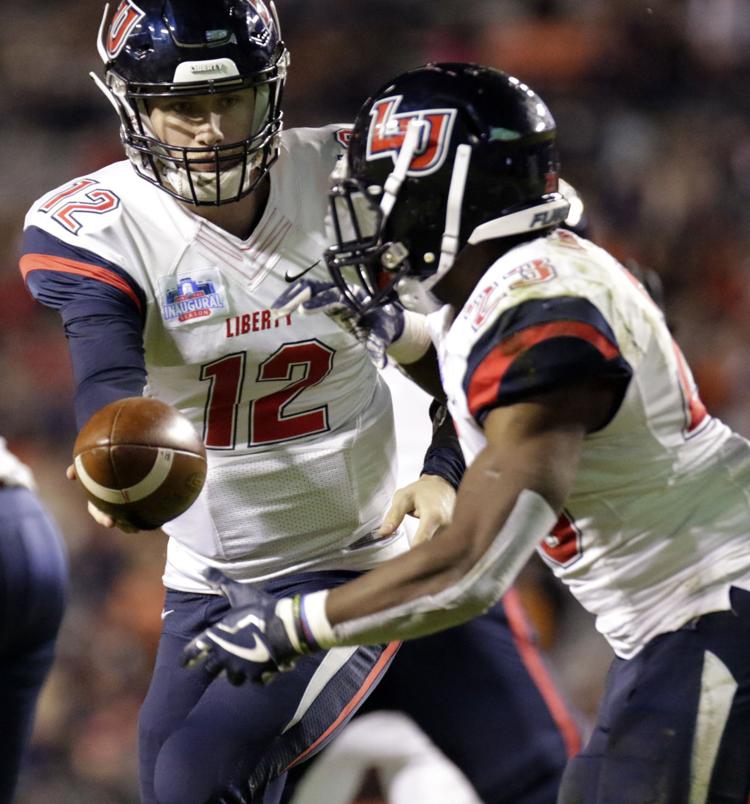 Hickson, who became the first Liberty running back to eclipse the 1,000-yard mark since 2014 with his 1,032 yards this past season, will be challenged for playing time by Maine transfer Josh Mack.
Mack led the FCS in rushing yards per game in 2017.
Peytton Pickett, Frank Boyd and Troy Henderson complete a running back stable that features balance, explosiveness and power.
Wide receiver B.J. Farrow graduates after a strong senior season (40 catches, 546 yards and five touchdowns), but the receiving corps is loaded with Gandy-Golden and slot receiver DJ Stubbs slated to return. Colorado transfer Johnny Huntley, Noah Frith and JT Wood figure to also be in the mix for arguably the deepest unit on the team.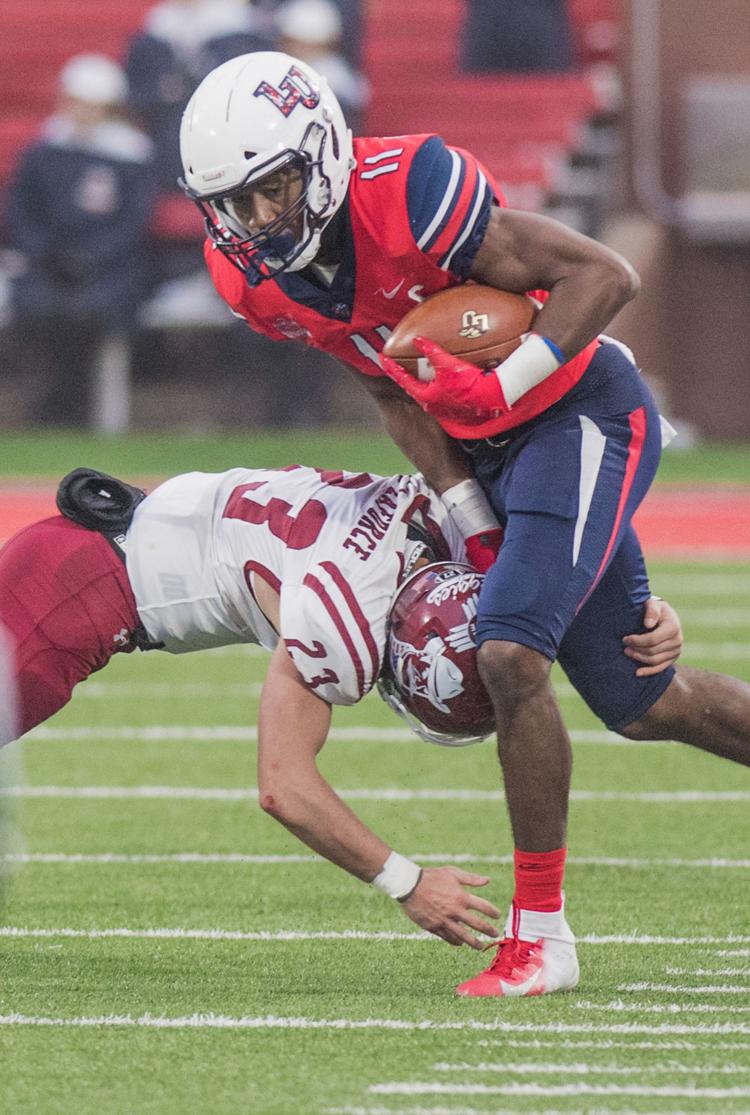 Gandy-Golden eclipsed the 1,000-yard receiving mark for the second straight season, and Stubbs was second on the team with career highs in receptions (50) and yards (631).
"We kind of came together the last two games to really pull those two out, but we easily could have done better," Gandy-Golden said. "There were a lot of things we left out there. … Hopefully we come together and help the team out and just improve upon this past year. Hopefully our new coach can do the same thing."
Liberty loses three offensive linemen from the rotation — left guard Julio Lozano, left guard/center Ben Fiordelise and right guard James Passmore — and returns three starters in center Thomas Sargeant, Duff and right tackle Tristan Schultz.
Sam Isaacson and Ethan Crawford are slated to return for their final season of eligibility, and Damian Bounds should be back to full health after suffering a hip injury against Auburn.
Freshmen Jacob Bodden, Henry Chibueze, Jonathan Graham and Brendan Schlittler also are expected to see more playing time.
"I am excited; we all are. It's another opportunity to get better," Duff said. "It's all about how you react to things. It's all about your reaction. Whoever we get, we're going to be excited. We know that the administration is going to pick the best person for the job, and when they make that decision, it's time to get to work. We'll be ready."
The defense, which finished the regular season 123rd in total defense and 118th in scoring defense, is slated to return seven starters. The unit was picked apart quite a bit during the season but showed improvement by recording more tackles for a loss, sacks, interceptions and fumble recoveries than the 2017 season.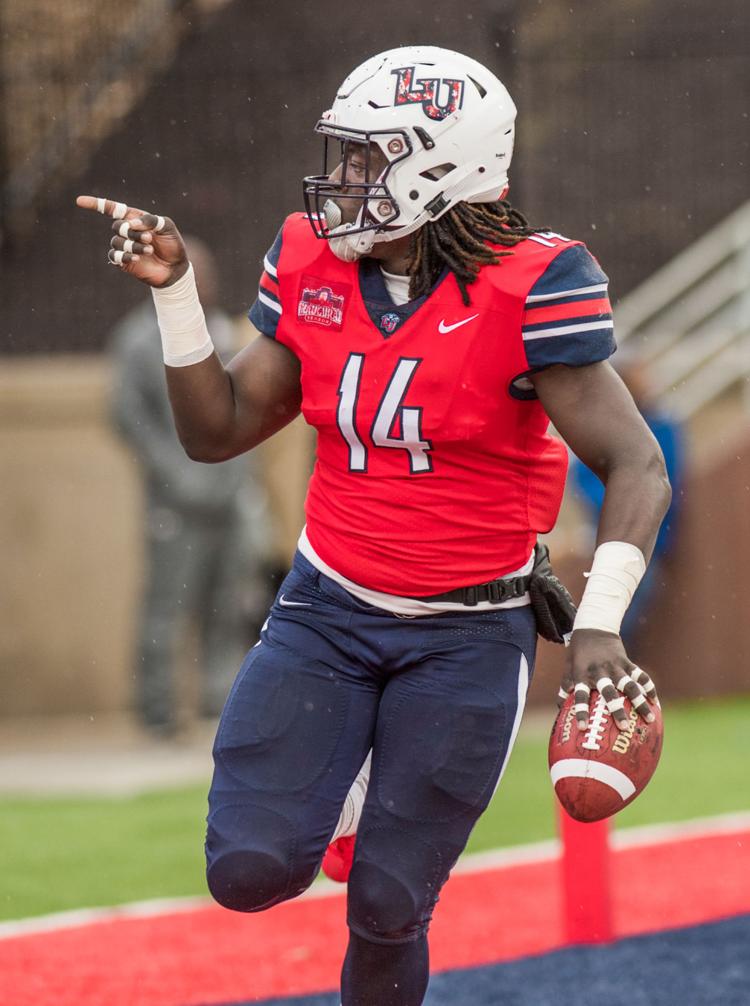 Juwan Wells, Tolen Avery, Jeremy Peters and Corbin Jackson graduate, but defensive end Jessie Lemonier (10 sacks), linebacker Solomon Ajayi (76 tackles, two interceptions, two fumble recoveries) and strong safety Elijah Benton (76 tackles) lead a unit that will feature six senior starts.
"This thing can move in a smooth way with what we've got going on here as far as what the culture is, as far as what they understand about how to do things, both on and off the football field," Gill said. "They know how to compete."