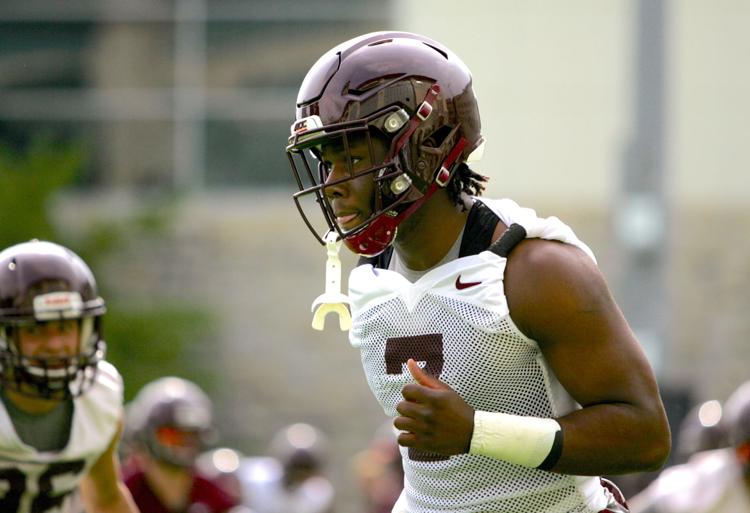 BLACKSBURG — The career Devon Hunter envisioned for himself went off track when Virginia Tech visited his old stomping grounds.
Old Dominion's S.B. Ballard Stadium is a 30 minute drive from where Hunter played his high school ball at Indian River. Hunter was one of the area's most sought after recruits since Tyrod Taylor, but nothing went to plan in the stunning 49-35 loss.
Within two weeks, Tech made a surprise announcement that Hunter was going to sit out the rest of the season under the NCAA's new redshirt rule, a rule that allows players to appear in four games without burning a year of eligibility.
It was a rare step for a program to take with a healthy player in the midst of their sophomore season.
Hunter was involved in the discussions, but the prospect of sitting out was hard to imagine for a player that garnered a five-star rating in high school (according to Scout) bulldozing his way through the competition at whatever position he played.
"I didn't go to the games much, I didn't want to be around the environment," Hunter said. "Seeing it on TV and actually watching them and seeing them fight, it got to me a little bit."
But Tech's coaching staff and those close to Hunter — including his longtime trainers Damon McNair and Brandon Trusty — knew something needed to change after seeing him struggle at ODU.
"He was playing in front of people he played in front of his entire life," Trusty said. "It was so hyped, that atmosphere was out of this world, but he wasn't himself. I don't think he was confident in what he was doing."
---
"Devon never really asked for any of that stuff, you know what I mean? He never asked for the five-star rating and all the hype. He just worked hard and it just came with it."
---
By the time Hunter enrolled at Indian River, his recruitment was well under way. His first offer, from North Carolina, arrived when he was in the seventh grade. Virginia Tech wasn't far behind.
McNair and Trusty, who run FUEL Sports Performance in the Virginia Beach area saw first-hand why Hunter was getting so much attention. They first saw his "superior" athletic skills when he played AAU basketball with McNair's nephew.
"He was just rebounding and doing all the dirty work," Trusty said of seeing Hunter for the first time. "When I saw him though, he had something. His athletic ability was off the charts."
Dozens of offers rolled in, with Alabama, Clemson, Ohio State, Notre Dame, Florida, Auburn and Michigan all pursuing Hunter. It didn't even matter that Hunter was still trying out a variety of positions.
Indian River High School coach Glenwood Ferebee put Hunter at quarterback, receiver and running back while having him start in the secondary.
"Sometimes when you got the best athlete, you snap the ball and go," McNair said. "He was just bigger, strong and faster than everybody. That just shows you a little bit about his athleticism. He was able to play multiple positions and excel at them."
As a senior, Hunter had 86 tackles and 1,223 rushing yards with 24 touchdowns. He added 350 receiving yards and four more touchdowns. The team had success as well going 8-4 with a win in the first round of the VHSL playoffs.
Hunter was the No. 42-ranked player in the country (247 Sports composite rankings) and No. 3 safety when he verbally committed to Virginia Tech two weeks before signing day in a spirited reveal at halftime of an Indian River basketball game thanks to some help from "Enter Sandman."
The song came on for the whole gym to hear just as Hunter was about to pick up one of the six hats (Auburn, Ole Miss, Alabama, North Carolina, Florida and Virginia Tech) in front of him.
"When he came out, we had a lot of talented guys in the 757, like you wouldn't believe," Trusty said. "I think from that group he was the only one that stayed in the state, but if Tech could get one guy — they wanted Devon."
---
"I get questions all the time, what's going on with Devon? What's going on with Devon? I tell him them he's going through the process and the process isn't finished."
---
Hunter's first setback after he got to Blacksburg was a concussion in the 2017 preseason. The injury slowed him down as he was competing for playing time with Reggie Floyd.
Hunter appeared 10 games as a true freshman and was listed as Floyd's backup on the depth chart at rover, but most of his reps came on special teams.
With Floyd slated to return in 2018, Tech's coaching staff looked for a way to get Hunter on the field ahead of his sophomore year.
Defensive coordinator Bud Foster decided to move Hunter to whip behind returning starter Mook Reynolds. Reynolds ended up missing the entire spring serving a suspension (it was undisclosed at the time) before getting kicked off the team in June.
"He was just trying to get him on the field because he's that good of an athlete," McNair said. "They were trying to make it work, trying to exhaust every option. I totally understand what coach Foster was trying to do."
Hunter struggled learning the nuances of the whip position and an unexpected coaching change after spring practice didn't help matters.
"It was different," Hunter said. "Covering the slot man to man is one of the hardest things to do in college football. I had to adapt to that knowing I got to cover this guy and I might not have help with inside outside leverage. It was something new to me."
Foster is candid when revisiting the decision saying he "threw Hunter to the wolves" in early 2018. Hunter played an extended stretch in the opener against Florida State.
"It just wasn't the right time," Foster said. "That was the bottom line, just probably wasn't quite ready for it. Didn't have enough reps there. It probably wasn't fair to him."
Trusty knew something was up two weeks later when Hunter didn't call him before the matchup against Old Dominion, which had become a pregame ritual during his collegiate career. Hunter had five tackles (three solo) against Old Dominion with the defense giving up 632 total yards (495 passing) and 49 points.
"He just seemed like he wasn't Devon Hunter," Trusty said.
---
"I talked to Devon about staying the course. He was obviously frustrated sometimes and sometimes he probably wondered exactly what his path was."
---
"It was kind of team thing," Hunter said. "I talked to them. They talked to me. We both just made an agreement about what I wanted to do...it didn't really shock me, it was like ok, I know what I got to do. I know what I'm trying to do."
But Hunter privately raised some concerns to those closest to him and asked them if they thought if it was the right move. The unanimous response he got in return eased any doubts he had.
"Devon has always been the best athlete on the field, now let's make him the best football player," McNair said. "When you get a chance to let the game slow down for you, and coached up, and he'd been moved around a lot. I don't think he was really comfortable at either position."
Hunter received similar advice from his former high school coach. 
"You are still young," former Indian River coach Glenwood Ferebee said. "You got a lot of time. Everybody tries to rush the process. Sometimes the process takes time. The more time you get, the better you get." 
Hunter still practiced with the team — even spending some time on the scout team at running back — and trained as hard as ever in the weight room.
One of the voices that carried the most weight was Justin Hamilton, the team's director of player development for the defense at the time. Hamilton, who was promoted to safeties coach in the spring, changed positions multiple times during his Hokies career before landing at safety.
"Going through all that stuff last year, he was the guy in my ear," Hunter said. "Him getting the job, it was like having a big brother having the job."
Hamilton knew it would be difficult for Hunter to put his pride aside, but assured him everyone at Virginia Tech had his best interests at heart.
"At that stage in your life, it's probably one of the hardest things to do," Hamilton said. "That's basically what you spent your life doing, being the best and believing that. When you get to college, there's a realization of either I'm not as good as I thought was or there's a lot of people out there as good as me."
---
"All he's ever done, is all we've ever asked him to. He's a guy you want to have success so bad, you are rooting for him because of how he's handled things."
---
Hunter knew 2019 wasn't going to bring immediate playing time. Redshirting was always part of a larger plan to get Hunter ready to take over at rover once Floyd graduates after this season.
Floyd, who is the most experienced player on the team with 26 starts (39 games played), will get the bulk of the snaps if he stays healthy, but Hunter understands that.
"This is actually a big opportunity for me," Hunter said. "Watching Reggie and knowing how Reggie is — he's a pro. Everything he does is pro. Once he leaves, I have to be the one to keep it going. I'm ready."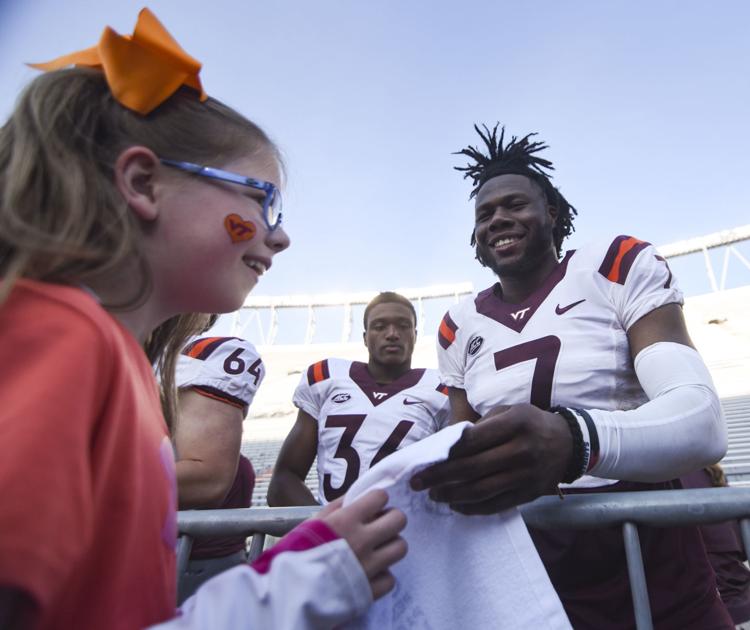 In the opener against Boston College, Hunter played on special teams (kick return coverage) and made a brief appearance on defense for the Eagles fumbled snap at the end of the first quarter.
Hunter could get more playing time this weekend if Tech builds up a comfortable lead. Trusty thinks fans will be excited by what they see if that happens.
The big-bodied safety (6-foot-0, 227-pounds) has lowered his body fat while continuing to make strength gains. He still has the 4.4 speed that wowed coaches in high school, but has improved his mobility.
"That's a testament to him working on his flexibility," Trusty said. "He's never liked to stretch. Never liked it. Now when he comes home, that's the first thing he wants to do, is his mobility stretching and get around and move those hips."
With Hunter back at rover, that's an important trait to have.
"You have to turn and open your hips with those speedy guys," Trusty said. "That hip mobility is super important to get in and out, and accelerate and be able to change directions with those receivers."
The game has also slowed down for Hunter, who has worked hard at studying film throughout the offseason. He credits those film sessions for eliminating the tentativeness that cost him last year against ODU.
"I can just go out there and play instead of worrying about what I have to do," Hunter said. "I can just go out there and be Devon."
That's all Tech has ever wanted to see from the talented defender.
"I think he made the decision to commit to getting better at his own pace,' Hamilton said. "Not anyone else telling him how good he should be, or what he should be doing or shouldn't be doing. He made a choice to put in the work to get better. I think there's freedom in that and it's been nothing but positive. He's consistently improved from the beginning to spring to today."