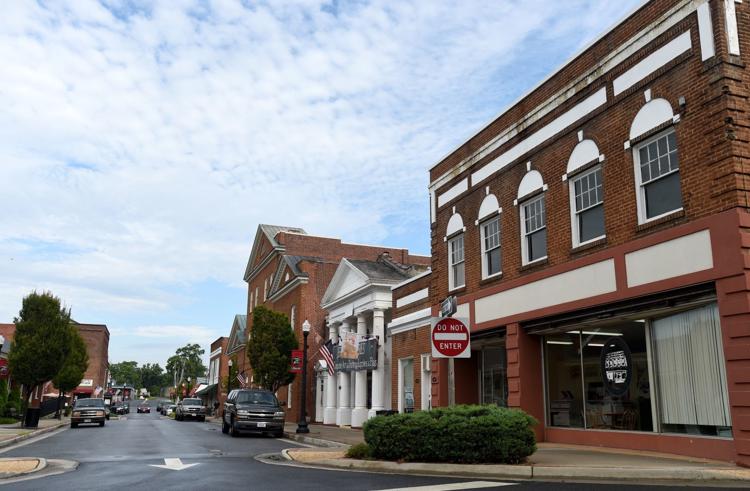 Thumbs up to the leaders of the town of Appomattox for securing a $700,000 grant from the Commonwealth of Virginia to speed along downtown renewal and revitalization.
On Aug. 23, Gov. Ralph Northam announced the awarding of more than $13.4 million in Community Development Block Grants to 14 communities across the state. The money originates with the federal Department of Housing and Urban Development and administered in Virginia by the state Department of Housing and Community Development.
Appomattox hopes to put its $700,000 toward revamping its downtown corridor. According to Town Manager Gary Shanaberger, the money will go primarily to three projects: (1) storefront revonations in downtown, (2) period streetlamps on Main and Church streets and (3) the creation of a small parking lot at the corner of Church and Harrell streets.
According to Jeffrey Garrett, the chairman of the Appomattox Economic Development Authority, the plan is to renovate the facades of almost 20 businesses downtown. Architects and engineers will soon be consulting with the business owners on designs.
A town committee began working on developing its application more than a year ago, Shanaberger told The News & Advance, submitting the plans to the state in March.
Charming little downtowns can be found all over Central Virginia — Amherst, Pamplin City, Bedford, Rustburg, Brookneal, Altavista — and we're ecstatic for the residents and business owners who call Appomattox home.
Thumbs up to the members of the Richmond law enforcement and criminal justice communities for the successful prosecution of a horrendous crime that gripped the attention of folks across the state.
It was earlier this year that a member of the Richmond Fire Department found what he though was a dead dog tied to a fence in a city park. It was a dog — a young brindle pit bull puppy — but he wasn't dead, but barely alive. He'd been chained to the fence, doused with lighter fluid and set ablaze. Veterinarians estimated he sustained severe burns to more than 40 percent of his body.
For five days, Tommie — as he came to be known — lingered between life and death before he finally passed away. His case struck a nerve across Virginia and the nation. Donations, ultimately totaling $25,000, poured in to pay for his care and also to set up a fund for future cases of animals in need.
After three months, police arrested 20-year-old Jyahshua A. Hill and charged him with animal cruelty. On Wednesday, he pleaded guilty and will serve five years in state prison for the crime, the stiffest possible sentence under the law.
But in death, poor Tommie may have helped protect innocent animals in the future from such abuse. In light of the attention the case received, the General Assembly passed what came to be known as Tommie's Law, which severely stiffened the penalties for such crimes. Previously, an animal had to die from abuse before felony charges could be brought. Now, a felony is in play whether the animal lives or dies.