Thumbs up to Jan Walker, who was named the new executive director of the Lynchburg Humane Society earlier this week.
Walker, 61, is a retired executive at Centra, last serving as a senior vice president and chief administrative officer for the four-hospital health care company that's based here in Lynchburg. She succeeds George Dawson, the founding CEO of Centra, who spent five months as the humane society's interim executive director.
Walker comes to the LHS post with 18 years of experience in health care, human relations and banking. Obviously, she has the executive and management experience the LHS board was seeking, but she's also a lover of all four-legged creatures, especially those of the feline persuasion.
According to Steve Blickenstaff, the co-president of the humane society board of directors and chairman of the search committee, they received more than 60 applications for the post from candidates across the country. Eventually, they found the person with the right mix of executive experience and financial management skills right here at home in Walker.
Currently, Walker is enrolled in an executive nonprofit leadership training course at Duke University. She begins her duties Oct. 21.
Congratulations and welcome aboard. And we'd be remiss if we didn't extend a deep-felt thanks to George Dawson for stepping into the post on a interim basis.
The companion animals of Central Virginia are lucky both these individuals call this part of Virginia home.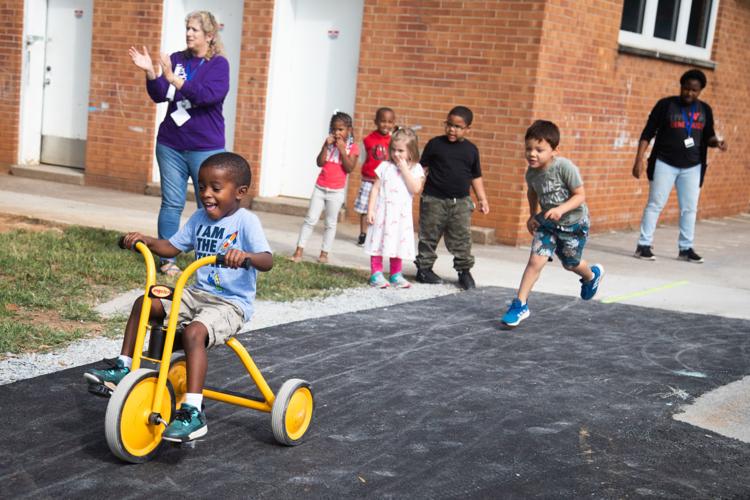 Thumbs up to the staff of the Carl B. Hutcherson Early Learning Center and to the Lynchburg City Schools Foundation for making a unique educational program at the center a reality.
Center staff applied to the LCS foundation, which is separate from the school division and raises money to support public education in the city, for a $5,000 grant to construct a bike path for children at Hutcherson. Riding bikes on the path is more than just a fun activity — it's an educational program that teaches the 4- and 5-year-old children many important developmental skills they'll need when they begin kindergarten.
Coupled with a private individual who provided about $3,000 of prep work before the project could begin, Lawhorne Brothers Paving donated about $1,500 to finish off the bike path. It opened to students at the center just last week.
According to Hutcherson principal Polly Smith, the school staff had been planning for the project for several years. Each year, more than 150 pre-K students come through the bike-riding program at Hutcherson, many of whom have never ridden a bike in their lives. Learning to do so isn't just fun, but helps with brain and motor skills development. Kudos to Hutcherson and the LCS foundation for their hard work.