Virginia basketball fans flocked to Charlottesville on Thursday evening, and they left with a piece of the past.
University Hall, the Cavaliers' former home, is in the throes of deconstruction, and it's scheduled for implosion next weekend. On Thursday, the school gave fans a chance to take home one (or a handful) of the thousands of bricks that have been removed from the "House that Ralph built."
A line formed more than an hour before the giveaway's scheduled 6 p.m. start time and stretched far beyond the mangled dome structure.
For a while, fans plucked bricks off of pallets in an orderly fashion. When those ran out, a group formed at one of the gates in the construction fence and waited for a front end loader to drop a load before descending on the pile to claim their memento.
Some fans left with just one brick. Many left with as many as they could carry.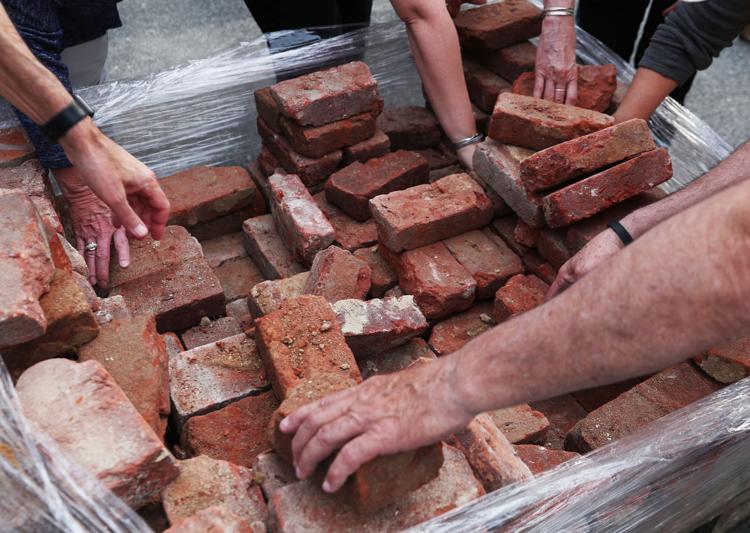 University Hall was home to the UVa men's and women's basketball programs from 1965 until 2006, when John Paul Jones Arena opened across the street. But the arena was so much more than that. It was the hub of Cavalier athletics for decades.
Former Virginia football player Russ Swan remembers catered dinners, film sessions, working with former strength coach John Gamble in the weight room and heading to the practice field out back near Klöckner Stadium.
"I spent a lot of time in this place. A lot of blood, sweat and tears," said Swan, who was a linebacker for the Cavaliers from 1981-85. "It was great guys and great coaches, and my wife and I wanted to make sure we got a piece of history."
Swan made his way to U-Hall on Thursday from his home in Richmond. He made a trip to the car loaded down with three bricks before making his way back to his wife, who was still in line waiting for more.
As an undergraduate student in the late 90s, Brian Ullman didn't have quite the same hands-on experience as Swan, but he remembers U-Hall as a special place where the basketball games were never sleepers and local celebrities such as Bruce Hornsby could be found in the stands mingling with fans.
Specifically, he remembers a late-season win over a ranked Maryland team not long after former head coach Pete Gillen arrived on Grounds.
"We were all hoping it would be enough to get into the NCAA Tournament but wasn't," Ullman said. "Even if there were down years, you always had the great ACC teams coming to play and the games were always exciting."
It's still a bit jarring for Ullman to catch a game at JPJ, with its jumbotron, which dangles over midcourt, and the frenetic energy inside the new home of the Cavaliers.
"Of course, Coach [Tony] Bennett has built this team into a powerhouse, and they deserve that kind of atmosphere, but there will always be something special about U-Hall," Ullman said. "It was small enough where you were never far from the court, and it was just about the basketball. The history is poignant."
On Thursday, Ullman brought his young sons, Ari and Dell, along to share in the memories he holds so dear and, of course, to head home with some dirty, dusty new toys.
"It will be fun to have a little bit of UVa in my house," Ullman said. "My boys are excited because they're bricks."
Swan plans to encase his U-Hall bricks in a frame, and maybe add a plaque. Ullman said he wasn't sure where to display his pieces of Cavalier basketball history.
Dell suggested the front yard because, you know, they're bricks. Ari's face lit up when he realized they could be used as "Lego logs."
In the front yard or on a mantle, the bricks that left University Hall on Thursday are sure to be conversation starters for years to come.