When U.S. Army veteran Jarrad Turner muscled his way up Monument Terrace with an American flag in hand Wednesday afternoon, he was leading a team of runners that had trekked an exhausting 14 miles through Lynchburg that morning.
The 22K he was running is a trial that makes his feet and ankles suffer, but it's nothing compared to the suffering of his fellow veterans' families who have lost their loved ones to combat or suicide. Turner said seven of his brothers and sisters in arms have died during a conflict, and 10 have committed suicide after their service.
He said he keeps their loved ones in mind while he runs. He helped bury a friend, Steve Cruz, in 2015, and said, "For me, it's personal."
"This is more than just running … I've seen what a family goes through — 10 times," he said.
When people ask Turner and his fellow runners about what they're doing, he said it can launch into a conversation about how veterans' suicides have affected those lives
"This is what it's all about … When you talk about the residuals of war, it's ugly. That's just the fact of the matter," he said.
About 10 other members of the 17-member Shepherd's Men, a group of active and former service membersand other civilians volunteering for the Shepherd Center, ran alongside Turner for the run through Lynchburg on Wednesday morning. The Shepherd Center is a rehabilitation hospital based in Atlanta whose Shaping Hope and Recovery Excellence (SHARE) Military Initiative provides treatment for servicemen and servicewomen who have served post-9/11. The Shepherd's Men travel down the East Coast every spring, raising awareness and funds in support of veterans suffering from traumatic brain injury (TBI) and post-traumatic stress disorder (PTSD).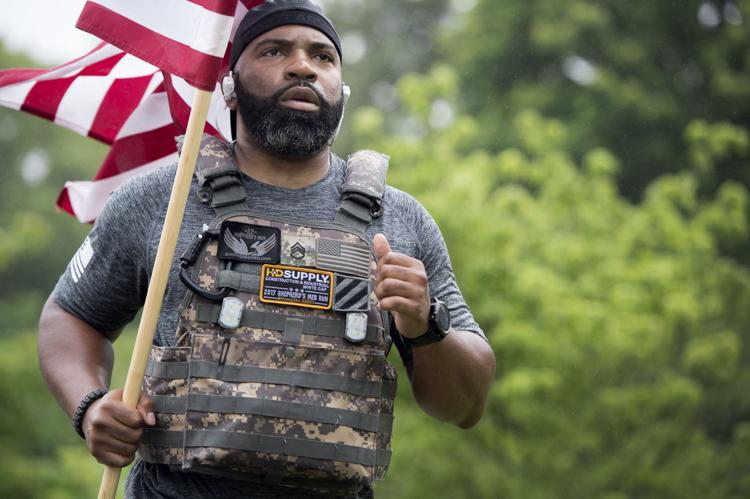 Each runner carries a 22-pound flak jacket to symbolize the 22 veteran suicides that occur daily — a phenomenon the runners are trying to prevent. New to the Shepherd's Men itinerary this year was the first 22K in Shanksville, Pennsylvania, on Monday. There, the Shepherd's Men carried additional 93-pound rucksacks to honor the victims of United Airlines Flight 93, a flight that was hijacked on 9/11 and crashed, killing 44 people.
SHARE is run completely on donations, and Shepherd's Men co-founder Troy Campbell said the team picks up contributions from corporations and individuals in the eight cities they visit to run in over the course of eight days. The Shepherd's Men have pounded the pavement in Lynchburg and Washington, D.C., for each of the four years they've embarked on their eight-run journey.
"We hit every hill pretty much in Lynchburg," he said just after the run. "I love this place, I love the veteran community and I can't wait to come back; me and my wife and two kids."
Campbell, who's from Amherst County and is serving active duty in the U.S. Marines in Quantico, said there's nothing else quite like the SHARE Military Initiative at the Shepherd Center elsewhere.
"They've got the model program, and that's what we're looking for is another private hospital or public hospital to look to start something like this," he said.
Turner, who lives near Atlanta,said it's an honor and a privilege to run for the Shepherd Center, since therapists and other professionals there helped him get up and running after he suffered body trauma from an RPG attack and required multiple surgeries. Though his physical wounds were mending, he said "when it came to what we like to say [are] 'non-visible injures,' that's where there was a problem.
"The way that we connect with the community, the way that we connect with fellow veterans as well as service members, you don't have this experience," he said. "Coming together, training, the camaraderie … these are still my fellow brothers and sisters in arms."
Tom Price, a Vietnam War veteran from Amherst, said Monument Terrace is a regular stop for him to show his support for members of the military, joining with others at the Monument Terrace troop rally every Friday for three years. Though he said none of his friends have needed the kind of support the SHARE Military Initiative provides, he came to the steps Wednesday to watch the runners climb the steps and thank them afterward.
"They're supporting us and all the other troops, and that's what I'm here to support," he said.