As chants, cheers and singing filled the air, protest came in another form: the gentle tolling of bells to recognize the more than 300 employees that soon would lose their jobs.
Exactly one month after Sweet Briar College's announcement to close, the tidy and manicured grounds of Sweet Briar House, home of the college's president, was transformed into a center of activism during Friday's sit-in protest.
The goal was to show "unwavering support for the vision and dying wish" of the college's founder, Indiana Fletcher Williams, said Tristin Burke, an organizer of the event.
"We will be here as long as it takes to get the point across that we are not going anywhere," Burke said.
Sitting on blankets or standing along the circular lawn, dozens of students and faculty members were assembled in front of the president's home.
Several people in the crowd held signs, such as one that requested the dismissal of the college's president and its board of directors. Another was more succinct: "I have not yet begun to fight!"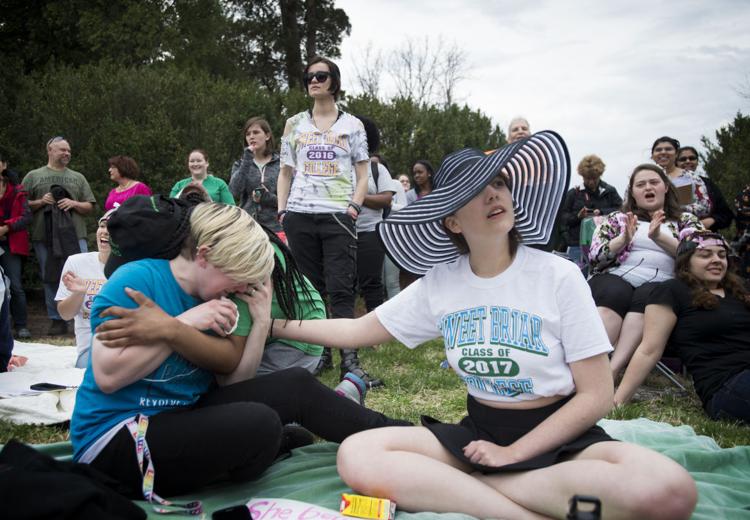 For others, the sit-in was a chance to express frustration.
"You've already fired me, what have I got to lose!" one person shouted after a round of chanting.
The Amherst County attorney seeks a legal injunction to prevent the college's closure. A petition circulated among the crowd thanked Amherst County and requested signatures from those who are against the college's closure. Organizers also requested participants send letters to Virginia Attorney General Mark Herring.
"It will help get the state involved and help keep these doors open," Burke said.
In contrast to explanations given by some top school officials as to the school's declining enrollment, Rani Bertram said she was drawn to Sweet Briar's small size and its location away from an urban environment.
"I think it's wrong that it's closing," Bertram said.
Taneal Williams, a junior, said she's a "bit angry with what's going on."
"In my period here at Sweet Briar, I've learned how important it is to stand by your sisters in times of hardships and I'm going to stand by my sisters and with the faculty and staff who have helped me become who I am at this moment of my life," Williams said.
The transfer process to other schools also has had mixed-results for students.
While Bertram has been accepted to the only two schools to which she applied: James Madison University and Mary Baldwin College, Williams said she's not really sure of her plans after the college closes. As a theatre major, she said she has missed the audition period for some schools.
And there's the issue of finances, a concern expressed by several students. For Williams, Sweet Briar had been a strong source of scholarships, but "a lot of schools just aren't an option for me because of coming from a low-income family.
"The question now is, am I going to college or not? Will I be able to find a place that I can finish my degree?"
Caroline Shepard has applied to nine colleges including a few "teach-out" institutions. Completing her undergraduate degree in one year is a priority so she can attend medical school after her senior year, but that is no guarantee. Many teach-out schools do not have her biochemistry major, she said, and there's also the concern about financial aid.
"It's kind of whoever meets what I need is going to be the top choice," Shepard said.
For Williams, the sit-in was a way "to be part of something where I feel like I have some say in it.
"Going to this event is like our way of saying, 'We haven't actually had control over everyone else's decision, but this is our decision to stand behind our school and say that this is our home and you really can't take it away without us fighting for it.'"