Tucked behind a Boonsboro neighborhood sits Virginia Beach School System's bus No. 80, parked alongside a secluded creek.
It's a bit off the beaten path, which is what Melody Infinger was aiming for. She and her business partner Ryan King wanted to create a place for people to relax and reconnect with the natural world beyond the cold hard concrete of suburbia.
That's why they converted this school bus into a tiny house, which is offered for rental on Airbnb under the name "Boondocker's Dream on Wheels."
"We wanted to have a place so people can have a rejuvenating getaway to get out of the stress and static of life, to be somewhere that is totally different — in a bus," Melody said. "A boondocker's dream is being in a habitat of nature that is true rejuvenation. That's why we named it that."
Melody talked about walking barefoot on the ground, creating that connection between one's body and the earth.
"When you are constantly surrounded by suburbia … that's not nature, so when you get back to nature and how nature operates, it creates a sense of calmness and releases the stress from your body," Melody said.
The bus, named Assurance, sits nestled in groves of trees and wild bamboo down a quarter-mile-long gravel driveway past an old farmhouse slowly undergoing restoration.
"Plan a special getaway in luxurious glamping on our Schoolie, an adventurous experience in tranquility," the rental listing reads. "...Our bus was recreated into a true, rustic, tiny house for those who desire a minimalist experience with serious quiet and aesthetic beauty to look at all day."
Guests climb aboard the bus through the same accordion doors as thousands of children have as they have headed off to school.
Beyond the driver's area is where the school bus nostalgia ends. A wooden door serves as the entrance to the rustic 1870s-style one-room cabin environment that comprises the rest of the bus.
"The idea here is that this is a portal," Melody said of the door separating the cab of the bus from the rest of the space. "The idea here is we want people to go back in time, to the 1800s, so we want people to go into a portal to go back in time."
The floor is planked with reclaimed cherry wood patterned to look like peaks with diamond insets to draw the eye to each mountain's pinnacle. The wood was salvaged from a loft renovation in downtown Lynchburg and donated to the project, she said.
The place where the first few rows of school bus seats once were mounted now is the living room area. A diamond-patterned table hinges up from one wall of the bus and a futon crafted from recovered school bus seats occupies the other side.
"We wanted this to be as multipurpose as it can be," Melody said.
A wash tub sink with running water, three-burner stove, a coffee maker and a mini refrigerator comprise the kitchen. Melody stocks the bus with coffee and tea as well as beer or wine for guests.
Melody enjoys throwing pottery, and her handcrafted bowls, coffee mugs and plates line the shelf above the stove. Leather straps from Moore & Giles attach the shelves to the copper pipe supports. All the curtain rods are culled from bamboo cut from the property.
Pocket doors with the same diamond pattern separate the kitchen from the bathroom and bedroom area. Beyond is a small shower lined with reclaimed wood with aqua-color patina. A propane hot water heater fuels the shower with steamy water, but Melody said short showers are best.
"You are coming with the idea of sustaining and protecting the earth, and minimal use, while you still have a nice hot shower," Melody said. "It's a luxury."
Opposite the shower is a composting toilet, which Melody said sometimes trips up guests who are unfamiliar with such a toilet. It basically is a bucket lined with a biodegradable bag. Once the business is complete, cedar chips are available to sprinkle over it to mask any smell and the bag gets dropped into a composting pile to become fertilizer.
"Just like the animals, you become part of the ecosystem," she said.
At the back of the bus is the master bedroom, consisting of a thick memory foam mattress the size of a double bed. Nature books line the shelves and little lights strung over the bed provide a romantic ambiance.
The bus can sleep up to four people — two in the master bedroom, one on the built-in futon and one on a cot.
Heat is provided by a wood stove or a space heater and, for the warmer months, a window air-conditioning unit is available. The bus is open to guests from April to November.
"This is a reimagined [space]," Melody said. "It's not a new house. It is a different habitat.
"It's more like a high-end glamping sort of thing.
"...One of our things is to reimagine the past. We're trying to help the community get back with historic things. The life they have can still bring us life today."
Melody and Ryan got the bus in summer 2018 and began work to rebuild it into a tiny home. A little more than a year ago, they brought the bus to its current location after the owner of the farmhouse cleared some land on which to park it.
Melody, who manages several Airbnb properties, said she connected with Ryan after he brought a different bus, named Providence, to Appomattox. Ryan sold that bus and soon wanted to create a new one.
Having a bus turned tiny house is a bit of a twist on the tiny house concept, Melody said. It's somewhat of a cross between a tiny house and a recreational vehicle, since the school bus remains fully functional.
"We could park it somewhere else or road trip with it," Melody said. "It takes an RV to a whole new level. There's nothing cheap in there, there's nothing plastic and so it's a lot more visually stimulating than an RV. … I'm not saying [RVs] don't have their purpose but I would rather have one of these."
It took a few days to remove the seats and pull up the old flooring and another three months to rebuild it into the tiny house on wheels. It opened for rentals for the first time last April and, by November, it was booked almost every night.
Melody and Ryan plan to create another "schoolie" and consult for people who wish to revamp their own bus through their business, Bus Village of America.
"We believe BVA is the future sustainability of America, meaning more and more people will want a tiny house on wheels, semi off-grid living, and more nature in their lives," Melody wrote in an email. "So, we created this place where they can come experience what it could be like."
PHOTOS: Reimagined school bus gives visitors taste of rustic cabin life
Tucked behind a Boonsboro neighborhood sits Virginia Beach School System's bus number 80, parked alongside a secluded creek.
Bus Airbnb 01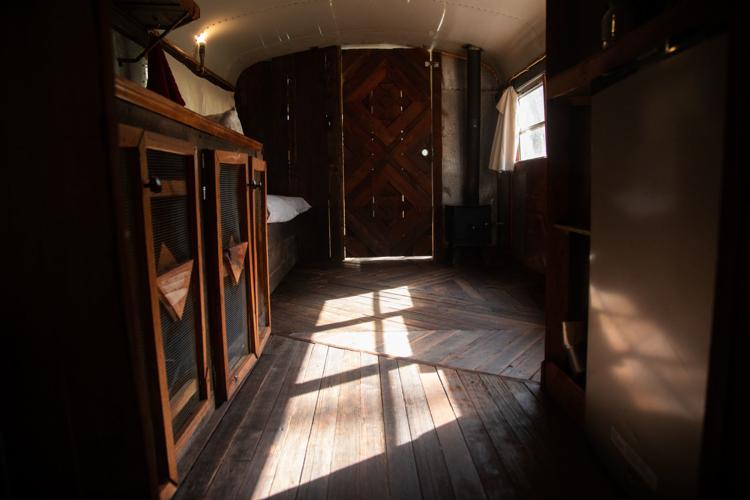 Bus Airbnb 02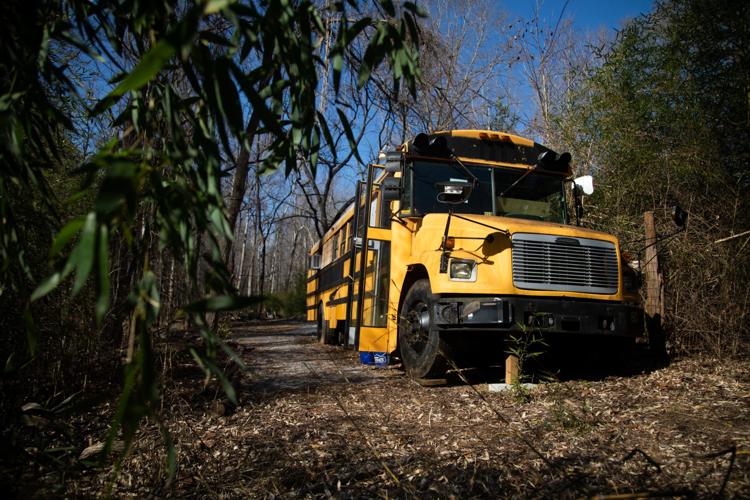 Bus Airbnb 03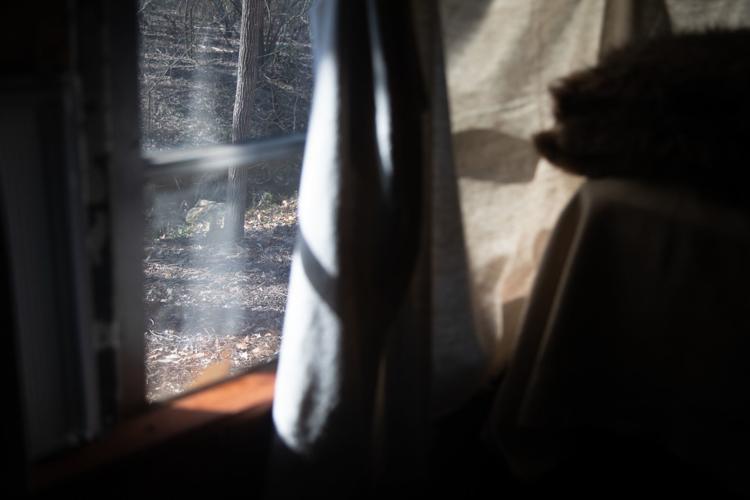 Bus Airbnb 04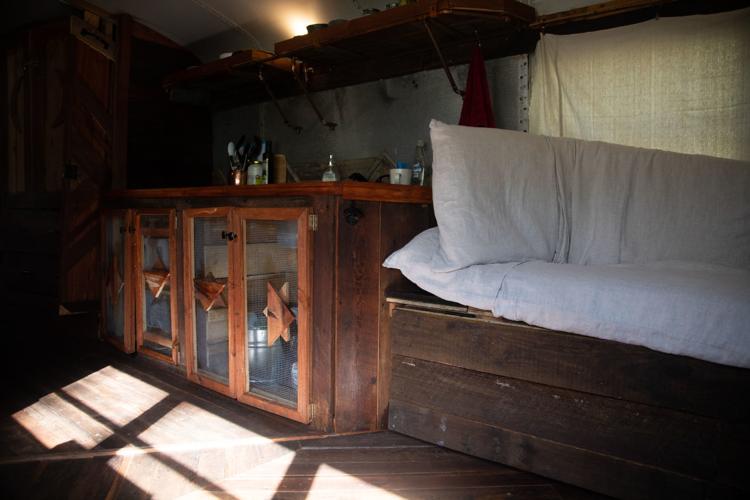 Bus Airbnb 05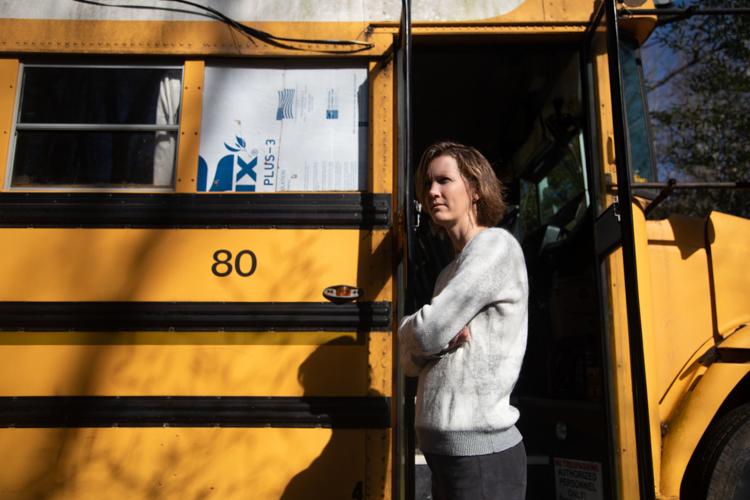 Bus Airbnb 06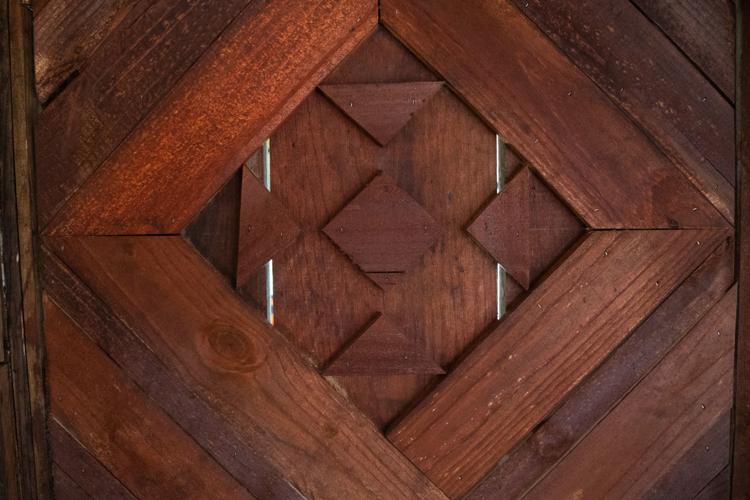 Bus Airbnb 07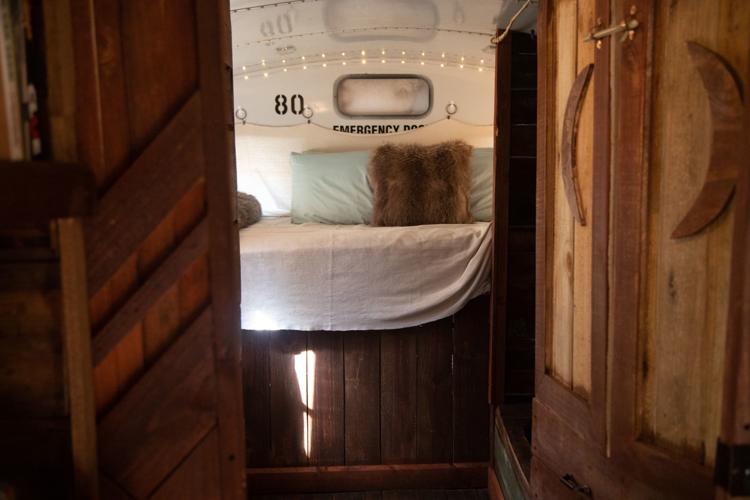 Bus Airbnb 08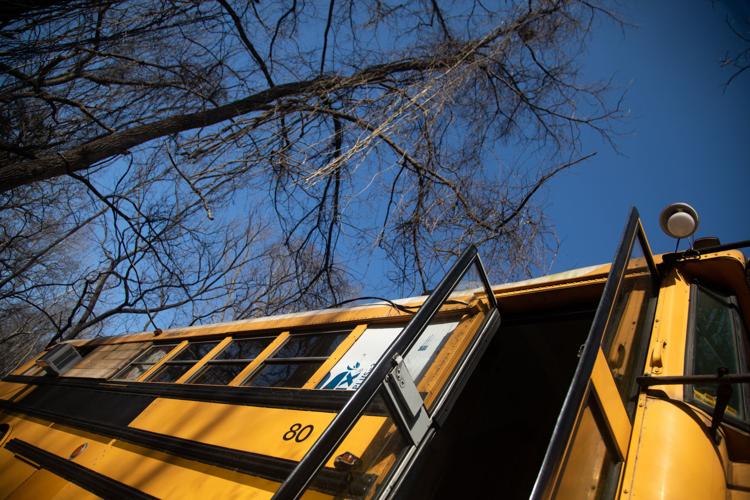 Bus Airbnb 09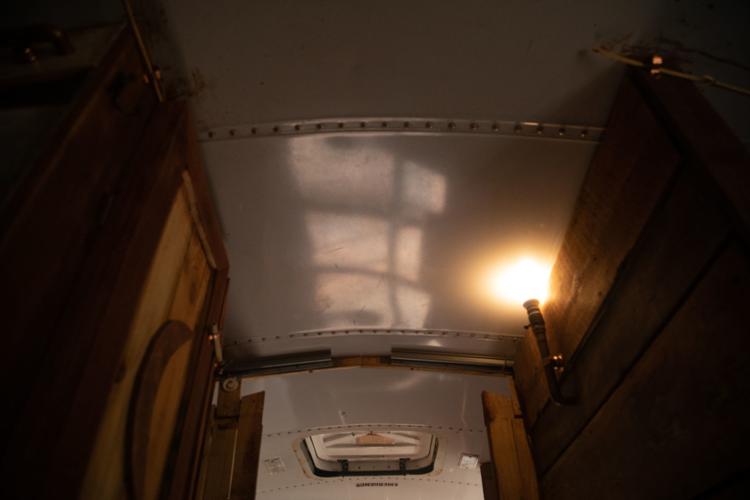 Bus Airbnb 10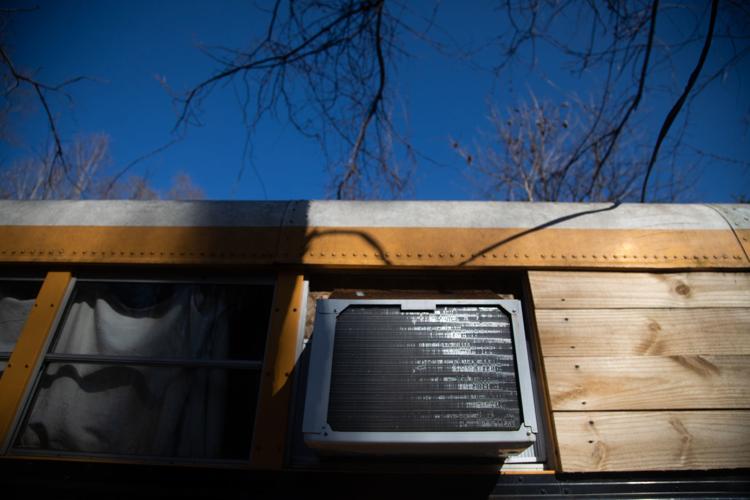 Bus Airbnb 11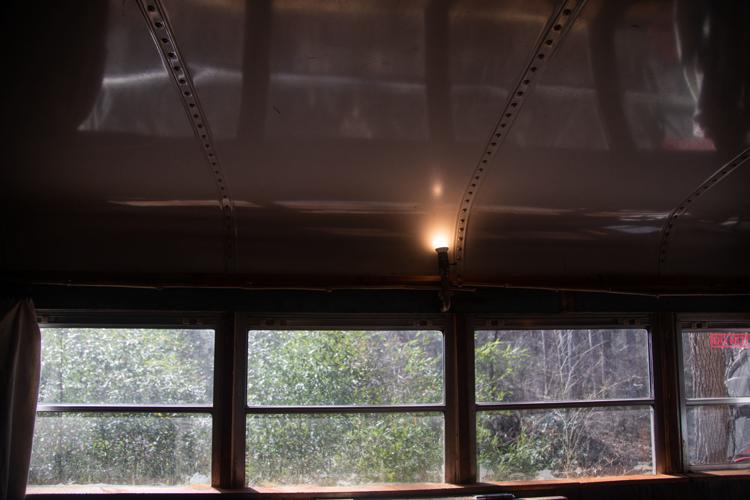 Bus Airbnb 12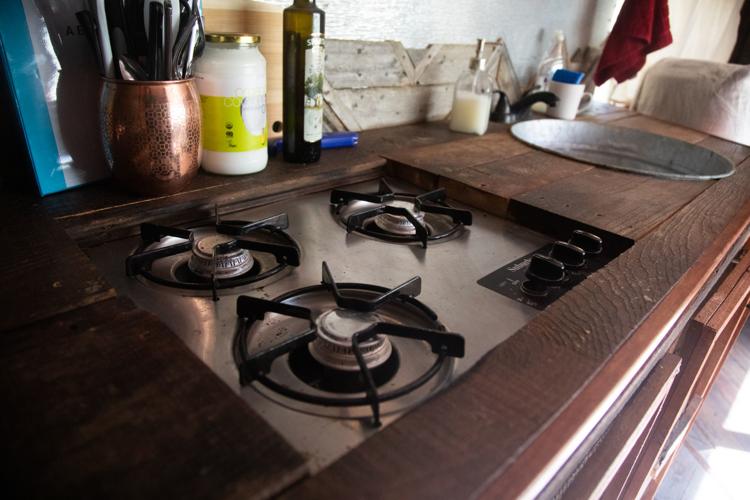 Bus Airbnb 13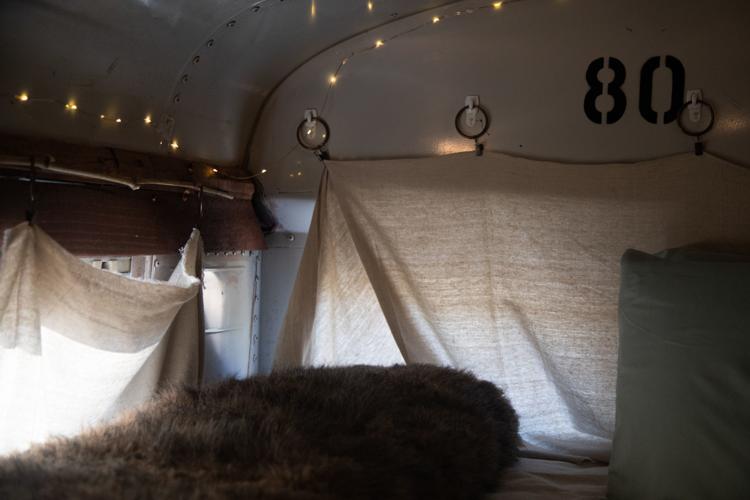 Bus Airbnb 14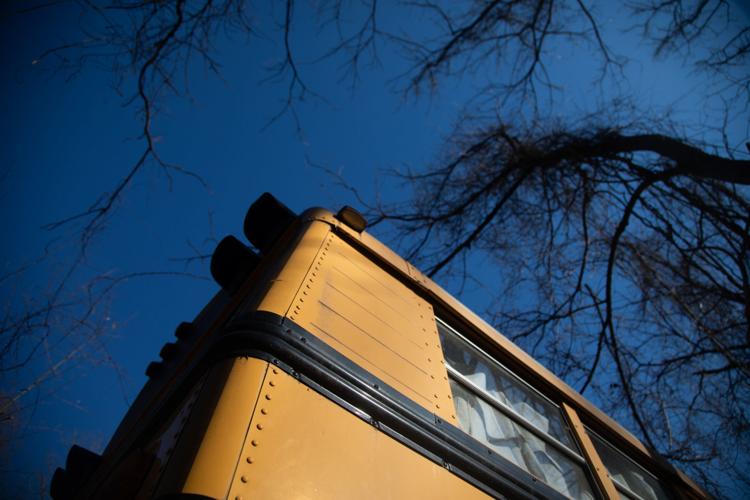 Bus Airbnb 15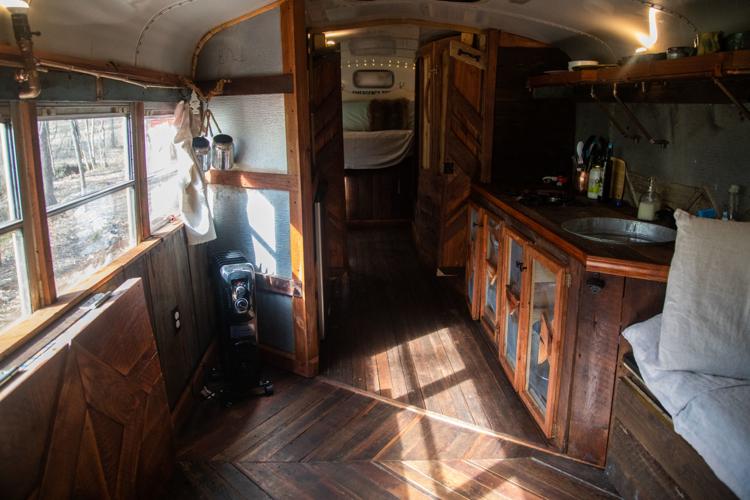 Bus Airbnb 16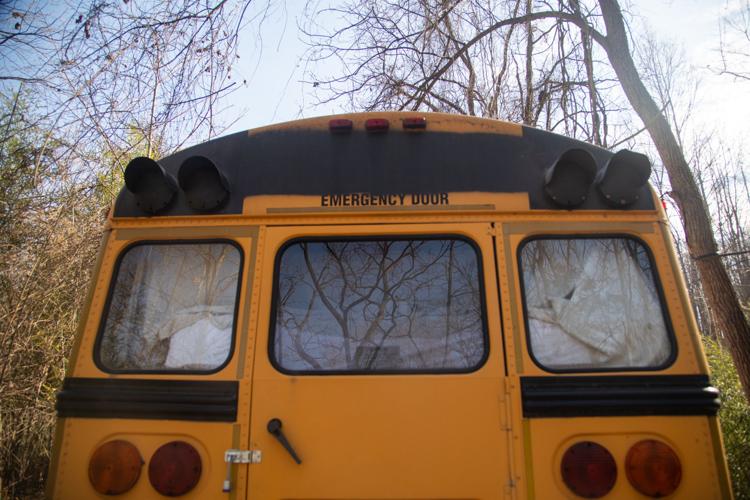 Bus Airbnb 17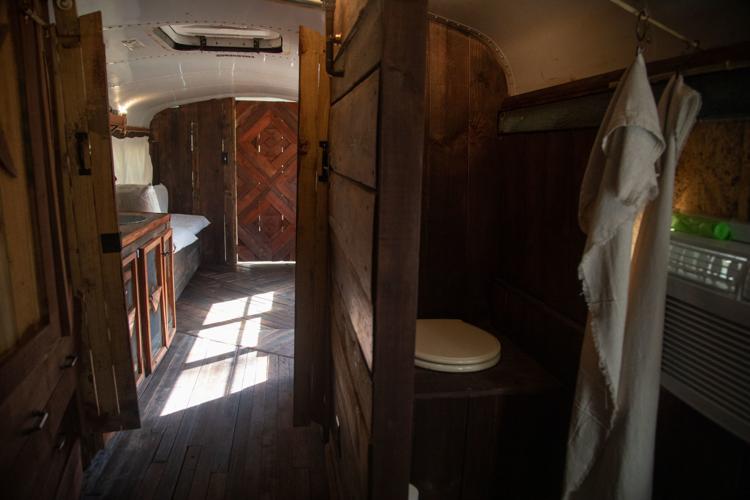 Bus Airbnb 18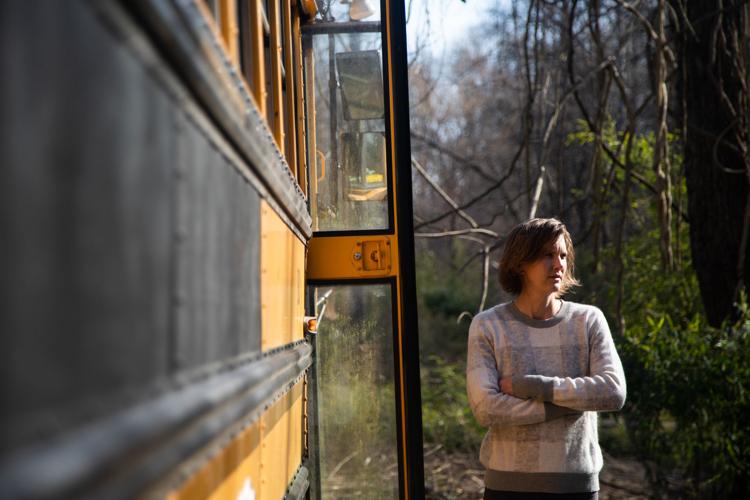 Bus Airbnb 19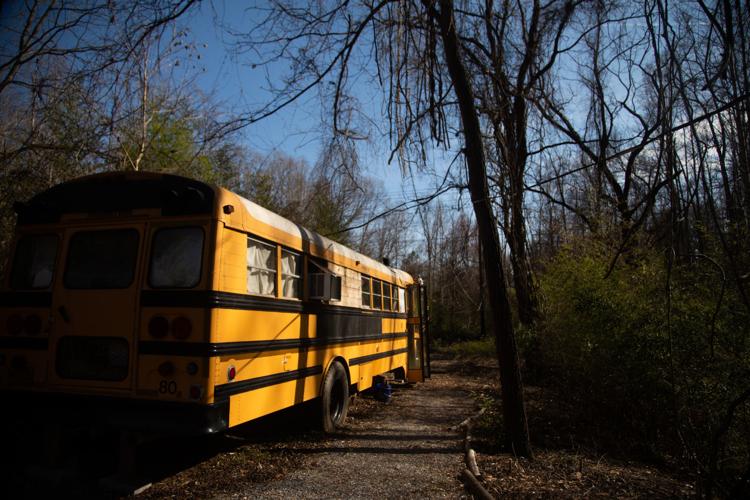 ~~ VERTICAL GALLERY: HIDE TITLES, UP FONT SIZE ~~
Sidener is the special publications editor for The News & Advance. Reach her at (434) 385-5539.