Justin Estleford has always wanted to cook and someday wants to open a restaurant.
Estleford, a recent graduate of Appomattox County High School, said he has done "numerous competitions and catering events."
But this week Estleford and seven other Lynchburg-area high school students got to see what it's like to work in the culinary arts industry in real time through The Sodexo Culinary Internship Program at Liberty University. 
During the five-day program, juniors and seniors from the Campbell County Technical Center, Appomattox County High School, Liberty Christian Academy and E.C. Glass High School learned about sanitation, safety, knife skills, baking and hot food production. 
"It's really great because I get to learn new tricks and tips on recipes [the chefs] have learned over the years," Estleford, 18, said.
The program started three years ago as a collaboration between Central Virginia Community College, Campbell County Technical Center and Sodexo at Liberty University. Sodexo provides food services at LU.
"We wanted to reach out to the community and try to give a little bit back to the upcoming culinarians," said Michael Lowe, senior resident dining executive chef for Sodexo at LU.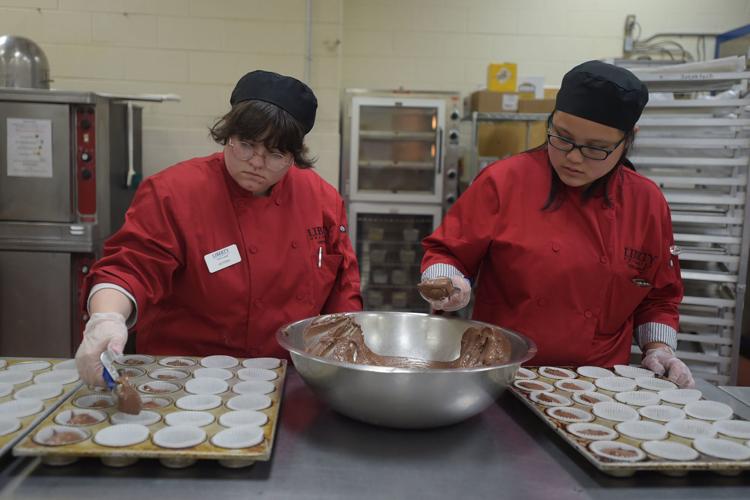 High school students submit an application and resume to Sodexo and are interviewed before starting the program. 
The eight high school students spent Tuesday baking bread, danishes, cupcakes, muffins and cookies.
Audrey Maliangos, executive pastry chef for Sodexo at LU, said the program gives students a look at "the realistic environment and mindset" of working in the culinary arts.
"They get to come here, work in the environment [and] have us talk to them about what it's like to be here on a daily basis," Maliangos said. "They get to really test out if this is what they really want to do. They get the benefits of our experience, and they also possibly walk away with a job."
The kitchen in the back of Reber-Thomas Dining Hall at Liberty University was bustling Tuesday as students covered pans in parchment paper, placed cupcakes on them and iced them with pink frosting and chocolate chips. 
"It's fun decorating sweet things, and then when you taste it, it's even better because it looks good and tastes good," said Deandra Hunt, who recently graduated from E.C. Glass High School.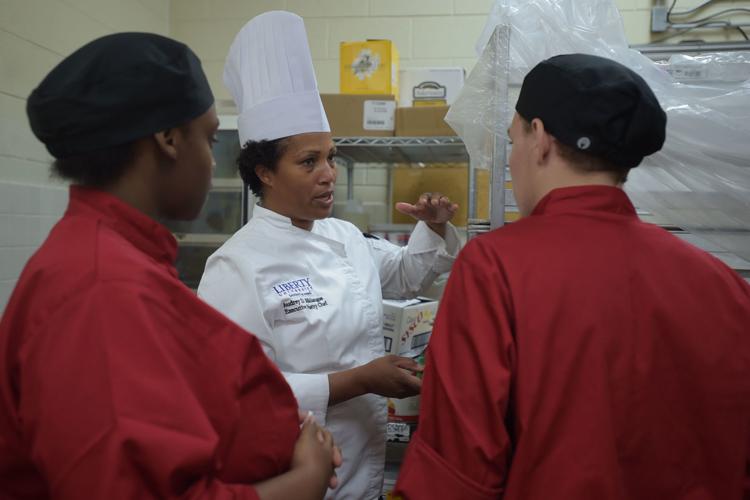 Other students spent some time using an industrial-sized mixer to combine muffin ingredients while another group was placing cookies on pans to be baked. 
Austin Langan, a recent graduate of Brookville High School and former student of the Campbell County Technical Center, said the program teaches the students how to "work as a team because you have different views and experiences."
"You build friendships, relationships. Where someone might be weaker, you're stronger, and where you might be weaker, they're stronger, so you can carry each other."
Maliangos and Lowe, who each have decades of experience in the culinary arts, both said the internship provided them an opportunity to pass their knowledge and experience on to the next generation of chefs.
"We've learned most of what we know from other chefs in the business that have taught us. To have the opportunity to give some of that back to an up and coming generation is especially rewarding. Ultimately, that's the legacy we're going to leave," Lowe said. 
Lowe said the foundation in culinary science students learned can help them get a job anywhere in the world.
"Food is one of those things on the planet that no matter where you're from, where you were born, everybody on this planet has to eat. ... Wherever you're from, it's a tie that binds us together, so we try to impress upon these students that it's really a worldwide business," Lowe said. 
Campbell County Technical Center culinary arts instructor Bradford Via said the program gives students a chance to learn in a bigger environment compared to the kitchens at school.
"When you come into a facility like this and they have it open to select people that want to do it, it really gives them a chance to put their own perspective and firsthand experience into what could potentially become a career for them," Via said. 
After completing the internship Friday, all students will receive a certificate of completion and be able to apply for a full-time position at Sodexo.
"It's kind of a win-win for everybody. It helps us with some employee needs. It helps them start their jobs," Lowe said. "It takes close to 900 employees working in food service campus-wide to make the operation run, so we're always in need of people."