The outdoor work taking place at 1422 Pierce Street this summer turned out to be more than just a construction project. It was a resurrection.
Although four decades of neglect had literally buried the clay tennis court that Dr. Robert Walter Johnson laid down behind his house in 1941, it has been unearthed, smoothed off and largely resurfaced. The foundation established by several of Johnson's grandchildren now plans to move on with renovations to the adjoining house, which is destined to become a museum.
"We've done more than 7,000 courts," said Brendan McIntyre of the United States Tennis Association, which provided money and expertise to the endeavor, "but this one was very special."
For it was on this court that Johnson, a Lynchburg physician and tennis fanatic, taught more than a hundred young people the rules, skills and charm of his beloved game. Two of those students, Arthur Ashe and Althea Gibson, became the first black players to capture major national tournaments.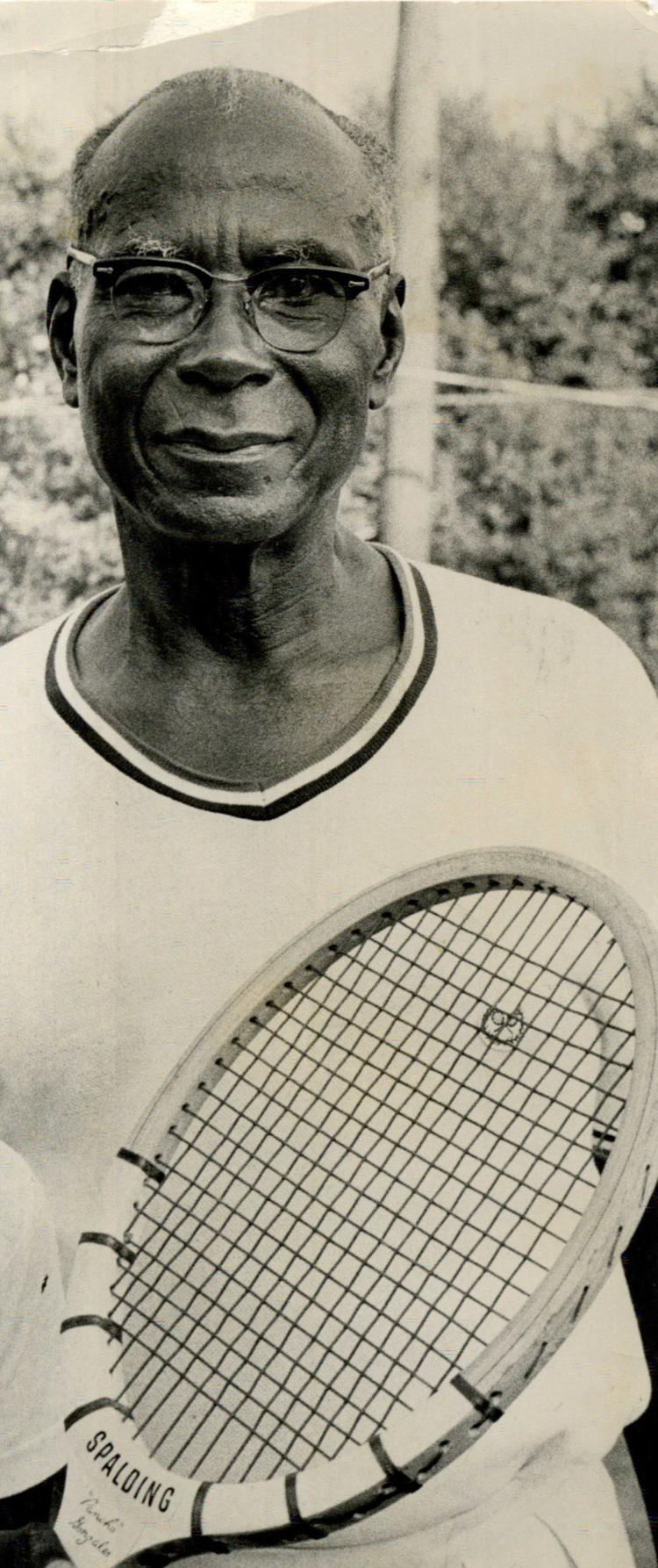 "We are coming up on a very historic 12-month period in the sport of tennis," said Lange Johnson, Robert Johnson's grandson and a key player in the revival of the court. "In a few short days, we will be celebrating the 60th anniversary of Althea Gibson's win in 1957 at the US Nationals, now the US Open. In 12 months, we will be celebrating the 50th anniversary of Arthur Ashe's win at the US Open in 1968. Both of those players are closely tied to my grandfather, and to his home and backyard tennis court.
"The USTA understands the significance of this history and decided to step up in a very big way to make sure this legacy was not only recognized, but also preserved for future generations.
"I contacted and had been working with the USTA for a handful of years to get this landmark on their radar. They have a facilities grant program, whereby tennis facilities in distress can receive funding to restore them to their former glory. With the aforementioned anniversaries nearing, the USTA showed incredible leadership by making the restoration of Dr. Johnson's court a priority this summer."
Jolynn Johnson-Smith, another Johnson grandchild, said with a laugh: "One minute, we're not moving fast enough. Now, it's happening so fast that we can't keep up."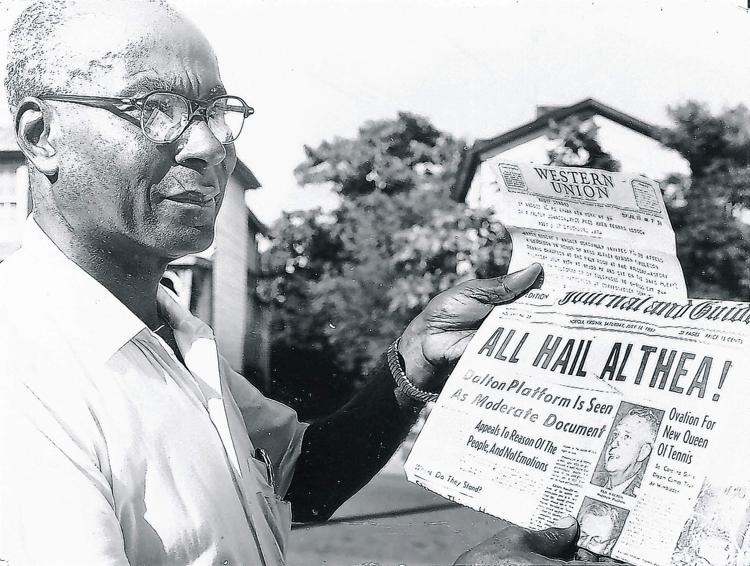 But not quite fast enough for brother Lange. He had hoped that the court would be completely finished by the end of August, but inclement weather has pushed the ribbon-cutting ceremony over the line into September.
"Now that the court restoration is underway, we will focus our attention on the home, the shed and the garden," he said. "We are hopeful that we can garner enough local support from general contractors and landscaping professionals to address all three of these important items related to this hallowed ground. Dr. J lived his entire life being in the service of others and I hope that people in Lynchburg and elsewhere, in a position to do so, will return the favor for this visionary.
"I am in conversations with a number of local Lynchburg organizations, discussing options for serving local youth through the sport of tennis on this court. We have not yet finalized the extent of those plans, but I expect to review several proposals shortly. We will also use the court to further the work of the Whirlwind Johnson Foundation, raising money for organizations across the country who have similar programs to Dr. Johnson's Junior Development Program."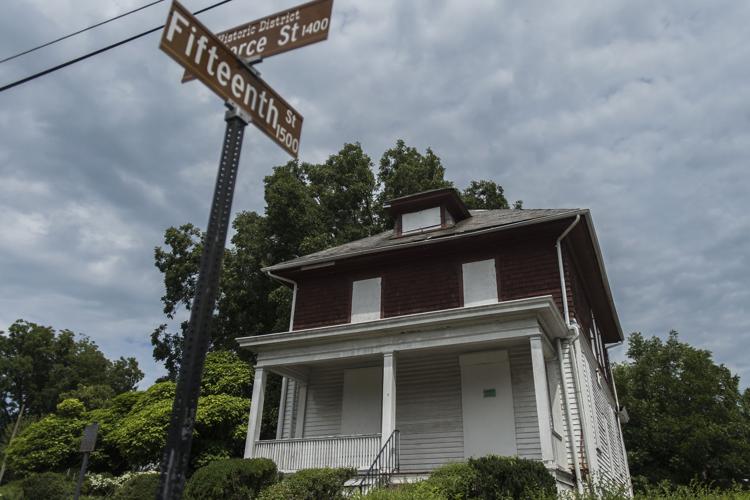 The long-awaited reconstruction of the Johnson property will add even more interest to an already historic two-block section of Pierce Street, the site of  eight state historic markers. The former residence of Harlem Renaissance poet Anne Spencer has been restored at 1313 Pierce, complete with a backyard garden open to the public, and the 1300 block was also home to Anne's son Chauncey (one of the founders of the Tuskegee Airmen), pioneer architect Amaza Meredith and longtime Dunbar High School principal and Lynchburg vice mayor Clarence W. Seay.
A native of North Carolina and graduate of Lincoln University in Chester, Pennsylvania (where he was a star football player) and Meharry Medical School in Nashville, Johnson came to Lynchburg around 1930 because he had heard the town lacked an African-American doctor. Serving patients who mostly worked at menial jobs and had little money for medical care, he still managed to build up a solid practice and earn respect from the white medical establishment. Eventually, he became the first black physician to be admitted at Lynchburg General Hospital.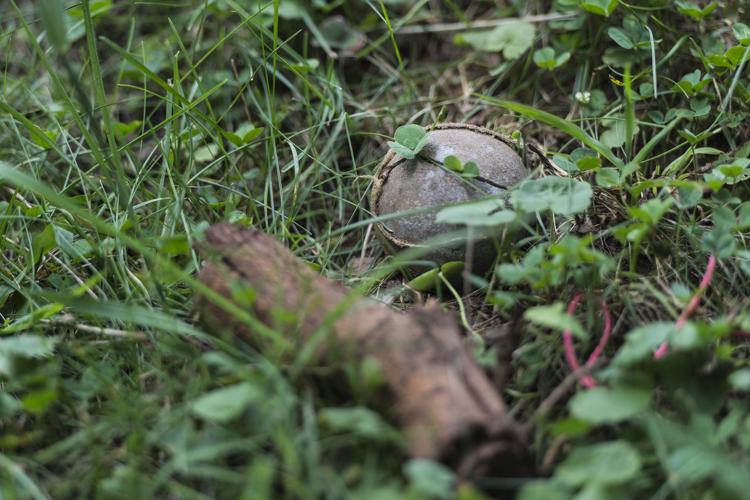 At Lincoln, Johnson had excelled as a mercurial running back, once scoring eight touchdowns in a game against Morgan State. The NFL was not an option for black athletes in the 1920s, however, so Johnson needed another outlet for his enormous energy. He settled on tennis because of its emphasis on speed and stamina and the opportunity for one-on-one competition.
"Doc wanted very badly to become a great tennis player," said grandson Robert Walter Johnson III, better known as Bobby, in a 2016 interview, "but he got started a little late, and realized he was never going to make it in singles. So he took up doubles, and did quite well at it."
Johnson had already started coaching neighborhood kids in Lynchburg when he and another black physician, Hubert Eaton, heard about a rangy, hard-hitting tennis prodigy from Harlem named Althea Gibson. She had dropped out of school and was headed into an uncertain future, so Eaton got her into a Wilmington, NC high school and Johnson began mentoring her on Pierce Street in the summer.
Gibson's ultimate success caught the attention of Arthur Ashe's father in Richmond, who decided that Johnson might offer the best chance to lift his scrawny but talented son to the next level. The rest is history — a history that contributed to Johnson being posthumously named to the International Tennis Hall of Fame in 2009.
Still, Johnson was more than a glorified personal trainer. Known as "The Godfather of Black Tennis," he hurled himself into raising the standards of and opportunities within that sport for African-Americans at many levels. He organized tournaments. He pushed for the formation of tennis teams at black colleges. He became a force within the American Tennis Association, the black counterpart to the mainstream United States Tennis Association.
With his students, meanwhile, Johnson was demanding. Despite spending long days at his office and on house calls, he often loaded some of the more promising youngsters — most of whom were black, many from backgrounds of poverty — into his car on weekends and drove them to regional tournaments. Once there, he expected them to win, or at least give their best effort.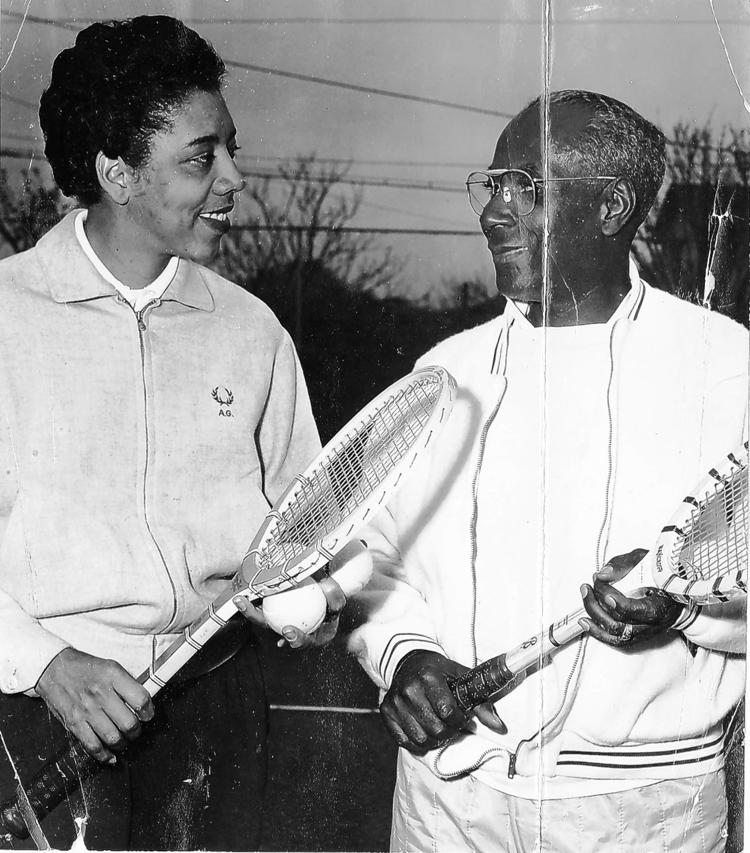 "Essentially, as I look back on Dr. Johnson, he was preparing us for a world that didn't want us," former Johnson protégé Leslie Allen told the New York Times earlier this week. "If we could survive what he threw at us, we could survive anywhere. And that's happened to all the athletes who were there. They've all been successful in whatever their chosen career path was."
Allen is now affiliated with the USTA, and Lange Johnson credits her with being a crucial link in his effort to have the court revived.
Dr. Johnson died in 1971, and the court was never used again. His secretary lived in the two-story house for several years before moving up to New Jersey and leaving it vacant. Gradually, the house fell into disrepair and the court sank into the grass. For years, the family members — all of whom lived elsewhere — were divided on which direction to take.
"My grandfather had to knock down a bunch of fruit trees to clear the space," Bobby Johnson said, "and it almost killed him to do that. Then he hauled a ton of rocks out of there to make the ground level and smooth and brought the clay in. Word got around about how nice the court was, and Bobby Riggs once played an exhibition match there. I have a photograph of people watching that match from a set of bleachers."
According to Brendan McIntyre, the USTA team wanted to use native red clay for the court, just as Johnson had done.
"They weren't able to source enough of it, though," McIntyre said, "so they wound up using a Har-Tru surface."
Yet some authenticity remains, for that is what Johnson laid down when his original clay became worn.
"The court was also a little shorter on one side," said McIntyre, "so that's how it was recreated."
Said Lange Johnson: "We are still trying to get his story told more broadly. The number of people who are just now waking up to this pioneer and his accomplishments in the sport of tennis 46 years after his death in 1971 is remarkable."