Pat Mitchell lived in the Chicago suburbs. He had a salaried government job with retirement, benefits and all his family just a car ride away.
But five years ago, after a single phone call and a Google search of the Blue Ridge Parkway, Mitchell, 31, uprooted himself, his wife and his two children for Lynchburg.
"We are done feeling claustrophobic," Mitchell said.
They wanted to live near a national park, somewhere with wilderness areas and easy access to the outdoors.
Now he's combing the forests of Lynchburg in search of one thing: mushrooms.
Mitchell wears cargo pants and a cap, and carries a bamboo walking stick and a mud-streaked pack. It is late spring on Percival's Island, and though morel season has peaked, Mitchell insisted the mushroom hype has more to offer than morels, the popular fungi prized by gourmet chefs and foragers across the globe.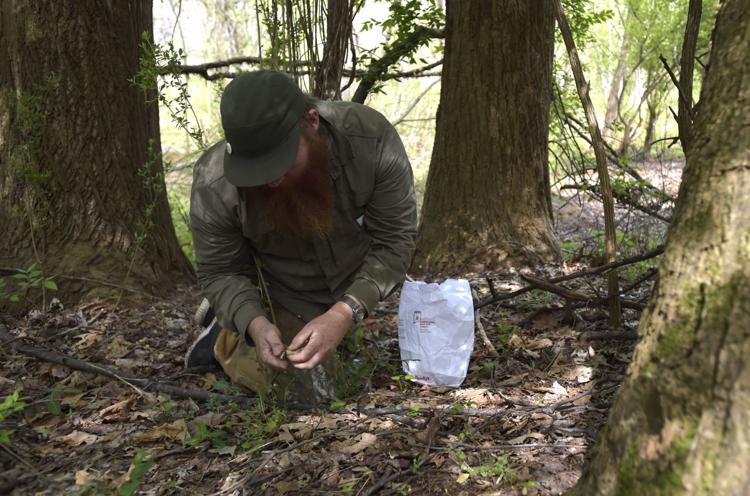 Mitchell pointed out common mushrooms like the pheasant back mushroom, a flat, porous disk that grows out of decaying Boxelder trees. They smell like watermelon rind, and Mitchell said though common, they are rarely noticed.
Wild mushrooms are a daily offering on Mitchell's dinner table, and pheasant back is perfect for a sauté, or it can be dried and used for soup stock — it makes a mean cream of mushroom, he said.
"Just the idea of being able to single out a food source with a very, very specific knowledge and then be connected on a yearly basis with that spot, for some reason, fascinated me," Mitchell said.
He has been foraging for seven years, his interest piqued by a friend who took him morel hunting, and then again on a camping trip, when he woke up to find himself surrounded by chanterelles, brilliant gold and yellow "in every direction, as far as you could see."
Mitchell and his friend gorged on them. He said they tasted exactly like apricots.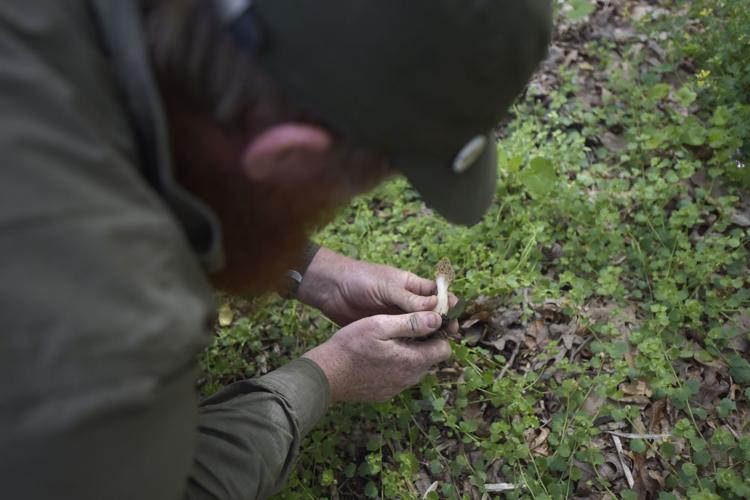 More than a food source, some mushrooms have medicinal properties. The locally foraged mushroom Gonoderma tsugae is used for the prevention or treatment of a variety of diseases including throat and sinus infections. Mitchell has learned to make a tincture out of the mushroom, which he and his wife take when they feel a cold coming on.
Mushrooms can be used for food, medicine and environmentalism — like mycoremediation, a form of bioremediation in which fungi-based technology is used to decontaminate the environment.
Mitchell calls mycology — the scientific study of fungi — incredibly underrepresented. Though recent estimates show mushrooms outnumber plants six to one, there still is a vast void of research and knowledge of them in biological science.
"Everything you can see is all vegetative; it all grows a certain color, a certain direction, a certain way. And the trick is, mushrooms stick out because they're just slightly different," Mitchell said. "They're actually more related to us then they are to plants."
After coming back from the Telluride Mushroom Festival last year, Mitchell wanted to get involved with the North American Mycoflora Project, which uses citizen scientists and small regional groups to find, collect and preserve specimens for genetic sequencing, and create a comprehensive database for researchers to access.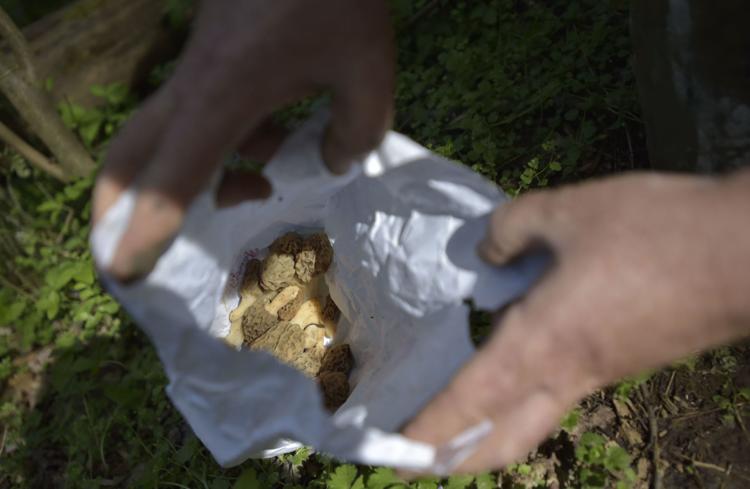 In order to do so, Mitchell needed to be a part of a mycology club. Finding himself, again, in a void, caught hours between the only two existing area clubs in Blacksburg and Washington, D.C., Mitchell started his own.
Mitchell and Mike McMahon, a mushroom enthusiast who lives and farms in Esmont, co-founded the Blue Ridge Mycological Society in October.
"Pat's enthusiasm is infectious," McMahon said. "Pat's like stopping a moving train; he's got a crazy energy."
McMahon grows mushrooms on his farm, as well as raising sheep and cattle. He has taught his daughters, ages 10 and 6, to hunt for mushrooms. He said their close proximity to the ground gives them a distinct advantage.
McMahon likes to clone his interesting fungi finds in petri dishes, testing to see if he can reproduce the colony with a tissue sample, and bring it back to life in sawdust and rotting wood.
"It's uncharted territory," McMahon said of mushrooms. "It's wide open for anyone to carve out their own little thing; you don't have to have a background in biochemistry to do it."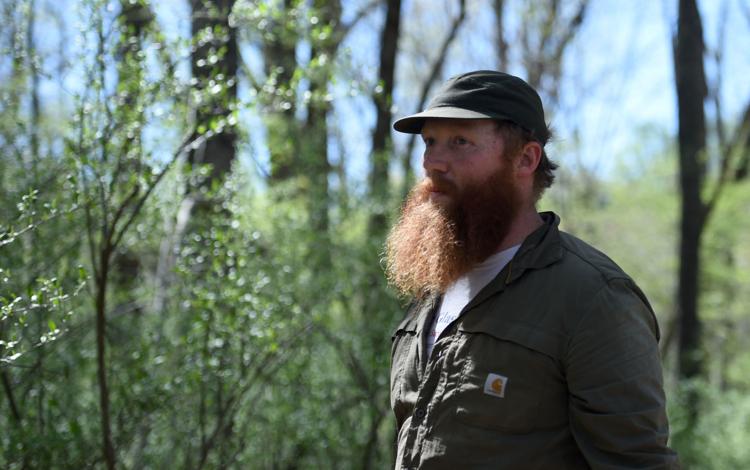 Through the club, Mitchell and McMahon managed to coax some Lynchburg enthusiasts out of the woodwork. They meet monthly at the Quarry Gardens at Schuyler, and average about 10 to 15 members at each meeting.
"A lot of them have been waiting a long time for a mushroom club," Mitchell said. "People are starting to trickle in from Lynchburg, and all these people that were unconnected, are all finding each other from this club."
People like Lynchburg resident Christopher Barbour who, until he met Mitchell, thought he was the only one.
"I spent a lot of my life and a lot of my hobbies alone," Barbour said. "I've always been the oddball. When I was a kid, I'd rather be staring at an anthill … but when I went [to the club] it was very strange to finally find people."
Mushrooms have spread to almost every aspect of Mitchell's life.
It's his after-work activity — cruising through Lynchburg forests on his skateboard to hit the well-kept secret of his foraging spots. It's on his dinner table, in his medicine cabinet and it's something he can share with his sons, Ace and Levi, ages 8 and 10.
"There's so much that we can do to make the world a better place using mushrooms," Mitchell said. "That's where I started going off the deep end: I've got to start this mushroom club, I've got to get into the mycoflora project. I've got to learn as much as I can."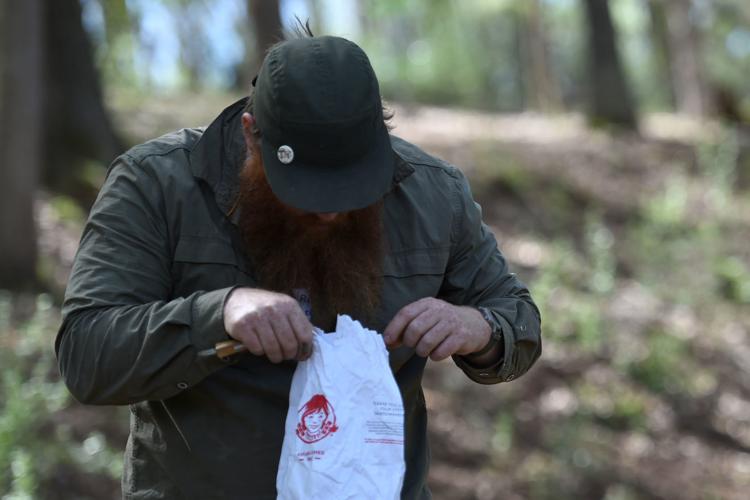 Mitchell, McMahon and Barbour all expressed a similar sentiment: Mushrooms hold the world together. They are constantly present and integral, even if their role isn't visible on the surface. Like the world's largest living organism — a fungus over two miles across, Armillaria ostoyae, that exists mostly underground in the Blue Mountains in Oregon.
Even if it's not readily apparent, there is an interconnectedness that ties people together.
"Now that we've talked about it, you'll probably go around the world looking," Mitchell said. "Once you start thinking about them, you'll start seeing them everywhere."