We conclude our look back at the 10 moments that defined Liberty athletics this past season. Today, we look at the top two moments. One was an announcement no one saw coming, and the other was the quick response to fill a void with a heavy-hitter name.
2. Turner Gill abruptly retires from coaching, leaving a vacancy in football program
Turner Gill wrapped up his seventh season as Liberty's football coach on Dec. 1 with a victory over Norfolk State. The triumph capped a 6-6 campaign as the program transitioned from the Football Championship Subdivision to the top-tier Football Bowl Subdivision.
Gill had one year remaining on his contract, and all indications pointed to him guiding the program for the 2019 season.
In the following 48 hours, Gill was offered a multi-year contract extension to keep leading the Flames into the FBS era. However, his wife's health forced Gill to make a decision no one foreshadowed: retirement.
Gill's abrupt retirement came as a shock to many in the athletic department. He was 56 years old and owned a 47-25 record at Liberty. While the team appeared to show regression following the nine-win 2014 season, the six-win mark at the FBS level showed there were definite signs of potential growth in the program against the tougher competition.
The day after he announced he was retiring, Gill held a tearful press conference discussing his wife's health and how he felt he was letting his players down by not being there for the upcoming season. It was evident Gill did not want to step away for coaching, but wanted to do so in order to spend more time with his wife and not have the stress of a head coaching position that required countless hours away from home.
Gill remained a focal point around campus following his retirement from coaching. He watched several of his former players at the annual pro day, made several appearances at spring practices, and even traveled to San Jose to support the men's basketball team in the NCAA Tournament.
Gill was hired by Arkansas in late May to be the executive director of student-athlete and staff development for the football program.
1. Hugh Freeze quickly hired as new football coach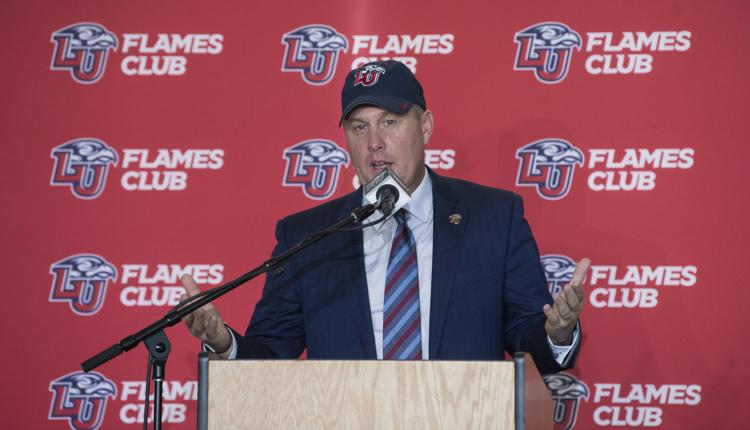 Gill's abrupt retirement created a void in the football program, and required athletic director Ian McCaw to make his most important hire at Liberty. McCaw vowed to move quickly on the position and bring in someone capable of leading the program to new heights.
Those high aspirations were filled with a coach who experienced incredible success in one of the nation's top football conferences.
Four days after Gill's retirement, McCaw and Liberty had their man with the hiring of Hugh Freeze to become the program's ninth football coach.
Freeze agreed to a five-year contract following a two-year hiatus from coaching. He resigned from the same position at the University of Mississippi in the summer of 2017 after school officials discovered he used his university-issued cell phone to call numbers associated with escort services, and earlier that year, the school issued a self-imposed, one-year bowl ban for the 2017 season after receiving an NCAA notice of allegations that accused the Rebels of a lack of institutional control and Freeze for failing to monitor his coaching staff.
Freeze was highly coveted by SEC and ACC programs as an offensive coordinator, but the pull to be a head coach again was what drew him to the new kid on the FBS block.
Liberty hired a coach who oversaw explosive offenses at Ole Miss and Arkansas State and used his personable nature and relentless recruiting to bring in top talent.
Freeze has already brought in more three-star recruits to Liberty than Gill did in his entire seven-year tenure, and the 2019 recruiting class included the first four-star recruit to sign with Liberty in cornerback Tayvion Land from Ocean Lakes High School.
Freeze's hiring also resulted in an overhaul of the coaching staff. He surrounded himself with young, hungry assistants who want to prove they can be successful at the FBS level. Scott Symons, who oversaw one of the top Division II defenses at West Georgia, will call the defensive plays after one season as linebackers coach at Memphis. And he brought in several of his former coaches in Josh Aldridge (defensive line) and Rickey Hunley Jr. (cornerbacks), in addition to snagging linebackers coach Kyle Pope from Alabama.
Co-offensive coordinators Maurice Harris and Kent Austin have plenty of experience in the coaching world. Harris was the tight ends coach under Freeze at Arkansas State and Ole Miss, while Austin most recently was in the Canadian Football League as a successful player, coach and executive.