Cindy Heise waited after GOP presidential candidate Ben Carson's stump speech at Liberty University on Wednesday, hoping to say thanks.
While many of his supporters appreciate his message of faith, Heise said more than a year ago, he assisted her with luggage on an airplane.
"He got up from three seats back and helped me," Heise said.
She later learned about him and has since read his books, in which he describes — as he did Wednesday — how prayers for wisdom and his faith took him from someone schoolmates called "dumby" to a renowned Johns Hopkins Medical Center neurosurgeon.
Heise — who flew in from Florida to see the speech and her granddaughter, a freshman at Liberty University — is characteristic of many in his faithful Christian following propelling him at the top of the GOP presidential candidate field.
"He looks beyond himself for guidance, and I think he would be an incredible leader," Heise said, adding he expresses "Godly principles."
Carson's speech to the generally like-minded crowd bookended with his personal narrative, which has come under fire as journalists throughout the country vet his biography "Gifted Hands" and statements he previously has made.
Carson also attended a private, $500-a-plate luncheon fundraiser and Boonsboro County Club Wednesday. In the afternoon, Dr. Ronnie Martin, dean of Liberty University's College of Osteopathic Medicine, led Carson on a private tour of the medical school facility, along with a few dozen medical students, preceded by a news conference.
Liberty University in Lynchburg currently is the leading candidate to host a planned Republi…
His presence in Lynchburg followed his appearance Tuesday night in the GOP debate in Milwaukee alongside seven rival candidates, and brought with it a noticeable presence from the Secret Service, which took over security for his campaign this week, according to The Associated Press.
Carson found a friendly audience at the Christian evangelical university, where students waited in long lines to gain entrance to the Vines Center and his remarks went unchallenged.
During the question-and-answer session at convocation, David Nasser, the senior vice president for spiritual development, asked Carson for advice for college students.
The candidate cited the Book of Proverbs, "Trust in the Lord with all your heart. Lean not to your own understanding…"
"I have clung to that through all kinds of adversity in my life. I cling to it now when so many in the media want to bring me down because I represent something they can't understand," he said.
Photos: Ben Carson at LU
Republican presidential candidate Dr. Ben Carson spoke Wednesday, Nov. 11, 2015 at Liberty University in Lynchburg.
Carson emphasized his outside-politics status, which has propelled campaigns for GOP candidates Donald Trump and Carly Fiorina, and to a different degree Democratic candidate Sen. Bernie Sanders, I-Vermont.
"We have to recognize that one of the goals of those who want to fundamentally change our nation is to pull our nation apart, and hence they've created the perception that there is a war on women that every time there's a conflict between people of two races there's race wars, that there's income wars, that there's age wars, that there's religious wars, that Democrats hate Republicans, that Republicans hate Democrats, and you keep people at each other's throats," Carson said.
Carson's remarks touching on policy focused on deregulation and his proposal for a flat tax that he said removes loopholes while also cutting the federal budget.
"I think back to Thomas Jefferson, who said it is 'immoral to pass debt on to the next generation.' When I think about what my generation is passing on to you guys, I mean if we could bring Thomas Jefferson here today and let him see what's going on, he would immediately stroke out," Carson said, referencing the more than $18 trillion in federal debt.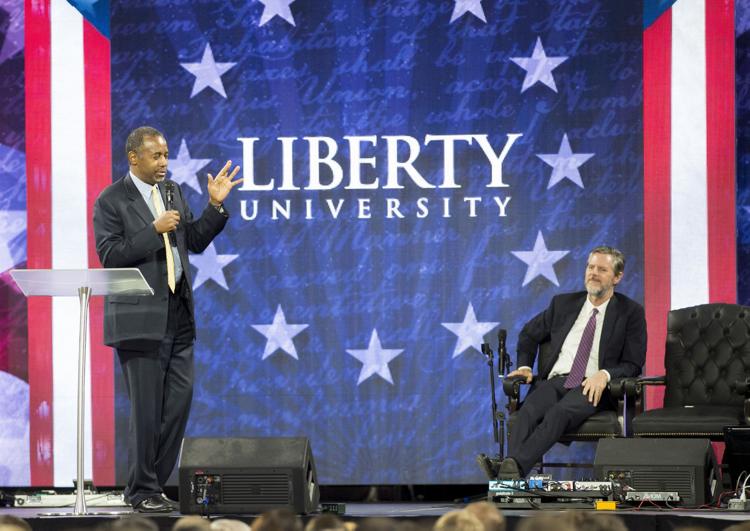 As further evidence of economic turmoil, Carson cited recent labor statistics showing an unemployment rate down to 5 percent, saying the picture is incomplete and the electorate should be more informed.
"But if you know anything at all about economics, you know that you can make that number anything you want it to be based on who you include and who you exclude," Carson said.
He said the "real number" is the Labor Force Participation Rate, which he said is at its "lowest level in 38 years."
"We have a little time to get our house in order, but not a lot of time because the financial situation is very precarious," Carson said. "If we don't do something about it soon, and it collapses, what happened in 1929 on Wall Street will be a walk in the park compared to what will happen."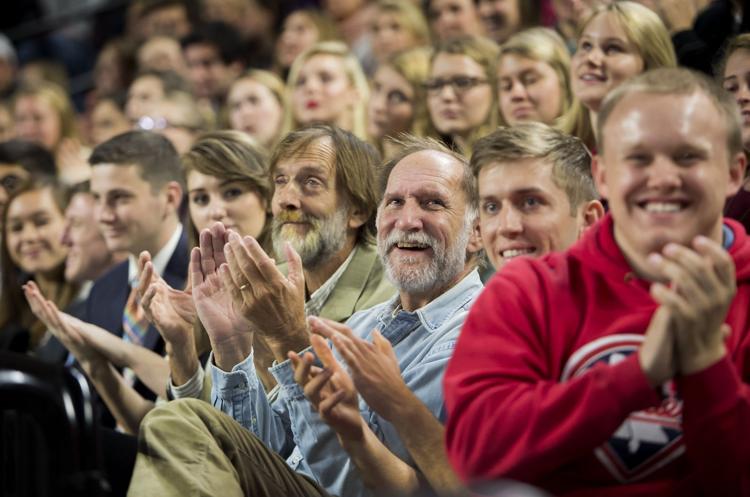 Carson said the country needs the right kind of atmosphere to encourage entrepreneurial risk-taking, innovation, and capital investment.
He said the Affordable Care Act requirement that businesses with more than 50 fulltime employees must provide them with health insurance holds back small businesses growth.
"Now you get to 40 and you say, 'Oops, I better stop,'" Carson said.
He proposes a flat tax, comparing it to a tithe. Someone earning $10 billion would pay $1 billion. Someone making $10 pays $1, he said.
Sen. Bernie Sanders expressed his message attacking economic inequality in Biblical terms of…
Like Sanders, Carson has staked his campaign on grassroots support. He said Wednesday, the campaign has over 900,000 donations "from average Americans."
"They never anticipated that 'We the People' could fund a campaign. They always thought it had to be the billionaires and the special interest groups," Carson said. "The way it was actually designed is that it should be 'We the people' and that it was designed for citizen statesmen and not for career politicians and I believe the people are beginning to understand that."
Heise is one of many grassroots supporters who feel Carson speaks to them. Her granddaughter Allison Heise described the difference between the Sanders event and Carson.
She said the primarily conservative Christian students knew they had to be polite to Sanders, but came in expecting to disagree with his speech. Sanders, the democratic socialist, couched his message in Christian language.
With Carson, she said, "We were here to be open to him and listen to what he has to say."