Nestled in a hillside and cradled by three sycamore trees is a treehouse so grand it defies all preconceived notions of what a treehouse should be.
The treehouse at Bella Rose plantation on Graves Mill Road was constructed several years ago as part of the filming of an episode of Animal Planet's "Treehouse Masters."
Designed with Jeffersonian influences, the treehouse serves as an extension of the event venue, a place where the newly wedded couple can unwind after the ceremony, looking down over the place where they exchanged their vows from the lofty vantage point in a grove of sycamore trees.
Vickie Runk, owner of Bella Rose Plantation and Entwined Events, said the treehouse initially was available only to brides for the night after their ceremony, but it since has been opened up for outside bookings for $349 per night.
In addition to the treehouse, the property consists of the Rosedale Mansion, the top floor of which serves as a wedding suite for brides to prepare; the Graves Mill house for receptions and other events; the Creekside Rotunda provides an outside space for the wedding ceremony; and the Christopher Johnson Cottage serves as a space for the groom to prepare for the ceremony.
"I think the fact that we've been on national television and talked about Lynchburg, Virginia, and talked about Bella Rose and how special this property is and the restoration of this property when it was literally just falling down years ago," Vickie said. "The fact that we poured all of our love into the work we've done here has developed such a great and beautiful site for Lynchburg to enjoy and drive by and see."
The Runk family purchased the estate several years ago and began restoring it. At the time, Vickie's youngest son had grown fond of watching "Treehouse Masters"
"As we were trying to restore the property, he said, 'You know, mom, it would be really cool if we could have a honeymoon treehouse on the site,' and that kind of resonated with me," she said.
A few weeks later, Vickie decided to write the "Treehouse Masters" and pitch an idea. She crafted an essay on the vision her son's comment inspired — an octagonal treehouse, paying homage to Thomas Jefferson's summer home, Poplar Forest.
Two years went by without a response. Then, as Vickie remembers it, she was disembarking from a flight home from the Caribbean and noticed an email from a scout for "Treehouse Masters."
The scout said the idea of a Jeffersonian-inspired treehouse intrigued the show's host Pete Nelson. A crew was planning to visit Forest and wanted to come to the plantation to get a feel for how the idea might play out.
Pete scouted out the site in November and the crew arrived in February to start construction. With plumbing and electricity permits in hand and the treehouse's framework constructed in Seattle and trucked to Lynchburg, the project was completed in 31 days.
The episode still is available on various streaming services and occasionally airs as a rerun on Animal Planet.
As the episode begins, host Pete Nelson plays with the tourism tagline "Virginia is for lovers" adding, "What Brian and Vickie are doing is creating a place of joy and celebration for everyone. After a big stressful day of getting married you need someplace to unwind and what beats a tree house? Nothing."
To study Jefferson's designs, the host spent six hours at Jefferson's Poplar Forest, learning about the president's views on architecture to incorporate into the treehouse design.
"TJ himself was here, in this very area, creating designs and architecture," Pete says in the episode. "For me to be able to pick up some of that inspiration and to create something that will have a lot of these elements is such an exciting thing for me."
The Runks' wish list for the treehouse, though, presented Pete with some challenges. For instance, Vickie wanted the interior walls to be drywall, since that modern material more closely mimics the plaster used in Jeffersonian construction.
Vickie also wanted huge windows on every wall, a bathroom with a clawfoot tub, a stone fireplace, a deck to wrap the whole structure, hardwood floors and large baseboards.
"This is going to be a big treehouse," Pete says after Vickie provides her wishlist. "A project of patriotic proportions."
It was the drywall request, though, that gave Pete pause.
"Treehouses by their nature are sort of moving around when the wind blows, that might cause some problems with drywall popping and nails popping," Pete says in the episode, later adding, "When Vickie and Brian first asked for drywall, I was a bit anxious, but all our posts are attached with heavy duty concrete which will keep our treehouse secure and the smooth drywall free from cracking."
Pete set posts in the ground to stabilize the structure but also gave the treehouse "dynamic connections" so the trees can move while eight posts anchored in concrete keep the treehouse itself stable.
"By adding all sorts of weighty features, like the stone fireplace, the bathtub, the drywall — we're breaking all sorts of treehouse rules," Pete says in the episodes. "Now that's some revolutionary spirit that I think old TJ would be proud of."
Most treehouses Pete designs have a loft space for the second floor but that wasn't common in Jefferson's day, so this treehouse got a proper second story.
The second-floor master suite features a domed ceiling with a queen-sized, four-poster bed, draped in tulle. The walls are hand-painted a baby blue with frosty white trees stretching skyward, giving the feel of a snowy winter walk in the woods.
There's a set of French doors that open for a Juliet balcony overlooking the wedding site.
"For the bride to walk down the aisle and say I do, and then be able to retreat to this treehouse and look over that area where she just celebrated one of the most important days of her life is so exciting," Vickie says in the episode.
During the filming, the Runk family — Vickie and her husband Brian and their children Chris, Caitlyn and Chandler — hosted two boys from the Children's Miracle Network who had been diagnosed with cancer and wanted to build a treehouse with Pete.
"[It] took me back to my childhood, those little princess dreams you dream when you're climbing trees," Vickie says in the episode. "It's so majestic sitting up here. It just made you feel like a kid sitting up here. … I'm just overwhelmed. I just loving the beauty, the history, the romance, everything about love that we brought together here."
Vickie and Brian both commented on how natural the treehouse looked perched in the sycamores.
Vickie said since she does so much of her own design work, it can be hard to impress her at times, but when she first walked into the finished treehouse, she cried.
"I felt like they had done a good job of surprising me and also making my dreams come true," Vickie said. "I believe really the treehouse is the most unusual and unique piece that we have added to the property."
The treehouse opened for use in May 2016. Vickie said it started off solely for brides of the company's three wedding venues but they began to notice the following for the "Treehouse Masters" show and decided to open the treehouse to the general public last year.
Vickie said a number of people follow Pete Nelson and the "Treehouse Masters" and want to stay in his creations, plus people in the community want to rent out the treehouse for a romantic Valentine's Day or anniversary celebration.
"It's so special and very unique and different, and I think that's true with treehouses in general, it takes you back to when you're a little girl or little boy," she said. "We always wanted to climb up in the trees and get away and dream big dreams. I think that sums up everything that our treehouse does for everyone."
Vickie said she enjoys the fact the treehouse is part of the Pete Nelson family of treehouses.
Pete Nelson ends the episode saying, "Here in the rolling fields of Virginia, where American history meets romance, a special place has been created. A honeymoon suite where those with a deep appreciation for our revolutionary heritage, can join hands in marriage and commune with nature. By blending remarkable designs of old with modern innovation this treehouse moves beyond the needs of newly minted couples.
"Through these magical structures we honor our shared past while looking forward with hope to new memories we'll make together as one."
PHOTOS: Jeffersonian treehouse creates a magical retreat
5e62d1489551a.photo_3-jpg (1).jpg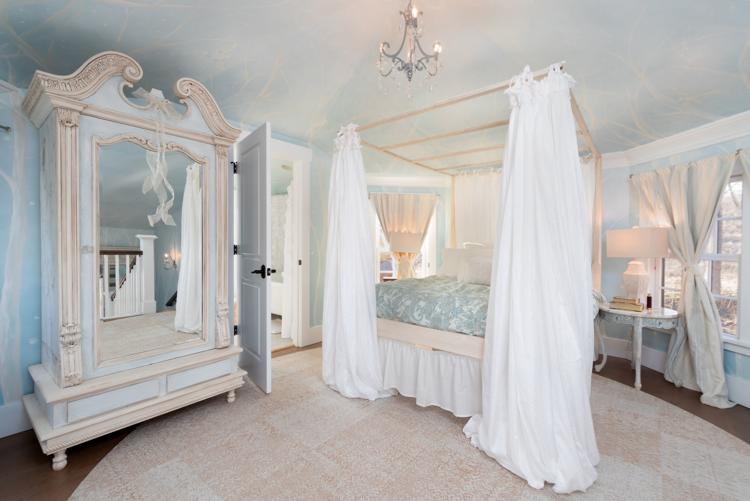 5e62d1489dbf6.photo_4-jpg (1).jpg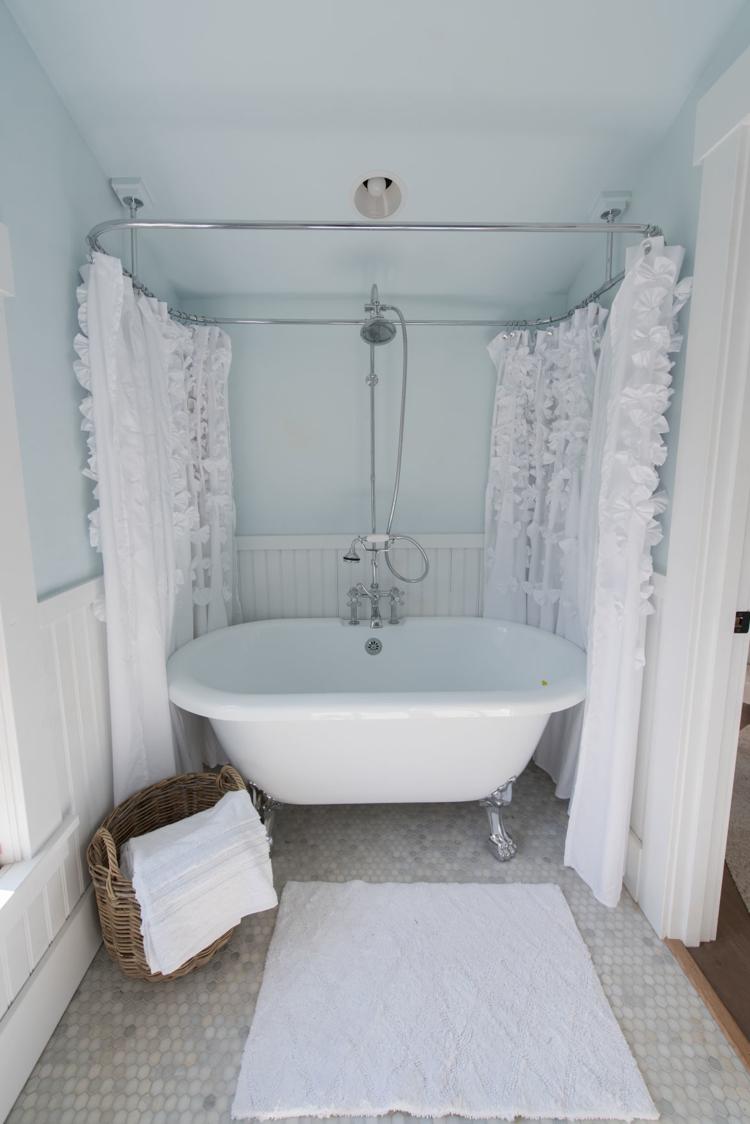 5e62d14884e4a.photo_2-jpg (1).jpg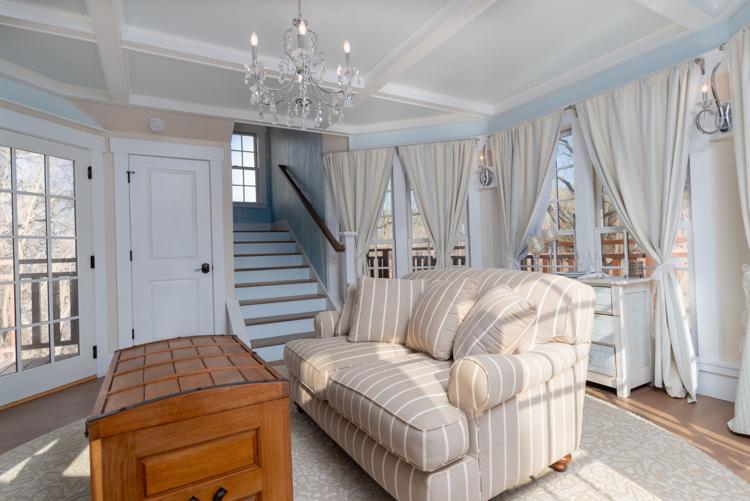 5e62d148774cb.photo_1-jpg (1).jpg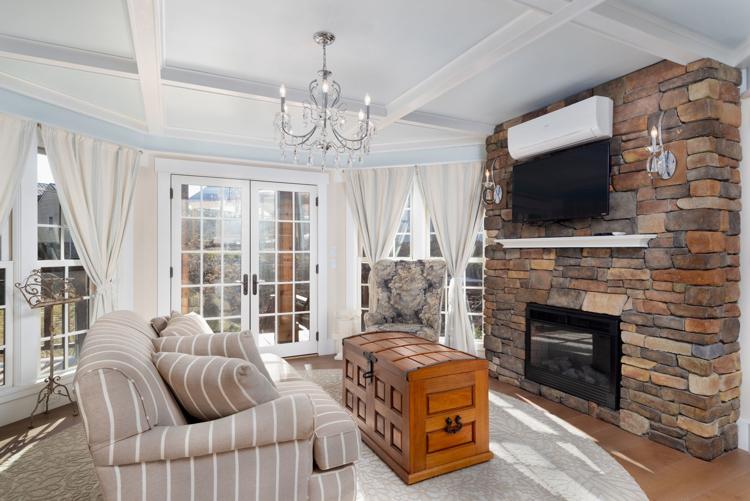 5e62d14863101.photo-jpg (1).jpg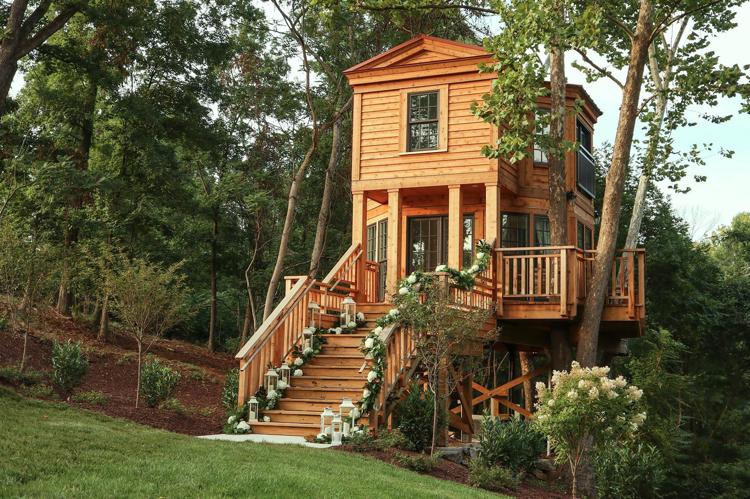 5e62d286e5121.photo_4-jpg (1).jpg
5e62d286deff5.photo_3-jpg (1).jpg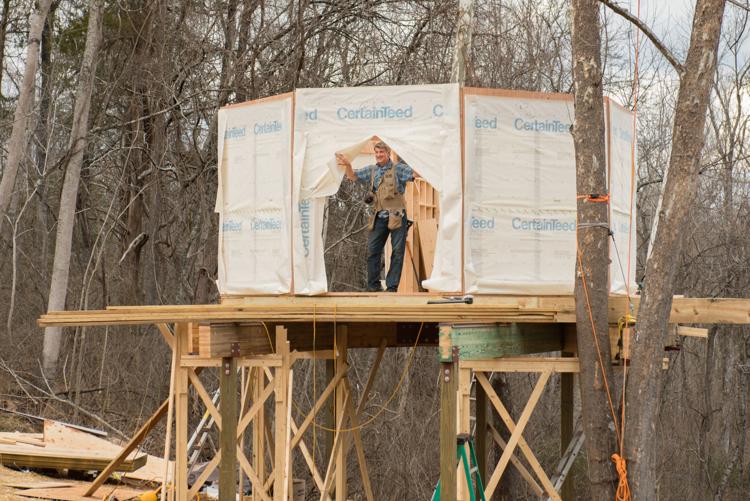 5e62d286d94e9.photo_2-jpg (1).jpg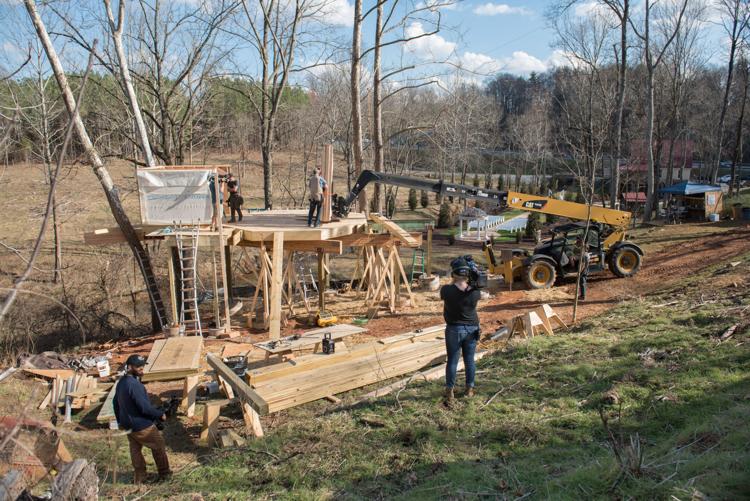 5e62d286cac8a.photo_1-jpg (1).jpg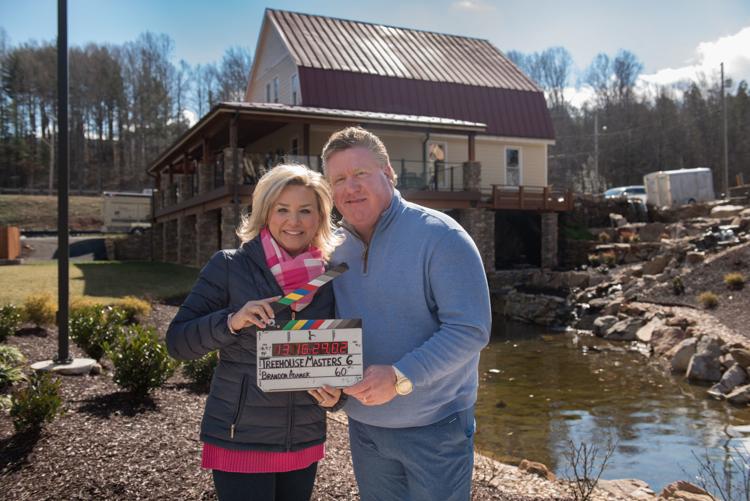 5e62d286c3b11.photo-jpg (1).jpg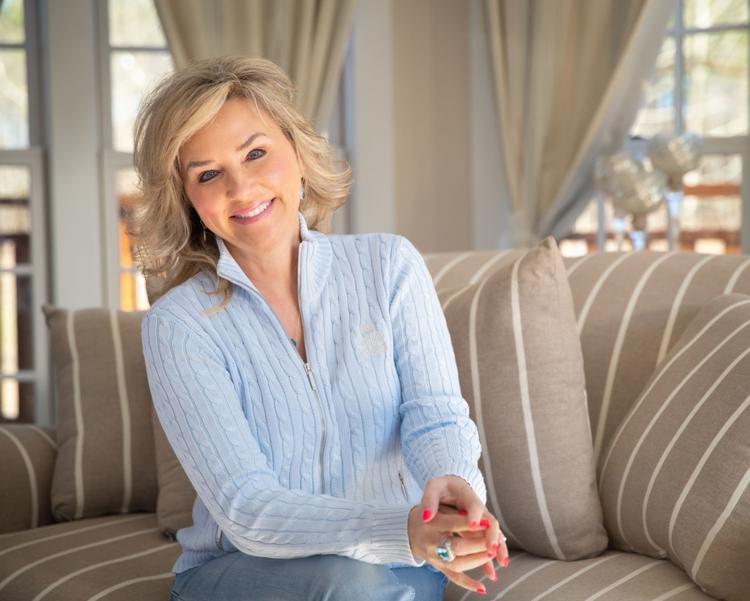 ~~ VERTICAL GALLERY: HIDE TITLES, UP FONT SIZE ~~
Sidener is the special publications editor for The News & Advance. Reach her at (434) 385-5539.