Standing in front of a mirror in his family's Goode home, a look of deep concentration on his face, Taylor Rodriguez works the gel he has just squeezed onto his fingers through his wet hair.
Different sized bottles in shades of turquoise, gold and midnight blue rest on the bathroom counter, some with thick, blocky letters, others with the words "hair dressing crème" written in delicate script.
Rodriguez's process of physically channeling The King's "do" involves multiple cosmetic steps and five hair products — six on a bad hair day.
"It takes a lot. A lot," he says. "A lot to kind of get the look he had. I put gel and hairspray and a finish on top of that. So, let's just say, if you lit a match next to my hair, it might explode."
He sweeps a comb through his newly fluffed locks, pushing them back into the signature pompadour fans have come to associate with him and covers it in a thick stream of hairspray.
He takes a long look at his handiwork, adjusting the slightly leaning poof before sighing to himself, brushing it out and starting over.
For as long as he can remember, Rodriguez has felt the pull of taking on different characters and inhabiting their worlds.
He has played an Italian tenor and a country sharpshooter in theater productions at his alma mater, Jefferson Forest High School.
He personified Maryland representative Samuel Chase in Poplar Forest's most recent musical production of "1776." Last year, he took part in the Sesquicentennial reenactment and, last month, in the 155th anniversary of the Battle of Bull Run atManassas.
"When you're in a role, you can morph into different characters," Rodriguez says. "You live so many different lives. I think when you put yourself in those shoes, you look at the world from a different place."
For the last nine years, his main character has been Elvis Presley.
Since the age of 9, Rodriguez has shaken, rattled and rolled his way into the hearts of those in the Lynchburg community and surrounding areas as an Elvis tribute artist.
"I went by impersonator at first, but then so many people were like, 'Oh, so you just make fun of Elvis?' I was like, 'No, that's not what I do,'" the 18-year-old entertainer says. "I think tribute artist sounds more professional and more respectful, I guess you could say. And that's all we're trying to do. We're just trying to keep Elvis' legacy alive and his music."
Rodriguez has come a long way from his modest beginnings of singing along to Elvis tracks on a karaoke machine, a lyric book in hand.
"It's humbling," he says as he sits on an Elvis throw blanket in his bedroom on a warm May afternoon. "It turned into something I didn't think it would turn into."
In fact, no one ever imagined his hobby would end up leading to gigs and competitions everywhere from Ontario and Richmond to Alabama and Florida, as well as attracting fans all over the world.
"We just thought he would be Elvis for Halloween," his mother Donna Rodriguez says as she flips through 200 cards congratulating her son on his recent high school graduation, most of which they received from fans.
"I never thought it would take off and be like it's doing."
Rodriguez's interest in Elvis began when his late aunt introduced her nephew, then 6 years old, to The King.
Becoming what his high school theater teacher and family friend Spencer White describes as "an actual student of Elvis," Rodriguez spent hours watching footage, reading biographies and learning every minute mannerism of the late performer.
He started performing his routine in his family's Bedford restaurant, El Cazador.
Elvis: Channeling The King
It's five minutes before show time and the nerves are setting in.
As the years went by, others began to notice Rodriguez's uncanny vocal resemblance to The King.
"We really expected this was going to be this little kid singing. We thought that'd be cute to come see that," Kim Kennedy, president of the Taylor Rodriguez Fan Club, says, recalling the first time she and her husband saw him perform in 2013. "When Taylor came out and his mouth opened, I think all of us at the table, our mouths just dropped open. Like, 'What?' We did not expect that."
As word spread, patrons began to pack the restaurant to get a glimpse of the 14-year-old "local Elvis guy."
Newspapers and TV stations soon followed.
"I get asked about him all the time — 'Tell me about this Elvis kid,'" says White. "The ladies in the front office at school, they're like obsessed with him to the point where I'll go up there and they're like, 'Taylor was in here today.' They'll tell me some story about him. I'm like, 'I have Taylor in class, why do I care that you were talking with Taylor?' They're star-struck by him."
Now, fans line up in droves after Rodriguez's gigs to get his autograph. He averages 130 shows a year and sells out 95 percent of them, including 500 to 600 tickets for his annual performance in Jefferson Forest's auditorium.
His popularity has grown so much he can no longer hold shows at El Cazador.
"They will not leave," says Donna Rodriguez. "They sit on the floor, breaking the fire code."
In a red-and-black jumpsuit with a plunging neckline and tasseled belt, Rodriguez keeps time with the ball of his foot as he sings for a packed crowd at Jefferson Forest in March.
An elderly woman brings a flower to the edge of the stage, holding it out to him, a beaming smile on her face.
"Thank you, dear," he says in his best Elvis husk. "Do you want a kiss?"
He bends down and pecks her cheek, but as he begins to pull away, she reaches for more.
"You want a kiss or you wanna fool around?" he says, garnering hoots and applause from the crowd.
Taylor rodriguez 01.JPG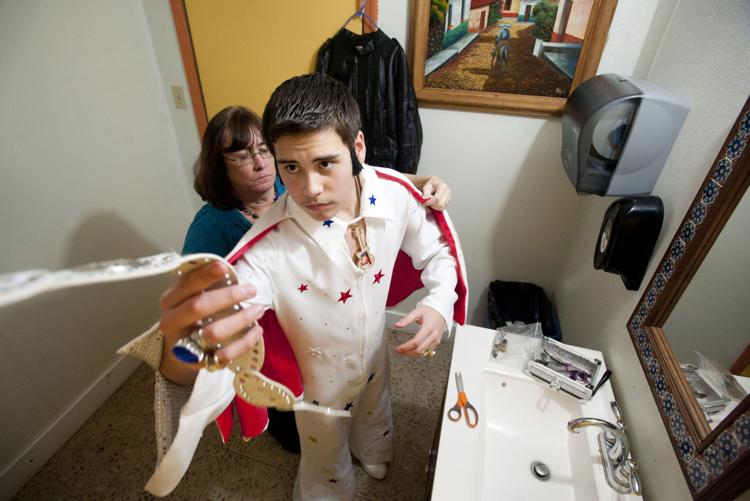 Taylor rodriguez 02.JPG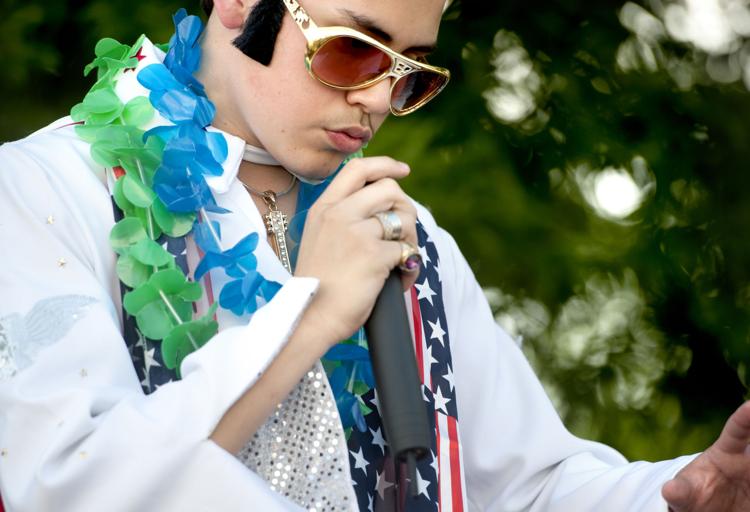 Taylor rodriguez 03.JPG
Taylor rodriguez 04.JPG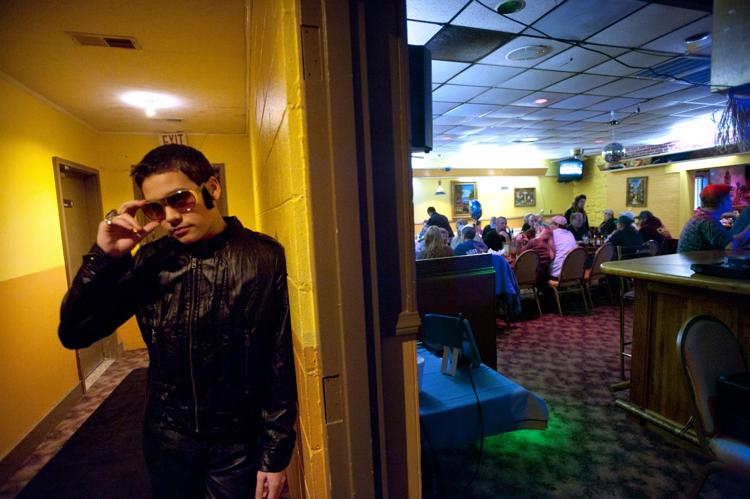 Taylor rodriguez 05.JPG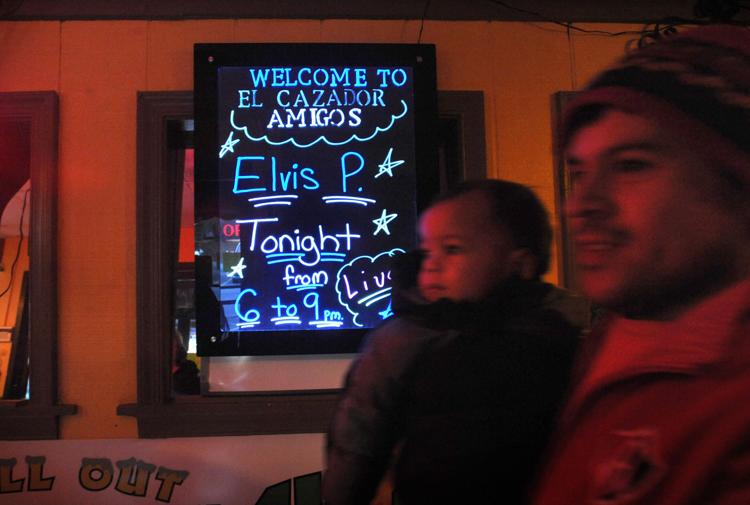 Taylor rodriguez 06.JPG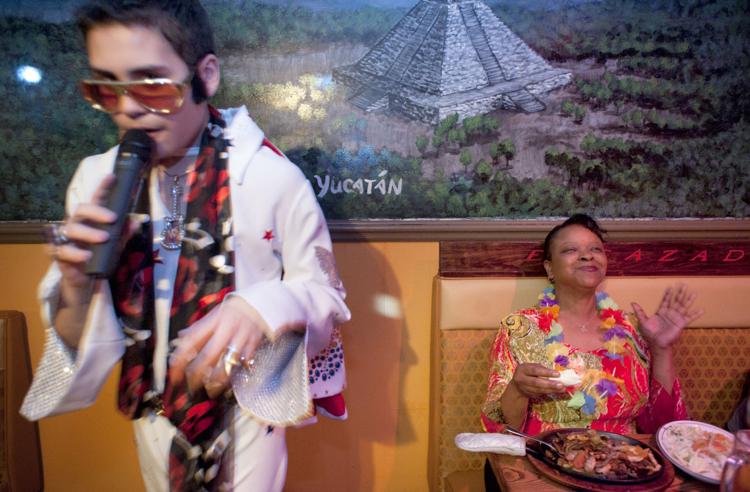 Taylor rodriguez 07.JPG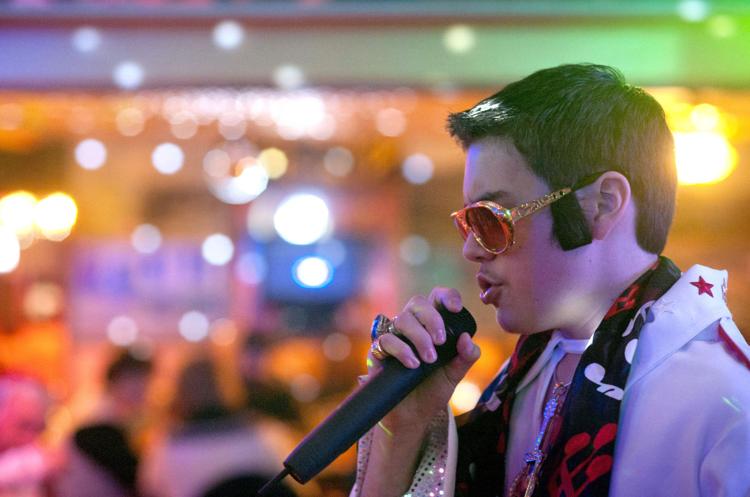 Taylor rodriguez 08.JPG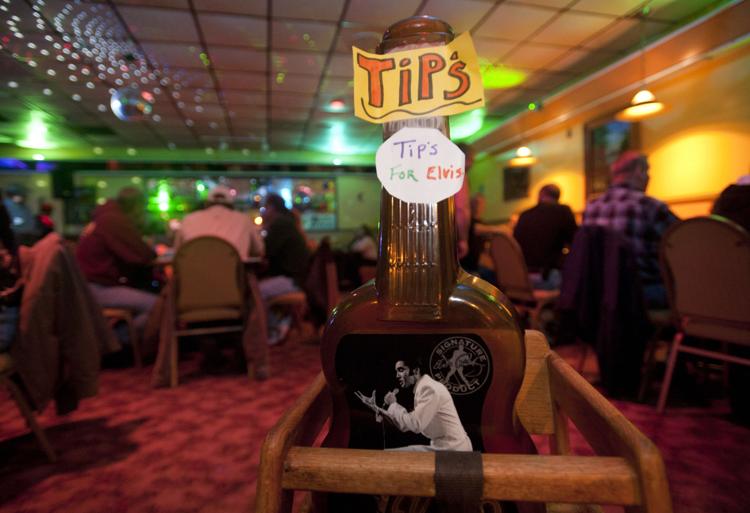 Taylor rodriguez 09.JPG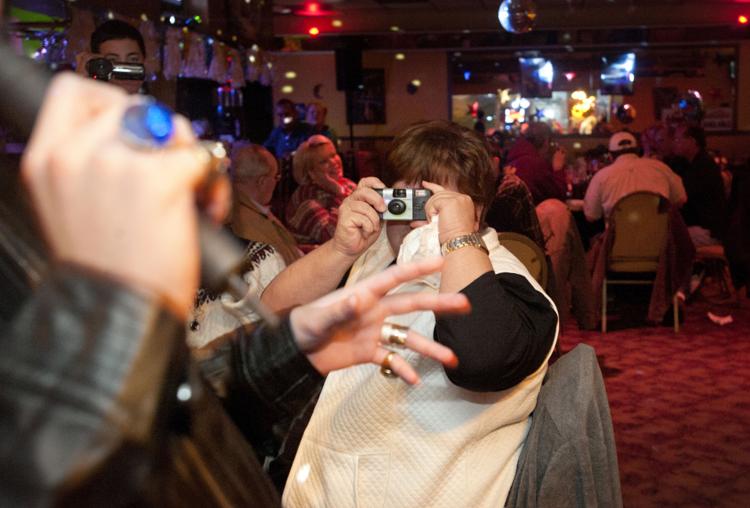 Taylor rodriguez 10.JPG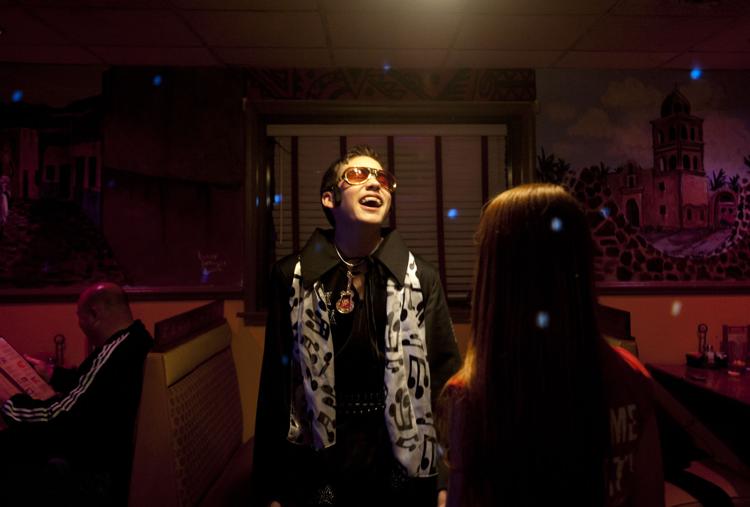 Taylor rodriguez 11.JPG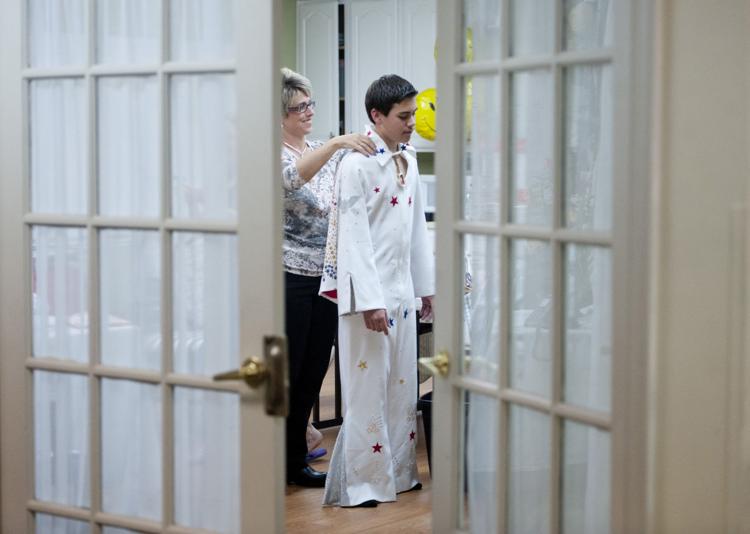 Taylor rodriguez 12.JPG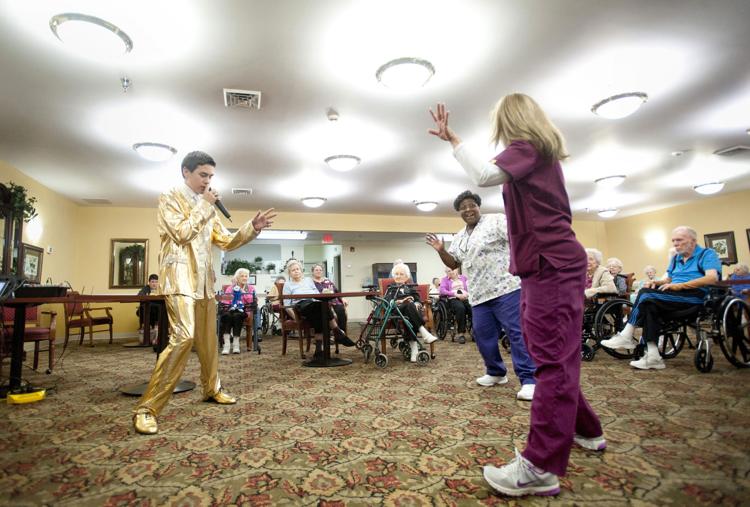 Taylor rodriguez 13.JPG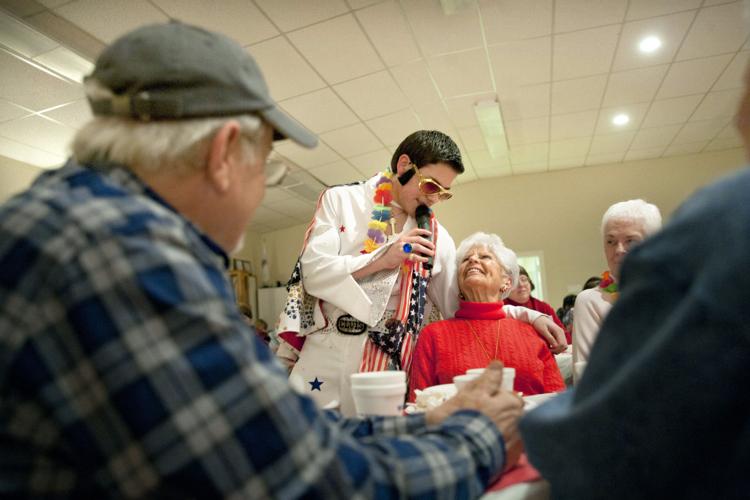 Taylor rodriguez 14.JPG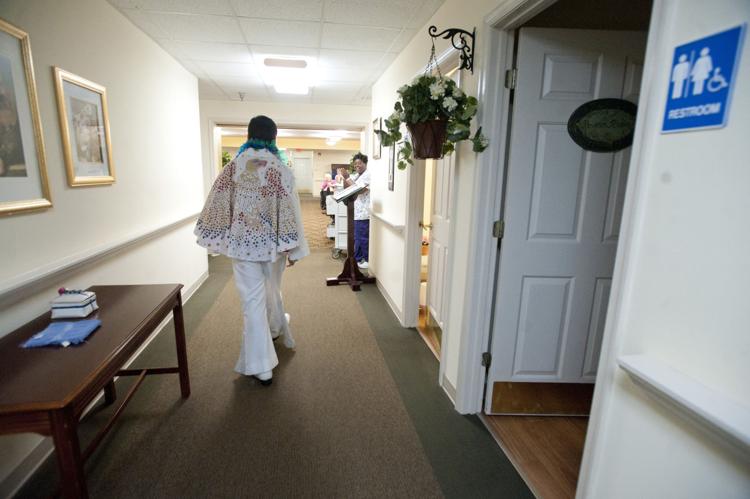 Taylor rodriguez 15.JPG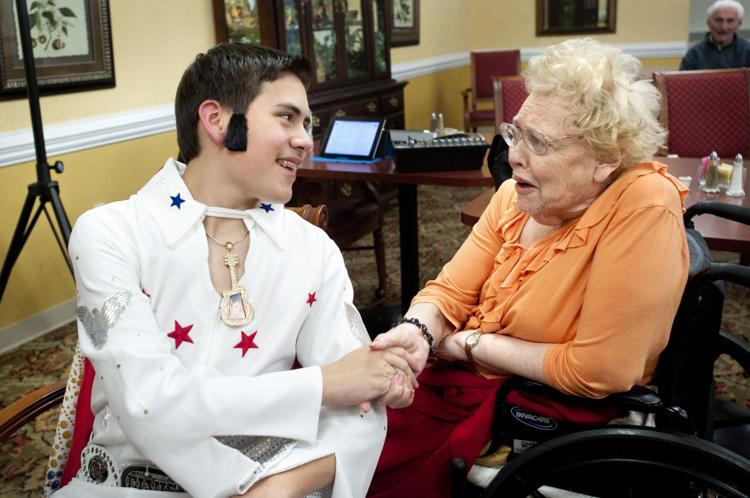 Taylor rodriguez 16.JPG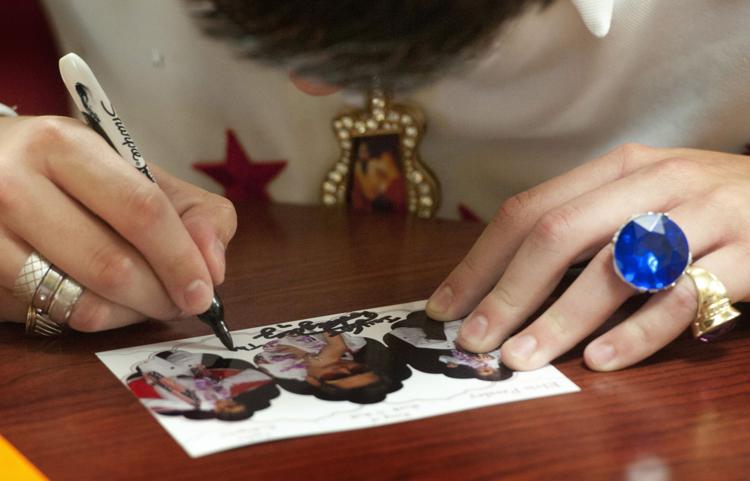 Taylor rodriguez 17.JPG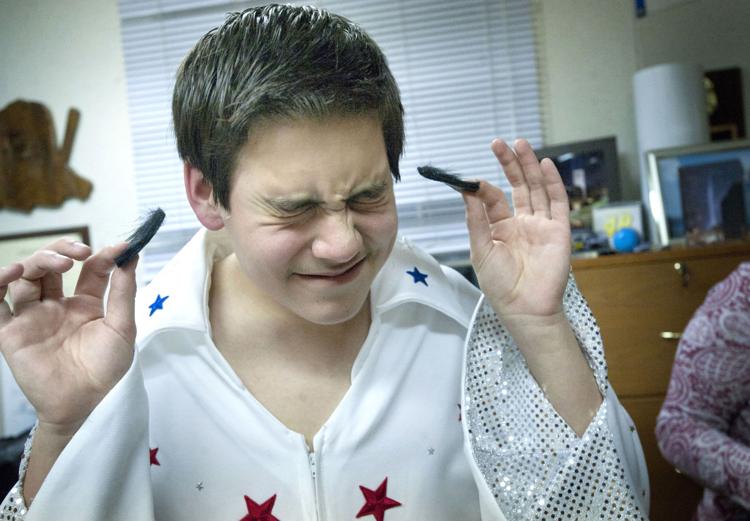 Taylor rodriguez 18.JPG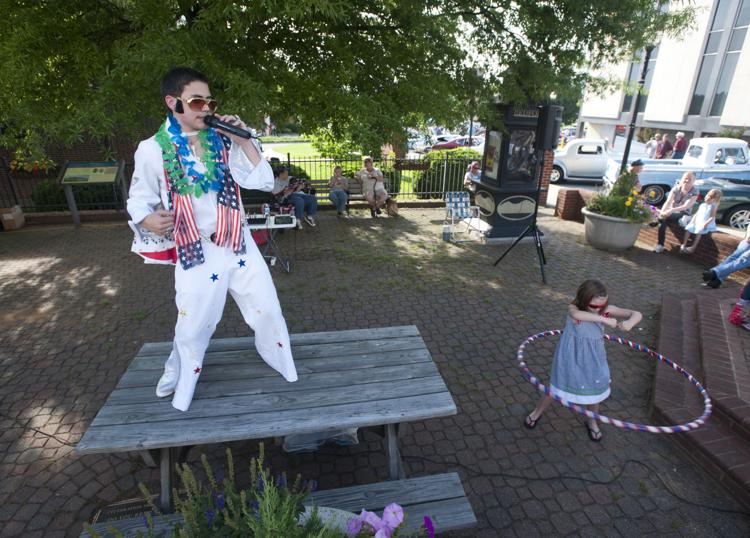 Taylor rodriguez 19.JPG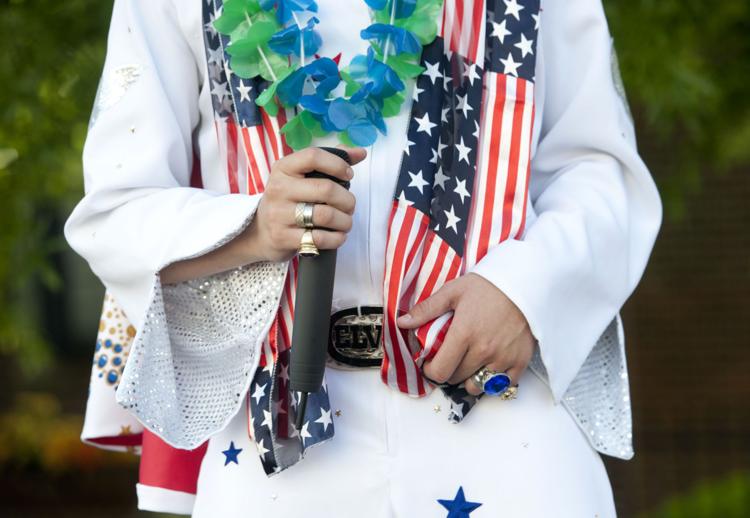 Taylor rodriguez 20.JPG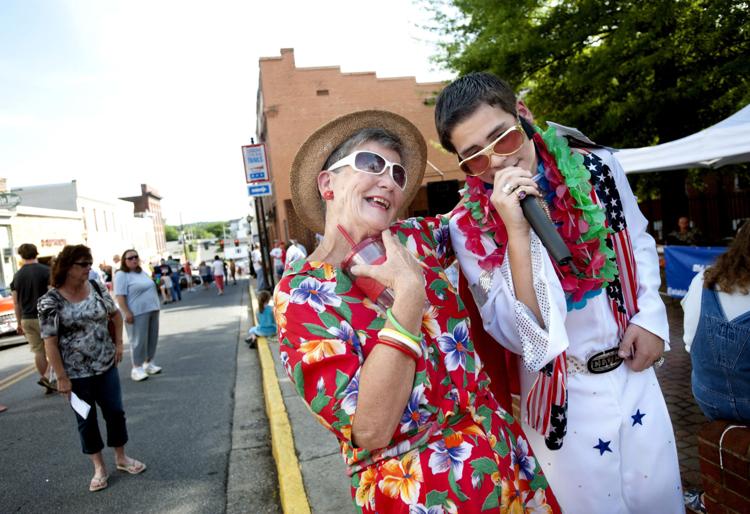 Taylor rodriguez 21.JPG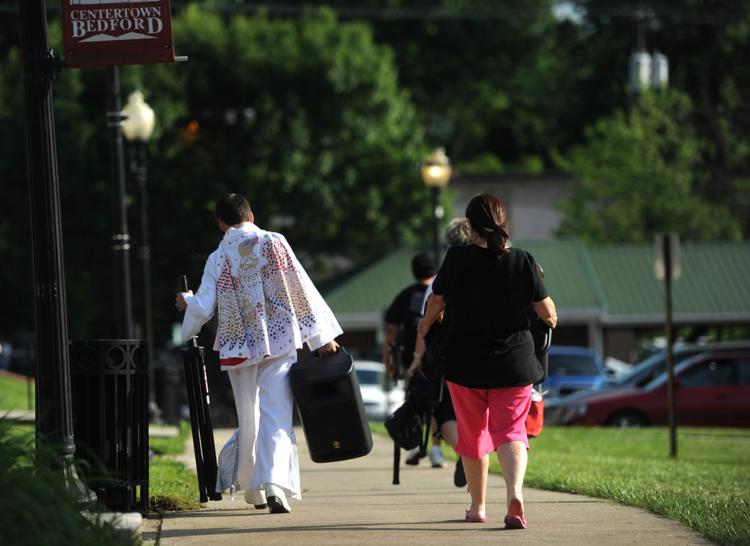 He passes her the silky scarf from around his neck, but not before wiping his brow and chest with it, something the woman seems to appreciate from the dance she gives as she returns to her seat.
"Only live folks," Rodriguez says. "Only live."
For years, Rodriguez has felt the power of Elvismania.
At shows, ladies rush the stage in droves to get gifts and kisses.
The fans, he says with a blush, have become even more daring since he turned 18 in December.
He's had ladies jump onstage, pinch his rear and chuck lingerie at his head — after getting permission from his mother, of course.
"The girls of all ages, I've seen them from probably 7 to 90. … He has the same effect or similar that Elvis had on girls of all ages," says Kennedy, 47. "It's so funny. You'll see them kind of come undone as he goes over to the table. They're well composed and then they get real girly."
Still, no amount of shows or attention could have prepared him for the moment he performed at Graceland for the first time.
During his first visit to Presley's estate in 2012, Rodriguez sang two karaoke songs at the Rock 'n' Roll Café. A corporate manager noticed him and extended an invitation to perform during Elvis Week 2013; the annual celebration is held every August at Graceland to celebrate the King.
"That was [one of] the greatest honors I could have," he says. "Performing in front of a whole bunch of Elvis lovers, Elvis fans from around the world. You have people from Germany, the U.K., Australia, Brazil. I made so many friends from around the world."
Soon, Elvis competitions followed in other cities, as did continued appearances at Elvis Week.
One year later, Rodriguez took home second place in the semi-pro division at Memphis' Elvis Performers International Championships (EPIC).
"For me, it was like the Super Bowl. He just knocked it out of the park," says Kennedy, who made the trip to Elvis Week in 2014 and 2015. "Everybody in the place stood up and he received two standing ovations. … The people in the room, some of these are family and friends of other Elvis tribute artists. So, they're there to support their ETAs. He brought them all to their feet."
Elvis Week 2015 was even bigger.
Rodriguez performed "Suspicious Minds" with his idol, Elvis tribute artist and "America's Got Talent" finalist Joseph Hall, won second place in the Images of the King contest, another Memphis competition, and took first in EPIC.
Kennedy says the win did not surprise her at all, as he stood out even against the professional tribute artists during both of his performances.
Currently, Rodriguez is once again in Memphis taking part in Elvis Week, scheduled to perform several shows but not compete, before it wraps up Tuesday.
"Taylor specializes in '70s Elvis," says White. "Part of why he's so popular is that he is what these old people want to remember '70s Elvis as. He is the picture of how they want to remember. And he acts just like '70s Elvis. But he doesn't look like '70s Elvis."
Rodriguez faces an elderly audience, wrapping up a two-hour performance at a local retirement home, his face covered in a light sheen of sweat.
"May God bless you as God has blessed me," he says to the small crowd. "And God bless Elvis Presley."
For the last four years, Rodriguez says he has lived by a simple plan: Elvis comes first, then school, then everything else.
"I had to keep juggling each different thing," he says. "I thought, 'I would love to play football, but I just don't have the time. I'd love to play soccer. I just don't have the time.'"
This fall, when Rodriguez enters his freshman year at Lynchburg College, he says he plans to take a step back from the jumpsuit — at least somewhat — and try to get the full college experience.
"I always tell him, 'Elvis is always going to be there for you. Elvis is not going to stop being popular,'" White says. "'It's in your blood; you can do it any time you want. … Elvis has been good to you, but don't be afraid to part ways with Elvis for a little bit because you can always come back.'"
Rodriguez, who will study theater, wants to prove he can do more than rock some blue suede shoes — something he has already started doing by graduating high school with an advanced diploma.
He received several scholarships from Lynchburg College, including a leadership award. He also plans to run for the college's Student Government Association, something he did throughout his time in high school while also serving on the local board of Youth of Virginia Speak Out, a statewide advocacy program that focuses on preventing teen motor vehicle fatalities.
"I tell everybody that asks me 'Where's he get this talent?' [that] it's a gift from God," Donna Rodriguez says. "I feel Taylor's being blessed every single day for what he does, [even] if it's not Elvis."
The 18-year-old has also started writing his own songs, two of which he released on his second album, unofficially called "The White Album," which came out in March.
"Taylor is so much more than just Elvis," White says. "He could have a great career in musical theater for sure, or any kind. He's kind of the equivalent of a national five-star Rivals.com [college sports website] prospect, like in terms of football."
White recalls when his cast, including Rodriguez, performed songs from their spring musical for the show's writer and two Disney Theatrical executives in Norfolk last year. Following the performance, he says, they pulled Rodriguez aside.
"They were like seeking him out after and saying, 'You have a bright future in musical theater, my friend.' … It didn't surprise me at all."
Eventually, Rodriguez wants to pursue a career as an actor, possibly moving to New York City with dreams of singing on Broadway.
Even if he does leave the Blue Ridge for the bright lights of the big city, Rodriguez says Elvis and Bedford will always hold a special place in his heart, so much so that he would like to continue to perform a large show in the area once a year.
"The music has definitely stuck with me, but I think Elvis and I are two separate, different people in terms of what I try to do," he says. "When I'm onstage, I try as much as I can to pay tribute to Elvis, and when I come offstage, I'm Taylor."