The bright red truck parked off Fifth Street on a recent afternoon served as a mobile grocery store to those who hunger in body and spirit.
Toting items that included baby food, canned food, applesauce and water, the food truck "is a very good idea," single mom Keonna Andrews said.
The grocery truck began its weekly stops on Fifth Street last week, made possible through the vision of a group of local Baptist churches.
A committee of concerned community members is researching the feasibility of setting up a gr…
Dr. Robert Putt, senior pastor of West Lynchburg Baptist Church, attends weekly meetings with other area Baptist ministers. During one such meeting last year, the topic of food deserts was broached, and several pastors attending the meeting began praying about how to respond. 
According to Putt, a representative from the Virginia Baptist Mission Board attended a later meeting, and without knowing about the group's earlier prayer, asked the pastors if there was a need for a truck outfitted with a freezer and refrigerators.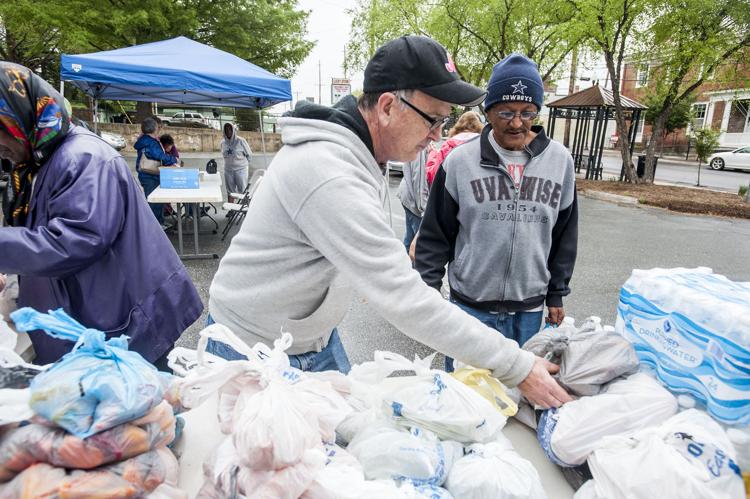 The vehicle later was donated to the Lynchburg Baptist Association.
The grocery truck was God's plan, "and we just had to be open to it at the right time," Putt said.
For low-income Virginians, finding places to buy healthy food can be just as difficult as affording it. So Virginia Cooperative Extension has hired Liza Dobson as the healthy food retail coordinator to support programs that provide more choices to low-income consumers around the state.
Its operating location on Fifth Street is in the midst of an area defined as a food desert, where access to fresh produce and affordable food is difficult.
During the grocery truck's inaugural stop last week, about 10 volunteers representing eight area Baptist churches accommodated patrons such as Andrews with their "shopping" needs. 
Among the volunteers was Maria Brown, of Jericho Baptist Missionary Chapel. Brown registered families and handed out cards that listed the number of members in the recipient's family.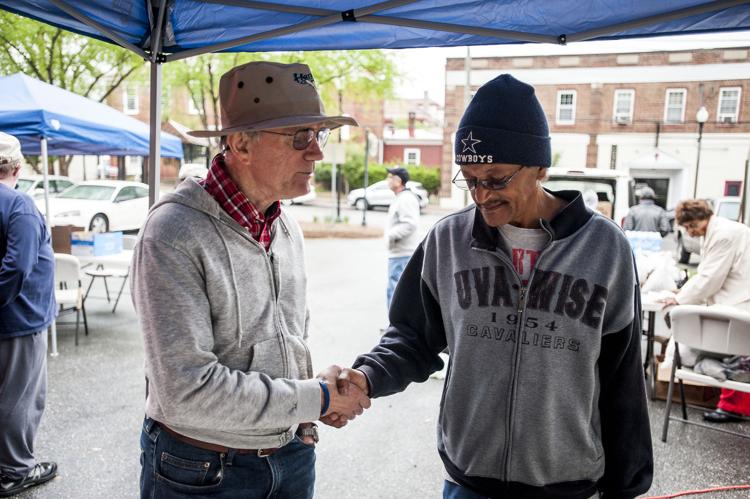 The grocery truck, which sets up shop each Wednesday, targets people who currently receive some type of government food assistance, such as SNAP. Aside from packages of ground beef — available for a $1 donation — all food items are free.
"But we're not going to turn anybody away," Putt said.
A family's size determines the number of items a person receives. A household of one to three people can choose eight items from among a selection of grocery staples that includes cans of tuna, baby food, canned vegetables, applesauce and peanut butter. Larger households would receive a greater number of items.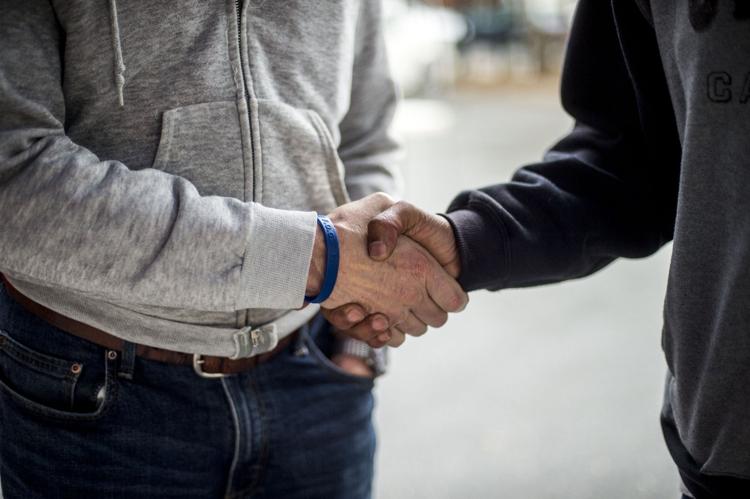 In addition to the regular allotment, families also are offered bottled water and fresh fruit and vegetables.
"Hopefully, we'll have more fresh fruit donated," said volunteer Donna Arthur, of Freedom Baptist Church in Forest.
According to Putt, some of the produce is purchased by the churches, some donated by the Blue Ridge Area Food Bank and there is hope in the coming months, produce will be donated by local farmers.
Gas for the truck is paid through a line item in the Lynchburg Baptist Association budget, Putt said. 
During the course of the truck's first two weeks of operation, food has been provided to about 200 people.
According to Putt, participating churches are committed to the long-term sustainability of the mobile food pantry.
"We're praying that it is, and that's what we're planning for," he said.
The food truck also provided a "spiritual component" through volunteers who will be available to pray with patrons. 
One such volunteer was Carol Jones, of Jericho Baptist, whose duties included asking patrons if they had any specific prayer needs.
"I'm out here to be a blessing and to help those in need," Jones said.
Dr. Charles Dunning II, pastor of Jericho Baptist Missionary Chapel, is on the planning board for the food truck and attends the weekly pastors' meeting.
During its first week, 52 families consisting of 114 individuals were served by the food truck.
"I think it went better than we expected." Dunning said.
The grocery truck initially will be parked for the first few weeks in a parking lot across from Jericho Baptist Missionary Chapel, 606 Fifth St., every Wednesday from 10 a.m. to 1:30 p.m. At a later point, the goal is for the truck to be parked at other locations in the city.  
"We just want to be obedient to where God is leading us," Putt said.