Arden Jones, an organic farmer, has long dreamed of opening her own farmers market.
As she rolled open the huge doors of her 1,000-square-foot garage at the corner of Thomas Jefferson and Everett roads on a sunny Wednesday afternoon, she came one step closer.
Jones is the owner of Great Day Gardens in Forest — a five-year-old garden growing organically raised vegetables, herbs, plant starts and summer fruits like tomatoes as well as wood-fired sourdough bread.
"I've always dreamed of having my own farmers market because it's much different when people come to you because they're coming for your product and to experience your farm and you're able to point and say that's where it came from, it's so different from when you're at the market and there's a lot of other people," she said.
The Great Day Gardens Farm Market launched last Wednesday and will be open every Wednesday until early November from 3 p.m. to 6 p.m.
The market is located in the 1,000-square-foot garage at 2145 Thomas Jefferson Road at the corner of Everett Road in Forest, right across the street from the gardens.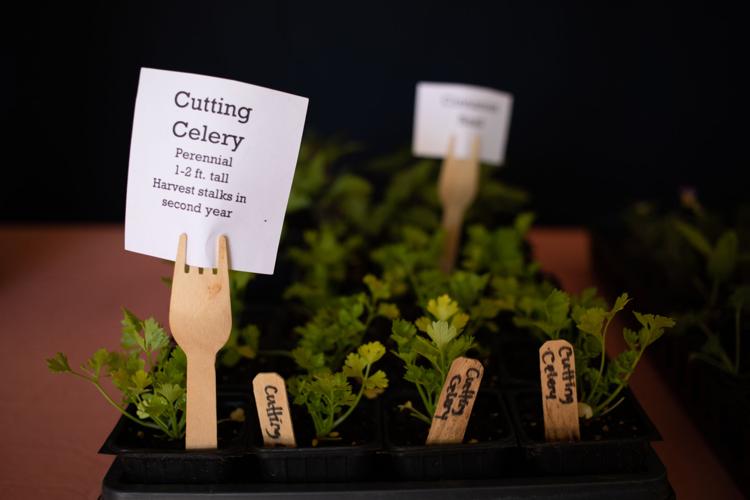 Jones said the market is another way for residents to support local farms and businesses during the middle of the week while supporting small farms and businesses.
The market also serves as Great Day Garden's CSA — or Community Supported Agriculture — which serves about 10 members.
Items at the market include meat from Restoration Acre Farm, Idlewild Farm and Mountain Run Farm, handmade pasta from Scratch Pasta, fresh-roasted coffee from Hill City Coffee along with Great Fay Garden sourdough bread, pastries, lettuce, spinach, turnips, radishes, herbs, eggs and flowers.
Jones and co-owner, baker and gardener Michael Grantz said there will be more seasonal produce as the weather warms like squash, tomatoes and cucumbers and they hope they will also be able to offer more products from other local farms.
"It's just great to have more options for people to shop local because a lot of people are dependent on the farmer's market," he said. "Saturday is the big day for farmer's markets so it's great to have more options. There's a huge population of people living here in Forest who are looking for more options for fresh food."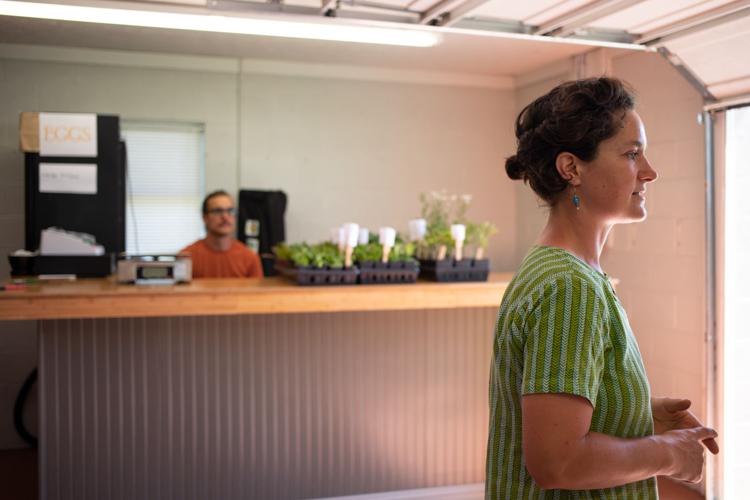 Rachel Palma, owner of Restoration Acre Farm in Sedalia, stopped by Wednesday afternoon to pick up vegetables and bread to take to the Rivermont Buying Club, where members come once a week to pick up locally grown produce and meats.
She also sells some of the pasture-grown and grass-fed meats and eggs from her farm at the Great Day Gardens Farm Market.
"We were really excited, this is just one more way that we can come together and make it more convenient for people. That's what we're trying to do altogether to make it easier for folks to get their local farm products," she said.
Palma said she hopes people get the opportunity to try local food in a convenient location and even when the store isn't open they will have other ideas of how to access local foods.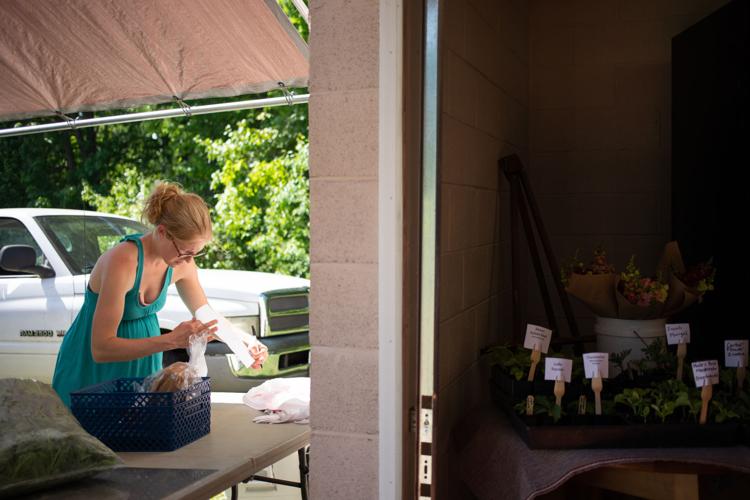 Gary Arthur, who lives about a quarter-mile down the road from the market, said he supports local agriculture and wants to support farmers in his area.
"I'm from a rural area and I still believe in rural areas," he said. "This is one of the last places that still does this and that's important to me. I want farmers to succeed anywhere, but especially in my backyard."