Amherst County High School freshman April Clopton crouched to the ground to cut some brush that started to impede a trail on Sweet Briar College's campus as it rained Friday morning.
On another part of the college's campus at the slave cemetery, sophomore Joseph Clements was cutting down drooping branches and throwing them into a pile to be collected later.
April and Joseph were two of 14 Amherst high school students volunteering at Sweet Briar College and among about 600 students serving about 34 schools, organizations and agencies throughout the county Friday as part of the high school's Day of Giving.
"Students are excited to be out of the traditional classroom setting for a day but still they're learning a lot of life lessons and having things to take home to apply to their everyday living from this experience," said Lesley Clark, a counselor at the school.
Day of Giving started last year after a group of student government leaders approached then-Principal William Wells with the idea of volunteering in the community. Clark said about 500 students participated across about 24 locations last year.
"We're teaching them how to be a good person, how to take care of each other, take care of your neighbors first and to not expect anything in return. We are hopefully modeling that as a staff and getting them excited about this and showing that there is a greater purpose than just coming to school every day. Doing the extra is what's going to benefit the most people," Clark said.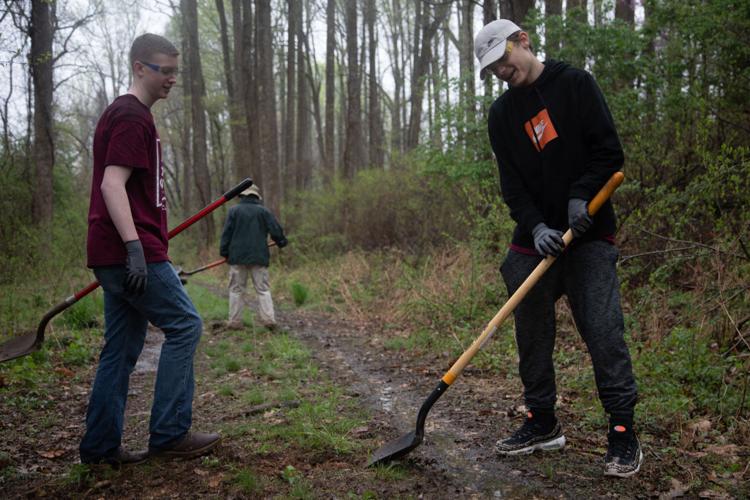 Students signed up to participate in Day of Giving and then selected a preferred location to volunteer. Students that didn't participate stayed at school.
This year students went to several Amherst schools as well as the Humane Society of Amherst County, Fairmont Nursing Home, Christian Aid Cemetery, Caterpillar Clubhouse and more. The students' service this year is a value of about $30,000 invested into the community.
Through Day of Giving, science teacher Cheryl Nelson said students are able to "recognize areas that need help" and see different aspects of the county.
Freshman Ben McGurie, who worked on Sweet Briar's trails Friday, said he "signed up because I wanted to do something good for the community and Sweet Briar, which has a historical value to this county."
Ben, 14, said participating in Day of Giving is fulfilling because it's a good cause for people throughout the entire community.
Joseph spent Friday morning clearing the slave cemetery at Sweet Briar and said he wanted to participate in Day of Giving "to give back to the community and help out with whatever I could."
"It kinda just feels good to clear out something that's so historic to Sweet Briar and the Amherst community," Joseph, 15, said. "It feels good being out here with people that I get to see on a regular basis at school and get a different perspective of not only Sweet Briar but Amherst."
Gary Canfield, a volunteer for Sweet Briar College, said the school appreciates the students help in clearing the trails and the cemetery. Canfield wants to expand volunteer opportunities for Amherst students.
"I hope we can continue to encourage the young people to come to campus. I'm hopeful that this means if not an equal amount then more to them than it does to us. It's something we want to do more of to engage the community. Starting with the young folks is a great place to start," Canfield said.