Kevin Air might not be a real chaplain, but as he thundered down the aisle to the sound of the 29th Infantry Division Band, the audience stood as he passed, voices rising in a chorus of "The Battle Hymn of the Republic" with all the energy of a true congregation.
Despite a steady drizzle that confined the field chapel service to a Quonset hut set in the shadow of the towering memorial, more than a hundred people crowded in folding chairs — and in standing room at the back — to conclude the 75th anniversary observance of D-Day.
"For the next 45 minutes or so we are going to take you back in time and across the ocean to southern England in 1944," said National D-Day Memorial Director of Education John Long as he introduced the authentic World War II field chapel service at Bedford's National Memorial — meant to recreate the message troops heard on the eve of the invasion. It was a service soldiers could have heard in the sanctuary of a bombed out church, in a tent or Quonset hut like this one, or even out in the open air.
"We invite you now to put yourself in the ranks of the very young men, very far from home, who have been asked to embark on the greatest military operation in history," Long said.
The service was led by Air, a living history volunteer who stepped into the role of the chaplain. Air said he studied letters from World War II chaplains serving in England, France and Germany, and a small, maroon book — military issue, the "Song and Service Book for Ship and Field," — that outlined the format for Protestant, Roman Catholic and Jewish services.
"It's not just the uniform, it's background study," Air said. "This is a little closer to me. It's something my father would have done."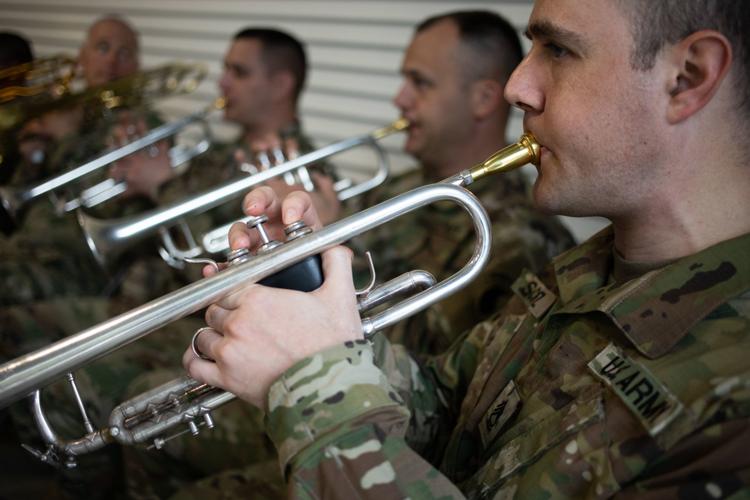 Air's father was a Episcopal clergyman, and Air said he hopes his efforts will help to draw a crowd and keep people engaged with the story of The Bedford Boys and all the men and women of that generation.
In place of the traditional sole 1940s field organ, Air's service was backed by the 29th Infantry Division Band. Some members are local, while others are natives of Maryland, Tennessee or North Carolina.
Spc. Bradley Kirtner, who played trumpet, said the division band plays anything from military change of command ceremonies to the national anthem at a tractor pull.
"I've been doing this mission, the D-Day Anniversary mission, for seven years now, and every year it just gets better and better," said Spc. Matthew Knopp, a trombone player in the band. "We're here to play music and support the veterans and the community through music."
Air, as fictitious chaplain Capt. Rev. Joseph Cooper, invited the attendees to the brink of D-Day, leading them in a series of songs — including "The Battle Hymn of the Republic" — and call-and-response prayer.
"You are going to cross a dark night, you're going to land on a piece of sand and you're going to save civilization," Air said.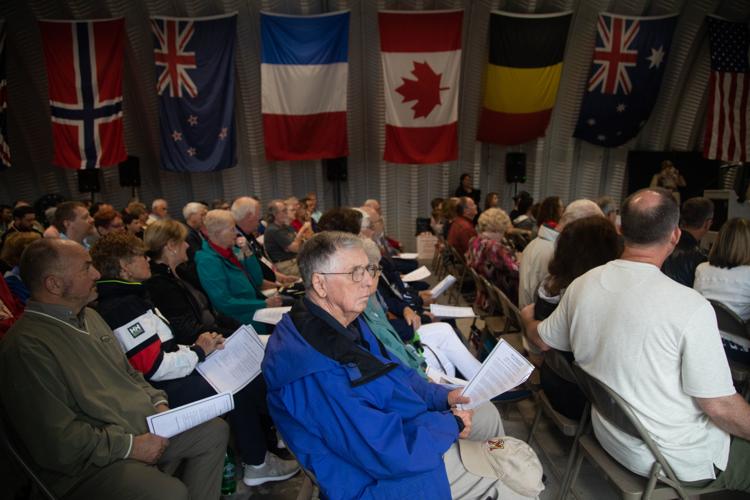 For a moment, as the entire audience stood under the arcing corrugated steel roof, flanked on either side by international flags, a room of strangers sang in unison.
"It almost brought tears to my eyes a couple of times, singing the songs," said Karen Wright, who is part of a military family. Her father was one of Darby's Rangers — who would eventually evolve into the U.S. Army Rangers — and her husband, Bedford native William Wright, served 24 years in the Marine Corps.
"It felt like some of the days when I was in it," William Wright said of the field chapel service. When he was in boot camp, he joined the chorus so he could leave platoon thirty minutes earlier and briefly escape the drill sergeant. Now every time he sings "glory, glory, Hallelujah," his wife has to stop him from stomping his feet, William Wright said laughing.
"I'm a veteran, I can understand somewhat how they felt back then," William Wright said, recalling being "fated" for Operation Desert Storm, and not knowing what he was doing or where he was going.
Mike Brady, a Vietnam veteran and outreach coordinator for the Lynchburg area veterans' council, said he wanted to be in attendance as the week-long anniversary observations came to a close.
The field chapel service also reminded him of the sermons he heard while deployed — "Non-denominational, just honoring God."
"It was really a reminder of when I was in Vietnam. We had mass every Sunday at 55 gallon drums that we had out in the jungle, out on the beaches of Vietnam," Brady said. "All the effort, support and love that was given this week, I just thought it was real important to be here and finish it this way."