With their youngest daughter, 3-year-old Kelilah, hopping on and off a shopping cart, David and Tammy Porter picked items carefully at F&L Market a few days before payday one morning this month.
The Porters were looking forward to a rare taco night, a meal that would feed the whole seven-member family for a couple days. The expense for meat, cheese and produce involved in cooking tacos make them a luxury.
The family struggles to live on David Porter's veteran's benefits and the $10 an hour he makes working at a hotel near the airport. Until recently, they have been able to rely on government assistance to purchase food.
While David and Kelilah bagged groceries, Tammy Porter counted out aluminum coins they received in a plastic bag from Pastor Tim Brophy that day. They had a few left over from last time, too.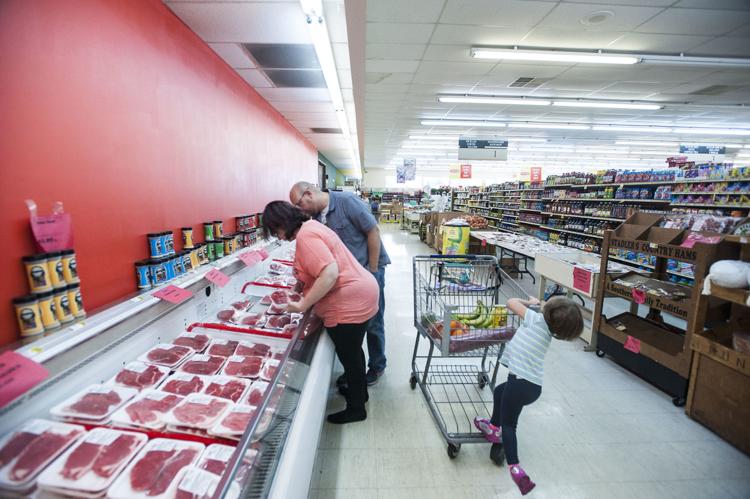 Brophy is administrator for the Light Change Tokens program, still in development among partners Church of the Good Shepherd, The Lighthouse Community Center of Lynchburg and Warm Streets, a Lynchburg ministry to the homeless.
The coins, marked by a shining lighthouse on the back, are a new form of charitable currency accepted at a handful of Lynchburg restaurants, food trucks and stores. Each is backed by donor money.
"Those tokens have come at times when literally we're sitting their praying 'OK, God, how are we going to feed our family for the next couple days until we get to payday?' And we get a knock on the door and it's Pastor Tim with tokens for us at just the right time," Tammy Porter said.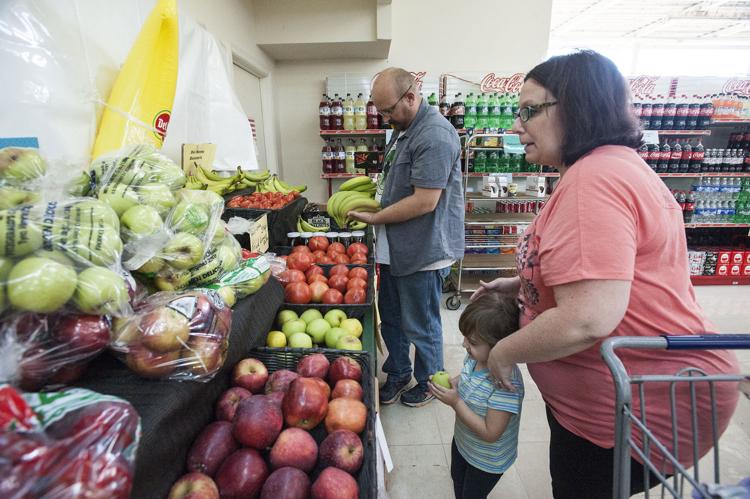 Each token is worth either $1 or $5 to the buyer. Vendors who accept them — they receive $1.20 per $1 coin to account for tax — cannot make change, which is meant to encourage donors who might not want to contribute cash for fear it would not be spent on essentials.
At F&L, Tammy Porter said, the cashiers let her know if she has a couple dollars left so she and pick up a few more items.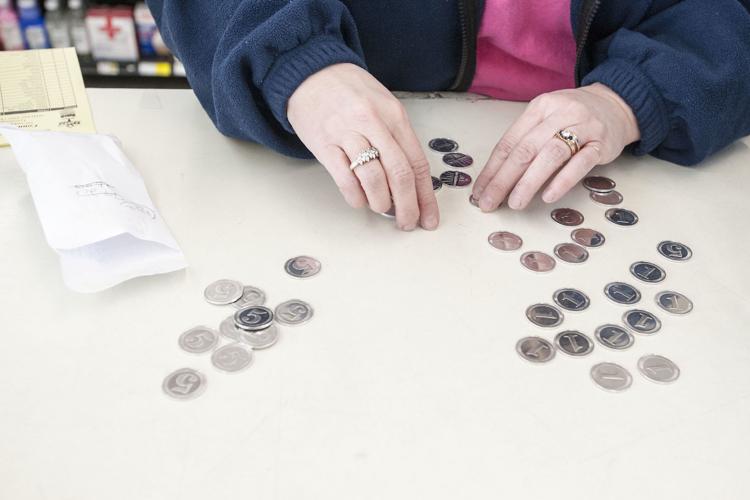 Light Change, which is modeled after a similar program in Portland, Oregon, and others throughout the country, took in its first donation in March, gave out the first tokens in May and has slowly raised money and added vendors.
Since May, the three partner organizations as well as The Daily Bread, Miriam's House and The Salvation Army have distributed about 2,500 tokens, representing $4,000 in donations, not counting the more than $500 Good Shepherd raised to mint the coins, Brophy said. About $1,500 has been paid back to vendors, so far.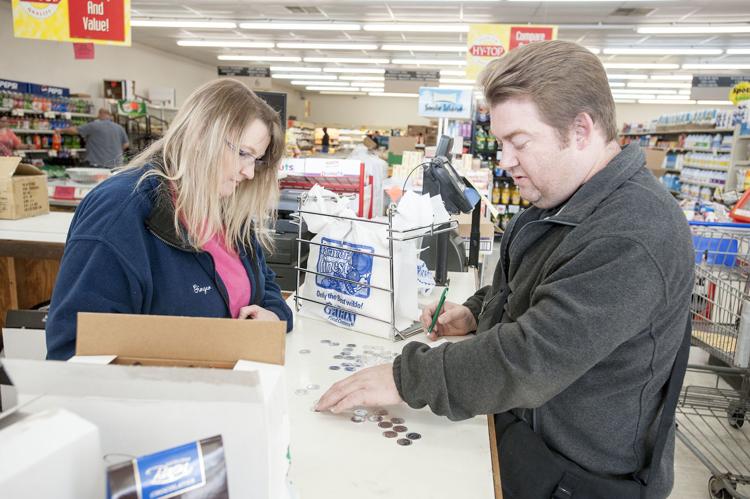 Each $1.40 contributed by donors equals a $1 token. That number recently dropped from $1.50 after discovering overhead was less than thought.
All money raised for Light Change goes through a centralized fundraising pool at Good Shepherd, which has a separate account for it. As administrator, the church takes in 20 cents per $1.40 donated for administrative costs, such as PayPal fees and cost of checks.
The project is still in the experimental stage of finding where people's needs and wants meet with available resources and willing vendors. A long-term goal is adding a transportation proprietor.
"It has to start small because that's all we can really manage right now," Brophy said. "It's already been more than what I expected it to be. I've been pleased with the slow and steady."
While Brophy has a spreadsheet tracking where tokens are distributed and in what quantities, he has not yet developed a specific rotation. He keeps an eye on who got them last, how many they received and how many they use.
Some of those tokens are stalled somewhere along the way, though, he said. He's asking participating nonprofits to encourage people to use the tokens they receive, but said some might have been thrown away early on before people receiving them understood their worth. He's considering how best to address tokens that might have been taken out of circulation.
"I'm still trying to figure out how long I should wait until I put it back into tokens," Brophy said, adding that the church cannot afford to issue tokens that aren't backed by money.
While no volunteers are dedicated specifically to the program, participating organizations hand out tokens as they see fit. A handful of individuals also purchase tokens from the church and offer them on their own, Brophy said.
Brophy, a Liberty University biology professor with six kids, said he has an idea of when the Porters might need some help and stops in to offer tokens.
Many of the people he helps out are homeless and don't keep a schedule, so he carries tokens in the satchel at his side. The tokens he carries are purchased by donors, some of whom attend his church.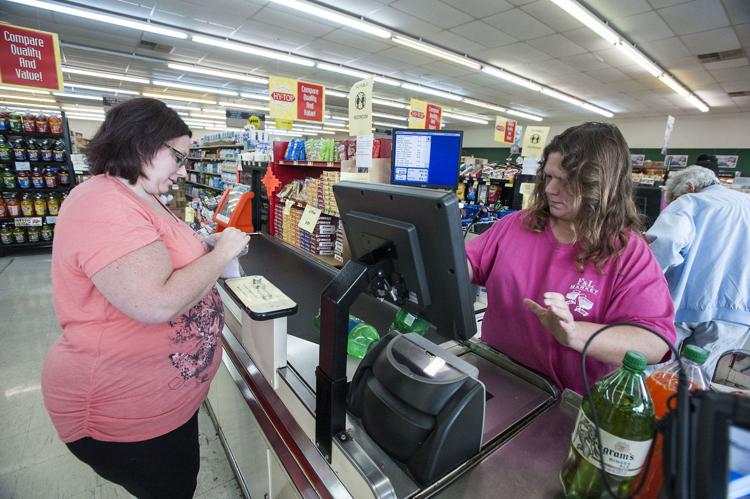 "Some of the people that I hang with, they don't have an address or a phone," Brophy said. "The way that things work with me is, I just carry this bag around and I run into people."
The partner nonprofits have sought to recruit a variety of businesses, including Living Water Laundry in midtown, The White Hart Café and Director's Cut Barbershop downtown and a slew of roving food trucks, according to Light Change.
The food trucks accepting Light Change generally offer a specialized menu with flat prices so as not to require change. Lynchburg Grows' Veggie Van, which delivers fresh produce to areas designated as food deserts, also accepts them.
Rick Hughes, of Warm Streets, often gives tokens to people who volunteer to help him move furniture provided free to families in need, such as the Porters when they moved.
One of the main ideas behind the tokens, he said, is to encourage donors who want to help but wouldn't' want their charity to go toward drugs, alcohol, tobacco or lottery tickets. Participating vendors are not allowed to sell these items in exchange for tokens.
"A guy helps me with furniture. I can say, here's five or six tokens, and I know he's not going to get drunk with it or something like that," Hughes said.
One Lynchburg Daily Bread guest had tried to shave his head this week but left large chunks of his hair. Another guest brought in clippers and shaved the rest of his head, according to volunteer coordinator Kelli Diaz. The second man received tokens for his act of kindness.
Many Daily Bread guests eat there every day, and some help unload the trucks and receive tokens as a reward. The small aluminum coin with a shining lighthouse on the back offers their guests an opportunity to choose what they have for a meal.
"It is really quite a treat for our guests to be able to go down to White Hart and order off a menu," Daily Bread Executive Director Tracey Dixon said. "I tried to explain it like a gift card, and our folks were not even familiar with the term gift card. It's not something that comes up in the normal day-to-day."
F&L came to the program in the last couple months and quickly became popular, Brophy said.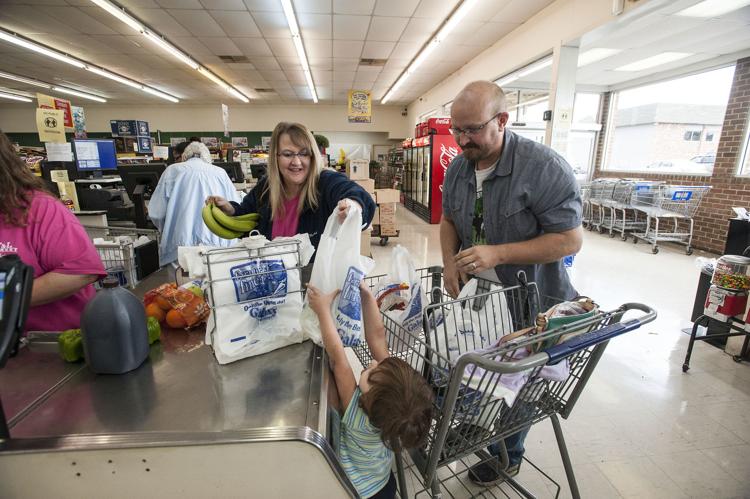 "They've been taking in more tokens than anybody else. I think what it is when you've got a bricks-and-mortar place, people know where to go," Brophy said.
Dealing with a separate kind of currency hasn't slowed down checkouts, according to Ginger Woody, who manages the store, which also accepts Supplemental Nutrition Assistance Program, or SNAP, benefits. Adding the tokens service, she said, hasn't changed much.
"I think it's awesome that somebody can come in and purchase food and provide for the family, the ones that are in need," Woody said.
The Porters like F&L because they can feed the whole family inexpensively. At the grocery store, they're able to get fresh produce, milk products and meat items not often available at a food bank, which often don't have a reliable variety.
"We can come in and we can get what the kids need, sometimes what the kids want," Tammy Porter said.
The family has struggled to gain a foothold since after David Porter graduated from Liberty University with a degree in religion in 2013. They left Rustburg after feeling called to plant a church in Phoenix, which didn't work out. They moved to California to stay with his family, then to Halifax to stay with hers.
Porter has had trouble finding better-paying work, he said. While he said the Army Corps of Engineers trained him as a surveyor and that the Marines trained him in meteorology and oceanography, he doesn't have degrees matching those skills. His applications for low-skilled labor have been declined, he said, for being overqualified.
He wants to use his religion degree to become an associate pastor.
The Porters see the assistance as temporary, but Light Change is helping for now.
"They know," David Porter said," ... that we're not just here trying to get a hand out that we generally just need a help up and once we get to a place where we can manage things ourselves, then the resources that we are getting from them now will be used on another family that also needs a help up."