A storm that could drop upwards of 30 inches of rain in just eight hours — so heavy people had to cover their noses and mouths simply to breathe — is unfathomable.
But it happened, and it can happen again.
Nelson County families went to sleep the night of Aug. 19, 1969, thinking the patter of rain was just another summer storm. They had no idea by morning that storm would claim 125 lives in unprecedented flash flooding that sent boulders, homes and mountains of mud down creeks and rivers throughout the county, washing away entire communities.
While that sort of rainfall can and does still happen, weather forecasting has become much more sophisticated 50 years later, including weather notifications sent directly to smart phones for those in the path of serious storms.
Many early improvements to weather forecasting and emergency alerts, in fact, can be linked to Hurricane Camille's unexpected visit to Nelson County.
Camille was one of only three category 5 hurricanes to hit the United States in the 20th century. The other two were the Labor Day 1935 storm that hit the Florida Keys and Hurricane Andrew's 1992 strike to the Miami area, according to the National Weather Service.
Camille struck Biloxi, Mississippi with 190 mile-per-hour winds but lost its power as the storm traveled north into Kentucky. There, it made an abrupt eastward turn, crossing through West Virginia and Central Virginia before heading off to sea.
By the time Camille left, 259 people were dead, almost half of whom were killed in Nelson County.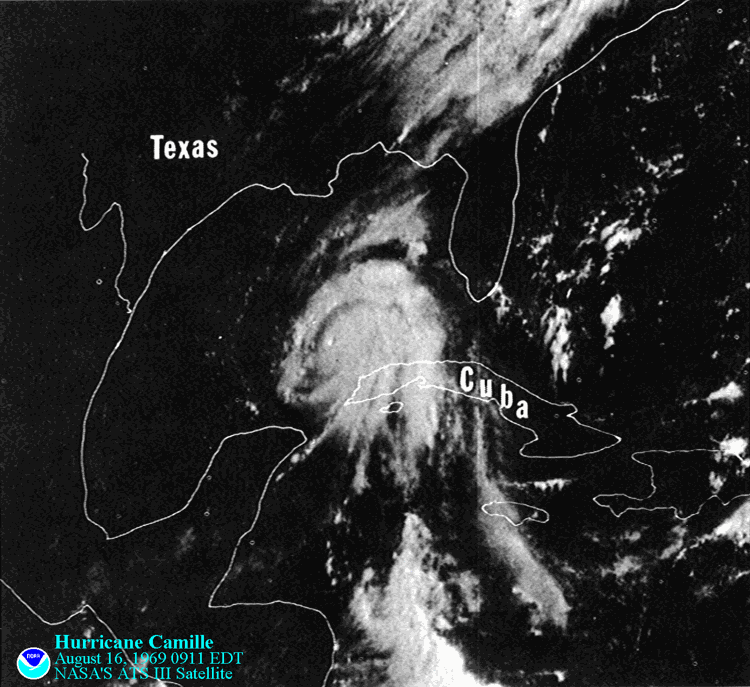 "People in Biloxi knew this storm was coming," said Barlow Delk, a Nelson County resident who searched for bodies in the aftermath of the storm. "They were given lots of warning. We had no idea."
On Aug. 18, 1969, Camille seemed nothing more than a weak tropical depression poised to cross through Northern Virginia and on to Pennsylvania.
But in Kentucky, it became embedded in the jet stream and took an abrupt eastward turn.
"Camille was a very different creature," said Jeff Halverson, a professor at the University of Maryland, Baltimore, who has studied this storm since 1987. "Very, very, very few storms had a trajectory like this."
"How often do you expect a flood disaster to occur from a remnant coming from the west that had two full days over land and no access to moisture?"
The nearest weather radar serving this region was in Washington, D.C. Radars operate by emitting a straight beam. Because of the earth's curvature, radar 150 miles away could only see the very tops of clouds over Nelson County, Halverson said.
A September 1969 report by U.S. Department of Commerce, Environmental Science Services Administration called the storm a "meteorological freak" that developed outside the range of existing radars and between upper-air observing stations.
"Arriving at the Appalachian Mountains in the late hours of August 19, the storm's remnants intensified rapidly and turned to the east. In an eight-hour period, rainfall of 12-14 inches was fairly widespread in the mountains, and amounts exceeding 27 inches occurred... This is more than three times the State's previous record of 8.4 inches in 12 hours and approaches the all-time rainfall records in the United States," the report said.
Telephone lines and power was severed in the flash flooding, preventing river and rainfall reports from reaching Weather Bureau offices.
No flash flood warning system existed in the communities hardest hit.
Rivers already had jumped their banks and mountainsides had started to crumble before weather bureau officials knew what was happening.
The first word forecasters in Richmond's Weather Bureau office received of trouble came at 11:45 p.m., Aug. 19, when Buena Vista police called to report the river was at 11.8 feet and rising. It was treated as localized flash flooding.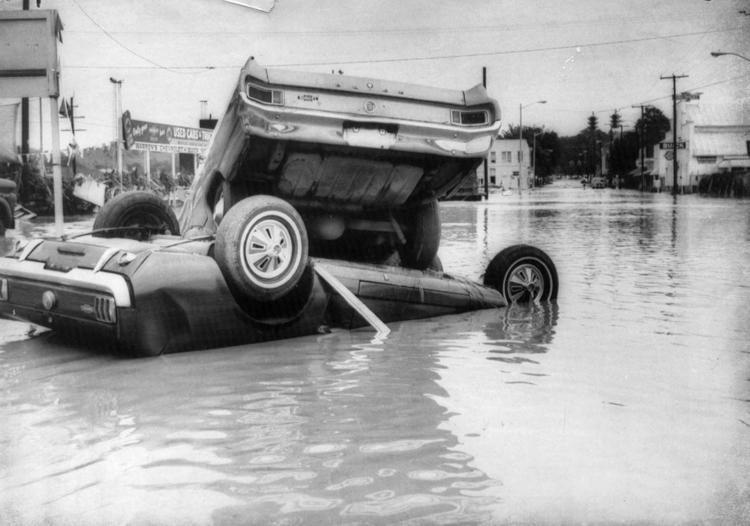 By 1:46 a.m. on Aug. 20, the state police reported heavy rains in Louisa County were causing considerable flooding and an observer in Clifton Forge reported at 2 a.m. that 8.44 inches had fallen in the past 24 hours, with 5.5 inches in the past five hours.
A forecaster in the Washington D.C. area monitored the rain and river status information for the Shenandoah/Potomac River basins and noted at about 2:30 a.m. that three inches had been reported in Stuarts Draft, northwest of Nelson County.
The first official warning of flooding in West and Central Virginia came out of Washington D.C. at 3:39 a.m. Aug. 20. A second statement was issued at 4 a.m. from Richmond.
By that time, Nelson County communities were under water. Homes had been swept from their foundations, families washed away. Mud had buried everything in its path.
"By midmorning, the seriousness of the situation was beginning to become evident, and a public statement was issued at 11 a.m. EDT, August 20, stating that severe flash flooding had taken place in the upper James River basin, that flood stage would be reached all along the James to Richmond by evening, and that detailed crest forecasts would be available early in the afternoon."
Extensive flash flooding damaged Albemarle, Alleghany, Amherst, Bath, Botetourt, Buckingham, Cumberland, Fluvanna, Goochland, Nelson, Orange, Powhatan and Rockbridge counties. Tye and Rockfish river watersheds in Nelson County had the highest rainfall totals, upwards of 27 inches.
The report called it the "worst natural disaster to ever strike Virginia."
The previous state record was 8.4 inches in 12 hours at Big Meadows on Skyline Drive in 1942.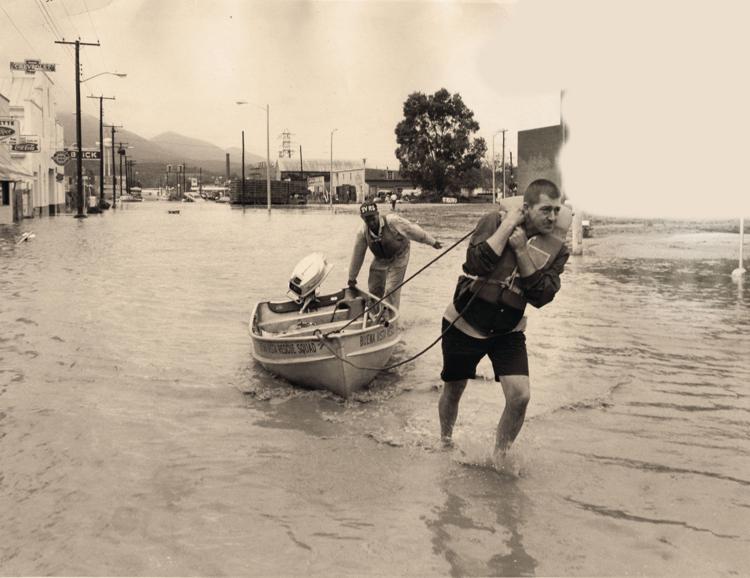 In September 1969, Civil Defense (the precursor to the Federal Emergency Management Agency) set damages at $113 million — roughly $787 million in today's dollars — with "long-term loss of farmland and industrial production yet to be assessed."
The gaps in the weather observation network made Camille's intensification nearly invisible.
In the wake of the storm, the Weather Bureau added radars to cover areas that didn't have sufficient coverage before. Hundreds of rain and river gauges were added and automated after that system suffered a "near total breakdown."
Community flash flood warning systems were developed and preparedness programs began in the headwaters of the James River basin.
"The flash flooding which followed by a matter of minutes the onset of the torrential rain in the upper and middle reaches of the James River basin precluded any effective community preparedness actions. Warnings were limited to efforts by police, public officials, neighbors and relatives to alert residents to rising water. These attempts were hampered by water- and debris-covered roads and washed-out telephone lines."
On a local level, Delk said zoning and land use planning efforts were adapted. Local fire departments and rescue squads got additional equipment and funding.
A current, grant-funded effort is studying the landslides from Camille and other storms to develop a landslide warning system, adapt land use planning and help emergency management communities mitigate damage during storms.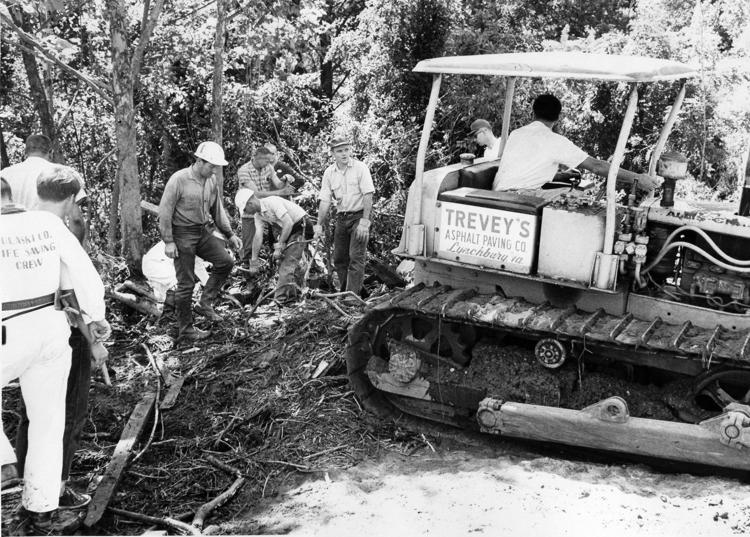 Anne Carter Witt, geo-hazard specialist for the Virginia Department of Mines, Minerals and Energy, Division of Geology and Mineral Resources, is using laser technology — called Light Detection and Ranging — to get a "bare earth" image of the terrain.
She has found about 7,000 landslides in the Blue Ridge Mountains, and about 5,600 of those can be attributed to Camille.
If this storm was just the remnants of a dying hurricane, the events of Aug. 19, 1969, would have been very different, Halverson said.
He had studied the weather phenomenon for more than 30 years and discovered that to truly understand this monster, one has to look at a number of factors that coalesced over the county.
For one thing, he said, Hurricane Camille didn't stall.
"It was on the move and the reason it was on the move is because it was embedded in the jet stream, a fast-flowing river of wind in the upper atmosphere," he said.
The humidity was extremely high Aug. 19, 1969, and that moisture was drawn up into the atmosphere against the eastern slope of the mountains. In addition, moisture moved in from the Atlantic Ocean.
And to top it all off, a cold front settled just north.
"Imagine filling up a keg of dynamite before giving off a spark," Halverson said. "This keg was filling with dynamite called humid air and here comes this spark. … Here's your cold front that is going to lift all this moisture, this unstable air, and ignite the explosion.
"You have the front, the convergent air flow and extremely humid air, all coming together right over this spot."
That humid air hitting the mountains triggered a thunderstorm, but a cloud takes about 10 minutes to start raining. By that time, the thunderstorm had been pushed over Nelson County, where it dropped its load and moved on.
Another took its place, and another and another.
"It is raining like hell over central Nelson County and then it dissipates and another takes its place. … Triggering, moving away, dumping its rain, moving off. Now imagine that happening repeatedly over eight hours, one cell after another, a parade of rain cells," Halverson said.
The highest recording rainfall that night was 31 inches, but amounts could have surpassed that, he said.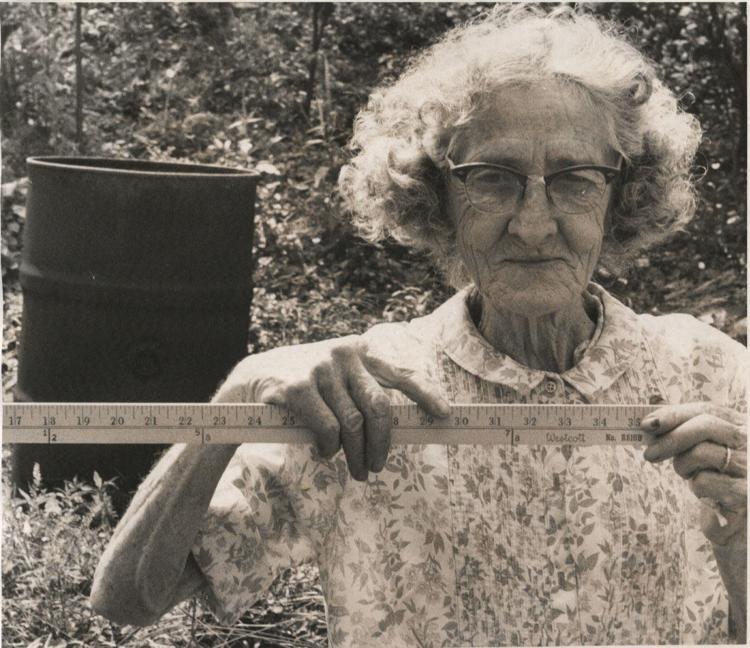 While a similar storm could set itself in Central Virginia once again, the ability to predict it and warn residents has greatly improved, Halverson said.
Weather radar and satellite imagery will show something dangerous forming three to four days ahead of the storm, giving residents enough warning to escape its path.
"We do have more weather knowledge than in the 1969 and our weather models have gotten very focused, down to the small scales," Halverson said. "…We may not be able to pinpoint the exact location but we will start to see something dangerous about 3 to 4 days out."