AMHERST — In the Amherst County high school auditorium shortly after the attack on Pearl Harbor in December 1941, Billy Iseman heard President Franklin Roosevelt address the "date which will live in infamy" and announce the United States entering into World War II.
Iseman, 94, recalled during a recent interview in his Amherst home the school's principal usher in students that day to listen to Roosevelt's speech on the radio. When it was over, Iseman said, the educator looked over at the boys gathered and said: "Before this is over, some of you might be in it."
"And every one of us were in it," Iseman said.
While the former school building on Washington Street is gone, the memories of that day and the war experiences in following years remain fresh for Iseman nearly eight decades later.
Nearly two years after hearing the declaration of war in the auditorium, he followed his two older brothers into the global conflict as a combat engineer who helped build bridges. A self-described "scrawny kid" who weighed 128 pounds at the time, he was drafted into a war he previously thought might be over before he was old enough to join.
"I took a day off from school that day," Iseman said of registering on his 18th birthday. "I was so proud I was old enough to register. I had no idea I'd be in it."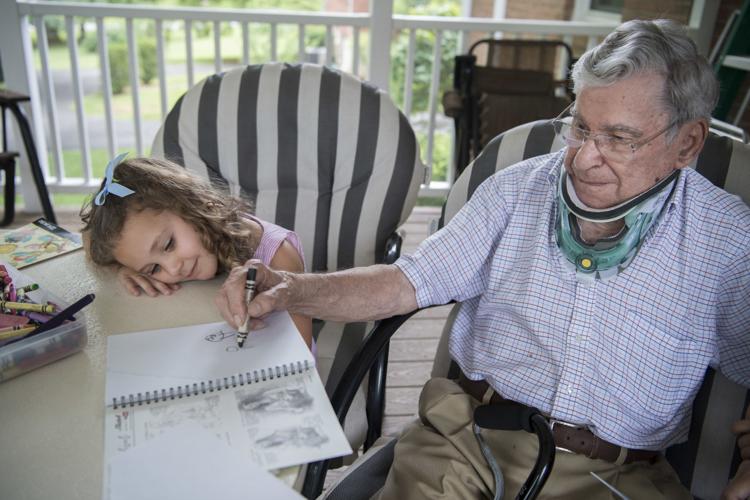 For Iseman, the experience waiting overseas lay beyond his wildest imagination.
Born in 1925 and raised in a family of eight children on Depot Road, the lifelong Amherst County resident didn't leave his home county until he was about 15.
"A lot of people didn't have jobs," he said of the harshness of the Great Depression. "Times were tight."
His father worked for a building contractor when he had work. Iseman said he could count on one hand the number of people he knew in those days who had automobiles and very few had radios. The war hit close to home when his brothers were drafted in 1941 and 1942.
He has never forgotten Sept. 18, 1943, the day he passed his exam to enter the Army. His parents didn't want to believe at first a third son was entering the war.
"I never thought of it at the time but my mother had three sons in World War II and in Europe," Iseman said. "I can't imagine what that would have been like for my mother."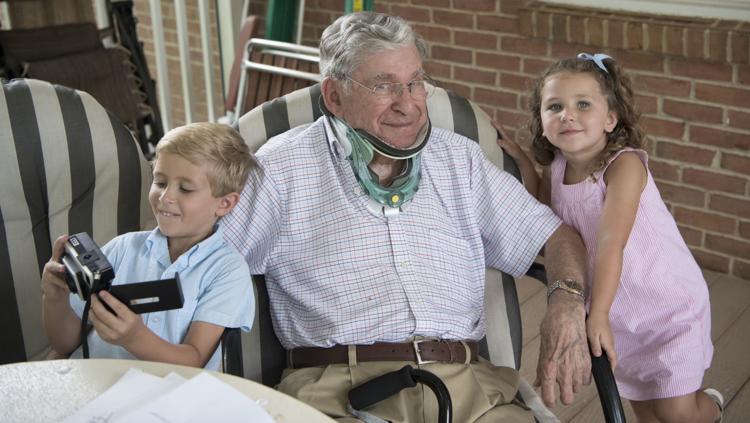 He recalls leaving Amherst County on the train for basic training, not knowing anyone and having no idea where he was headed. Looking out the window, he gazed at signs saying Alabama, Georgia, Arkansas and other states as he traveled farther away from home.
"I said 'I'll never get back home,'" he said of the train ride. "The next morning we were still going. I said, 'How big is this country?'"
He underwent basic training in Oklahoma and also trained in Louisiana and Texas. Soldiers in training slept on the ground the entire time, he recalled. He didn't get over his homesickness until he finally was sent overseas and in September 1944, a year after taking his entrance exam, he remembers standing on docks in England preparing to head to Normandy.
One of his brothers took part in the D-Day invasion while Iseman still was training. About three months after the invasion started Iseman arrived at Omaha Beach. His battalion of combat engineers suffered its first casualties on a minefield in Normandy and soon after was moved to Belgium, he said. The battalion mostly built bridges and most of the front was ahead of them.
"We built a bridge across the Rhine River," Iseman said. "I think it was one of the longest bridges in Europe at the time."
He recalls the soldiers in his group working on the bridge in shifts for 20 days and nights. His battalion once relieved an infantry unit on the front line in Germany and Iseman stayed in a foxhole for a week, he said.
When the war ended, he cried and was thankful he didn't have to go to the Pacific, he said.
"I was so happy I didn't know what to do," he said of news of Japan's surrender.
Tragedy struck in 1945 with the death of one of his brothers, George, also known as "Clint" in Germany. The family decided he should stay buried in Europe, Iseman said. He and his daughter, Janet Abbott, have visited his grave in Holland and said people come and place flowers on the graves of soldiers in respect.
"We wouldn't take anything for having done that with him," Abbott said of accompanying her father to Europe to visit his brother's gravesite.
Iseman returned to Amherst County at age 20 and four years later married his wife, Thelma, who died in 1995. He has lived in his home on North Main Street in Amherst for 55 years and has two daughters, two grandchildren and two great-grandchildren.
He worked for the Virginia Department of Transportation in Lynchburg for more than 40 years before retiring. Three of his sisters — two in their 90s and one in her 80s — live nearby and they regularly eat meals together, Abbott said.
His other brother who survived the war, "Ike," lived in the area until his death 23 years ago.
"I just loved hearing them talk about being kids down there and how much fun they had," Abbott said of her father and uncle's talks.
Iseman said he adjusted to life as a soldier, had many close friends and heavily considered reenlisting while in Berlin before coming home.
He and family members traveled to Normandy for the D-Day anniversary 13 years ago. On the invasion's 75th anniversary on June 6 at the National D-Day Memorial in Bedford, Iseman was among World War II veterans honored during the ceremony, which was attended by thousands with Vice President Mike Pence serving as the keynote speaker.
"That was a great day. It made me feel proud to be a veteran," Iseman said. "It was a special day for me, I'll tell you."
He recently suffered a neck injury from a fall and has worn a neck brace for nearly two months, Abbott said.
Courtney DiBrango, his granddaughter, said she enjoyed seeing people line up at the D-Day Memorial anniversary to get Iseman's autograph. She said she's glad her children Mason, 5, and Ava, 3, shared in that experience of four generations honoring her grandfather's sacrifice.
"I wouldn't take anything for them being with him and seeing him treated with such respect," DiBrango said. "I loved that they got to see how important the job of the veterans was and the significance of what they did, along with the people who did not come home."
Iseman said he learned a lot during the war and serving was the second best thing to happen to him after his family. He hates to think where he would be if he didn't have that experience, he said.
"I wouldn't take $1 million for my experiences. But I wouldn't do it again for $1 million either."
Reach Justin Faulconer at (434) 385-5551.