AMHERST - In wooded areas within the L. Barnes Brockman, Sr. Business and Industrial Park in Amherst, a trail network for biking enthusiasts is taking shape.
The Amherst Mountain Biking Club in the past few months has worked on establishing the trail system on about 50 acres within the industrial park on U.S. 60 East as part of a 20-year lease town officials approved in March.
The club is using a small portion of a lot in the industrial park on West Commerce Street near the highway for parking, a practice course and access to the remainder of the trail network. The trail area consists of more than 40 acres next to Rutledge Creek and is not currently being used for any other purposes, the town has said.
On a recent tour of the trail site, Alex Motley, the club's president, said the goal is to create a family-friendly destination for bike riders of various ages and skill levels to enjoy. Building a bridge over Rutledge Creek has been the biggest undertaking and club members and supporters have brought out tools to form the trail route in recent weeks, Motley said.
"I think this is the best spot the town has," Motley said while looking out at the trail bound by trees in all directions. "We're fortunate to be offered this."
Club members have driven to a similar layout in an industrial park in Bedford County directly off U.S. 460 in the county's New London area, about a half hour drive from the town of Amherst. Motley said many are looking forward to a much closer drive to access trails and having a place that also serves as a draw to pull more biking enthusiasts to Amherst and support the town's economy.
Motley said the parcel the club is using at the end of West Commerce Street is the only one that gives direct access to Rutledge Creek.
"It's pretty hilly. It is diverse," Motley said of the terrain. "It will be fun to ride."
Motley, 24, bought a mountain bike at age 18 and enjoys riding. He often rides at the New London business park and Falling Creek Park in Bedford as well as the campus of Sweet Briar College.
The club has riders as young as 18 and others in their mid-50s, according to Motley.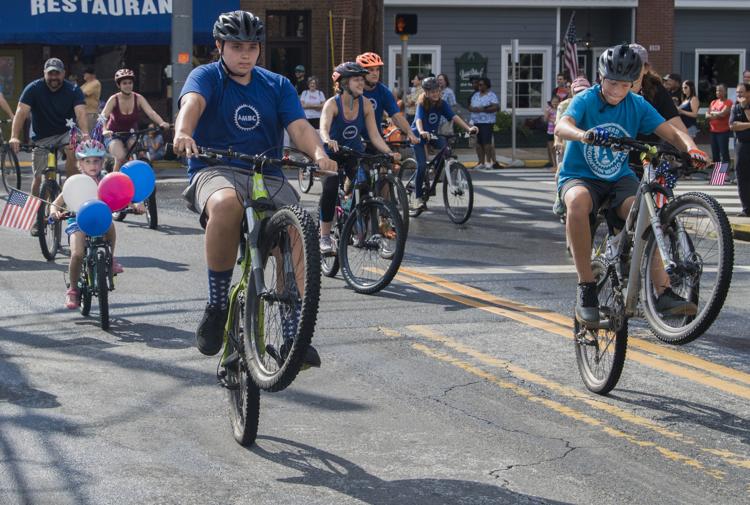 Members are working on the trail network as fast as they can but are not rushing in the interest of ensuring it is durable and not easily washed away by storms and heavy rains.
"We want to make sure it is sustainable," Motley said.
Amherst Town Manager Sara Carter and town council members have been supportive of the club's efforts. The lease can be vacated if a future business opportunity comes along for the property, the town's attorney has said, but town officials have stressed aside from that potential conflict they are all on board with the club's efforts of supporting local tourism and recreation.
At its June meeting, Amherst Town Council unanimously authorized granting a temporary easement of an adjacent lot for the club to use for parking. Carter said the easement gives the club an entrance with minimal costs.
"It gets them in faster and cheaper than otherwise," she told council.
Carter said the easement can continue as long as there is no other use for the adjacent lot and the club's plans for parking will not detract from potentially selling that parcel.
"So from the perspective of the town, they are making an improvement to this lot that will only assist in any future development," Carter said during last month's council meeting. "Any improvement just increases the value of this property long-term."
Motley credited the town with helping advance the project and being good to work with.
"It went faster than we expected," he said. "We have way more community interest than I expected."
Club member Carter Massie, 33, has been active in mountain biking for more than five years and picked up a love for it while living in other communities out west, he said.
"It's what I want to do," Massie said. "I want to be in the bike life, wherever that takes me."
The hope for the new trails is to tie into other trail systems in Sweet Briar and with a new brewery taking shape on Union Hill Road in the site of a former mill. Waukeshaw Development, Inc., of Petersburg, is redeveloping the historic structure and has said he supports the ideas of biking trails in the vicinity of the brewery and restaurant.
"Food, mountain bikes and beer go great," Massie said.
The new trails are a good way to provide recreational offerings while businesses benefit as area riders pick up a meal, groceries or gas while in town, club leaders have said.
"Amherst, we think, is in need of a little boost," Massie said. "We want to give those guys something to do."
Motley said once the trails are up and running they will be open to the public and for anyone to use.
"We want people to enjoy the landscape," Motley said. We'll have four miles of trails in here when we're all said and done."
The club is leasing the property for $1 per year and has not requested any financial assistance from the town. Motley said the work done on trails is by volunteer and club members, and supporters have enjoyed rolling up their sleeves to pitch in.
"It's what we love doing," Motley said.
Reach Justin Faulconer at (434) 385-5551.