A project to repair two sedimentation basins and add sludge collectors at the Town of Amherst Treatment Plant is reaping benefits in operations at the nearly 70-year-old facility, according to town officials.
The work with a price tag of $265,753 started in June and is slated for completion at the beginning of August. Gary Williams, director of plants, said adding sludge-removal equipment to the two basins, which were installed in the 1950s and in 1995, gets rid of accumulated solids that settle at the bottom of the basin and improves the water-treatment process.
"The function of the sediment basin is to give water time to move through the basin and have solids drop out," Town Manager Sara Carter said during an interview at the plant on Grandview Drive. "It's designed to catch sludge."
Carter said workers have to empty the basins quarterly and clean them out. The new equipment will essentially act like a Roomba, a series of robotic vacuum cleaners, allowing cleaning to occur on a regular programmed basis, she said.
Becky Cash, the town's lead water operator, said a benefit of the new equipment is less volume for the town's wastewater treatment plant during basin cleanings.
Carter said the work conducted by Anderson Construction of Lynchburg includes pouring concrete and replacing piping.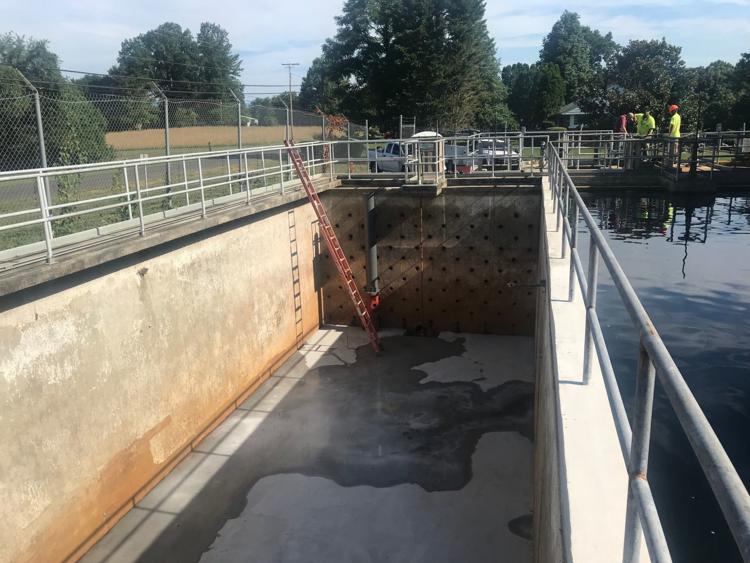 The town's municipal water serves about 2,200 customers and treats water from the Buffalo River at the two-story surface water filtration plant, which has a total production capacity of 1 million gallons per day. Chemicals are added to water, aluminum, soda ash are used to remove contaminants and chlorine, fluoride, carbon and lime are added for key purposes in the water-treatment process.
The water travels through a series of mixing chambers where contaminants and suspended matter settle out, and it is then filtered before being pumped to the distribution system, according to the town's website.
A portion of the work, up to $150,000, is paid for through a state grant, according to Carter. The town had a study done by a consulting firm that recommended changing the location of chlorine injection into the basins and adding the sludge collectors, she said.
The plant's system is at half-capacity when a basin is down for repairs, Carter said, so the work was scheduled around Amherst County Public Schools' summer break when water demand is lower. Sweet Briar College also is served by the system.
"We're hoping nobody has noticed we're doing anything," Williams said. "If they don't know we're doing anything, we haven't interrupted their schedule and their service."
Williams described the project as an upgrade common for water plants.
"It's just like your home," Carter said. "You have to maintain it in order for it to keep its value. So we are doing the necessary maintenance and upgrades to keep the system functioning the way it's supposed to."
The work also is line with the town keeping up with ever-changing regulatory requirements, she said.
"What was good 20 years ago is not even close enough today, so you have to upgrade to meet the tougher regulatory framework," Carter said.
The water plant is slated for a major renovation to begin next year. The town is in the application process and looking to get engineering squared away this fall to prepare the roughly $4 million project with construction expected in 2020, according to Carter. The work, which also involves improvements at several other facilities in the town's water system, is expected to take a year to complete.
"It's an overdue project that needed to be done about 10 years ago," Williams said.
The town also is planning a roughly $6 million project that includes replacement of a sewer pump station and rehabilitating or replacing about a third of the town's sewer lines, Carter said.
The projects are funded through water and sewer rates and are not subsidized from the town's general fund and tax money. The town in recent years has not levied real estate or personal property taxes on residents.
"They will pay for themselves," Carter said of the upcoming water and sewer-related projects.
Reach Justin Faulconer at (434) 385-5551.