The Amherst County Board of Supervisors recently approved using stimulus money from the federal government in response to COVID-19 as hazardous duty pay for front line public safety employees.
The county received $53,226 from the CARES Act for the specific purposes of healthcare-related expenses, county Administrator Dean Rodgers said. The board during its May 5 meeting voted unanimously to appropriate $33,000 of the money to giving public safety workers more money from April to June. The remaining money would be used for supplies and "to cover any costs incurred by the uninsured should they need our services," according to a report to supervisors from the county's department of finance.
Rodgers said the county has had many work schedule slots open that had to be filled, more part-time help than usual and much overtime in the public safety department in responding to many medical issues in the past few months. The $33,000 matches a rate increase the county plans to give those workers starting in July and is a gesture of appreciation and incentive for those workers to "stick with us" until the planned salary increase takes effect.
Sam Bryant, director of public safety, said he worries about his staff every day and has workers who have been tested for COVID-19 and quarantined.
"I'm going to call it combat pay," Bryant said of paying them from the stimulus money. "They deserve it. They are doing the work. They're seeing patients."
Bryant said the county has had 225 patients he's aware as of May 5 who have had COVID-19-like symptoms over the past two months.
"I worry about their exposure, their families' exposure," Bryant said in voicing support for increasing their pay a few months earlier than expected. "I think it would mean a lot, it would say a lot to our people, if you would pay them now."
The county clarified the stimulus money is for front line public safety workers who are dealing with patients. Supervisor Jimmy Ayers said if the county has the availability to pay those workers immediately it should proceed.
"These men and women go beyond the call of what they do each and every day," Ayers said. "I don't think it's any questions to be asked..."
Supervisor Tom Martin said he fully supports the measure and knows of public safety workers' sacrifices and challenges during the pandemic.
"When you go out on an [emergency service] call, you're up close and personal with these patients," Martin said. "That is different from some other jobs."
Martin said he feels the county should look at doing something similar for law enforcement who have responded to COVID-19 matters in the past few months, which includes exploring a different funding source.
"They are out there, day in and day out," Martin said of law enforcement officers.
Board discusses Scottish Inn property, extension request In another matter during the board's May 5 meeting, Rodgers provided an update on the Scottish Inn property in Madison Heights. The former motel, which closed and has been empty of tenants since Nov. 18, according to Rodgers, was the subject of a blight determination and various county code violations, as well as complaints from surrounding property owners.
The owner, Satya Narayan, of Narayan Properties, LLC, and his attorney have agreed to an abatement plan with the county to demolish a portion of the property for a planned Howard Johnson hotel, according to the county. Under the agreement Narayan was given 210 days to obtain a demolition permit and would have another 60 days to demolish a structure on the site on U.S. 29 Business. The 210-day deadline expires June 2.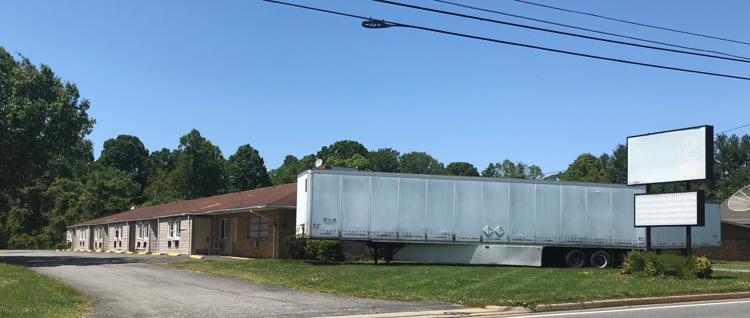 Rodgers said Narayan, who wasn't present at the May 5 meeting, received various bids of demolition and the costs are beyond his means to pay and he is seeking a Small Business Administration loan to cover it. The request for the loan to go toward demolition and construction costs is held up in a logjam because of COVID-19 and Narayan's attorney has requested a six-month delay for the demolition permit, Rodgers told supervisors.
Rodgers and the board discussed how the county plans to enforce the agreement and move forward if deadlines aren't met. County Attorney Michael Lockaby said a clause in the agreement does consider unforeseen events and disasters such as the coronavirus.
Chairwoman Claudia Tucker asked Lockaby about the county's ability to seek a lien on another of Narayan's properties.
"The county has operated in good faith through this whole process," Tucker said. "I think we have bent over backwards as a board, as a staff, as a sheriff's department, to help this entity right their wrongs."
Supervisor Jimmy Ayers, who retired as Amherst County's sheriff in December 2015, said the motel property has a "long history" of issues, including many calls for law enforcement and emergency service.
"This is no surprise to me," Ayers said, adding he expects similar requests down the road. "History just continues to repeat itself with this particular situation .... There's no indication to me that he's trying to do anything to make it any better for the community at all in its appearance."
"I would like to see Amherst County have a lien on another one of their pieces of property," Tucker said.
Rodgers said in response to a supervisor's question that Narayan has been mostly compliant in meeting conditions in the agreement so far and it appears there is reluctance to spend money needed to abate asbestos on the site and demolish one of the two buildings.
Reach Faulconer at (434) 385-5551.