"I'm never going to forget."
Amherst County High School senior Elizabeth Brooke Carter repeated those words while describing her many memories of her four years at the school during its 63rd commencement ceremony at Liberty University's Vines Center last Friday.
Carter, the graduating class's salutatorian, said she would always remember the countless hours spent on the softball field and basketball court, no matter how frustrating, with teammates who became her best friends. She spoke of accidentally dropping acid on a classmate during a chemistry assignment, burning her own hand by accident on a Bunsen burner in another exercise and goofing off during weight training, among other memorable experiences.
"All these memories made high school fun," Carter said. "The people these memories are made with made high school unforgettable."
Holden Bryant, the senior class president, had two words for graduating: "Thank God." He joked that Anne Ferrell, a retiring government teacher at ACHS, said the same after teaching there 146 years—"I mean 46 years, sorry," Bryant said as laughter erupted throughout the arena.
"Enjoy your retirement. You deserve it," he said to Ferrell.
Bryant, who is attending Virginia Tech to study engineering, said graduates are taking on new responsibilities, including acting like grown adults. "Which will be pretty hard for some of us," he added.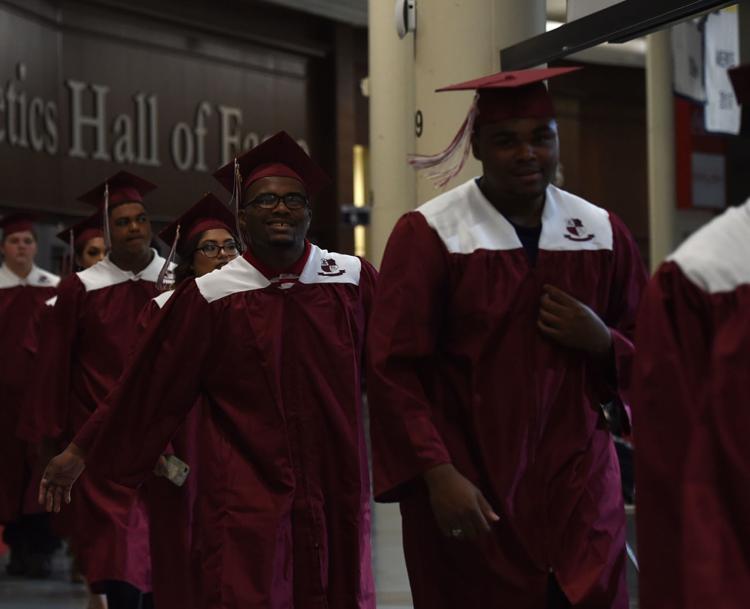 He described how students banded together to build a new outdoor classroom, which was dedicated in late 2018, and recognized state champion pole vaulter Kyle Mosteller for signing with the University of Virginia.
"My favorite thing about Amherst County is how all the students take pride in where they come from," Bryant said. "We're not the richest school around, that's for sure, but that doesn't matter. The teachers and the students are part of the school and they are what makes this institution so great."
He said the students have left their mark and encouraged them in pursuing future endeavors.
"We can do anything in this world because we are from Amherst County," Bryant said. "I believe in us and all these people in this arena believe in us. So let's go and show the world what it means to be from an old town road called 139 Lancer Lane."
Carter said classmates showed her what true friendship is and thanked teachers for their guidance. She said would take many memories as she attends High Point University.
"These past four years have not been easy for any of us. We have all been through the highs, the lows and through every change," Carter said, later adding: "Reach for the stars and dream big. Absolutely nothing is impossible."
Principal Chris Young recognized Ferrell, who taught her entire 46-year career at the high school, and two other retiring teachers, Rita Hartless and Margaret Kostal. The three have 122 years' experience combined, Young said.
"We may be able to replace the teaching positions, but we will never be able to replace them as individuals and what they have meant to the children of Amherst County High School," Young said.
He encouraged students to look back on their years at ACHS and recall the successes and challenges.
"You have created many lifelong memories with your classmates and your friends and along the road you have learned from your teachers and your coaches who inspired you and encouraged you," Young said. "Cherish those memories as the journey has shaped you in the person who you are today."
He referenced the late boxing legend Muhammad Ali in saying the fight is won or lost far away from witnesses.
"Most of you have spent the last four years of your life preparing for that fight behind the lines of Amherst County High School," Young told graduates. "And I cannot wait to see what kind of dance you're going to perform under those lights because I know it's going to be a knockout."