This year, Nelson County Public Schools Superintendent Martha Eagle kicked off the 64th annual Nelson County High School commencement ceremony by starting a new tradition.
"The tradition is a gift. I want to give you a gift," Eagle told the class of 2019.
As each of the almost 160 graduates walked across the stage on the evening of May 24, they were given a presidential dollar coin. Eagle told the class she was giving them their first dollar earned as Nelson County High School graduates and she wished for it to be the first of many dollars earned and for them to never stop learning.
"Whatever you choose to be in life, you need to try to be the best possible version of it. Be the best 'you' you can be," Eagle said.
The sky was clear and the day had cooled as parents, friends, family members, school teachers, administrators and the graduates sat in the stands and on the football field to celebrate the end of another school year and the beginning of a new chapter in the graduates' lives.
"I, we, your teachers, and Nelson County, and parents, believe in you. We wish you success, but most of all happiness. Nothing in life is worthwhile if you aren't happy," Nelson County High School Principal Janell Stinnett said.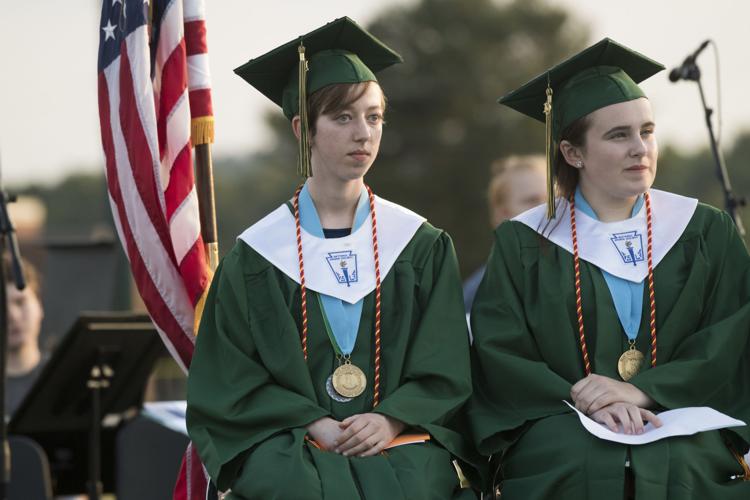 Lily Gates, the 2019 honor graduate; Sinéad Nardi-White, the salutatorian; Dave Francis, chair of the Nelson County school board; and Chloë Hellerman, the valedictorian, also spoke briefly at the commencement ceremony. Each gave a unique address, but every speaker encouraged the graduates to work hard, stay positive, not give up, and to remember Nelson County.
"The skills you have developed and the education you possess have already left their mark on Nelson County and I know that you will all remain positive forces for good throughout your future jobs, your volunteering, and the votes you cast for years to come. I wish you luck in your continued service to this community and congratulations," Nardi-White said.
Hellerman told her fellow graduates and the audience about her experience in a three-hour indoor rock climbing class. Hellerman used it as a metaphor for life and told the class of 2019 there is no wrong path to take because every path will provide a learning experience that will help in the future.
"As you set goals and work toward them, you inevitably encounter obstacles and experience failure. You will lose your grip on the wall and have to start again from the ground," Hellerman said. "However, every time this happens you will gain skill, strength, and experience that will make your path clearer."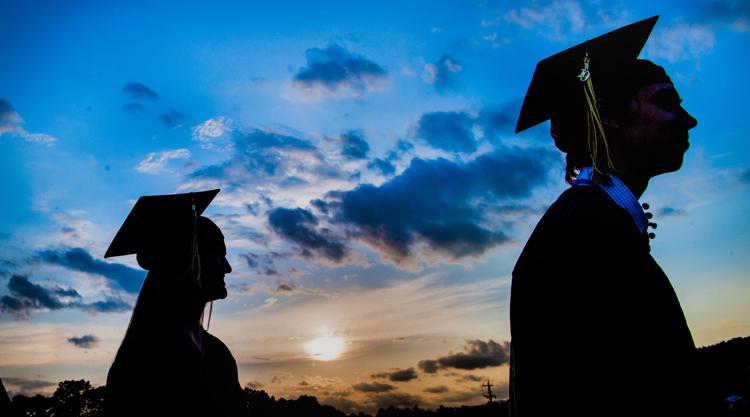 The speeches were split up by the school's award-winning show choir performing "Change the World" and the school band performing "Running with Scissors."
According to Francis, of the 158 graduates, 37 have plans to attend four-year colleges and universities. Fifty-eight will attend community college, technical or trade schools, or other two-year institutions. Fifty-two will enter the workforce directly upon graduation. Two have other educational plans, four will enter the military and four are undecided.
Stinnett honored William Harvey, John Shifflett, Hunter Sipe, and Garrett Walker Friday night for their decisions to enlist in the military. Walker and Shifflett have enlisted in the U.S. Marine Corps, Harvey enlisted in the Air Force and Sipe has enlisted in the Army.
"I can think of no greater noble sacrifice that you can make than to serve your country. You will make us proud, and Godspeed my friends," Stinnett said.
Stinnett invited groups of students who participated in a variety of extracurricular activities, athletics, and extra academic programs to stand at their seats. Each of the many groups was met with loud applause from the audience and many of the seniors stood up multiple times.
Before the class of 2019 crossed the stage, Stinnett presented a diploma to parents of a high school student killed in a car accident on March 11, months before graduation. Mike and Penny Fincham accepted the diploma on behalf of 16-year-old Alexis Kay Fincham, known as "Lexi" to friends and family.
"On behalf of our
staff, we would like the family to know you are in our continued thoughts and prayers," Stinnett said.
After an hour and a half of anticipation, family members got their smartphones ready to document the moment as each graduate's name was read and they made their way across stage. The class of 2019 moved their tassels to the left and officially became Nelson County High School alumni as fireworks lit up the sky over the football field.
"I view graduation from high school as a milestone event in life we will all remember. It's an ending and beginning, a time we feel sad and excited about what is next," Francis said.