Despite soaring temperatures and humidity Saturday, more than 600 people marched in Richmond on Saturday in an attempt to get Gov. Terry McAuliffe to focus on the welfare of the environment.
Representing more than 60 activist groups, the "March on the Mansion" aimed to bring attention to the issues associated with the proposed Mountain Valley Pipeline and Atlantic Coast Pipeline and coal ash disposal plans, as well as to ask the governor to follow through on his commitment to clean energy sources. Others who were part of the march focused on offshore drilling, the rise in sea level and private property rights.
"[The governor] promised as a candidate that he was gonna bring clean, renewable energy to Virginia," said Sharon Ponton, a member of the Blue Ridge Environmental Defense League and a Nelson County resident, "… and he's done very, very little to accomplish that. … It's important for us to go to him, because he has refused to talk to us."
According to Ponton, about 40 to 50 Nelson residents were part of the march.
Ponton also said McAuliffe has been invited to Nelson to talk with residents about the Atlantic Coast Pipeline, but he has not made a trip to the county so far. The controversial pipeline is slated to run through Nelson.
In addition to displaying colorful signs and a 40-foot-long mock pipeline, marchers also used chants and songs on their journey from Brown's Island Park to Capitol Square to try to bring awareness to the issues and garner attention from the governor's office, according to a news release.
"The folks along the pipelines and dealing with the other issues have very valid concerns that are not being addressed," Ponton said. "There are things that he can do to help us to get answers if he wants and to get his staff to get us answers."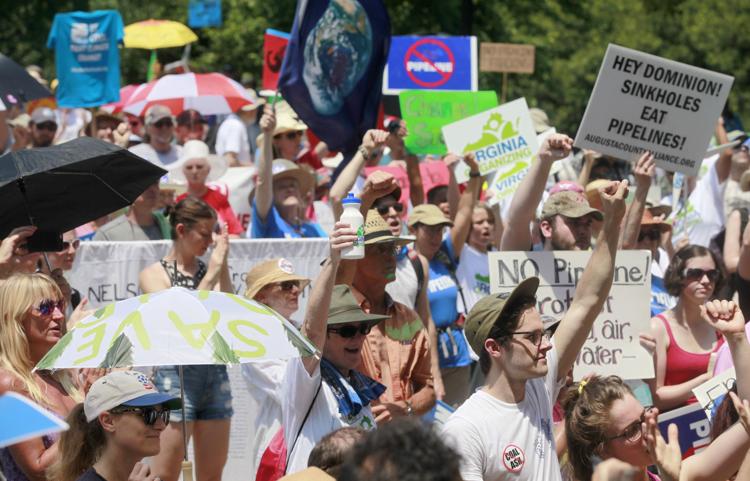 The event also included a rally that featured speakers from across the commonwealth, each focusing on a different energy or environmental subject, Ponton said. Among the speakers were pastors, residents who live in affected areas and activist group directors.
Heidi Cochran, a Nelson County landowner and outspoken opponent of the Atlantic Coast Pipeline, also spoke during the rally.
"Our constitutional rights to our private property and our rights to a clean and safe environment for our children's future are being threatened by the fossil fuel industry," she said during the event. "It is time for our governor to become informed and live up to his promises to protect Virginians and our environment from the impacts of climate change."
Ponton said she believes the march accomplished the goal of bringing more awareness to the groups' fight for clean energy, and the event also gave activists involved a chance to encourage and help each other.
"Getting together and being together with like-minded people is very uplifting. It gives people hope," Ponton said. "… I think that this kind of action gives people hope that there are other people who understand their plight and are willing to stand beside them and fight with them."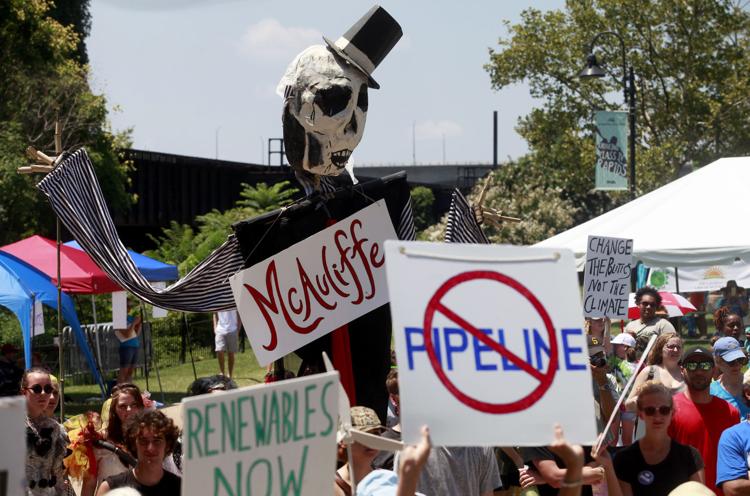 Saturday's march accompanied an open letter sent to McAuliffe by the 60-plus organizations in June. The letter asked the governor to "oppose gas and oil projects that hurt Virginians and our economy," "stop supporting reckless coal ash disposal plans that pollute rivers and drinking water," and to "explicitly commit to reducing total climate pollution from Virginia power plants through federal and state clean power rules."
In response to questions about the governor not making a trip to Nelson and assertions that McAuliffe has not followed through on his commitment to clean energy, his office said: "The Governor recognizes that clean energy is the lifeblood of the new Virginia economy, and a majority of Virginias support his work to create jobs while protecting the natural resources that are so important to the Commonwealth's quality of life."
The statement said he has made "unprecedented progress on his environmental and economic goals, positioning Virginia to be a global leader in clean energy for generations."
The office also pointed to a "10-fold increase" in solar generation by the end of the year, the inclusion of more than $140 million in the new biennial budget for water quality initiatives, including "the largest investment in nonpoint source pollution prevention in Virginia history" as evidence of his commitment.
McAuliffe won a federal grant of more than $120 million to help "address the challenge of climate change," and he vetoed two coal tax credits, the statement said.