Almost 50 individuals from American Legion Post 17, a local Boy Scout troop, veterans, and community members came to Jonesboro Cemetery last weekend and placed around 300 flags at the graves of Nelson County veterans.
Despite the heat on May 18, the group spent well over an hour going to each veteran's grave, placing a flag, and saluting the veteran after reading his or her name.
"We are here to make sure no one forgets the sacrifice the veterans have made," Wayne Parent, commander of Shipman's American Legion Post 17, told the group before starting.
Many of the veterans buried at Jonesboro fought in Vietnam, Korea, or one of the World Wars. One group of volunteers, led by David Ponton and Jeffrey Johnson, both members of the Sons of the Confederate Veterans, placed confederate flags at the graves of Civil War veterans. Ponton was dressed in period clothing.
"The local people left their families and homes and chose to help the state of Virginia," Ponton said.
Johnson and Ponton said it's important for people to know their history in order to know where they came from and in order to not let past mistakes happen again.
"You don't know where you are going if you don't know where you have been," Johnson said.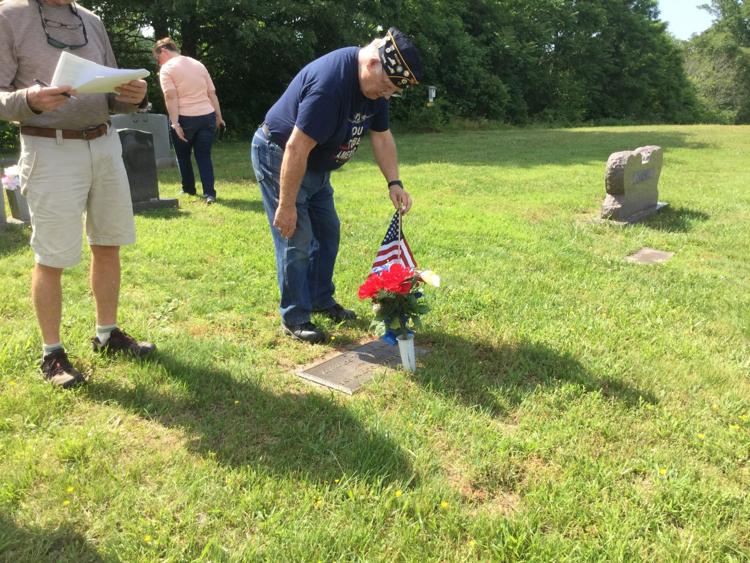 As each group recognized every veteran grave, attendees had the option to lay flags at the graves of their family members. Mary Zirkle's husband, Marine Corps veteran William "Billy" Zirkle, was recently buried in Jonesboro Cemetery.
"That's why I made the effort to get up and here and do this," Zirkle said.
Zirkle also noted the graves of other veteran family members. Along with her husband, her father-in-law, numerous uncles, and a cousin, all served in the various branches of the military.
"I think it was everything except Air Force," Zirkle said.
The American Legion Post 17 will be back on June 1 to collect and store the flags for next year. Parent said previously he hopes the post does this annually and inspires the entire county every Memorial Day to honor the veterans who have died.
On May 26, the American Legion Post 17 will hold a Memorial Day Ceremony at Nelson County High School at 2 p.m. and on May 27 at Jonesboro Cemetery.