There are certain pop culture moments too good to overlook.
D.C. indie-folk outfit Wylder stumbled into one while promoting its newest single, "Ghosts," earlier this month and couldn't ignore it.
"Our new song 'Ghosts' is officially dedicated to #Ghost from #gameofthrones — a good boy who really deserved a pat," the band tweeted a day after the airing of the HBO series' fourth episode, in which character Jon Snow rudely ignored his four-legged friend, a mythical creature called a direwolf.
"'Game of Thrones' is having a moment, I would say," Wylder frontman Will McCarry wrote in an email ahead of the band's show at The Ellington on June 4.
"[It] just felt appropriate as a dedicated fan — both of Martin's books and the show — to jump into the conversation. Especially since our new single 'Ghosts' nearly shares the name of Jon's faithful direwolf."
Unlike the much-maligned creature, Wylder has already started receiving praise for the singles it released ahead of its second album, "Golden Age Thinking," which drops July 12.
"Wylder set a high standard with their debut LP, 2016's 'Rain and Laura,'" Jordan Blum wrote when Pop Matters premiered the single's music video two weeks ago.
"Specifically, its synthesis of bright harmonies, reflective lyrics and lusciously accessible yet multilayered instrumentation made it a treasured entry in the genre. With their latest video, 'Ghosts' ... the quartet ... keep[s] that pleasantly pastoral spark intact."
Originally founded as a college band at the University of Mary Washington in Fredericksburg, Wylder has built a reputation in the D.C. music scene for its unique blend of indie-rock and chamber-folk.
"They do a great job blending a lot of feelings and genres into one cohesive song structure," said Blake Gederberg, owner of Speakertree and venue manager of The Ellington. "There's a lot of hints of influences but with an overarching sense of originality and flair."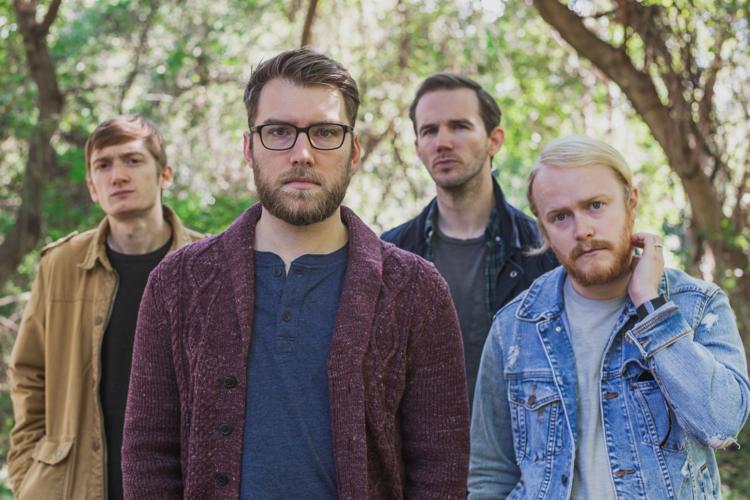 The band has performed alongside such acts as Needtobreathe and Barenaked Ladies, and its lyrically-driven melodies have appeared on Sirius XM radio and in TV shows like MTV's "Teen Mom 2" and ABC's "The Good Doctor."
"A lot of the band's influences are in heavy rotation to a lot of people we interact with through the record shop," said Gederberg. "We believe they could be people's next favorite band that they have yet to discover."
Before Wylder's show, McCarry talked about the role of music and lyrics, the band's upcoming album and "Game of Thrones."
In the time you've been a band, you've become known in the D.C. area for your melodic hooks and indie vibe. How would you describe your sound?
"I would say that Wylder fits somewhere between modern indie-folk and the impulses of alternative rock bands like Arcade Fire and The Killers. Our new album is typified by lush arrangements and organic production like Fleet Foxes or Radical Face."
With roots in both D.C. and Virginia, how have both places influenced Wylder's music?
"Growing up in rural Virginia has had a huge influence on my musical taste and the kind of songs that I want to write. The organic and naturalistic elements of our sound — including the use of layered vocal harmonies and occasional folk instrumentation — comes from my upbringing and my desire to create something that feels grounded. Conversely, if D.C. has somehow seeped into our music, I haven't quite figured out how yet."
 There's always been an element of chamber folk to your songs. Why have that and what does it add to your music?
"I suppose the 'why' of including the chamber folk element is a question I've never asked myself — strange as that might sound. I've always been drawn to music where the sonic elements have a part to play in telling the story as much as the lyrics. In this way, true chamber pop masterpieces like The Beach Boys' 'Pet Sounds' have influenced me more than anything else. Take a song like 'God Only Knows' — it is the arrangement that buoys the lyrics and has made the song a classic."
Where do you put your priority as a band: music or lyrics?
"Writing music comes more easily, and, in a lot of ways, it's more fun. But the words are arguably the most important part, even if I have to lock myself away during the studio time to finish them."
You have a new album on the horizon. What can you tell me about "Golden Age Thinking?"
"In many ways, this is the record I've been trying to write for many years. For me, the album is all about loss and memory, as well as the erroneous idea that there was once — or may soon be — a time that is perfect."
Does the new record follow in the vein of "Rain and Laura" or is it more of a departure?
"We were very conscious of expanding on things that we liked about 'Rain and Laura,' while also pushing ourselves. My hope is that fans will agree that 'Golden Age Thinking' is at once a major departure from 'Rain and Laura' and an expansion on all the things they enjoy about that record."
You put out a new single, "Ghosts," earlier this month. What can you tell me about the song?
"I wrote 'Ghosts' with my childhood home in mind. It was a ramshackle farmhouse, which had at some point been dragged down off the Appalachian Mountains on the back of a tractor.
"Many people called the farmhouse home over the years, including two illiterate drunks who eventually shot each other over a game of cards in my parents' future bedroom.
"Decades later, after we moved in, my dad modernized the home — but its long history never escaped us, and it remained, for me and my sister, a place where ghosts would routinely meet."
When you debuted the song in early May, you made sure to throw out some shade at "Game of Thrones" at the lack of love the show seemed to give its last remaining direwolf. How do you feel now having seen the show's end?
"Poor, forgotten Ghost finally got the pat he deserved in 'Game of Thrones' final episode. Unfortunately, that's about where good things to say about the show's conclusion end."