New York City may have been the epicenter of the American folk music revival in the '50s and early '60s, but there was less of it in Matthew and Nathan Corrigan's home in Allegany County, New York.
"From where we live, it's about a six-hour drive to New York City, so it doesn't really feel like the same world that we come from," Nathan Corrigan — one half of the duo Tough Old Bird, which he formed with his brother — wrote in an email ahead of the band's set at The White Hart Café on Sunday.
Once they discovered folk music through the works of artists such as Bob Dylan and Johnny Cash, the genre wouldn't let go.
"There's something about a song that conveys the genuine feeling of the singer in a widely relatable way that never quite goes out of style," Corrigan wrote.
Five years since Tough Old Bird's founding and four recordings later, the Corrigans now are part of a folk renaissance that is currently taking place across the country, including in rural New York.
"They are very easy to listen to, and I'm finding their sound to be addictive," said Brittany Etheridge, events director at the White Hart. "I think they'll get a great reception with our community. Their style is cozy and heartfelt."
Paired with the delicate strumming of a single guitar and lonesome harmonic notes, Tough Old Bird's melancholically poetic lyrics conjure up visions of dusty Plains towns and Rust Belt woes.
It's a sound that feels achingly familiar but also distinctly of rural New York.
"The homespun folk of Tough Old Bird has a dark quality to it, while ultimately serving as a testament to the Corrigan brothers' synthesis of their surroundings," Ian McCuen wrote in his review of the duo's 2017 EP "Where the Great Beasts Are Buried" for the music blog BuffaBlog.
"With these songs, they've captured the essence of familiar backroads meandering."
Before Tough Old Bird sings its heart out, Nathan Corrigan talked about the makings of a good folk song, the impact of geography on music and the upcoming show in Lynchburg.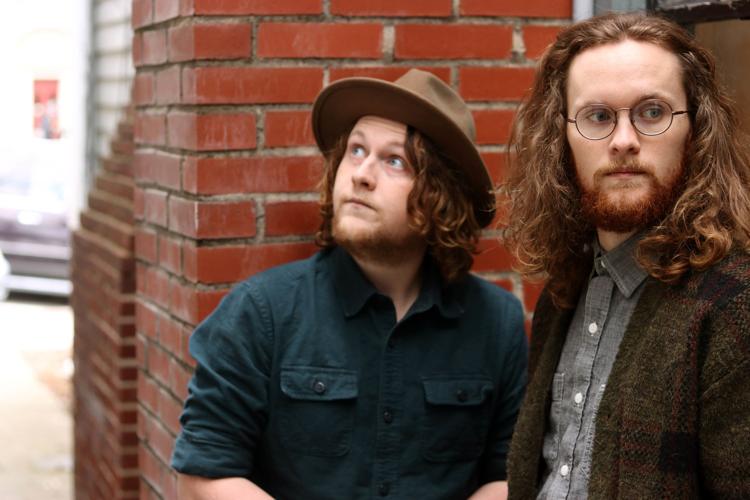 What for you makes a good folk song?
"Probably the same things that make a good rock song or a good hip-hop song — it just has to be true. Not true in the sense that it has to be strictly factual or autobiographical, but true in the sense that it comes from a meaningful place within the person who wrote it."
There always seems to be a real connection between folk music and the place where it's created. Can you speak to the relationship between your music and your hometown?
"I wonder sometimes how our music would be different if we had been born somewhere else. I suppose if you're a songwriter, or a novelist, or a painter, or an artist of any kind, the work you create is going to be in some way related to the places you come from.
"We never set out to write songs specifically from or about rural New York, but enough people have told us that our music reminds them of that place that we kind of take their word for it."
What is it like taking this very specific-sounding folk music into places with their own extensive history of folk, like in areas of Virginia and North Carolina?
"It is always interesting to visit some of the places where some of the music we love comes from, but at the same time, there's a universal quality folk music has that almost makes geography irrelevant. A lot of great folk songs use this symbolic language that anybody can understand, no matter what their background is.
"A river is a river whether it runs through New York or North Carolina, so if we mention a river in a song, everyone understands what we mean, even if they've never seen the particular river we're picturing in our own heads when we sing it. I think that universality is a big part of the reason folk songs still resonate with people."
How do you think you've evolved when it comes to songwriting since you formed in 2013?
"When we first started out, we spent a lot of time trying to write songs that were intentionally folky, which resulted in some songs that were, at best, decent imitations of folk songs, but weren't very honest or meaningful. These days it's more about writing songs that convey some truth about who we are rather than trying to write in a particular style or genre."
Your EP came out last year. Are you working on anything new?
"Yes. We're recording a new album this winter. … It's hard to say much about our next album at this point, but we're definitely going for a richer sound that incorporates a lot of new elements that we haven't used on any of our records before.
"We'll be debuting several new songs on this upcoming tour, so it's a safe bet that a few new tunes will make their way into our set in Lynchburg."