What do you get when you channel the post-punk music of a millennial's middle school days with a ton of hyped-up, garage band energy?
Swing by Rapunzel's Coffee and Books this Saturday and you'll find the answer: Charlottesville band 7th Grade Girl Fight (7GGF).
"Someone recently referred to us as 'garage pop,' which is pretty spot on," says frontwoman Debra Guy. "It's … not too overdriven or polished, it has a lot of raw energy paired up with some smart and solid musicianship. We focus [on] a lot of melodies, hooks and the overall groove of a song."
Those familiar with the C-Ville music scene just might recognize some of the faces behind the new band, which played its first show in April.
"I had written some tunes that had a faster, louder, electric flavor to them, which was a big deviation from the acoustic singer-songwriter songs I usually write and perform," says Guy, who in addition to releasing solo music also is a member of folk-rock band Help Me Helen.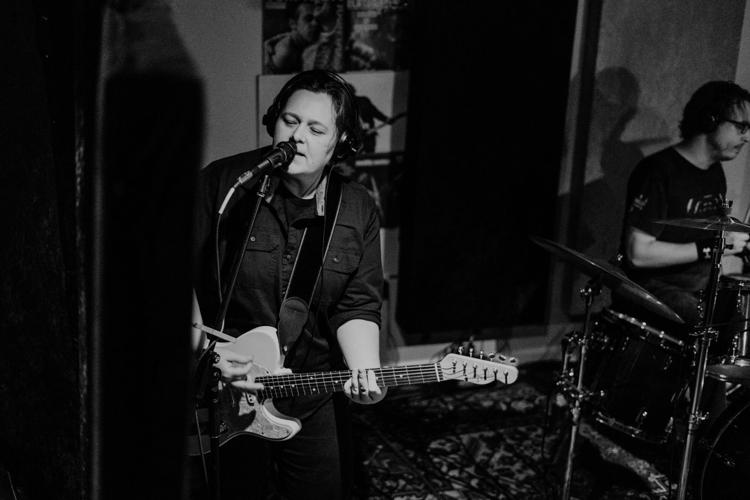 She formed the band with fellow musicians Drew Pompano, Chris Hammond and Bill Morris as a side project, but 7GGF soon became a much bigger endeavor, she says.
Over the last few months, the band, which played its first show in April, has released two back-to-back EPs, "Jump Back" and "Summer is Over," and Guy says there is already talk of a third.
"We're hoping to play more regional shows around Virginia and North Carolina as well," she says.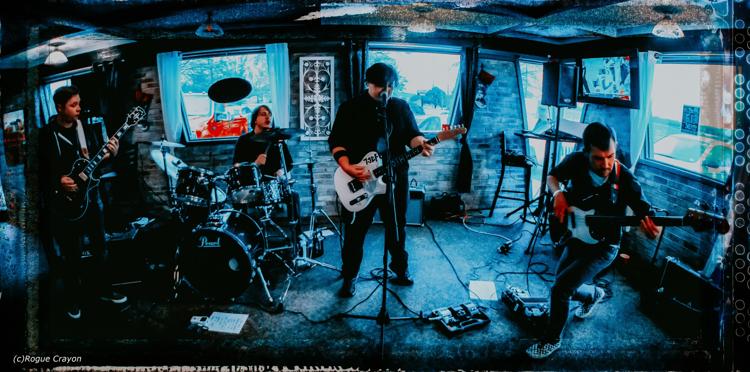 Before the show, Guy talked about middle school girl fights, the band's garage-pop vibe and its two new EPs.
So, I clearly have to ask about your name. It's quite a distinctive image, so what's the story behind it?
"A friend of mine was chatting with me about some drama between some grown women we both knew, calling it 'a 7th-grade girl fight.' I said immediately that I would name my next band that, which I say about a lot of things, but I meant it that time."
What in your mind sets a 7th-grade girl fight apart from other fights?
"Hair-pulling. Recently, my niece, then in high school, gave me some sincere and genuine tips as to best prepare for a girl fight: tie your hair back, wear sweatpants and take out your earrings. Solid advice."
How does the music you write for 7GGF differ from the songs you create for Help Me Helen and your solo work?
"The writing for Help Me Helen and my solo work are usually both personal and cathartic.  Musically speaking, I write those songs on my acoustic guitar and spend a lot of time thinking about dynamics and space for the lyrics or vocal melodies to be front and center. 
"7GGF is like a giant party, even for the more intense songs. It's more about the overall sound and energy. When writing for 7GGF, I often think of the bass, drums, guitar and how they will interplay and elevate the song."
7GGF released two back-to-back EP's this year, one in July and one in September. Why two EP's as opposed to one full-length album?
"I think most folks consume music these days in small, easily-digestible bits. I didn't really want to put out a full-length album where no one was going to listen to track 10. Honestly, if I could have done eight singles, I might have done that. 
"As a songwriter, you spend so much time and energy crafting a song. In the studio, you spend even more time tweaking, polishing and mixing. The thought that any given song would get less play because of where it is on the album order is a bummer."
Do these two EPs tell different stories and, if so, what are they?
"The four tunes on the first EP, 'Jump Back,' are the four I demoed and sent to the band which started the project. One of our initial goals was to bring those songs to fruition as a full band, and it was really amazing to hear them come to life. That EP's story is mostly a 7GGF flag planted in the earth — we're here, this is happening.
"If the 'Jump Back' EP is a flag in the earth, then the 'Summer Is Over' EP is the lawn chairs and cooler next to the flag. We arranged those songs together as a band, so it really helped solidify our sound and define the kind of music we're making. It also demonstrates our versatility — from punk to blues to mid-tempo, feel-good music, all in four tunes."