To most people, the urban beat of Blackstreet's "No Diggity" is about as far removed from mandolins and banjos as you can possibly get.
That wasn't how comedian Paul Harris saw it when he transformed the '90s R&B hit into a foot-stomping bluegrass number for his musical parody group, The Cleverlys.
Somehow, when you hear this cowboy hat-clad crew sing the instantly recognizable chorus of "Hey yo's" ("Hey ya'lls," in their rendition), you realize it works. In fact, it's kind of epic.
It's "part-bluegrass, part stand-up, and part sketch comedy," says Alex Osterhoudt, Virginia area retail manager for Bold Rock Hard Cider, where The Cleverlys are performing on Saturday. "They are true to their craft and are clearly trained bluegrass musicians, but they bring an element to their performance that is unique to the genre."
Created by Harris in 2009, The Cleverlys isn't your average cover band. The group of musicians perform countrified versions of songs like "Single Ladies" and "Gangnam Style" under the guise of being a family band from Arkansas.
Between songs, Harris' alter ego, patriarch Digger Cleverly, regales the audience with humorous stories about his family.
As Digger Cleverly tells it, his father and four uncles started The Cleverly Trio "back in 19 and 52."
He later took over the band after a stint in California, where he worked as a tech for former teen idol Leif Garrett, tuning "the E string on his guitar."
Between gigs, the family also runs an alpaca farm near Cane Spur, Arkansas, where they make everything from alpaca sausages and dairy products to woolly lingerie — though the latter hasn't quite caught on yet (note: don't bother searching for Cane Spur on Google Maps. It's fictitious, like the band's history).
While The Cleverlys' story is truly ridiculous, the success of the band is no joke.
A viral video of the group landed it a slot performing at The Grand Ole Opry in 2011.
"What's not to love about a group that staunchly believes the Top 40 would be vastly improved with the application of banjo and mandolin plucking, fiddle sawing and backwoods harmonizing?," Randy Lewis wrote when he reviewed the group's self-titled album for the Los Angeles Times' music blog that same year.
Since then, the faux-family band has toured nationally and performed at major events including the CMA Music Festival and the Telluride Bluegrass Festival.
The Cleverlys' "comic sensibilities are a hilariously off-kilter hybrid of Homer and Jethro and 'The Office,'" Stephen L. Betts wrote for Rolling Stone in 2016.
While Harris started the group with a focus on hip-hop and R&B tracks, he has since started transforming songs from other genres.
In March, the band dropped its first national label release, "Blue," which features Kelis' R&B rump shaker "Milkshake," LMFAO's "Party Rock Anthem," and the Zombies' British Invasion hit "She's Not There."
"We do Justin Bieber's 'Baby' on this record, and we disguise it so well that I don't even think he could tell it was his song at first," Harris says.
A lot of the hip-hop songs are done for the irony of it — there is something inherently humorous in Shaggy's reggae-fusion single "Angel" performed with thick, southern accents — but Harris says he still wants to do justice to every song.
"And we try not to do the most obvious ones," he adds, noting fans won't hear a Cleverly rendition of Lil Nas X's "Old Town Road" anytime soon because the song itself is already a spin on the country genre.
But Harris' goal is to do more than just get people to laugh at his rendition of The Bangles' "Walk Like An Egyptian." He also wants to offer a new take on Southern humor.
"When most people think of country or Southern humor, they think of Podunk hillbilly, black[ed-out] tooth, bow tie, that type of thing," he says. "And we want to give in to a little bit of a cliche, but also make the comedy smarter than that."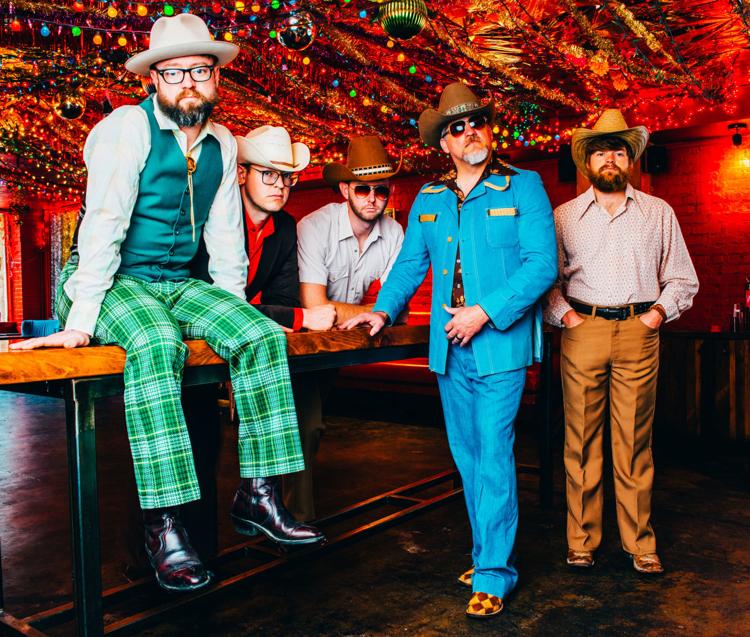 As with any band that's been around for a decade, The Cleverlys' lineup has changed as members come and go.
Over the years, the band has featured Digger's brothers Miles and Vernon Dean, whom they lovingly call "VD," as well as his sons Digger Jr. and Digger Jr. Jr. Right now, it's him and a bunch of his nephews. There's Dale Vernon Dale, VD's boy whom they call DVD, and his twin Turtle as well as Sock and Ricky Lloyd (the first 'l' in Lloyd is silent, Harris notes).
Harris attributes the turnover in part to the difficulty of the Cleverly act.
"It's not a show that you can just give somebody some music charts and go, 'Here, play this,'" he says. "They have to learn how to be a character, [and] most of these guys have never done acting or sketch comedy or anything like that, like I have in my history. So, they have to learn how to do that, and not overdo it. And then also play these really strange arrangements."
But the show must go on, and so anytime a musician leaves the group, Harris incorporates the change into the band's history: sometimes the members leave for family reasons, while other times it's a career change. Miles, for example, bowed out after being arrested for running a bloody sloth-fighting ring.
Because of this, the band's biography has become as complicated as a family tree in, well, the Ozark Mountains, but Harris doesn't plan to get rid of any of the Cleverly crew.
"I've never wanted to kill anybody off just in case we were able to work again together," he says. "And, you know, the fans seem to really fall in love with these characters."
The Cleverlys used to get a reaction simply because audiences didn't know what to expect when the band first hit the stage. But that response has changed with the group's growing success.
"It's one big singalong now," Harris says. "... Instead of leaving people dumbfounded to what they just saw or heard, people are kind of getting involved. And that shows me that we're doing the right thing."