Whether in word or melody, chaos is at the core of Prabir Trio's music.
"The chaotic wandering of the mind is more or less a state of flow of the songs," says Prabir Mehta, frontman of the Richmond band, which will perform at Rivermont Pizza this Saturday.
Comprised of three veterans of the RVA music scene, Prabir Trio — which brings Mehta together with drummer Kelli Strawbridge and bassist Russell Lacy — formed two years ago when Mehta's project Goldrush ended its run.
"This is a really good mesh of three people's musical history and performance capabilities," says Mehta, "very patient in its writing and very quick in execution."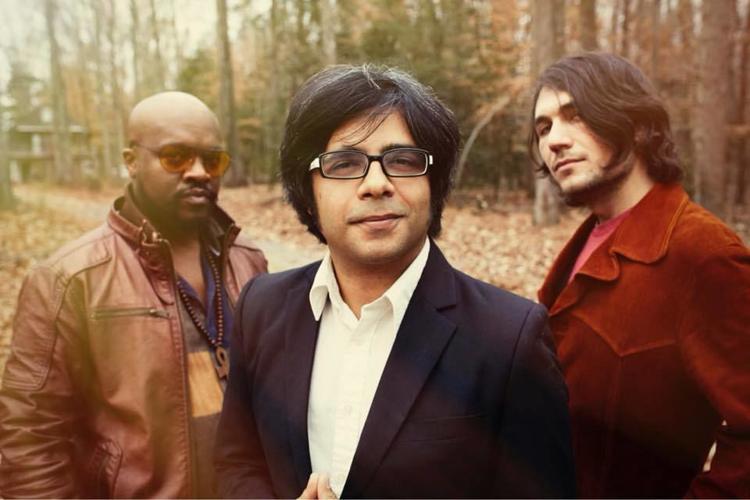 Prabir Trio — which released its first EP, "Small Town Blues," last summer — has played gigs around the Virginia region, including two previous stops at Rivermont Pizza.
"Prabir Trio are great musicians and excellent showmen," says Jeremy Fogt, general manager of Rivermont Pizza. "When I watch them it looks like they are having fun and that adds a level of joy to the whole experience."
Before the band's latest RP set, Mehta talked via email about playing without safety nets, the chaotic wanderings of his mind and the message in his music.
How would you describe the music you play?
"Part rock 'n' roll, part dance party, part political middle finger, and part '90s alternative rock stoners. Pretty sure that sums up the music as best as I can without getting boring genres involved."
In the band's bio you say that you write and record music "without safety nets." What do you mean by that?
"There are a lot of moments where we go into parts of songs unaware of how we are getting out and back to the song, but Kelli and Russell have superb performance skills, and the three of us can use our notes and rhythms to communicate our way out of chaotic improvised sections of songs. It's not a jam band at all, but there are a few moments in a song or two where it's completely open form and we tend to find our way out by listening and locking in together. No safety nets, no problem."
You've said your music is a classic pop structure "rooted in chaotic wanderings of the mind." What do you mean by the chaotic wanderings of the mind?
"We have songs that meander through different parts without concern to what just came or what comes next. The lyrics are often literal rants in my mind that somehow have made it onto paper and into a song. …The music and lyrics in this band are like a stroll through the mind and a busy street all at once. Distractions, purpose, drive, memorable moments, looking into one window then another to find two totally different stores, but they're still on the same walk. Perhaps this answer too is a chaotic stroll."
Your first EP, "Small Town Blues," came out last year. What is the album's story?
"'Small Town Blues' is a four-song EP [that] acts as a sample of this lineup's music. We'll release more in the future, but these four songs fit together well and gave a good snapshot of the band's vibe."
In listening to "Small Town Blues," your songs cover a wide expanse of topics, ranging from politics to evolution to drugs to romance. Is there a rhyme or reason to how you choose the topics you explore?
"It's all a part of that chaotic wandering. There are many topics to dig into, but they still end up being rooted in the age old phrase of 'sex, drugs, and rock 'n' roll.' I thought it would be time to sing about policy, plants, evolution, and you know, bus systems in addition to the usual stuff that a songwriter can't easily escape like sex, drugs, and rock 'n' roll."
How do things like policy, plants, evolution and bus systems connect back to sex, drugs and rock 'n' roll?
"Well, that's going to require more chaotic thinking! Evolution and sex go hand in hand really. It's all about people and how we do what we do. Policy and plants share so much common space with drugs; I think Peter Tosh and Carl Sagan would agree on that one. Bus systems? Yeah, that's a good one."
What are you trying to convey in your lyrics? Is there a certain kind of approach you take when you write them?
"I try really hard to be a practical writer but I just can't do it. If it's on my mind it ends up being sung or screamed suspended between some chords that feel right. What am I trying to convey? I'm not sure if I'm doing this with any agenda other than to really get them out of my head and into a microphone. What happens past that is hopefully up to the listener, but for me these are just thoughts that I want to share."