Although he started playing violin at the age of 5, David Glover always dreamed of being a conductor.
"I saw a symphony concert on TV and then just started imitating the conductor all over the place," says Glover, 37, "just waving my arms around wildly."
The musician's lifelong ambition came true earlier this year when the Lynchburg Symphony Orchestra named him its new music director and conductor.
"David has an incredible musical background and also knows best practices for how larger orchestras function, which helps to elevate the level of professionalism of the LSO," says Executive Director Erika Mork.
Glover's leadership will be on full display this Friday when the LSO kicks off its new season with "Beethoven @ 250."
"Being the musical director and the conductor are different hats," says Hugh Ballou, president of LSO's board of directors. "Somebody could step in and direct a concert without understanding how to fill the ensemble ... [but] it takes somebody gifted to not only learn the notes but be able to rise above playing the notes and do that special, special thing that makes musical groups sound like they play together."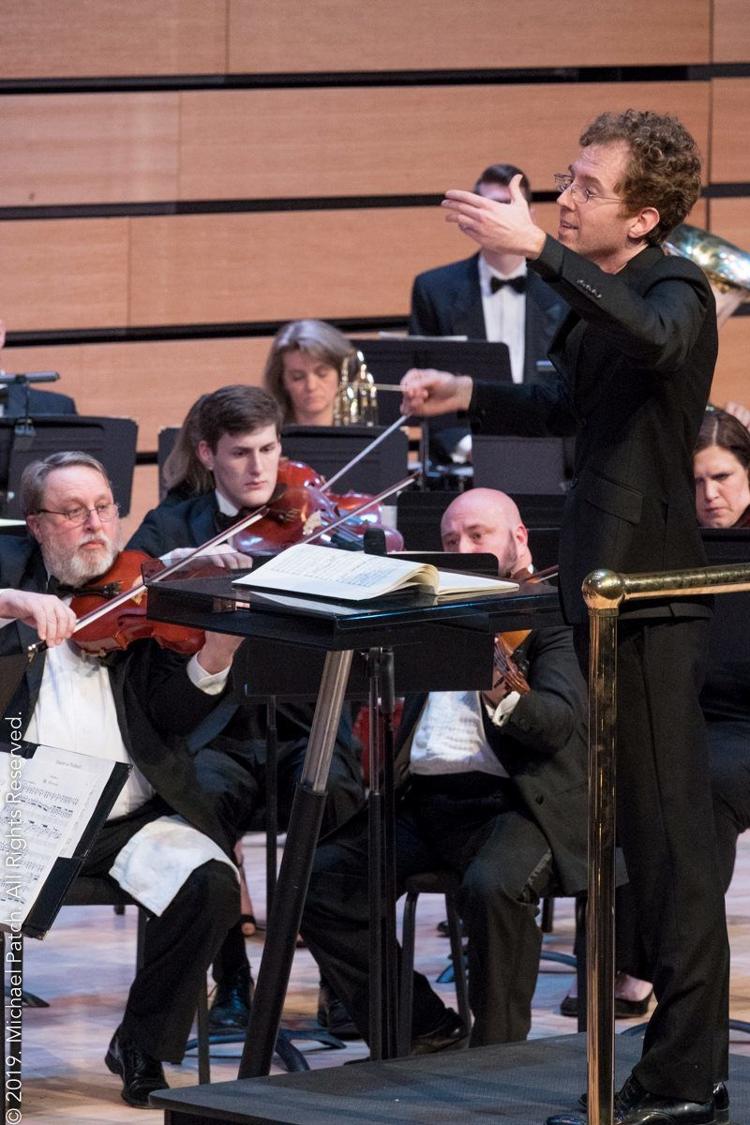 Even as a baby, Glover had a connection to classical music.
Every time Mendelssohn's "Italian Symphony" or Schubert's "Trout Quintet" would play in his childhood home, a 2-year-old Glover would run over to the speaker.
"There was the one specific place in the Schubert that, especially, I would run over to the speaker at," the music director says. "It was a passage that happened twice, and the first time, my favorite part didn't happen ... so I would only be running to the speaker the second time it happened, like I was counting."
Glover's passion for classical music only grew with age as he earned master's degrees in violin and conducting and worked with the Indianapolis Symphony Orchestra and the North Carolina Symphony.
Glover, who is married to Lynchburg native and North Carolina Symphony violinist Emily Glover, has also served as a guest conductor with various orchestras, including the Charlotte Symphony and the North Czech Philharmonic, and has worked with artists ranging from Pulitzer Prize winner Caroline Shaw to the band Chicago.
Earlier this year, Glover conducted LSO's concert with Grammy-winning cellist Zuill Bailey, a concert that helped cement his new position with the orchestra, Ballou says.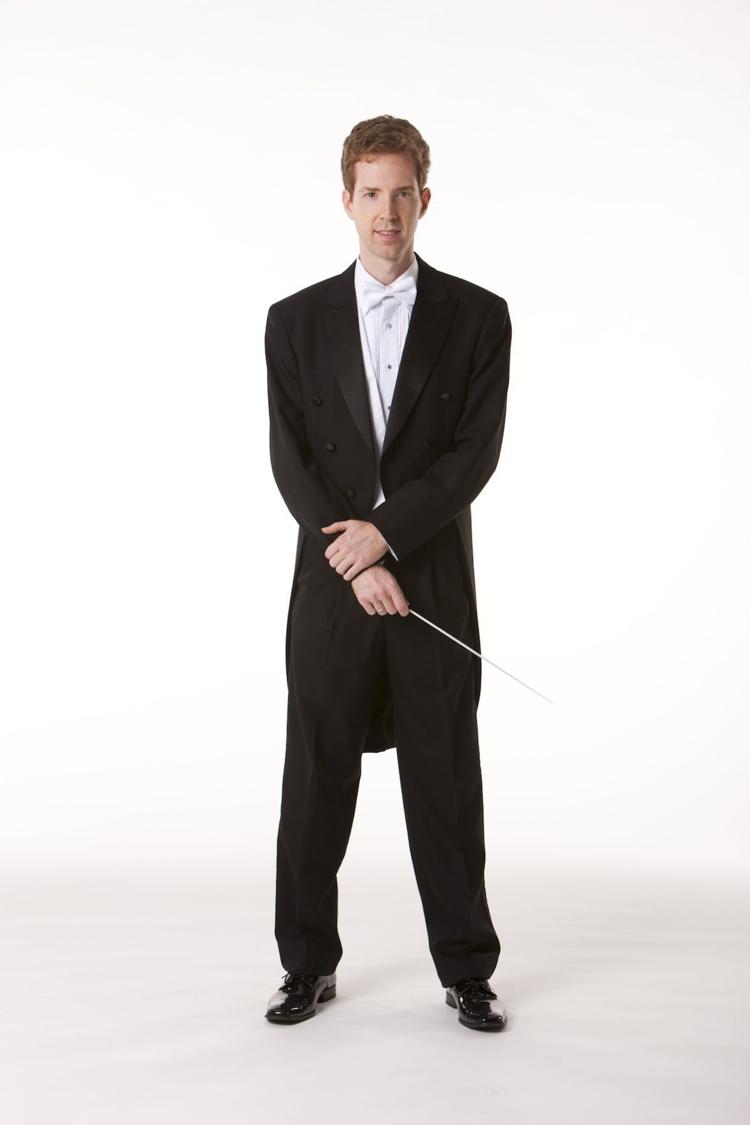 In his new role with LSO, Glover, who also serves as the artistic director of the Philharmonic Association in Raleigh, North Carolina, will not only conduct concerts. He also will plan the orchestra's season, nurture its performers and guide its educational and community outreach programs, which makes his role crucial.
Mork says Glover's level of expertise and personality will go a long way in helping LSO grow.
"He is very knowledgeable, inspiring and engaging," she says. "It's a joy to hear him talk about music, which is something that will enhance the concert experience for both our patrons and performers."
Before he picks up his baton, Glover talked about the role of a conductor, his interest in educational programs and the importance of Beethoven.
Why were you always interested in conducting?
"I love shaping the music, thinking about what it is about the music that makes it really work and really be effective. What the interpretation is that will get to the essence of what the composer is trying to say. And the orchestra is the biggest canvas where I can do that. It's where you can make like the boldest musical statement. It has the most people, the most colors, the most varieties of sounds. So, I think I gravitated toward the orchestra as my instrument to be able to express those things and to be able to think about those things in music that are most important to me."
How would you describe the role of a conductor?
"Maybe the simplest way to describe it is that it's the conductor's job to be the music. So, that is to physically inhabit all of the elements of music: the tempo — which is maybe the most obvious thing you see through the stick — but it's also ... what is the character? What is the mood? What is the emotional content of the music? You're doing all those things at once. And, I think, if you do it right, that's what you're doing: You're the physical representation of everything about the music at any moment."
What do you consider when planning a season as music director?
"There's so much to consider. I think about what pieces will suit the orchestra well, what pieces will challenge us in a positive way, what I think the audience will like and how long it has been since the orchestra last played a given composition. There's the matter of instrumentation, how many players it will take, how many rehearsals it will need and how expensive it is to purchase or rent the music. ... Basically, all the things that have an impact on budget. Then, I also need to take into consideration the balance of the season in terms of classical versus non-classical pieces and the different styles of music presented. Finally, there is the matter of guest artists, and finding the right distribution there. For example, since we only have five concerts a year, we wouldn't want to have two piano soloists on the same season. It's important that we have variety."
Is it challenging to do that or is it where symphony orchestras are heading these days?
"The mixing is where it's headed. I think one of the questions is do you mix it on one program? Do you mix it on different programs within one season, so you have an all classical concert then you have an all pops concert and an all movie music concert? I think some of that is feeling out the audience, and every location is always a little bit different. ... So, some of the first year or two with the [LSO] is also me getting to know the audience in Lynchburg."
LSO's first concert this season is a celebration of Beethoven in honor of his 250th birthday next year. Why start with this?
"[He's] probably the most famous symphony composer of all time. The Fifth Symphony, it's so recognizable too. It's used on ads, it's part of pop culture — people have used it on pop songs — so I think a lot of people recognize it when they hear it.
"... It's really amazing that the Fifth Symphony is over 200 years old now, that it still has the power to grab us with those first four notes and practically send you flying out of your seats with the intensity and emotion that he gets out of the music."