You've heard the expression everything old is new again.
Scott Bradlee's Postmodern Jukebox does exactly the opposite, making everything new old again.
The music collective, which headlines the Academy Center of the Arts' 2019 Gala on Saturday, has become a global sensation by transforming contemporary hits into vintage tunes.
Under the direction of bandleader and arranger Scott Bradlee, PMJ — as it is known by fans — takes everything from Taylor Swift's "Shake It Off" to the "Titanic" theme song and reworks them using different throwback genres like 1920s ragtime, jazz and Motown.
"One of the reasons we chose them [for the gala] was that we really felt that their appeal will be really broad," says Academy Executive Director Geoff Kershner, calling PMJ a phenomenon of the internet age.
"We feel that our older donor base will really love listening to the music, but our younger audience that's been building is really going to love it because they've been introduced to it on viral, social media means."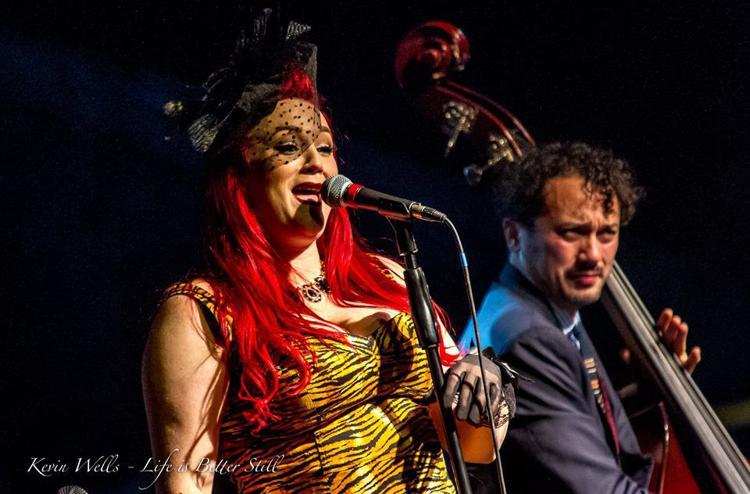 PMJ began less as a vision for a full-time gig and more as a creative exercise.
In 2010, Bradlee, a pianist by trade, posted a rendition of Lady Gaga's "Paparazzi" to YouTube.
The video got a few thousand views, and so Bradlee continued to record arrangements with musician friends at his apartment in Astoria, New York, (they're now shot at a French country estate in California nicknamed PMJ Manor) and post them online.
The first taste of PMJ's future success came in 2013 with a 1930s ragtime remake of Maclemore's "Thrift Shop" — a video that now has more than 15 million hits.
"None of us expected that much from the video, but I knew it was something great, and anticipated getting 10,000 views or so," Bradlee recalled in his history of PMJ, which is on the group's website. "I was wrong. Instead of 10,000 views, it racked up 100,000 views overnight."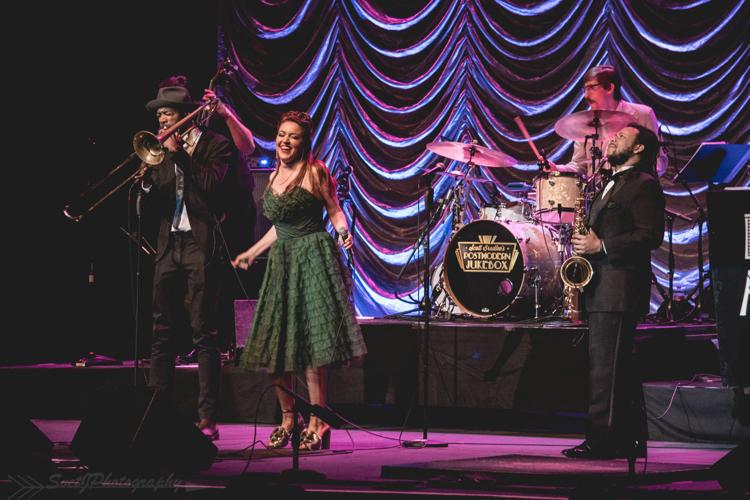 It also gained attention from Buzzfeed, The Wall Street Journal and The Huffington Post.
The success continued that same year with a doo-wop romp of Miley Cyrus' "We Can't Stop" and an end-of-year tribute to 2013 music — all arranged by Bradlee — filmed at the New York offices of Cosmopolitan magazine.
"He really does stylize the song absolutely perfectly down to the notes and orchestration to whatever musical genre he's trying to achieve," says Therese Curatolo, one of the newest vocalists to join the PMJ family. "He is the complete, full opposite of a one-trick pony."
Since then, there's been a torch ballad of Radiohead's "Creep," a toe-tapping cover of Rihanna's "Umbrella" that featured actual tap dancers and a New Orleans funeral dirge performance of The White Stripes' "Seven Nation Army."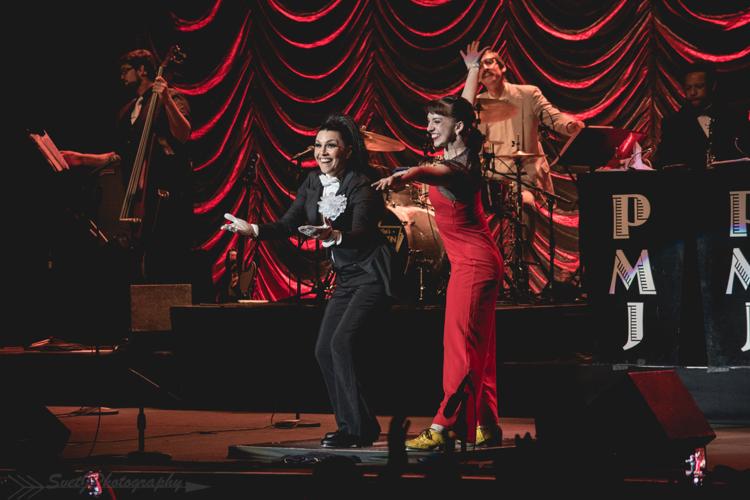 In March, Curatolo, who will appear in the show at the Academy and is also part of the collective's fall tour across North America, made her official PMJ debut singing a makeover of Paramore's "Misery Business."
The video, which features a guitar solo by Animals as Leaders' Tosin Abas, has drawn more than 650,000 views in the five months it's been online.
PMJ's fame has only grown. In addition to press from NPR, Billboard and Time magazine, it's had a TV spot on "Good Morning America," a special on PBS and a performance at The Kennedy Center.
PMJ's YouTube page has more than 1.2 billion views, and the group's 4.18 million YouTube subscribers eagerly await what hit will be covered next (a new video drops almost every Friday on the video sharing site).
"It's fun just watching the inventiveness of it," Kershner says. "Just watching the brilliance of identifying where the present and the past can tie together."
The group's songs have earned approval from Beyoncé, Adam Levine, Meghan Trainor and Gwen Stefani, all of whom have had their work covered.
The project has also led to sold-out tours on six continents and more than 20 albums, the newest of which, "Jazz Age Thirst Trap," dropped in June.
Tunes on the album include a bluesy rendition of Lil Nas X's "Old Town Road," a '70s roller disco version of Jonas Brothers' "Sucker" and a tango cover of "Bad Guy" by Billie Eilish; Curatolo's '40s-inspired jazz cover of "Misery Business" is also among the 11 tracks.
"The musicians on this tour kind of look at this arrangement and go 'I'm sorry, what? This is insanity,'" says Curatolo, who performed as a vocalist with Cirque Du Soleil before joining PMJ. "It's so much fun to perform, but it's a beast of an arrangement."
Almost a decade after it began, the collective now has a rotating cast of more than 100 members, including an array of guest musicians, tap dancers and vocalists.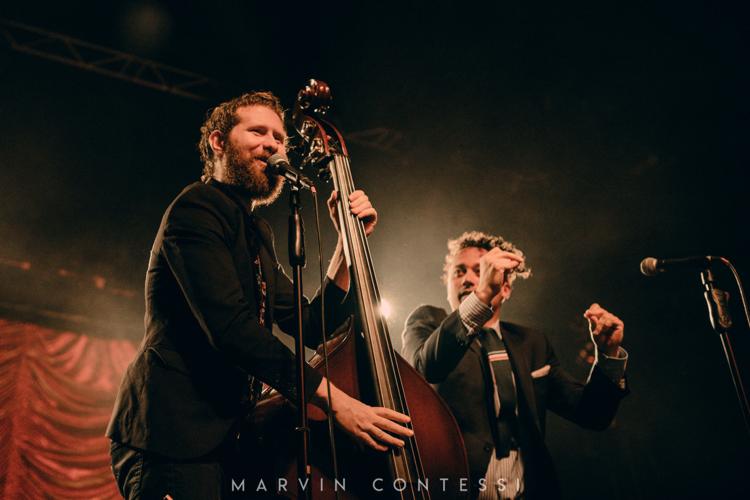 Broadway star Shoshanna Bean, comedian Wayne Brady and entertainer Puddles Pity Party — the depressed Pagliacci-style clown who appeared on "America's Got Talent" in 2017 — as well as several "American Idol" finalists have all taken their turns performing with PMJ.
With so many clamoring for a chance to join this ever-evolving and revolving cadre of first-class musicians, audiences never know what to expect.
And that, says Kershner, is part of the fun.
"There's a bit of excitement of what will we see?" he says. "What songs are we going to hear? What are they going to pull out of their pocket?"
Before the collective takes the Academy audience on a musical hop through the decades, Curatolo talked about the continuing appeal of PMJ, her favorite style to sing in and the musical arc of "Misery Business."
What was the first Postmodern Jukebox video you remember seeing?
"I didn't see one in particular. I heard about the band because I had so many mutual friends involved in the Los Angeles musician circuit. I just went on the YouTube channel and I think I lived there for 16 hours. I watched every single video and I was like, 'Holy moly, this is gold.'"
What do you think it was that turned PMJ into this worldwide sensation?
"I think it's a blend of Scott Bradlee's timing on YouTube [and] a blend of his musical genius. It goes so far beyond taking a song [and] recycling it with a vintage flair. ... He hears things with such a unique ear that he can make something so relevant and so modern and rewrite it and make it something brand new. ... He has something so very special and unique. And not only with him but the singers that he chooses, the dancers, the visual aspect — the decor, the costuming — and then, the musicianship of everyone he surrounds himself with, it's just a fully functioning marvel. It's a unicorn."
What are the range of genres PMJ is covering at this point?
"Some songs he likes to keep super vaudeville, super jazzy. Sometimes he even throws it back to the '20s. And then, some songs he turns into like a '50s doo-wop or a '60s trio of three women, and it sounds like the Supremes. Just recently, he did something in the vein of yacht rock [similar to soft rock], and I think two videos ago he did an NSYNC song and he did it in the style of the Beatles."
Do you have a favorite of the genres that you like to sing in?
"I'm partial to the jazz and the doo-wop, but I've made Scott promise me that I do get to do yacht rock at least once."
What can you tell me about working on "Misery Business?"
"We didn't choose an easy first song, but it's great. It's very, very rewarding onstage. It gets everybody super riled up in a good way. And the best part about this arrangement is that, Scott, in his fashion, he didn't leave any stone unturned as far as what flavor, what style he wanted to add to the song.
"There's a moment where it turns into a samba. Then we have a dream-like ballet sequence where it goes kind of into this Disney princess moment over the bridge. ... He brought in Tosin Abas, who shreds on the guitar for like a solid 30, 35 seconds — blows people's faces away — and then I come back in. We tone it down for a second and then we rev it right back up all the way out."