For years, Jeremiah Lloyd Harmon hid in plain sight, buried under layers of lyrical complexities and various stage names.
"I think I was hinting at more of a broad sense of belonging," the singer says during a phone call ahead of his performance at the Harding & Main Fest in Lynchburg on Saturday. "I think I was very much in a different mental space."
After coming out to the world on national TV during the most recent season of "American Idol," Harmon's days of hiding are over.
"As anyone ages, they tend to get comfortable in their own skin," says Nathan McGlothlin, who released Harmon's first EP through his Lynchburg-based label, Harding Street Assembly Lab. "Jeremiah is at an age where he is really determining who he will be in this world. I think you hear him coming to terms with who he believes himself to be."
The son of a pastor and a former staple in the Hill City music scene, Harmon, 26, originally moved to Lynchburg after landing a gospel choir scholarship through Liberty University.
He eventually dropped out of school and released his self-titled debut EP through Harding Street Assembly Lab in 2017.
It's hard to pin down musician Jeremiah Lloyd Harmon, in part because he's constantly transf…
Although Harmon moved to Baltimore a few years ago, the singer has remained a presence in the area, returning to perform and keeping up with his local fans.
Earlier this year, his fan base grew to include those around the country when he placed sixth on the 17th season of "American Idol."
Harmon made an impression with his initial audition, when he sang an original song, "Almost Heaven."
The song, which explored his struggle navigating his Christian faith with his identity as a gay man, received praise from judges Katy Perry, Luke Bryan and Lionel Richie, who noted his voice, range and songwriting capabilities.
"There's definitely a few places [on the EP] where things felt more complicated on purpose," says Chris Schlarb, who produced Harmon's 2017 EP for Harding Street and is releasing the singer's first full-length album, "Namesake," on his own label, Big Ego.
"There was a really beautiful simplicity to 'Almost Heaven.' It was a beautiful piece of music that felt almost more mature, almost like he got some of the gnarly stuff out of his system."
Viewers criticized the show when Harmon failed to make the top 5; a poll by prediction website Gold Derby revealed 82 percent of fans disagreed with the decision.
But Harmon didn't slow down after being cut.
"I had already started recording my album while I was on the show," he admits. "Literally, the next day, I went to Long Beach to go back to the studio and started working on the album."
Because Harmon has shed the musical skin he once veiled himself in, the music on "Namesake" is different than previous releases.
"At some point, you're just so enthralled by how complex something can be," says Schlarb, who is based in California. "You strive to accomplish that and when you do, sometimes you realize that the beauty of music is not in the complexity."
"Namesake" has more of a pop ballad structure, with orchestral arrangements that allow for large, grandiose displays of musicianship as well as smaller, more intimate moments.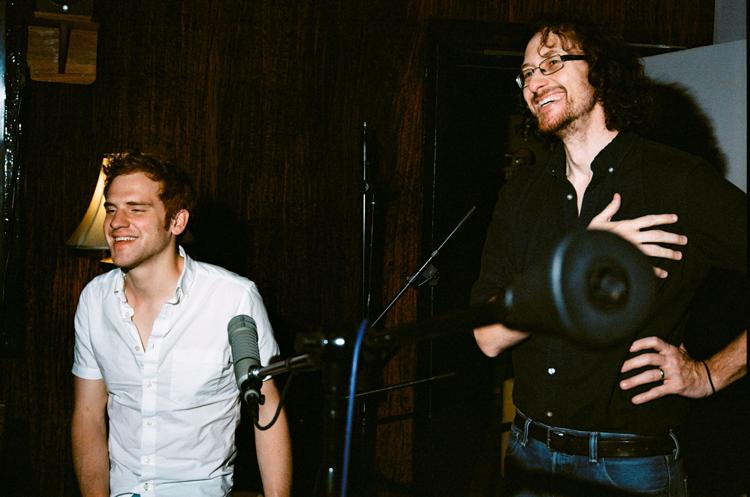 "The [EP] we put out with him, that's like a bachelor's degree," McGlothlin says, calling the new album gorgeous. "This is like his master's thesis."
A taste of this more mature sound can be heard on Harmon's single "Learn to Love," which he released through Harding Street Assembly Lab last August.
With soaring notes and an elegant yet simple arrangement on piano and cello, the song highlights the expressiveness and expansiveness of Harmon's rich vocals.
"It's very thoughtful music," says Schlarb. "It's, I hope, very timeless music."
Using his newfound fan base, Harmon launched a Kickstarter campaign in August for this album, which met its fundraising goal in under two weeks.
"It was fully funded by fans, and I thought that was a cool statement about where the actual power lies with music," says Harmon, who turned down the opportunity to work with a major label in order to keep working with Schlarb and Big Ego.
Harmon's time on "American Idol" has permanently changed his life, the singer says.
The TV show, he says, placed lot of attention on his sexuality. In fact, online LGBT publication Queerty named Harmon one of "50 trailblazing individuals who actively ensure society remains moving towards equality, acceptance and dignity for all queer people."
And while Harmon acknowledges how important his time on "American Idol" has been for the LGBT community, the singer says he wants his music to resonate with everyone.
"I just wanted to tell my story in my own way and give a platform for my music," he says. "That's really all it comes down to at the end for me: my music."