When you hear the word ukulele, you likely picture sandy beaches, colorful flower garlands or even the lilting chords of Israel Kamakawiwo'ole's "Over the Rainbow."
But Feral Ukuleles, which plays a show at Fifth & Federal Station this Saturday, isn't going for any aloha vibes.
"We do not play 'Tiptoe Through the Tulips' [like musician Tiny Tim]," says Glenn McGrath. "We do not even play any Hawaiian songs at this point."
Instead, Feral Ukeleles play what McGrath describes as "a kaleidoscope of music" based on the group's eclectic interests.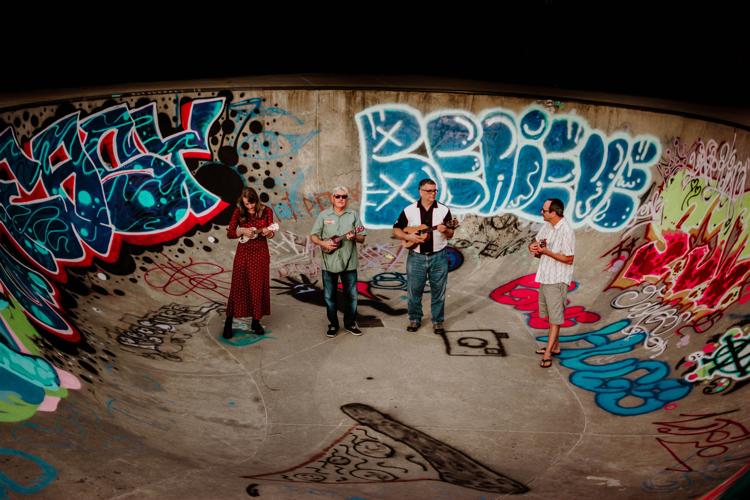 The line-up that will perform this weekend has only been around since the spring, though there have been other iterations in the past, says McGrath, retired vice president of Centra and founder of the Lynchburg ukulele quartet.
"I was burned out on the trauma of a five-piece rock 'n' roll band," says McGrath, who previously played in local rock group Blue Newt Band. "... The ukulele thing just sort of seemed like a laid back, happier thing to do."
McGrath hasn't completely let go of rock 'n' roll.
In addition to performing some original tunes, Feral puts its own twist on songs by Death Cab for Cutie, Neutral Milk Hotel and even a few rockabilly standards.
"Our ages range from mid 20s to early 70s and that influences what we choose to play," McGrath says.
There's also a bit of rock in Feral's instrumentation, including a bass ukulele, which produces a sound as low as an upright bass, says band member Amelia Harrington.
"It's really low," she says. "You wouldn't associate the sound with ukulele immediately."
Meanwhile, Harrington plays an electric ukulele, which allows for distortion just like an electric guitar.
"You can't exactly emulate a regular rock band song with four ukuleles, but ... it's a lost cause to try to sound just like the original. I've always had the philosophy [that] covers are going to sound better if you make them your own."
On Feral's version of "That's Alright Mama," a song made famous by Elvis Presley, McGrath sings the first verse while Harrington sings the second, followed by a duet on the third. There's also a harmonica solo in place of the fourth verse.
When it comes to original music, the job often falls to Harrington, the band's youngest member at 23.
Harrington, who is earning her MFA in poetry at Randolph College, says she likes to adapt famous poems into songs. So far, she's set works by E.E. Cummings and Edna St. Vincent Millay to music.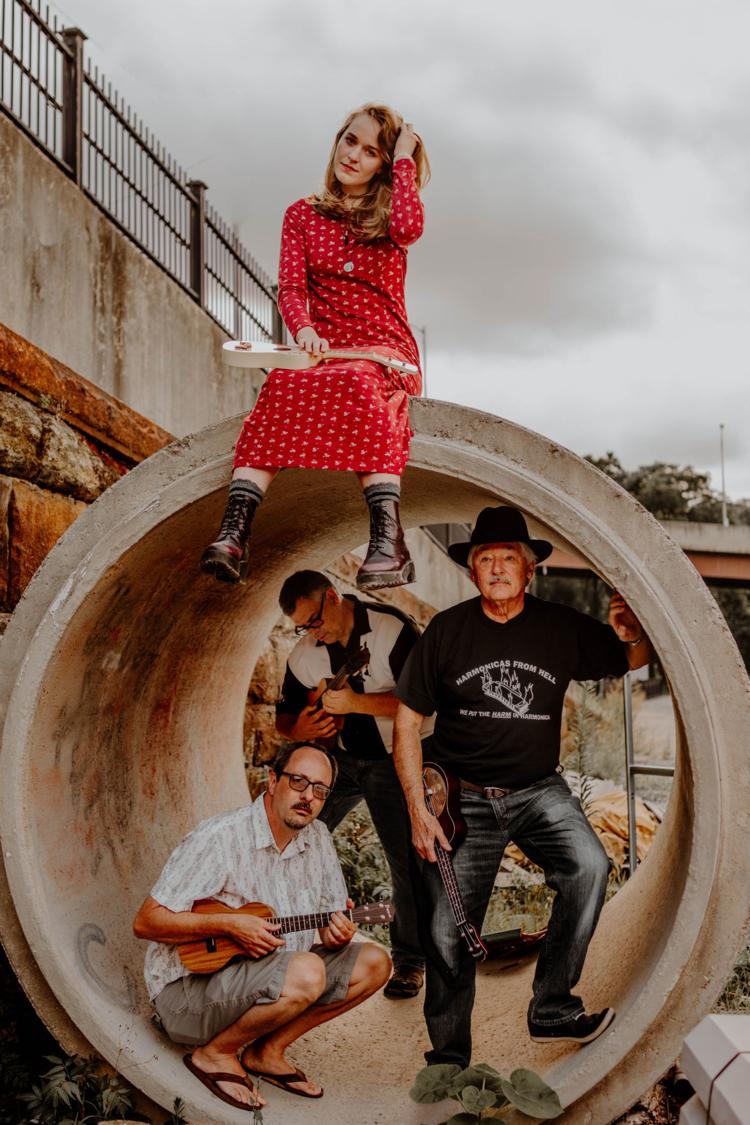 She also finds inspiration from outside the world of poetry. At the moment, she's been turning tarot card readings into songs.
"There's a lot of uncertainty in the world and especially about the future," says Harrington. "It's comforting sometimes to spend time with these systems that can help us think through our futures and our presents."
This broad range of music is what makes the name Feral Ukuleles a perfect fit for the group, says Harrington.
"There's this implication that the sound was once domesticated and has returned to its wild state."