With a name like Dr. Bacon comes an expectation of greasy grooves and musical medicine — an expectation its members relish.
"We appreciated the juxtaposition of a medical doctor who prescribed patients greasy fried meat to treat ailments," members of the band wrote in an email interview they participated in together last week.
Originally founded as a three-piece in Boone, North Carolina, Dr. Bacon moved to Asheville, where, due to a changing lineup, it grew in size and musical stylings.
"The Asheville music scene has shaped our sound by providing a funky climate of weirdness in which we can craft our strange sound," members wrote. "Asheville definitely infused a measure of funk/jam/rock in our sound as soon as we moved there."
Now Dr. Bacon, which plans to release its second album, "Fast and Loose with the Essentials," this spring, has seven members who jam on everything from harmonica to saxophone to lap steel guitar in what the guys described as a "non-traditional funky roots rock."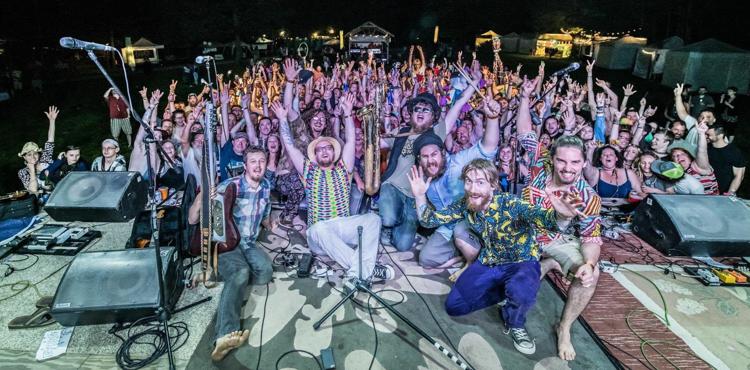 "It's funky, soulful, jammy — no holding back," says Josh Read, co-founder of Fifth & Federal Station, which is bringing the band to Lynchburg for a concert on Saturday. The group previously played at the barbecue joint for its two-year anniversary last year.
"They just groove as one unit so well with so many different instruments simultaneously."
Before the show, the Bacon boys talked about the combination of Appalachian and rock, what having seven members is really like and their wild shows.
I read there were other names at one point, including Dr. Banana, Master Bacon, and Kate BaconSale. When did you land on Dr. Bacon and why?
"Absolutely, we tried a bunch of names Jethro Tull-style in the beginning, gigging under different aliases until it became clear that Dr. Bacon was more memorable and fitting than the others. Dr. Bacon hits the band name sweet spot: it makes people smile or laugh when they hear it but still has the potential to be taken seriously once they realize that we aren't only joking with the music."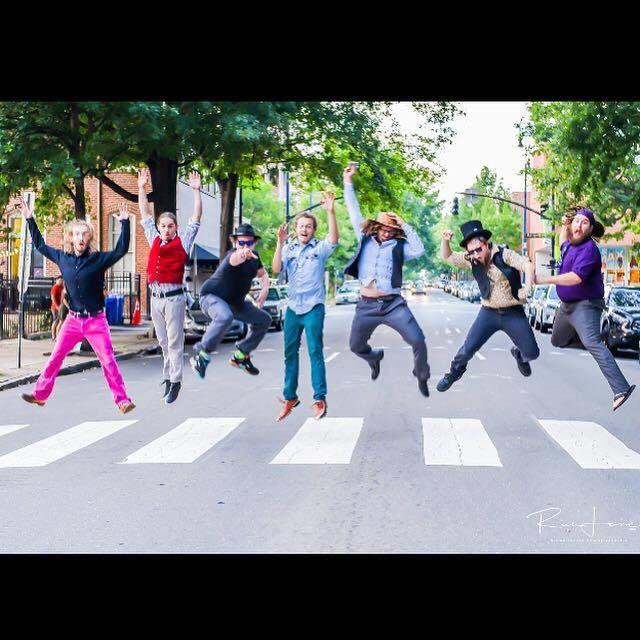 Does Appalachian and funk rock go together like peanut butter and jelly or did it take a bit of work to make those styles mix?
"It took a while to get the blend right, but that sound seems to come naturally to us now. We were able to ease into our style that we have now through a thick fusion of sounds and instrumentations that have influenced the past and present band members, along with a healthy amount of musical compromise and cooperation."
Does having seven members in the band have anything to do with the genre-bending sound you produce?
"Totally. Seven heads produce a lot of ideas and Dr. Bacon is about harnessing as many of the best ones as possible and using them to sculpt our arrangements. It's all about teamwork and compromise, and working together to build something using the different materials, influences and skills we each bring to the table."
From what I know, you like to put on a pretty raucous show. What does that involve? Why do you like to bring so much energy?
"We do. It's high-energy music. Our tunes demand a level of energy from the performers in order to work correctly. If ya aren't sweating, ya aren't playing the song quite right. We also like to bring this level of energy so that we might inspire the crowd to match our enthusiasm, creating an exchange in energy between us and making a better experience for everyone. This exchange always keeps us coming back for more as performers and is one of the coolest feelings describable."
How important is bacon to a healthy musical diet?
"It's important to take regular care of your soul. A daily serving of Bacon is absolutely doctor recommended."