When Sam Andrews formed Audacity Brass Band (ABB) with fellow Longwood University music student Tyler Gage in 2014, he received a lot of flack.
Among the complaints was the wild, party energy of the music the group was creating, and crowds especially hated the cursing in their lyrics, Andrews explained in an email.
"When we first started, some people thought that we should be more like the school jazz bands," he added.
Instead of moping, Andrews channeled his feelings into what would become the 10-piece band's anthem, "Brap Attack!"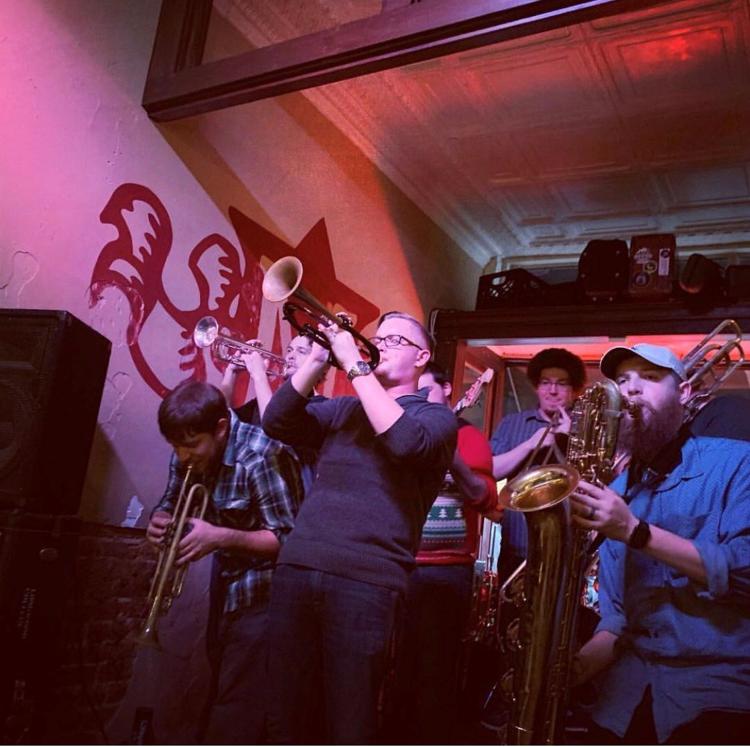 "If you want Kenny G then you want soft jazz/The stuff is lame, well cool don't give no sass," Andrews raps on the track in what has become the group's signature style, dubbed "brap" (that's a combination of the words "brass" and "rap" in case you missed it).
Five years after starting the group, no one is complaining about ABB, which plays a free show at Beale's Beer in Bedford on Saturday.
"We started out playing at events on campus like Spring Weekend, Oktoberfest, and [Longwood University radio station] WMLU's Battle of the Bands and eventually worked our way off campus," Gage wrote in the same email.
It's only grown from there.
Just last month, one of the songs on the band's new album, "The Chemically Imbalanced," was featured on Relix Magazine's April/May sampler CD that accompanied its "50 Years of Jazz Fest" issue; the playlist is also available on Spotify.
"We were looking for artists that had that authentic New Orleans sound and Audacity Brass Band had just that," Connor Falvey, Relix's manager of business development, wrote in an email. "... Even though they aren't from New Orleans they have the spirit and energy of a party band you would find playing top-notch venues in The Big Easy or marching down Bourbon or Frenchman Street."
Following a summer tour that spans from Baltimore, Maryland, to Myrtle Beach, ABB will play a set at Lockn' Festival in August as one of this year's Rockn' to Lockn' winners.
Dave Frey, co-organizer of Lockn', said the group, which recently moved from Farmville to Richmond, competed against 200 other Virginia bands to earn one of three spots in the lineup.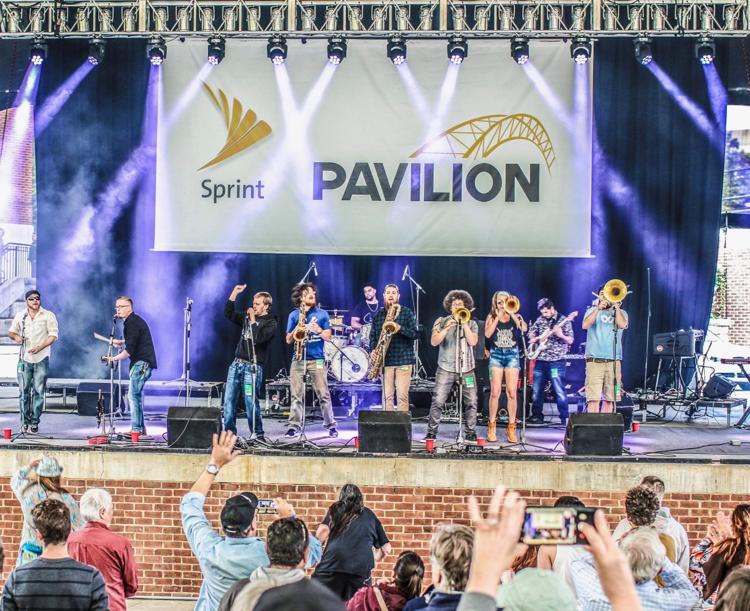 "There's other brass bands out there, but these guys, their energy was infectious," said Josh Read, co-owner of Fifth & Federal Station, who saw the band perform during Rockn' to Lockn' and has since booked them for a show on June 7.
"The way they play and the spirit behind the music and how they all groove together, it's something special to behold for sure. They bring a sort of young, but really unique, talented sound that is impossible to replicate in a normal band."
Before the show at Beale's, Gage talked about the band's approach to jazz, incorporating rap into jazz, and winning Rockn' to Lockn'.
Audacity is such a great word. Why include it as part of your name?
"When Sam and I were in the beginning stages of planning out the band, we were music students at Longwood University. At the time we were taking a composition class and using the cheapest (worst) recording software we could find because we were broke college kids. That software was called Audacity. We said it as a joke at first, then when were heard the direction of the music going into a nontraditional form of brass band music, we decided that it was a great name."
I love how you described yourself as "shiny heavy metal" at one point. What is Audacity's approach to jazz?
"When people think of jazz, your mind immediately goes to the Big Band Era. But every jazz artist was always looking for that new place to go. It's like that in every style of music, musicians have so many different influences that change the direction of their sound.
"With Audacity having 10 members, we have a huge variety of writing styles. We may have started with the intention of being a traditional, second line brass band but with the addition of a bass player and all of these musicians writing, we have been labeled as a new wave New Orleans-style brass band, much like the nu wave of alt-rock and heavy metal music in the '90s. Still the same concept, but it has so much more thrown in with it."
Where does the rap come from? Are you going for that jazz rap of the '80s and '90s or something else entirely?
"I think that the rap is one of our truest tributes to New Orleans. America's music was mostly started from the African-American culture; jazz and rap. All other forms of American-born music come from that, and when we started to place more funk into the music, it fit very easily. Sam Andrews and another one of our original members, Andrew Bentley, are huge rap fans, so it made it easier for us to incorporate it because they knew the history."
How do you balance so many points of view and streamline them to produce a consistent, energetic sound?
"I think this is what really sets us apart, we have so many completely different backgrounds in the band it really makes us who we are. You can hear it onstage too. When each member solos, you can hear where they have come from and what is going on with them now. There will never be a moment that you can see into music better than when they are improvising a solo. Every single part of their being is right there, and I don't ever want to balance that or try to control it.'"
You were one of the Rockn' to Lockn' winners this year. What's that feel like?
"We are crazy excited for it. Any musician that would shrug off this opportunity is a lunatic. We have been putting in some serious work for years in Charlottesville. ... It was an honor to look out over that crowd in the [Sprint] Pavilion and see so many familiar faces and our logo across so many shirts. We write the music because that is what we do, but we travel, cram into small hotel rooms, sleep five hours a day and go nonstop because of those people out there."
Will Lockn' be the biggest stage you've played on? Will it be the biggest crowd you've performed for?
"A few of us have been in some touring bands prior to Audacity, but I do believe this will be the biggest show for any of us. I know it is going to be the most memorable."