Growing up, high school battle of the bands rivals turned folk-rock friends Ryan Green and Cameron Hood had two different approaches to electric guitar.
"Ryan played shred-heavy progressive rock, and I played more lyric-focused 'desert rock,'" wrote Hood in an email ahead of the duo's performance at Bedford Central Library on Saturday.
The musicians, who make up the duo Ryanhood, later "discovered the intimacy and immediacy of acoustic instruments," but — like the rock that captured their youthful hearts — have taken it one step further.
"What's cool is when you start to synthesize your influences into something new … and start to realize you've developed your own unique fingerprints," Hood wrote.
Road-tested in Boston but now based in Tucson, Arizona, Ryanhood — a combination of Green's first name and Hood's last name, in case you missed it — began as a side project for the guys during college and turned into a full-time gig upon graduation.
In the 15 years since the band's inception, the duo — which the Arizona Daily Star called "a match made in radio heaven" — has shared stages with artists including Jason Mraz, Kelly Clarkson and Train.
Ryanhood, which won "Best Group/Duo" in the 2014 International Acoustic Music Awards, has released several albums, including "Yearbook" and "On Christmas" in 2017.
"They remind me so much of Simon & Garfunkel," said Karen Nuzzo, programming chair for the Friends of the Bedford Public Library concert series, which is hosting Ryanhood's concert. "The blending of their voices and that kind of pop appeal, it just takes me right back."
Before Ryanhood's show on Saturday, Green and Hood talked via email about high school rivalries, the power in authenticity and the story in "Yearbook."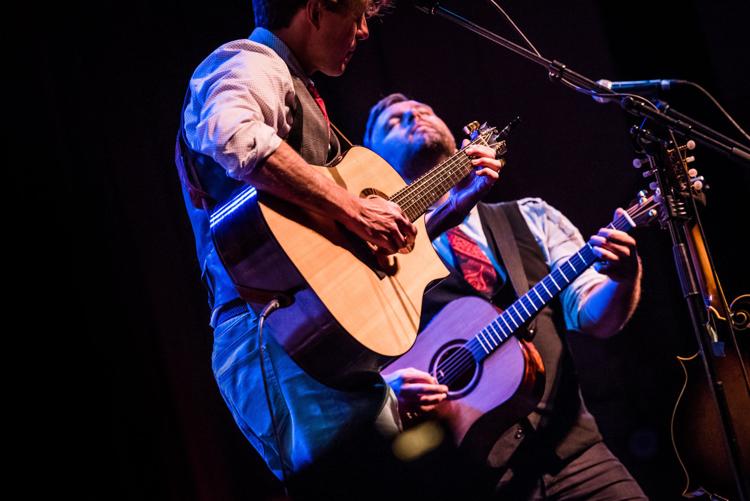 You started off as rivals in two different high school bands. How serious are these high school musical rivalries? Are we talking "West Side Story" break into a dance number stuff?
Hood: "No, this wasn't a Sharks and Jets type situation. But our high school had a battle of the bands, and if you're a high schooler and you're in a band, the battle of the bands feels like a big deal. It's your chance to show your classmates that you can do this special thing. Jocks have sports, drama kids have high school musicals and rock 'n' roll introverts have the battle of the bands.
"Ryan and I definitely developed a healthy respect for each other, we'd share new music with each other, and nod at each other in the halls. But when we hung out there was always a fun sense that we were in the presence of 'the competition.'"
Harmonies have really become a main component of Ryanhood's music. What's the key to achieving such a tight sound?
Green: "The way we sing together has been a work in progress for a long time. We have very different voices and ranges, so finding just the right way to blend our voices has taken a lot of experimentation. We spent a lot of time in the studio with a producer on our album 'The World Awaits,' learning to really try to master the art of blending together, but probably the number one factor is that we've performed 1,000-plus shows together, and every night gets a little better than the one before it."
It feels like almost everything I've read about Ryanhood uses some variation on the word "authentic" to describe you.
Hood: "My songwriting heroes are all earnest: Stephen Kellogg, Jon Foreman, Bruce Springsteen. There's not much persona to hide behind. They get up there and they let you in. They show you what's inside, both good and bad, and you feel less alone as a listener.
"Other artists create a show to dazzle, or an ironic persona, but I personally connected with artists who were real, because that gave me permission to be real. So, in the same way, I'm passionate about being genuine onstage, showing our audiences the hidden places, and giving them encouragement and permission to do the same thing themselves."
In listening to your music, it's clear you put a lot of work into your instrumentation. How do you walk the line between keeping it "hooky" and creating interesting and challenging arrangements?
Green: "That's kind of an intersection where Cameron and I meet. Cameron leans more towards the hooky side of writing, really trying to find a chorus or a turn of phrase [that] sticks, and I tend to lean towards musically unusual or sometimes technical approaches.
"So there's a sort of push and pull that happens between us that tends to land us in a sort of middle ground where there are elements of comfort in a song, but also hopefully some new ground being broken as well."
Press materials describe "Yearbook" as "songs about being young, growing old, and making peace with the passing of time." How did you land on this theme for the album? In what way do these songs reflect this?
Hood: "When we collected the songs we had each written into the big pot of potential songs for the new album that became 'Yearbook,' both of us seemed to be looking at how we got where we are as people. If you're willing to look, I think you start to connect the dots between what growing up was like, how you adapted back then, to how you still adapt to things as an adult.
"… Once you start making those connections, you have to either double down on your defenses and pretend those things don't affect you, or you start facing it and sharing about it and shining light on it. I'm committed to doing that work personally, and I love the idea that art and music can be a deep but gentle way of exploring those things with people all across the country."