The Academy Center of the Arts, 600 Main St.
Pioneering aviator Chauncey Spencer, architect Amaza Lee Meredith and painter Queena Stovall…
Artist Kevin Chadwick is showing his work in the Academy Gallery exhibition "Past – Present/Contemporary Southern Portraits," while Matt Gulley's oil paintings will be on display in the Up Front Gallery in "Unafraid of Color: Atmospheres and Objects from the American South." Work by Academy Center of the Arts staff also will be highlighted in the Warehouse Theatre's Arts and Education Lobby.
The First Friday opening reception runs from 5 to 8 p.m., and the Academy also is hosting an Art Talks featuring Kevin Chadwick and Laura McManus from 5:30 to 6:30 p.m. Thursday, May 9. (434) 528-3256, www.academycenter.org.
– Magnolia Foods (2476 Rivermont Ave.) and Flint Property Group (2484 Rivermont Ave.): Acrylic paintings by Matt Robertson through June 1.
–The Virginian Hotel (712 Church St.): The photography of Clyde Trent through Aug. 15
– The Greater Lynchburg Community Foundation (1100 Commerce St.): The photography of Kathy Cudlin through May 22.
– Westminster Canterbury (501 V.E.S. Road): The color pencil drawings of Jean Huddleston through May 24.
---
The Lynchburg Art Club, 1011 Rivermont Ave.
"Dreams, Places, and Spirits," a show featuring the work of Valerie Dowdy, Suzy Eick and Tom Morris, will open with a First Friday reception that runs from 5 to 8 p.m.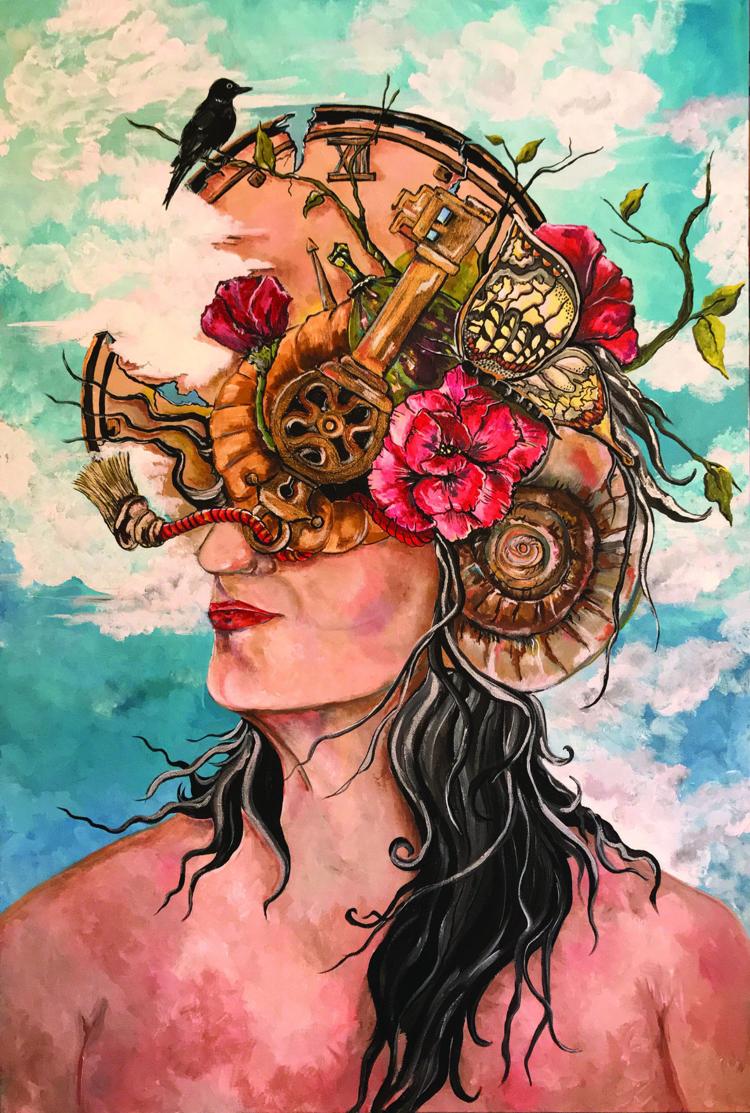 Dowdy is a surrealist painter who, in a news release, said her work is derived from "a feminine perspective of culture, status, gender and the environment," while Eick specializes in landscapes, where "sky, water, clouds and land speak of vastness, motion, transience," she says in the release.
Morris, who built theater sets for Randolph-Macon Women's College in the 1970s, creates "complex and imaginative sculptures out of found objects" and says he likes to "celebrate the strange objects that drift into my life."
Morris and Dowdy will discuss their creative process and the works featured in the exhibit during a pop-up gallery event from 5 to 5:45 p.m. May 9. (434) 528-9434, www.lynchburgartclub.org.
---
The Lynchburg Museum, 901 Court St.
Dolls and figurines from Lynchburg families will be highlighted at the museum during First Friday, with a reception from 5 to 8 p.m. The items on display date from the late 1800s through the mid-20th century, and photographs of children with their dolls also will be featured. www.lynchburgmuseum.org.
---
Renaissance Theatre Company, 1022 Commerce St.
Artists Carolyn Prince, Linda Campbell and Bobbye Terry will be showing their work in the exhibit "Wonderful World of Color" throughout May. Prince works in oil and acrylic and will be showing primarily landscapes, while Campbell and Terry focus on acrylics, with Campbell creating abstract art and Terry colorful animal paintings. www.7hillsartclub.org.
---
Riverviews Artspace, 901 Jefferson St.
A glow-in-the-dark, interactive installation by Lynchburg artist Michael Twery will be on display in Riverviews' newly renovated Rosel H. Schewel Theater and Gallery, formerly Studio 109.
It features a number of original percussion instruments and related art that glows in the dark. Visitors will be able to interact with four percussion pieces at the center of the gallery. The rest of the exhibition is not interactive and features various instruments, mallets and small glowing works illuminated with black lights, as well as Twery's newest work of "small, malleable, slow-motion kinetic sculptures called 'glow spores,'" according to a news release.
The First Friday reception will feature brief drumming demonstrations, and the work remains up through May 24.
Elsewhere in the building, a joint show "highlighting classical technique in a contemporary interpretation," featuring the work of Kris Rehring and Simeon Youngmann, will open in the Craddock-Terry Gallery.
Rehring's paintings, titled "Shift in Perspective," has echoes of the work of Edward Hopper, according to a news release, "featuring people and places in a more colorful composition," while Youngmann's work includes "hints of symbolism in traditional media" like graphite, charcoal and ink.
The reception begins at 5:30 p.m., and the artists will talk about their work at 6:30 p.m. (434) 847-7277, www.riverviews.net.
---
Riverviews Co-op Gallery, 901 Jefferson St.
A group show based on the theme "May Flowers" will open during First Friday. (434) 847-7277, www.riverviews.net.